Ritz Cracker Chicken – Cheesy chicken covered with crispy, baked Ritz Crackers and topped with a creamy, flavorful sauce!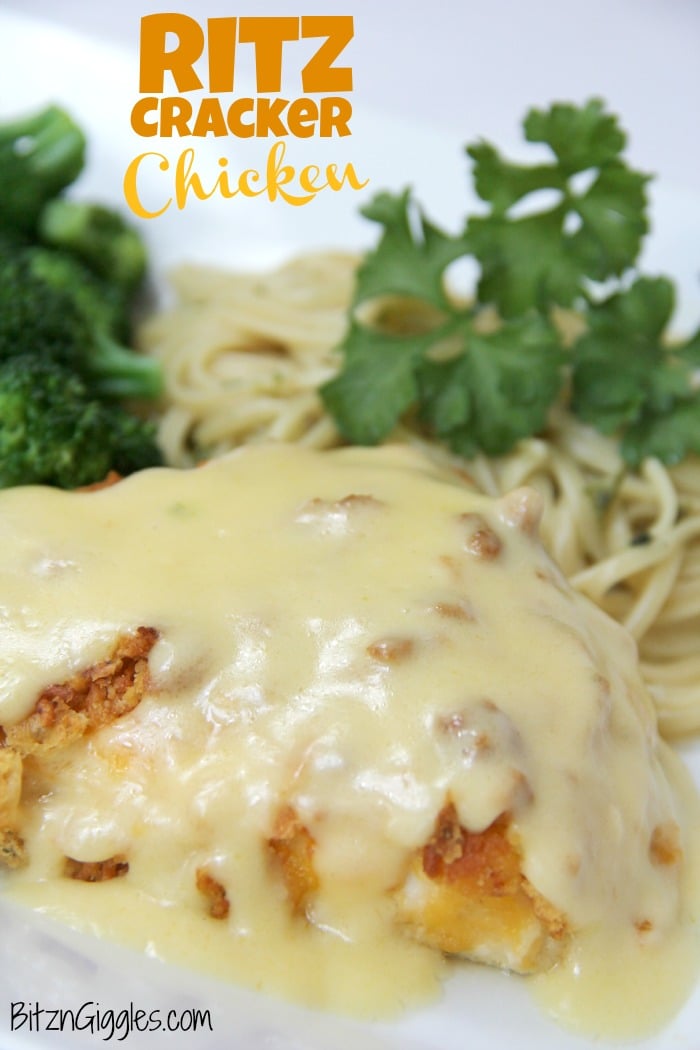 My son's last day of Kindergarten is tomorrow! Where has the time gone?! He's super excited to be moving on to 1st grade in the fall, but for now, he's looking forward to summer break! Heck, we're all looking forward to summer around here. The past few weeks have been rainy and cooler and I'm ready for those hot days and warm summer nights. I say, "BRING IT ON!"
We spend most of our time outdoors in the summer. We have such an active neighborhood with children all around, so there's always something going on. The kids play outside longer, dinner gets pushed until later, and before you know it, we all barrel into the house, look at the clock and realize that bedtime should have been about 30 minutes ago. Ahh, the summer.
While we give our grill quite the workout in the summer, it doesn't mean we ignore the oven. Some days there are just recipes I crave that aren't possible on the grill and this Ritz Cracker Chicken is one of them!
Could it be the cheddar cheese that I smoosh onto the chicken that makes it taste so good or is it the Ritz Cracker crust? The jury's still out on that one, but if I were to make an educated guess, I would say it's both.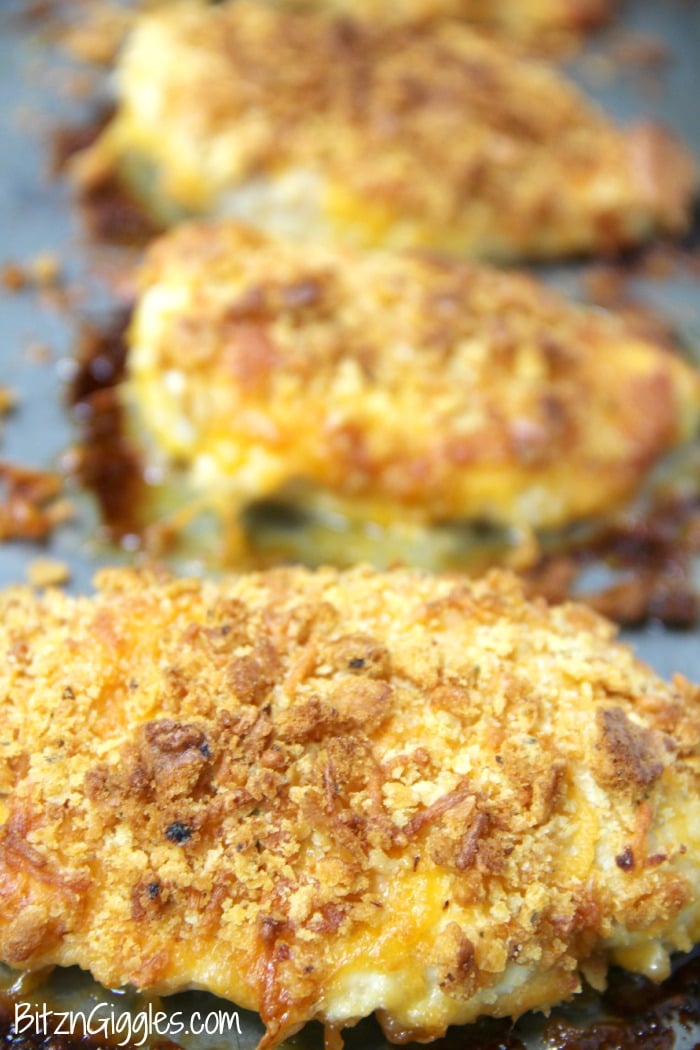 What makes this chicken truly amazing, however, is the creamy chicken soup mixture you spoon over the top to give it one final burst of flavor.
I'm going to be honest with you about this chicken. This was not a planned post. This was just a normal dinner we were making one evening that I decided to document at the very last minute. #foodbloggerproblems
Is it worthy of sharing with you? YES, absolutely. It's delicious. My husband tells me it's the best chicken ever. I reminded him that he said the same thing about my Lemon Fried Chicken.
These impromptu photo shoots happen all of the time in our house, and to give you fair warning, they happen even more frequently in the summer. We're just so gosh darn busy! While the photography isn't exactly up to my normal standards, I knew you'd forgive me when you tasted the chicken.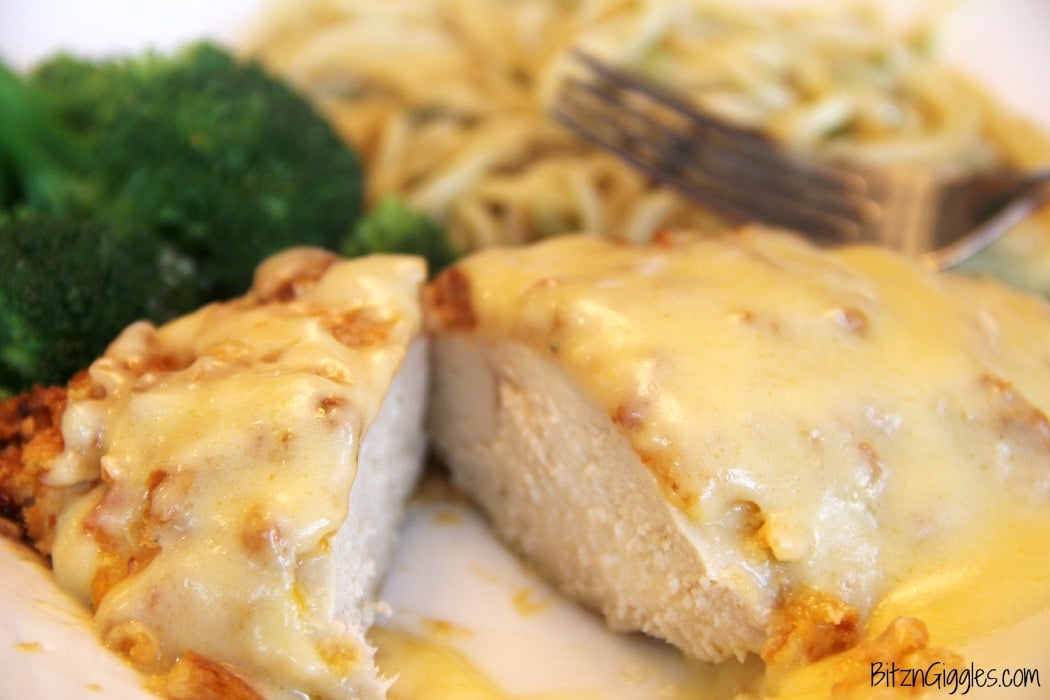 What I love about this chicken is that it's versatile. Choose any flavor of Ritz Cracker you would like! I used Roasted Vegetable because that's what I had on hand. I served it with a noodle side dish and some broccoli.
We ate it ALL up. Let me tell you. While I was snapping pics at the table (yes the table) Josh, my hubby, was on the final bite of his first piece of chicken. He ran back to the pan and grabbed another. Did he think I wouldn't notice?
With the whirlwind of weeks we've been having lately there are probably plenty of things he's gotten away with that I haven't noticed! If your summer days are as busy as ours, you're going to need quick and easy recipes like this one. Don't fall victim to fast food. Keep things simple and delicious. . .and you'll make it through this busy summer just fine!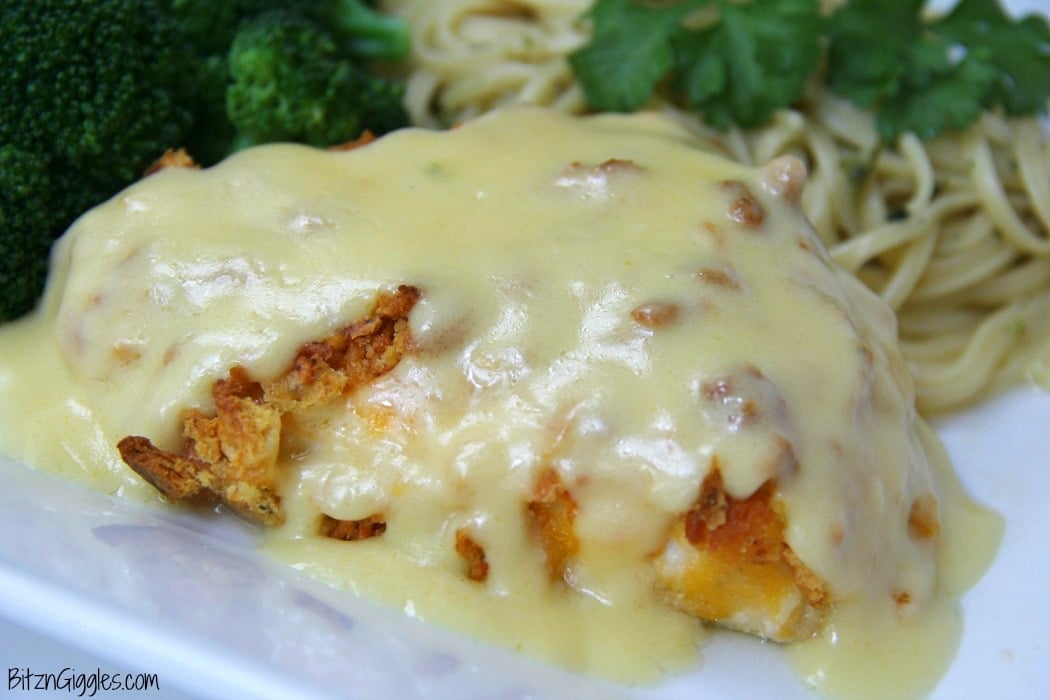 Ritz Cracker Chicken
Cheesy chicken covered with crispy, baked Ritz Crackers and topped with a creamy, flavorful sauce!
Ingredients
FOR THE CHICKEN
4 chicken breasts
1 sleeve Ritz crackers, crushed (I used Roasted Vegetable flavor)
1/4 cup milk
1 large egg
2 cups shredded cheddar cheese
Salt
Garlic pepper
FOR THE SAUCE
10 ounce can cream of chicken soup
1/4 cup milk
2 tablespoons sour cream
2 tablespoons butter
Instructions
Preheat oven to 400 degrees Fahrenheit.
Spray a baking pan with nonstick cooking spray.
Whisk together the egg and 1/4 cup milk.
Place the crushed crumbs in a shallow dish and the cheddar cheese in another.
Salt and pepper the chicken breasts, to taste.
Dip the breasts into the egg and milk mixture.
Cover the breasts with shredded cheese using your fingers to press the cheese onto the chicken.
Place breasts into crumbs and cover entirely.
Position chicken onto baking sheet and bake for 30 minutes or until breasts are fully cooked and the centers no longer pink.
While chicken bakes, in a small saucepan, melt the butter and add the chicken soup, sour cream and milk. Whisk together until well-combined and warmed through. Serve sauce over the chicken.
SaveSave
(Visited 213,539 times, 1 visits today)