I know what you're thinking. That woman needs to clean her grill. I know I do. We're working on it. At the same time, is it bad that once and awhile I think those little black flecks of old char actually taste kind of good? Regardless of whether or not you agree with me on the char comment, I know why you're here. And it's not to listen to me talk about char. It's to find out how I made this mouth-watering Root Beer Grilled Chicken!
I don't blame you. This chicken is pretty fantastic. It's the perfect thing for a summer BBQ and absolutely finger lickin' good!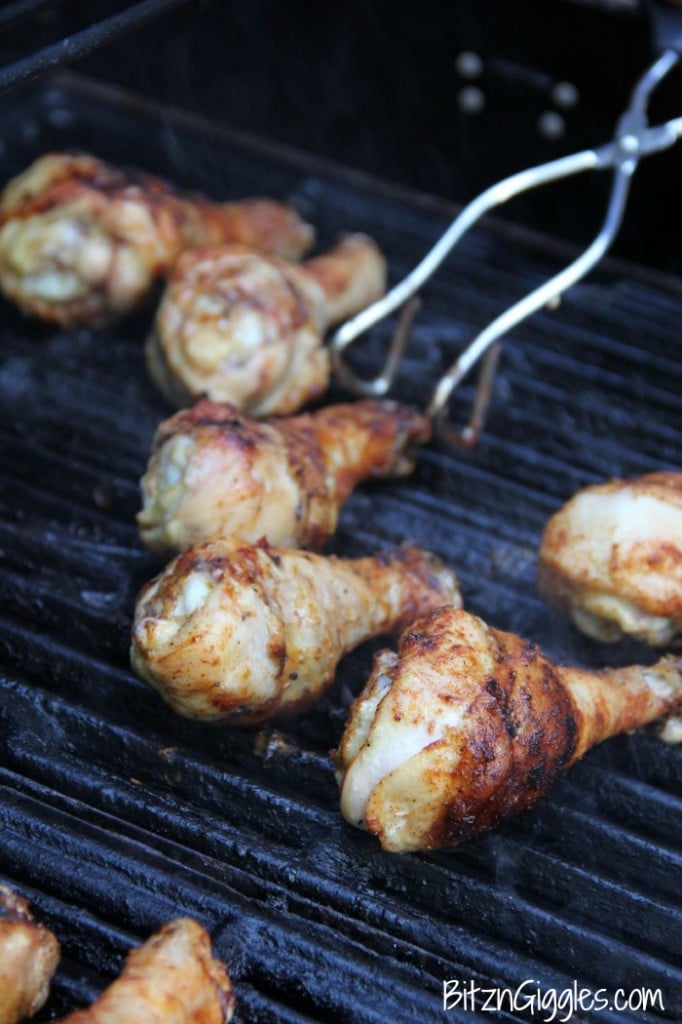 Why do you see only drumsticks? Because in our house they are hands-down our most favorite part of the chicken. . .EVER. Juicy, flavorful and perfect in every way. When the root beer glaze hits these drumsticks, it's like. . .well, heaven.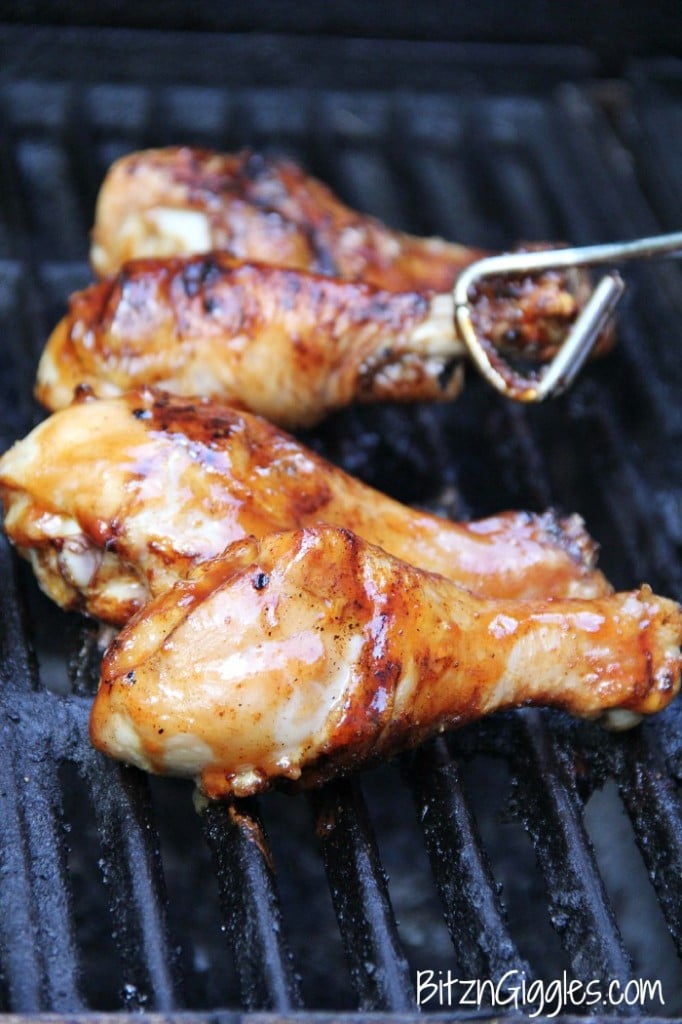 The secret to a perfectly grilled drumstick, is turning them about every 5 minutes while on the grill. The glaze actually doesn't even go on the chicken until the end. Five minutes before the chicken is ready, brush on the glaze. It caramelizes almost instantly. How beautiful are those legs? Yes, I'm still talking about the chicken.
Enough with all this talking. Get onto the eating! If you're planning on grilling out for the 4th, this Root Beer Chicken should be on the menu! OH SO GOOD! Enjoy!
Root Beer Grilled Chicken
Hands down, the best thing for your BBQ. Juicy, flavorful chicken meets tangy rootbeer for a flavor match like no other!
Ingredients
3 lb. package of chicken drumsticks
1/4 cup paprika
2 tablespoons garlic powder
1/2 teaspoon salt
2 cups root beer
1 cup ketchup
1 cup light brown sugar
2 tablespoons BBQ sauce
4 tablespoons jam (I used strawberry)
2 teaspoons spicy brown mustard
Instructions
Mix together the paprika, garlic powder and salt and rub all over the drumsticks.
Then combine the root beer, ketchup, brown sugar, BBQ sauce, jam and mustard in a saucepan and bring to a boil. Reduce the heat and simmer until the glaze is reduced and thickened. Hold over very low heat until the chicken has about 5 minutes left on the grill.
Grilling the chicken: Preheat your gas grill for about 8-10 minutes. Spray or oil the grates and sear the chicken over direct heat on high, about 3 minutes per side. Then turn everything down to medium, medium-high. Grill a total of about 25 minutes, or until juices run clear when pierced, and the internal temperature registers about 170 degrees. Turn the chicken about every 5 minutes while cooking and brush with about a cup of the glaze the last 5 minutes of cooking.
Use the additional glaze for dipping while eating.
Nutrition
Calories: 4219
Sugar: 371
Sodium: 5968
Fat: 140
Saturated Fat: 37
Unsaturated Fat: 86
Trans Fat: 1
Carbohydrates: 424
Protein: 320
Cholesterol: 1769
(Visited 6,097 times, 1 visits today)