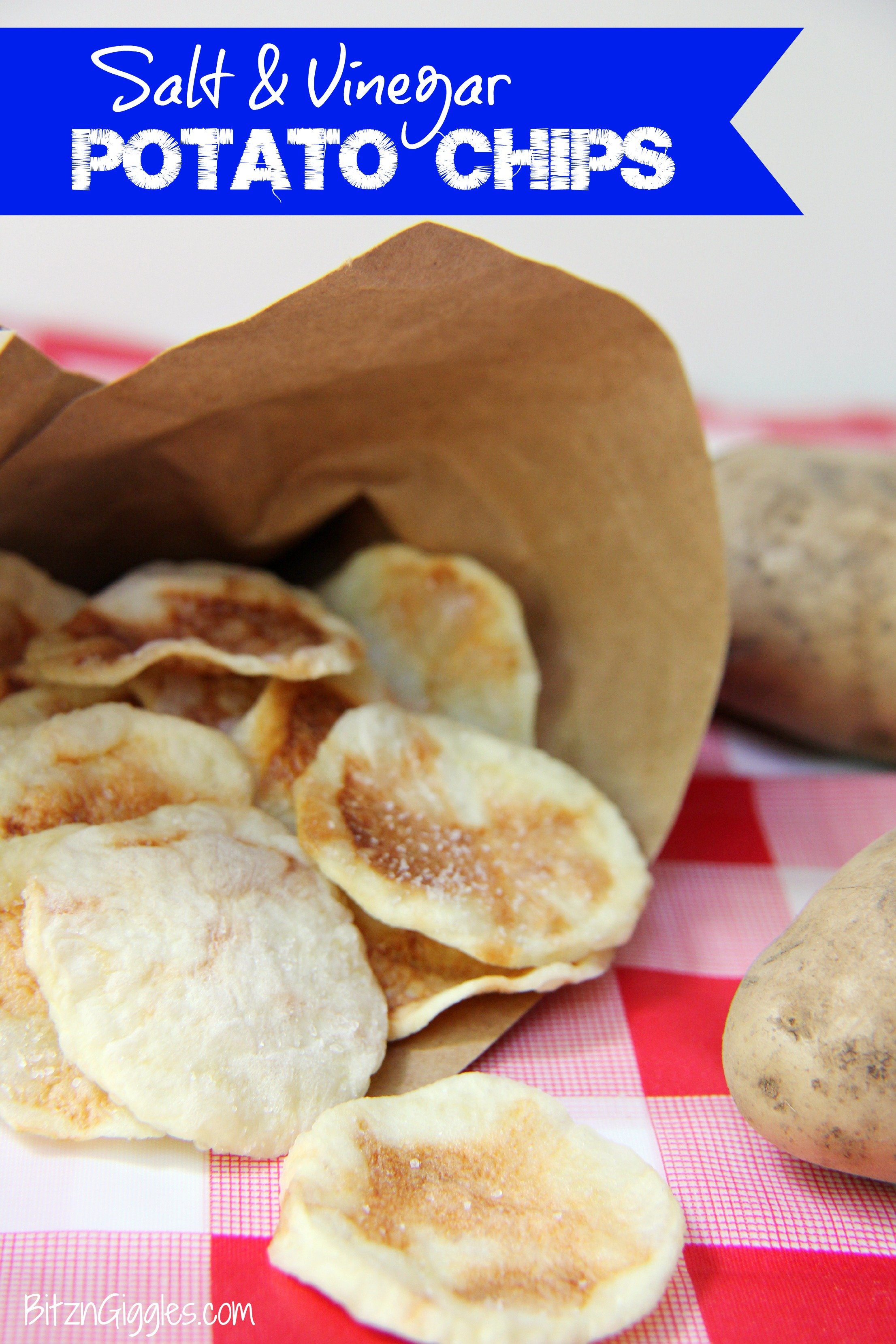 Do you prefer salty or sweet? It depends on what kind of mood I'm in, but I'll normally choose salty. And for gosh sakes, please don't mix salty and sweet together! It really has to be one or the other for me. In my opinion there should be no such thing as a sweet and sour pickle. This combo just shouldn't exist. That's obviously just my opinion and I'm sure many of you are throwing eggs at the screen right now, but there's just something about some flavor combos that make me shudder.
Now, salt and vinegar – that's a whole different animal. I can't get enough of it. I crave it. . . particularly salt & vinegar potato chips. If you don't like salt & vinegar, you must have just clicked through because you like me. It's okay, throw more eggs. Just hear me out. Even if you don't like salt & vinegar, stick around, because using this recipe, you can still just make good ole' plain salted potato chips with natural ingredients – not all that extra stuff that manufacturers stick into the chips at the store. It's sad sometimes when you can't even pronounce half of the ingredients on the back of the bag. Scary.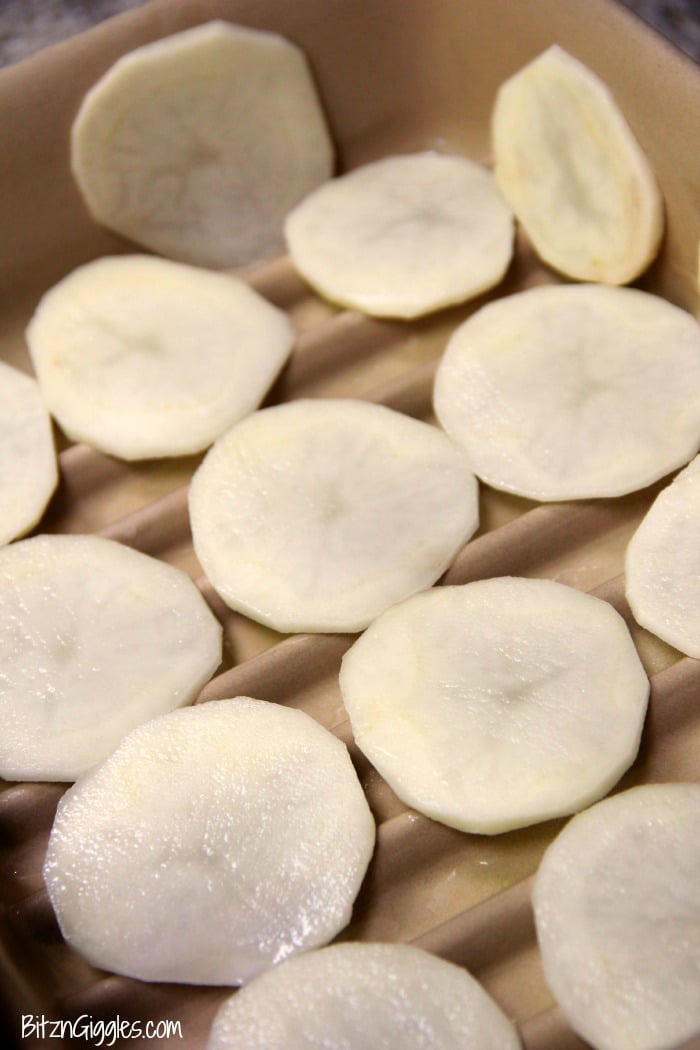 So, did you know that making your own potato chips isn't very difficult? In fact, it's super easy and they taste INCREDIBLE. I'm going to let you in on one more secret. I made these in the MICROWAVE. Yep, that's right.
My husband was amazed. He just kept saying, "You really made these? And in the microwave?" Crazy, right? I also wanted you to know that you don't necessarily need a mandolin or a fancy slicing attachment for your food processor to make these. Nope. I went the traditional route and just sliced my potatoes with a good ole' fashioned knife.
The one special item I did use was a ridged baking dish so the juices in the potatoes had somewhere to go. I have heard of folks just making these on a plate, but I have to say that the ridged dish worked very well. I sprayed some nonstick cooking spray on the dish, washed, peeled and thinly sliced my potato, sprayed some of the cooking spray on my hands and coated the potato slices as I laid them in the dish. Be careful not to overlap the slices. You'll end up with a big clump of stuck together potato slices. They'll end up looking kind of like a wind chime you could hang outside on your deck.
I put my dish in the microwave and cooked the chips for 8 minutes. Depending on the size and wattage of your microwave you may need to adjust the time. I just kept checking on them as they cooked. You'll know they're done when they begin to brown. If you don't allow them to brown, you'll end up with a soggy chip, rather than a crunchy one.
When my chips were ready, I pulled them out, spritzed them with vinegar (yep, that's a spray bottle) and then salted them.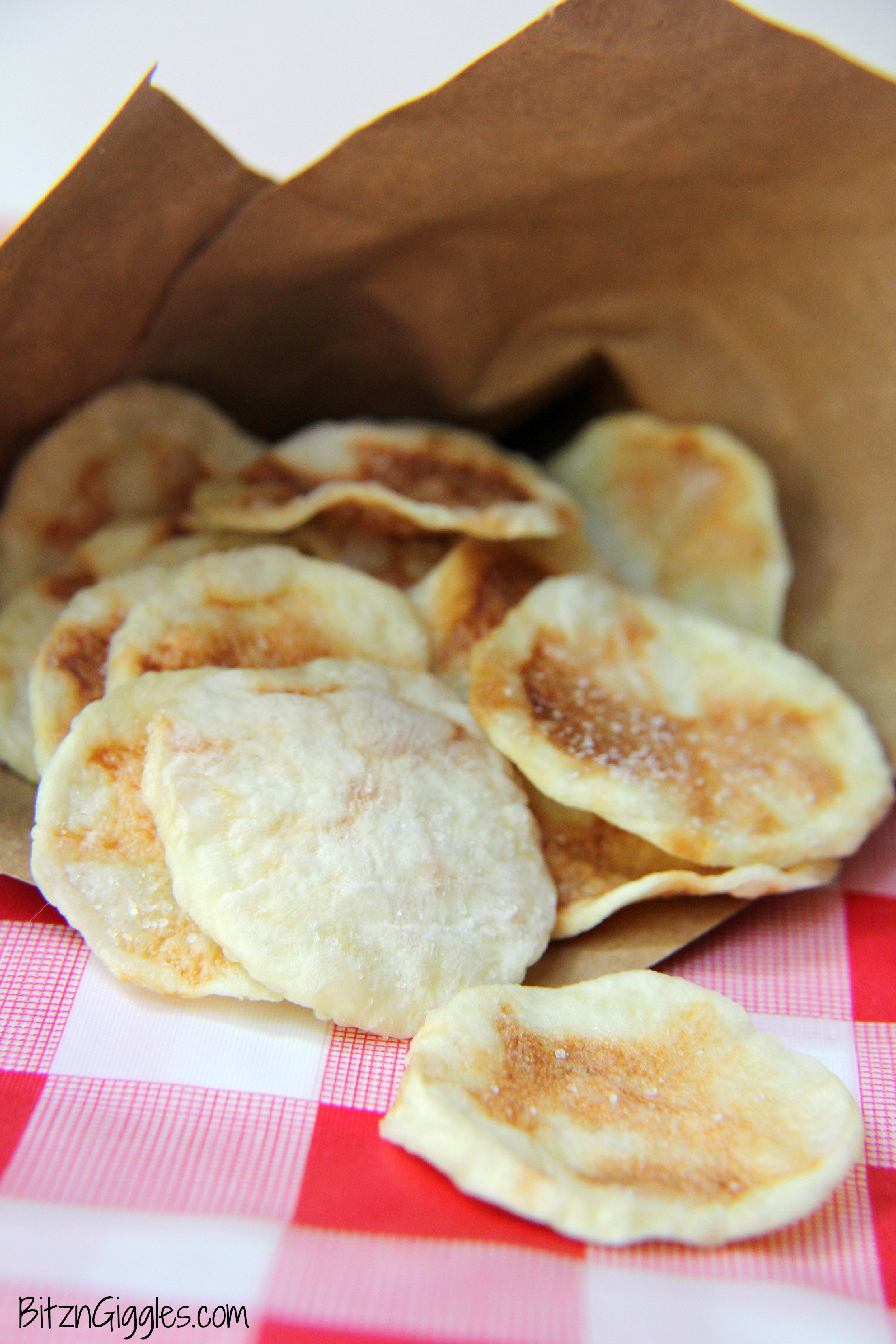 And believe it or not, that's it. Pretty stinkin' easy, right? They were crunchy and oh so good. If you don't want the vinegar, omit it. They'll still taste GREAT!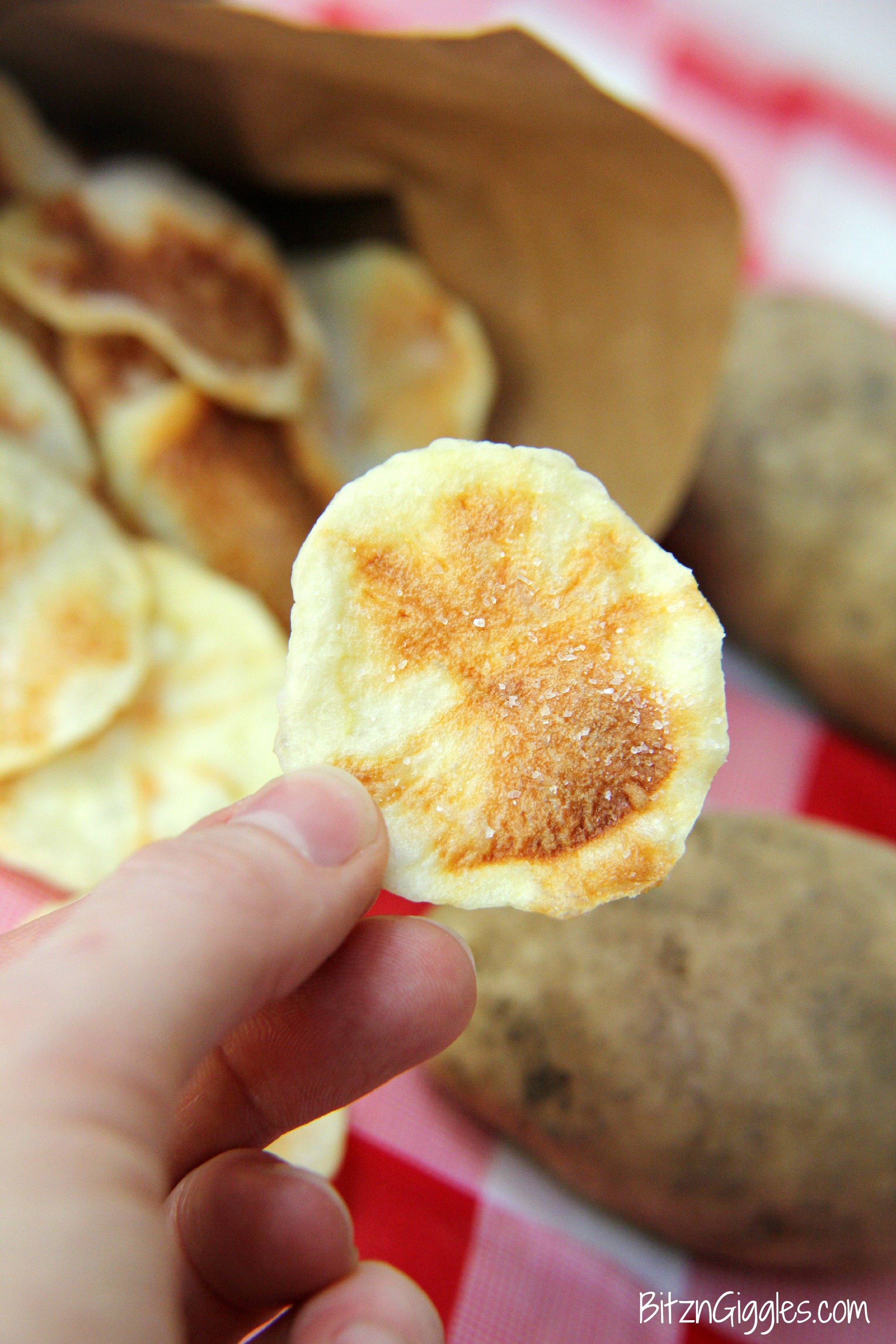 So, if today's a day you're feeling salty, you just have to try these chips. You will be amazed at how easy they are to make and beside yourself once you pop one into your mouth. Go ahead, next time you're at the grocery store, buy that 10 pound bag of potatoes. And if you're going "all in," you may want to think about investing in a mandolin to make things go a bit quicker. After tasting these chips, it's definitely on my wish list! Because after you finish your first batch, you're going to want more. Lots more. Just sayin'.
For more recipes and fun, connect with me on:
Twitter | Instagram | Pinterest | Google+ | Facebook | Bloglovin'
Salt & Vinegar Potato Chips
Homemade potato chips from microwave to plate in under 10 minutes using only 3 ingredients!
Ingredients
Potato, thinly sliced
Vinegar in a small spritzer or spray bottle
Sea salt, to taste
Instructions
Spray a plate or ridged baking dish with non-stick cooking spray.
Spray your hands with non-stick cooking spray and coat each slice as you arrange them on the plate or dish, being careful not to overlap them.
Put the slices in the microwave for about 8-10 minutes (more or less depending on the size and wattage of your microwave oven).
When they start to brown, pull the dish out of the microwave and place on heat resistant surface.
Spritz some of the vinegar on the chips and sprinkle on the salt.
Flip the chips and repeat on the other side.
Nutrition
Calories: 168
Sugar: 1
Sodium: 166
Fat: 0
Saturated Fat: 0
Unsaturated Fat: 0
Trans Fat: 0
Carbohydrates: 38
Protein: 5
Cholesterol: 0
(Visited 5,673 times, 1 visits today)