Simple Steps to a Clean Refrigerator – Deep cleaning and organizing the fridge isn't always a ton of fun but by following a few simple steps you'll be opening the door for friends and neighbors because you're proud of what's inside!
This is a sponsored post written by me on behalf of The Duck Brand. All opinions are 100% mine.
I'm in "that mode." Spring cleaning mode, that is. Purging, cleaning, organizing. . .repeat. . .room after room. The kitchen has been the focus as of late. This past weekend I cleaned out our pantry and lazy susan that holds all of my baking goodies like flour, sugar, baking powder, etc. In case you're wondering, boxes of flavored gelatin never spoil. I Googled it. I mean, an expiration date of 2013 isn't that bad, right?
So, cabinet by cabinet, drawer by drawer, I'm making my way through the room. Today we're focused on cleaning the refrigerator. How long has it been since you looked in the way back of your refrigerator? I'm talking way back. Let me tell you what. . .I found things I'm not very proud of in the back of mine, but when all was said and done, I was left with a sparkling clean fridge that I wanted to invite the neighbors over to see. 😉
So, let's talk about where I started. I started with a mess. I'm almost embarrassed to show you what our refrigerator looked like inside before the big cleaning effort. There was a TON of stuff in there without sufficient space for it all. Stuff was stacked, just thrown in, left in bags. . .it was pretty horrific.
I had a bit of work ahead of me, but I knew it needed to be done and the whole family would benefit from my efforts. If you have a fridge right now that looked like mine, stick around, my friend, because I'm taking you through my clean refrigerator process, step by step. We're going to tackle this together!
Toss it Out
Begin your clean refrigerator process by clearing out unwanted, bulky and expired items. Follow the 4-step toss out process below:
Remove leftover containers filled with food that have been sitting in the fridge awhile or that you know you're not going to heat up and eat.
Look for any fresh items that have begun to mold or wilt and check the expiration date of all bottles, jars, packages, etc. Toss out anything that is spoiled or expired.
Are there larger containers taking up unnecessary space? For example, do you have a jar of pickles sitting in the fridge with only 2-3 pickles left in the jar? Downsize the container size or toss the remaining pickles in a small plastic baggie and remove the big container from the shelf.
Search for duplicates. Do you have two open bottles of salad dressing sitting in the door? If they both still have good dates on them, consolidate one into the other if possible.
Tip: Take a photo of the contents of your refrigerator before heading out to the grocery store to eliminate unnecessary or duplicate purchases. If you're questioning whether or not you have a certain item on-hand, just check your phone!
Anything that is remaining, take out of your fridge and store in coolers while you move on to the next step!
Clean it Up
Chances are, once you get all of the food and the containers removed from the fridge you're going to be amazed at what may be lingering behind: deli meat "juice," ketchup smears and sticky gobs of who knows what. . .here's a mild example of what I'm talking about.
On the shelves. . .
Inside the drawers. . .
Eww. First things first, remove all of the drawers from the fridge (including those inside the door). I'll leave it up to you whether or not you decide to remove the shelves as well. Some people think it's easier to clean the shelves while they're still in the fridge, while others prefer to remove them. I actually leave them in because I'm deathly afraid I'm going to chip or crack them. That's just me.
Alright, let's mix up some Clean Refrigerator Solution:
Clean Refrigerator Solution
Ingredients
1 teaspoon dishwashing liquid
1 teaspoon baking soda
5 cups warm to hot water
You can either wash the drawers out right in your sink (if it's large enough) – otherwise you can fill a bathtub with some warm water and dishwashing liquid and just do it in there. After washing out the drawers, dry them and set them aside while you tackle the shelves.
Scrub the shelves with the clean refrigerator solution, using extra baking soda if necessary for stubborn, sticky spots, and use a lint-free towel to dry the shelving. Wipe off the top of the fridge as well (when was the last time you did this? 😉 ) and check the door seals, and coils to remove any stickiness, debris and dust bunnies.
Add a Layer of Protection
To prevent stickiness and "leakage" in the future, line the inside of your clean refrigerator door, drawers, and any storage containers with shelf liner. Heck, if you wanted to, you could line each shelf, too! My favorite is Easy Liner® with Clorox® by Duck®.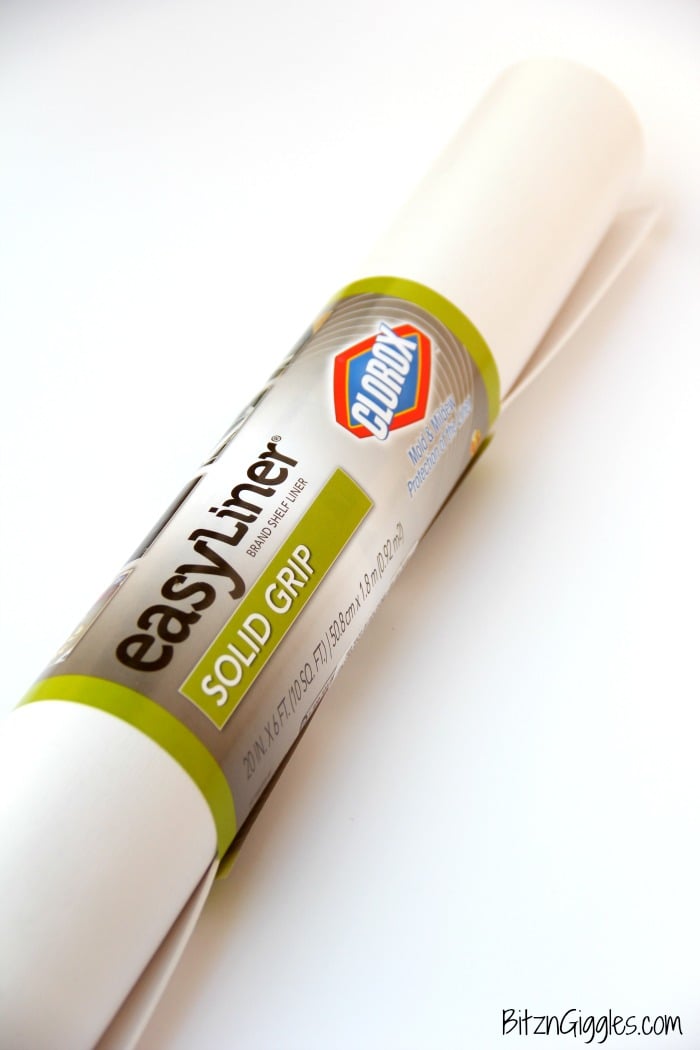 It's perfect for this kind of application because it includes antimicrobial protection to prevent the growth of odor-causing mold and mildew. It's water-resistant, and get this. . . if it gets dirty, you can even wash it! It's super easy to cut, install, replace and re-position, so if you need to move things around. . .no worries. You're not going to be left with a sticky, gummy mess that some shelf liners can cause.


I just trace around the bottom of my drawers to measure out the liner before I cut it. I do the same for the doors.
Start Organizing
At this point you should have cut down on a lot of "stuff." What you're putting back in the refrigerator at this point should be much less than what you started with. Many of you may be thinking that that my gallon of milk shouldn't be in the door. Our family has kept milk in the door for years and years and years. It's always been good and cold and we've stayed happy and healthy. If you're hesitant, keep yours on the top shelf of the fridge where it's the coldest.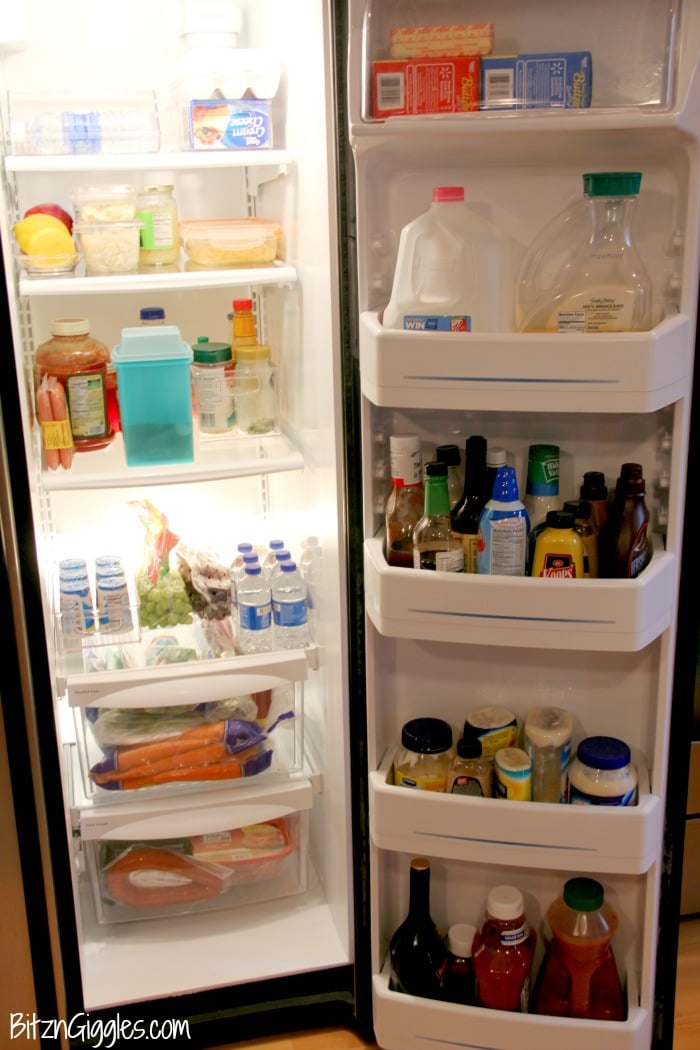 Here are a couple of tips when it comes to organizing:
Group like-items together. I found some clear plastic containers at a home store that I love to use in the fridge. I use them for yogurt and condiments (we have a TON of condiments). When I need to move something, it's much easier if I can just slide the container around.
Place taller items towards the back so you can see everything clearly (our pickle container goes against this rule and it's front and center – it's there because the kids LOVE pickles and we want to make sure it's in reach).
If you have children, keep healthy snacks on the lower shelf. Ours is usually stocked with small bottles of water, yogurt and fresh fruit.
Tip: To keep the fridge fresh and clean, wipe off rims of condiment containers before storing them, place raw meat and berries on rimmed plates, and use activated charcoal on a tray inside the fridge to help absorb odors (you can find activated charcoal in a pet supply store near the aquarium supplies).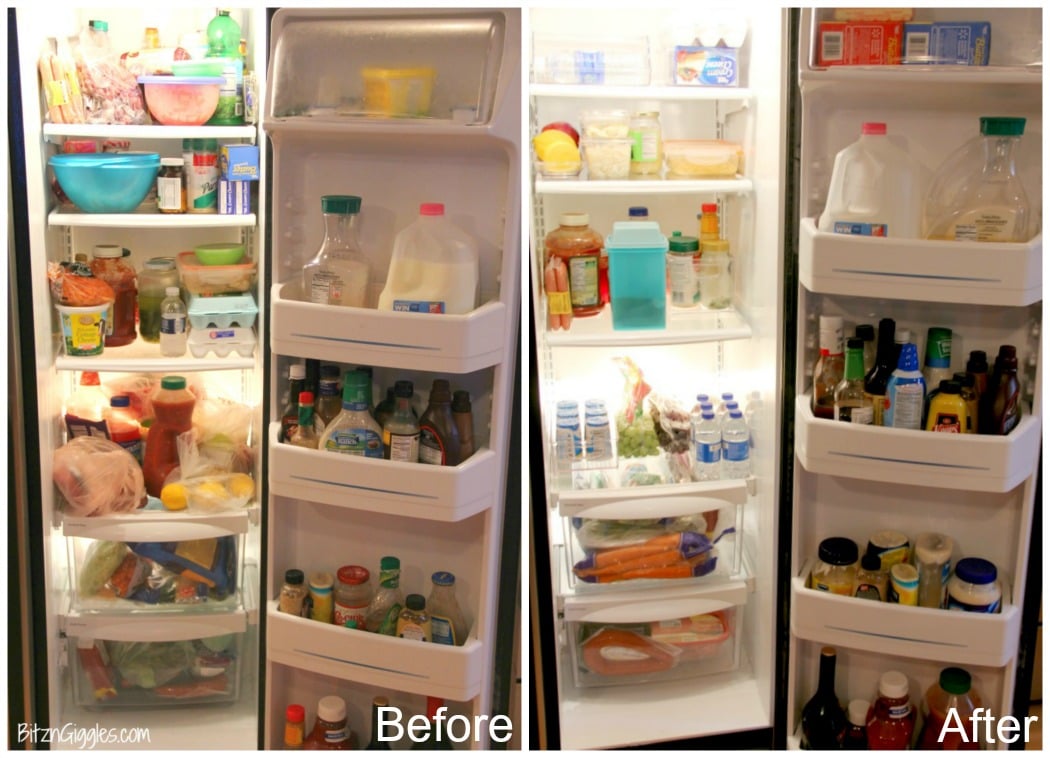 So, how did you do? I'll tell you what. . .I'm super proud of how I was able to transform our fridge. When we open the door, we can see what's actually in there now! There's a good chance we still have more condiments than real food, but I'm guessing that's the way it's always going to be. What can I say? We just are a marinade and topping family! Best of luck cleaning out and organizing your refrigerator. I can't wait to hear how everything went!
Visit the Duck® site to learn more about Easy Liner® with Clorox® and their entire family of awesome products!
(Visited 2,989 times, 1 visits today)