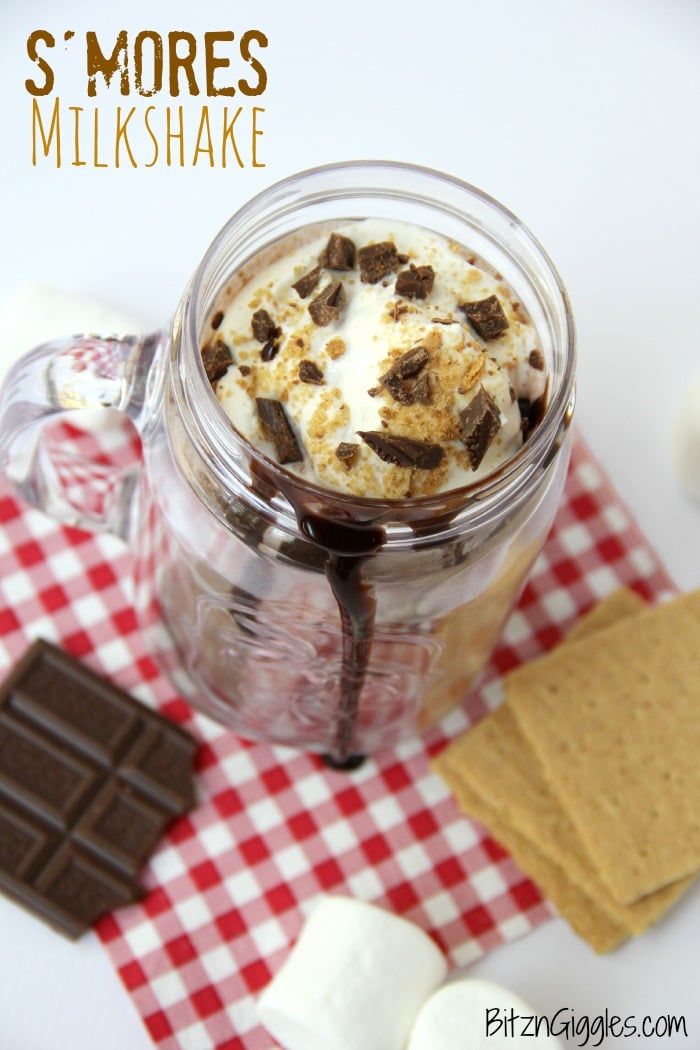 This shop has been compensated by Collective Bias, Inc. and its advertiser. All opinions are mine alone. #LetsMakeSmores #CollectiveBias #sponsored
So, we officially had our first "outdoor" S'mores a couple weeks ago up at our lake cabin. I made sure to Instagram the whole gooey and incredibly delicious experience. Because the evenings "up north" are still a bit cool, our family sat around our campfire in broad daylight toasting our "mallows" and enjoying our first S'mores of the season, outside. Although we only spend our weekends up at the lake, our love for S'mores doesn't stop there. We enjoy S'mores in many different ways, at many different times throughout the year – outdoors AND indoors. They are such a delicious weeknight dessert!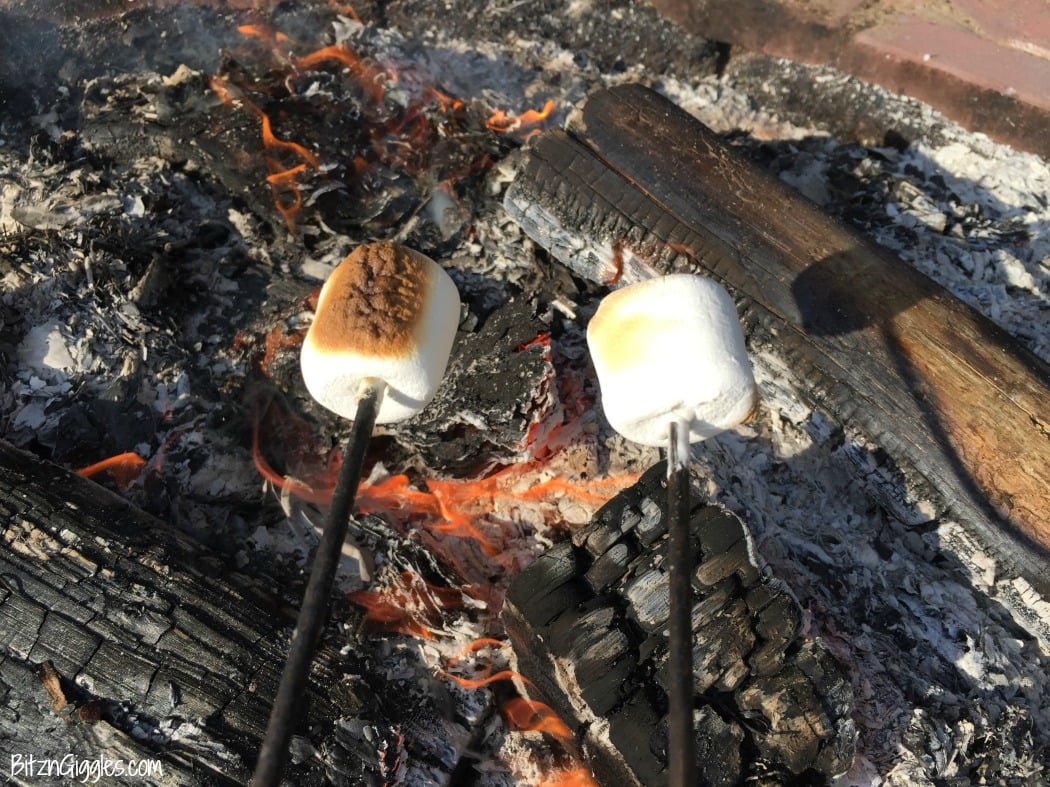 There's no need to build a fire to create the S'mores Milkshake I'm sharing today. Nope, you can make this treat indoors and enjoy it WHEREVER you want! We enjoyed ours one evening after a neighborhood chalk party for the kids (that took place in our driveway).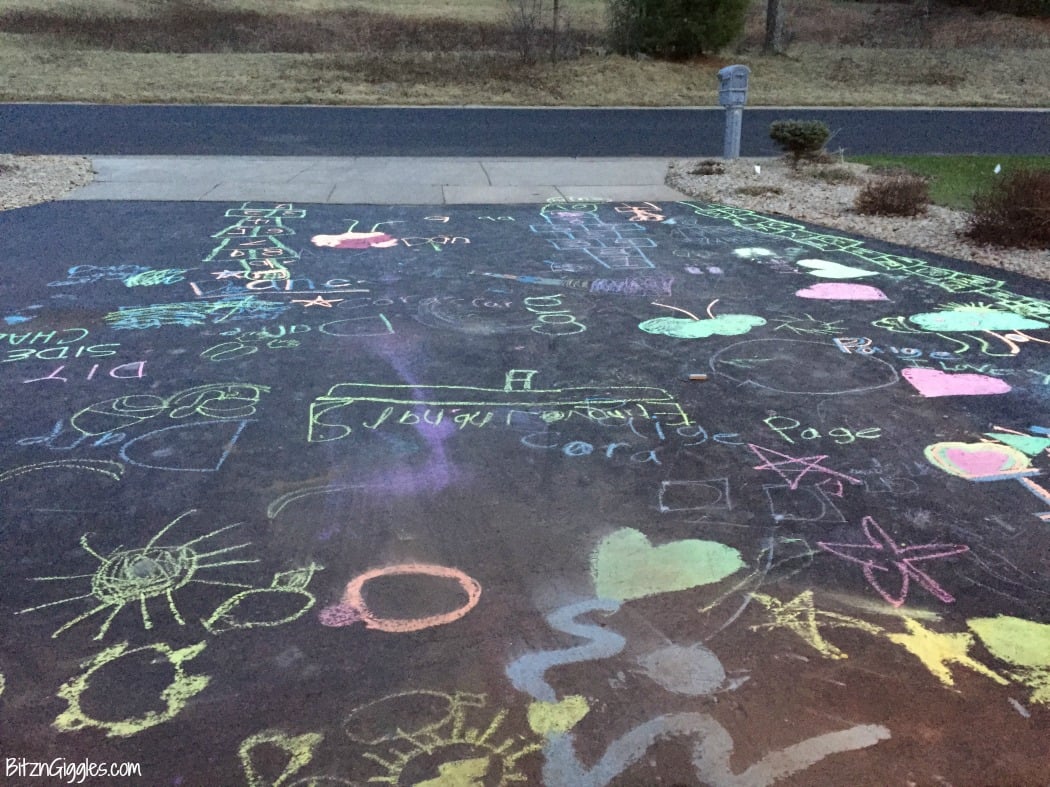 But it was this shake that literally "brought all the boys to the yard." 🙂 AND girls. . .AND their parents. Let me just open up another gallon of ice cream. . .

Quit goofin' around and get to it, right? Okay, okay, so, this milkshake. . .let me tell you about it. It has a subtle toasted marshmallow flavor and includes all of the traditional S'mores fixins' – chocolate (lots of it), graham crackers (LOVE) and is bursting with marshmallowy (it's a word in MY vocabulary) goodness!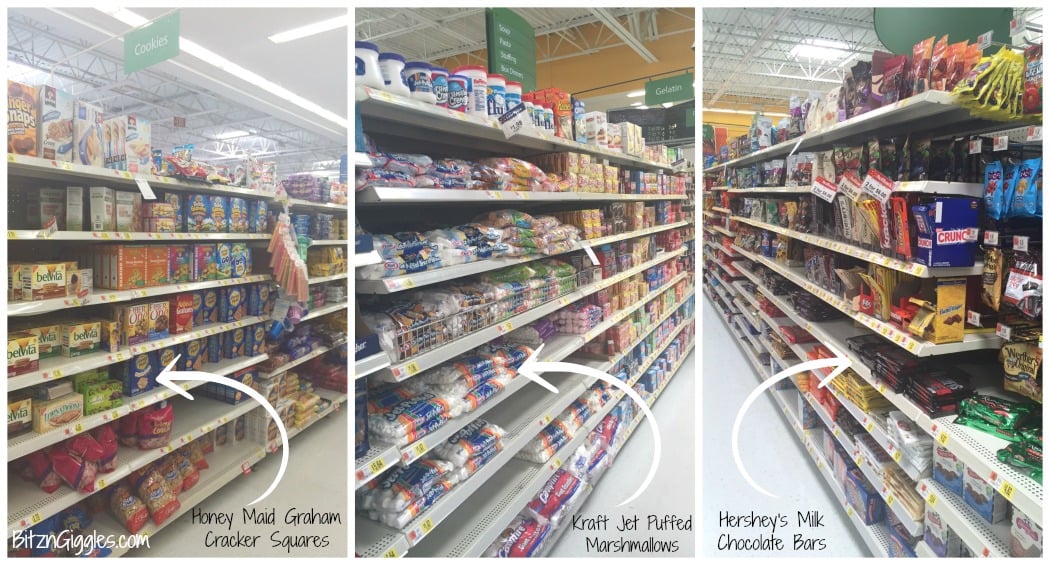 I ran to Walmart to pick up the stars of the show: Honey Maid Graham Cracker Squares (PERFECT for S'mores), Kraft Jet Puffed Marshmallows and Hershey's Milk Chocolate Bars. Check, check and CHECK.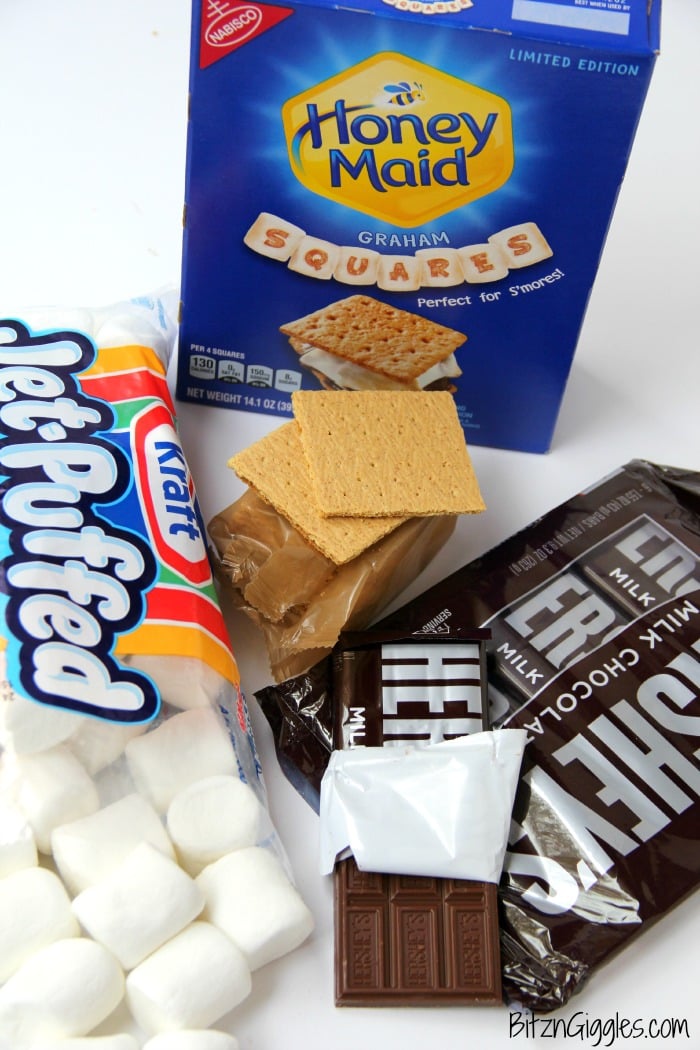 On a normal weekend up at the lake, I would stop here. But, not today. Today, we're going to have a little fun with some special touches. This milkshake takes only 10 minutes to prepare, but the end result is completely and utterly decadent.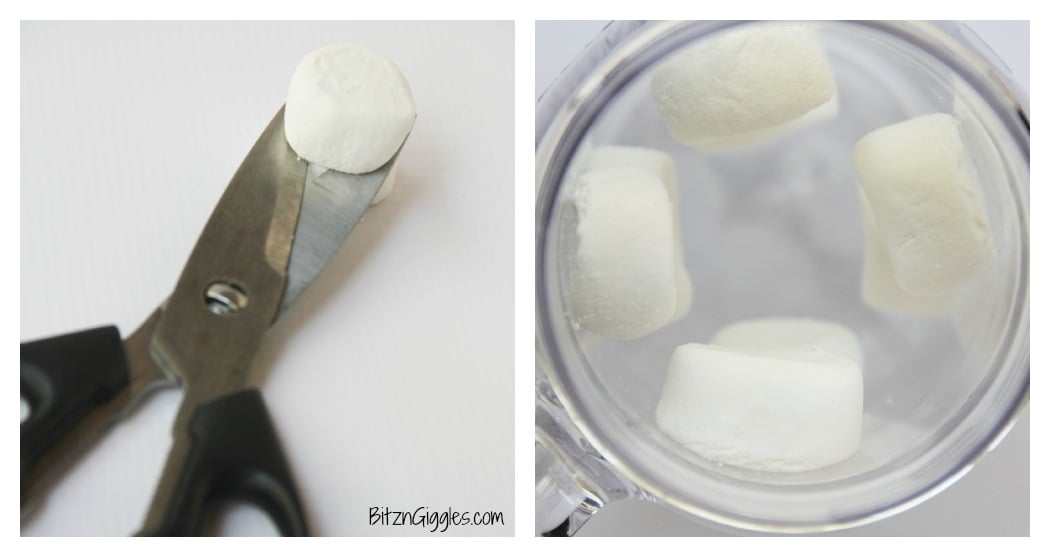 I started by using a pair of kitchen shears to cut three marshmallows in half. Then, I stuck them on the inside of my milkshake glass in various spots. When the milkshake is finished, this technique gives the dessert a bit of a polka dot effect and allows you to see the marshmallows from the outside of the glass. My husband has me skip this step for him because he has "texture" issues. He's not a fan of the chewy marshmallow in his "smooth" drink. He also doesn't eat water chestnuts in noodles. Weirdo alert.
In a bowl, I whipped up this three-ingredient marshmallow concoction to go along with the three-ingredient creamy and heavenly mixture I was preparing in the blender.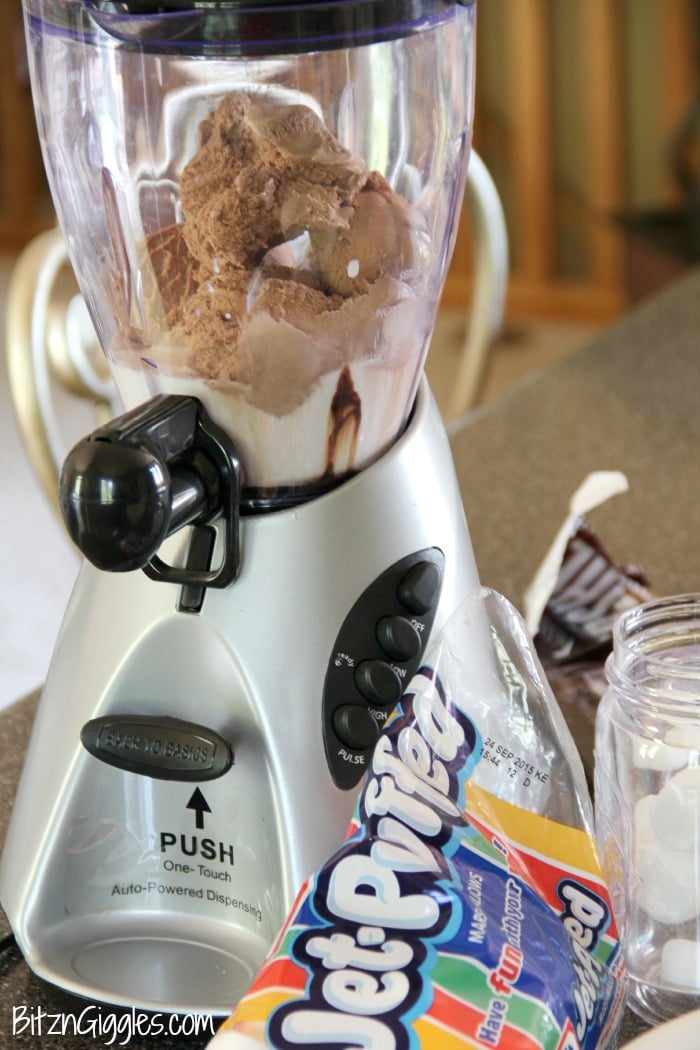 I'm a sucker for chocolate and this is the part of the recipe that gets me super excited!!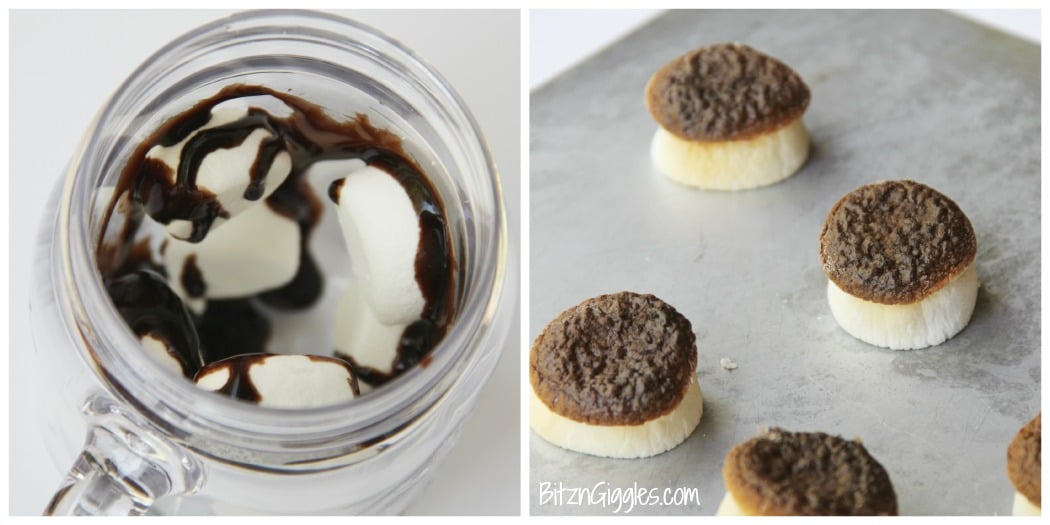 Before I turned the blender on, I drizzled some chocolate syrup along the insides of the glass and toasted a few marshmallows under the broiler. SEE, you can roast marshmallows indoors! I took a couple of these browned beauties and threw them in the blender along with my creamy ice cream mixture and whirled it all together. When filling the mug, I alternated with the ice cream and marshmallow mixtures, starting with the ice cream and ending with the marshmallow. Oh. my. goodness.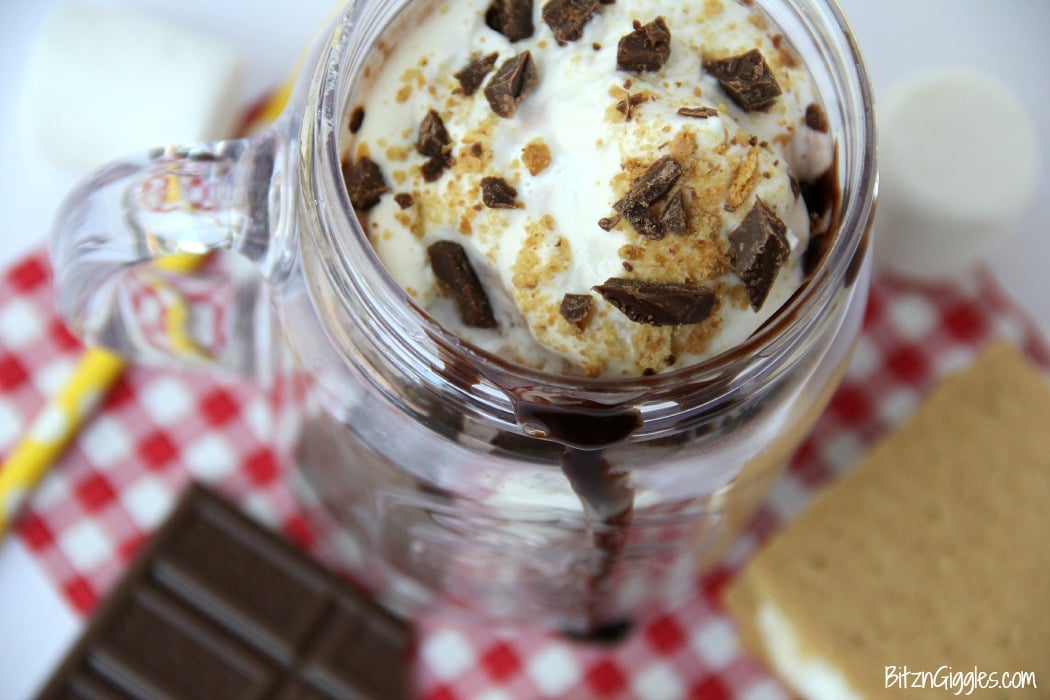 Crushed graham crackers and chopped chocolate bars finish off this dessert for the ultimate S'mores experience!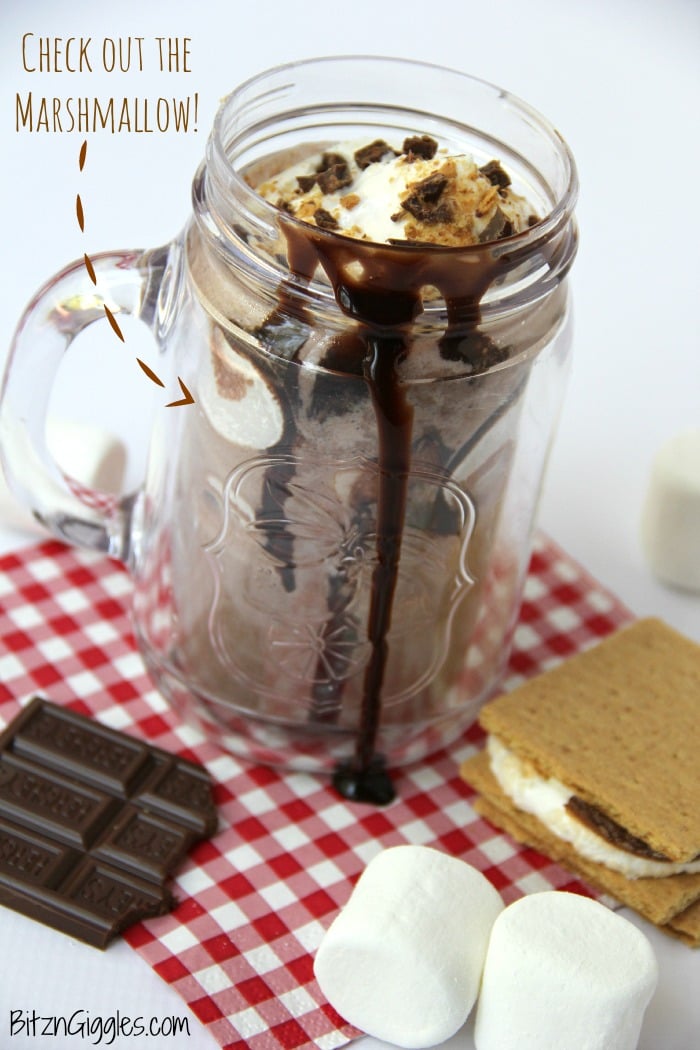 Remember those marshmallows I stuck onto the inside of the glass? There one of them is! I like to serve these milkshakes with a straw AND a spoon. Isn't that pretty much the norm when you drink/eat a milkshake. Sip, scoop, sip, scoop. You're with me, right? You scoop when you're impatient and the straw hole just isn't big enough. #milkshakedrinkingproblems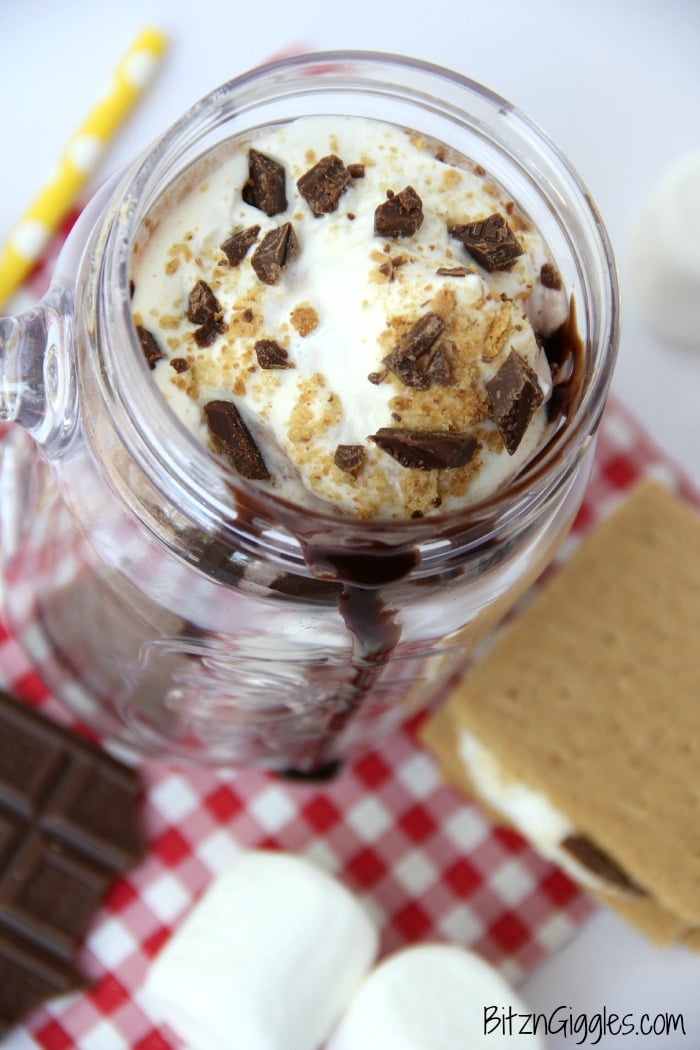 Just grab your car keys and get to Walmart to pick up the ingredients for this crazy cool milkshake. But before you do that, tell me, what's your favorite way to enjoy S'mores?
S'mores Milkshake
Rich and creamy milkshake with all your favorite campfire flavors wrapped into one! You'll love this s'mores milkshake!
Ingredients
1/2 cup heavy whipping cream
1 cup cold milk
1/4 cup Kraft Jet Puffed Marshmallow Creme
3 cups chocolate ice cream
6 Kraft Jet Puffed Marshmallows
1/3 cup Hershey's Chocolate Syrup
1/2 teaspoon vanilla extract
6 Hershey Milk Chocolate Bar squares, chopped
2 Honey Maid Graham Cracker Squares, crushed
Instructions
Cut 3 marshmallows in half and place sticky side down along the inside of a glass. Set aside.
In a medium-sized bowl, whip the heavy cream, marshmallow fluff and vanilla together and set aside.
Set oven to broil on low and brown the last three marshmallows. Remove from oven.
In a blender, blend together the milk, chocolate sauce, toasted marshmallows and chocolate ice cream until well-mixed.
Drizzle some Hershey's syrup around the insides of the glass.
When filling the glass, alternate with the ice cream mixture and the marshmallow mixture – starting first with the ice cream and ending with the marshmallow mixture.
Top the milkshake off with the chopped Hershey's pieces and sprinkle on the crushed graham crackers.
Notes
Broiling the marshmallows will take under a minute. Make sure to watch them closely. I broiled mine with the door open so I could pull them out quickly.
Nutrition
Serving Size: 2
Calories: 1721
Sugar: 176
Sodium: 441
Fat: 87
Saturated Fat: 54
Unsaturated Fat: 27
Trans Fat: 0
Carbohydrates: 217
Protein: 25
Cholesterol: 189
(Visited 3,502 times, 1 visits today)