This post contains affiliate links. Please see my disclosure policy.
The winter can be brutal on your skin, am I right? I wash my hands a crazy amount of times each day, and in the winter, my skin suffers to the point I need intense intervention. Can you relate?
What about the heels of your feet? Your elbows? You know what I'm talking about. Dry. Cracking. Hurting. Ick. Enough is enough.
There are only a few lotions and creams I buy at the store that actually do a good job at hydrating my skin, the rest are so thin and weak. They don't last very long and they never really feel like they've "soaked" into your skin. At least to a point where they would offer some relief from the dryness.
Today I'm sharing a natural alternative to store bought skin lotion. These bars moisturize deeply, go on creamy and you can see the difference on your skin right away. Seriously? Seriously. I'm going to show you some before and after photos in a bit.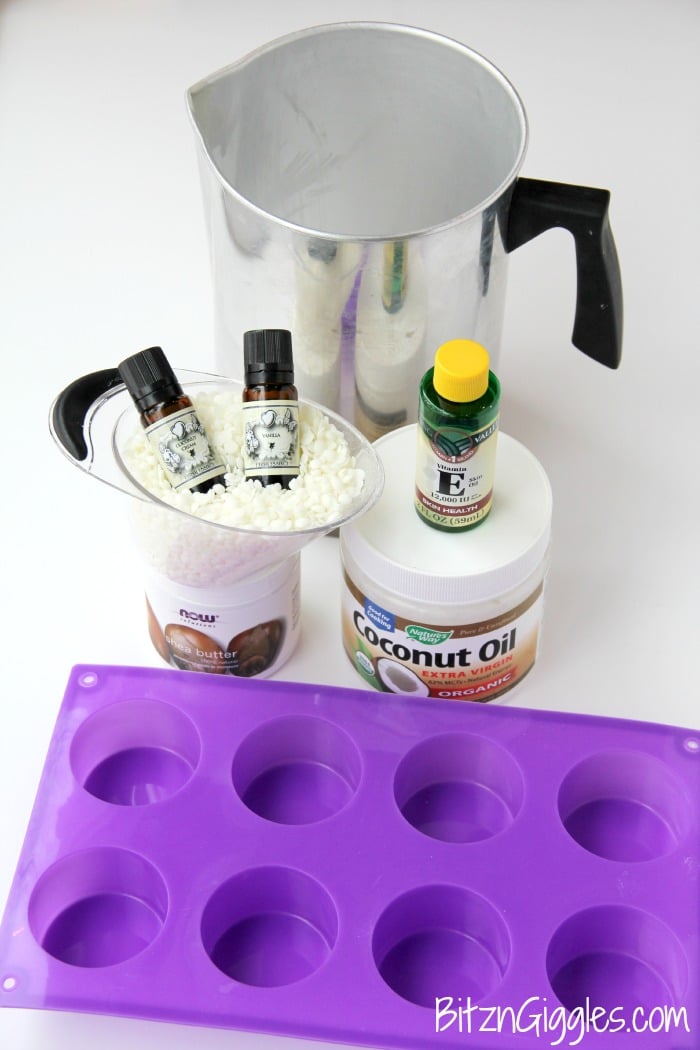 So, here's what you're going to need for the Soy Lotion Bars:
Ingredients and Materials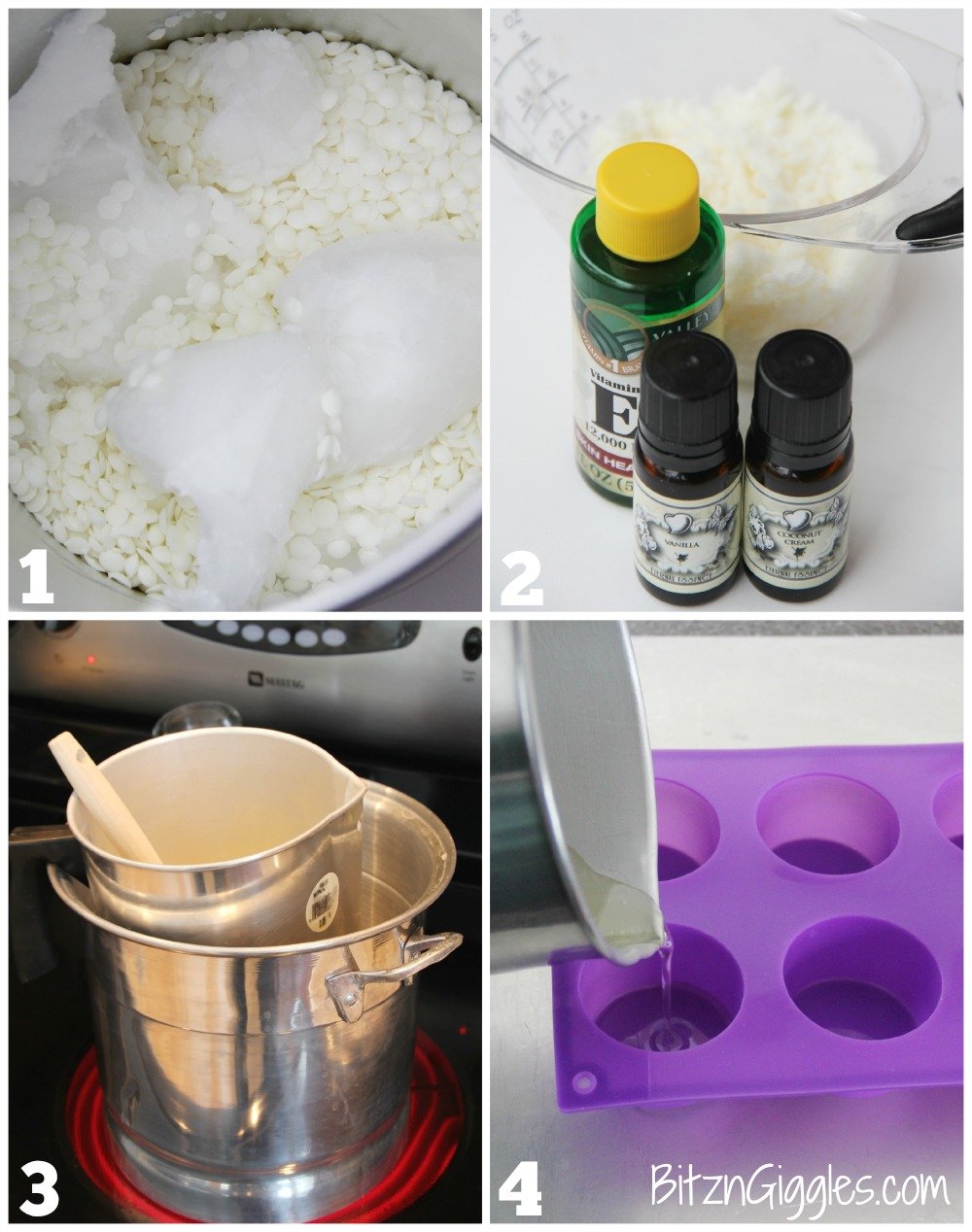 Instructions
Using a double boiler method, warm the coconut oil and soy pastilles over medium-high heat on the stove until melted (You could also melt the ingredients in the microwave, watching them closely).
Remove the mixture from the burner, allow to cool for about a minute and add the shea butter and vitamin E oil.
Add your essential oil. I added 10 drops vanilla and 10 drops coconut cream. Mix well.
Pour the mixture into your mold and allow to set for at least a day before you pop them out.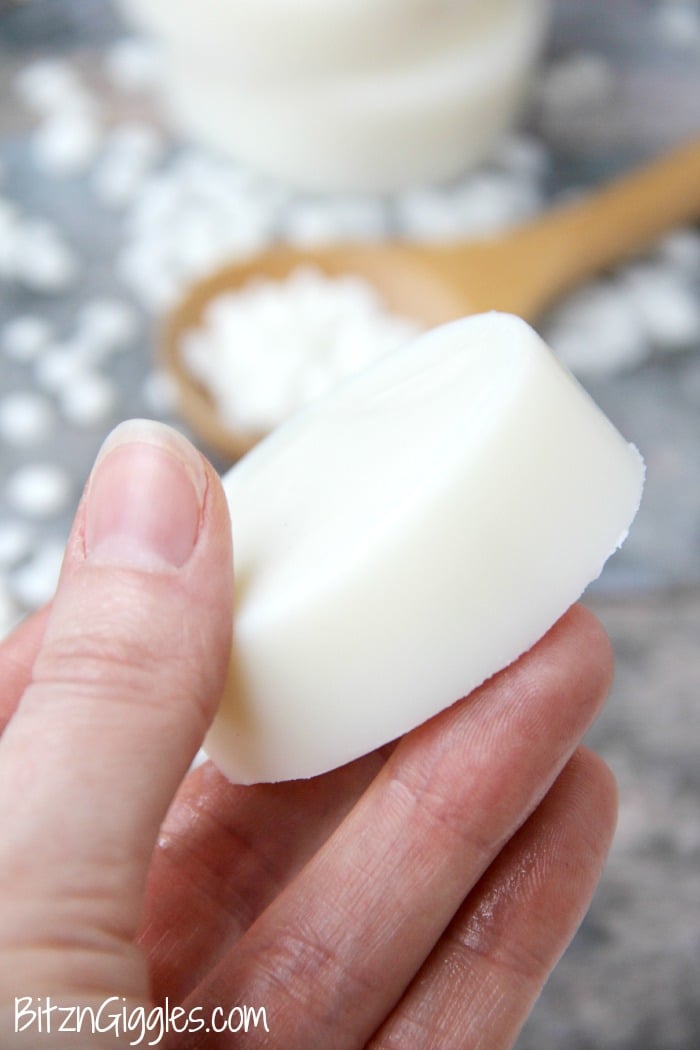 Here are what mine looked like when I popped them out of the mold. Now here's the thing. . .you could make these bars with either beeswax or soy pastilles. I like soy because it's softer and creamier. HOWEVER, there's one important thing to keep in mind if you use soy.
These bars should be refrigerated between uses, otherwise they could get very soft if left out over time or if taken into too warm of temperatures. DO NOT put these in your purse or place them in a drawer. Got it?
Let me show you why I love soy in these bars. You can see your skin rehydrating as you use these bars. My favorite parts of the body to use these bars are my legs and elbows.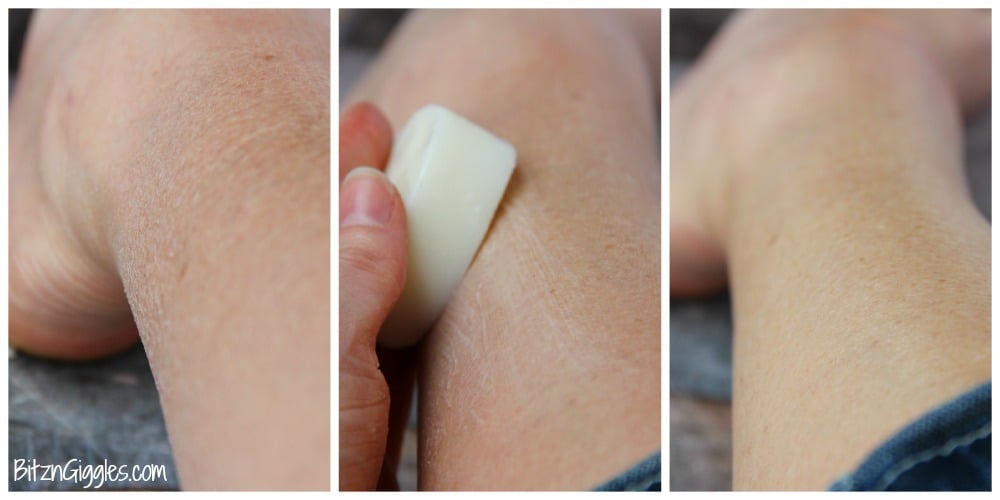 So, the photo way over here to the left is the dry skin on my left calf. Ugh. This is what Wisconsin winter skin looks like. I'm sorry – this is for demonstration purposes only. When I apply the soy lotion bar, you can see the creaminess of the formula right on my skin. The picture over to the right is what my leg looked like seconds after I applied the bar to my skin. No more dryness. My legs looked smooth, shiny and hydrated.
These bars are awesome any time of the year and make your legs look beautiful after shaving. Make some of your own bars just in time for summer. They sell these bars for $10-12 dollars at beauty retailers – sometimes more.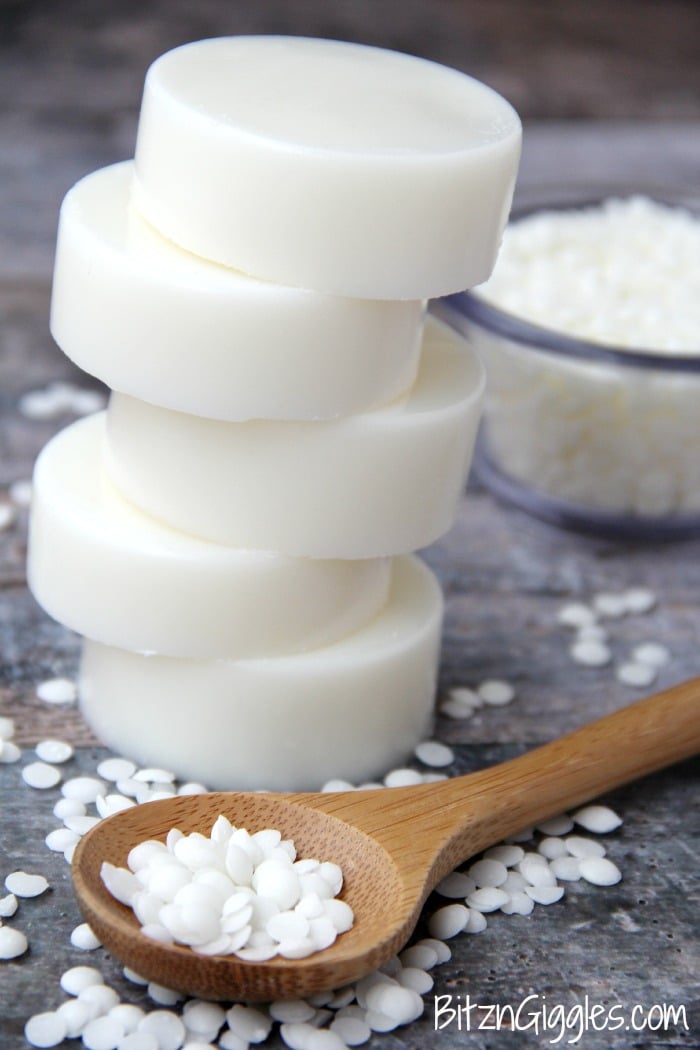 You can make these bars for much less at home and use whatever essential or fragrance oil(s) you would like. I used vanilla and coconut. What a wonderful combination. They smelled incredible.
The recipe I shared today made the full eight bars out of the mold I used. I'm SO excited about sharing these with my family and friends and can't wait to make some more! I hope you try them, too!
(Visited 17,518 times, 1 visits today)