Spring Cleaning Tips for Dog Owners – Are you sure you thought of everything when it comes to cleaning this spring? Keep your home clean and your dog and family healthy with these important spring cleaning tips!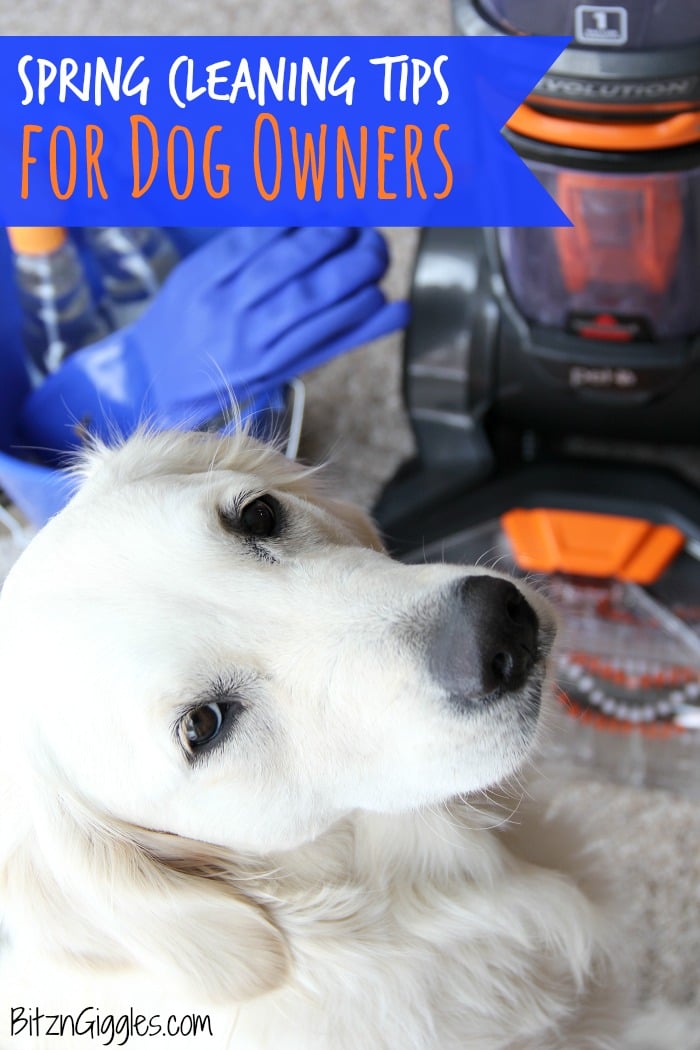 Spring is sure taking its sweet time making an appearance around here. To say that folks around these parts are a bit disappointed with Mother Nature would be an understatement. Although I'm not a fan of the cold weather, when you're a person who has dogs (or in our case, A DOG) you begin to dread the spring thaw. Because with the spring thaw, when the snow melts, you're left with standing puddles of water, muddy patches and. . .get ready for it. . . the "big reveal" in the yard. If you're a dog owner, you can probably guess what I'm referring to. Call it what you want. If you own a dog, you'll have to deal with it.
But beyond "waste" and mud, there are so many other things to keep in mind in the spring as a dog owner.
So that's why today we're talking spring cleaning tips and I'm giving you the skinny on how to refresh your home this spring and keep it clean and healthy for your dog(s) and your family.
Tackle the Yard
Get out and clean up that yard first. Animal waste may contain harmful organisms such as Giardia, Salmonella and E. coli that can be transmitted to people and other animals. Take a shovel and a garbage bag and get busy. They always say, "swallow the big frog first." So, that's what we're doing here. If you're squeamish about getting out there and getting the job done, hire someone to do it for you. There are services out there that specialize in dog waster pick-up, and believe me, spring is their busiest time of year, so plan ahead!
Clean the Carpet
We have a lot of carpet in our house. . .which explains even further why the whole muddy, dirty yard thing drives me crazy. This year, however, I brought in the big guns and welcomed the new, lightweight BISSELL ProHeat 2X Revolution Pet into our home. This is a stain-tackling machine, folks (and so easy to maneuver). It has a deep clean mode for tough, set-in stains and an express mode (yes, please!) that will take your carpet from dingy to dazzling AND dry in just an hour. FOR REAL.
My favorite BISSELL formula is the 2X Pet Stain & Odor Remover because it cleans deep into the carpet fibers and extracts any lingering pet odors. There's nothing to mix – you just open the bottle on the Easy Fill Formula cap and pour. Perfect for when you're dealing with muddy paws or accidents.
Want to try it for yourself? Visit BISSELL.com or Walmart to tackle dingy carpets head-on this spring and throughout the year. With pets, a quality carpet cleaner like this one is a smart and necessary investment.
MUDDY PAWS TIP: If your dog shows up at the door with muddy paws, have a bowl of room temperature water and a dark towel ready in your entry along with an old carpet runner. Dip each dirty paw into the bowl of water and dry with the towel before you allow them to enter the house. If they're already in before you notice, get them into the tub, rinse off their paws and then break out your BISSELL. 😉 Express mode, please!
Curious to know what spring cleaning looks like with a playful puppy in the home? A little like this. . .
Conduct a Collar Check
Collars are often one of your dog's accessories that can smell kind of "doggy." Give your dog's collar a good cleaning and then examine it closely. Puppies grow quickly, and mature dogs can gain or lose weight from season to season. The beginning of each new season is a good time to check your dog's collar to ensure it isn't too tight or too loose. For example, our English Cream Golden Retriever, Belle, needed a bit of an adjustment. She's just a little over a year old and we noticed her collar was getting tight so we expanded it a bit for her. Now we know she should be good to go for the warm summer months!
Inventory Medications
Go through your dog's medications, prescriptions, etc. and toss out anything that has expired or you no longer need. Make sure you have a good supply of heartworm medicine and flea and tick control treatments ready to go. Here in the Midwest, we have to be SUPER vigilant about tick control. They are everywhere in spring. We lost our first golden retriever to Lymes Disease (even though we had been treating her). I won't lose another.
Inspect the Toy Bin
Go through your dog's toys and look for anything that could be unsafe. Dig deep to the bottom of the basket, because that's where you'll find those tiny pieces that could be swallowing hazards. Unraveling rope toys? Toss them. Unrecognizable stuffy parts? Those get tossed, too. Anything that could harm your pup needs to go. Chances are you may find some toys at the bottom of the basket your dog may have forgotten about, too! So, even though you may have to toss some, you might discover some new "old" toys that your pup will be uber excited about.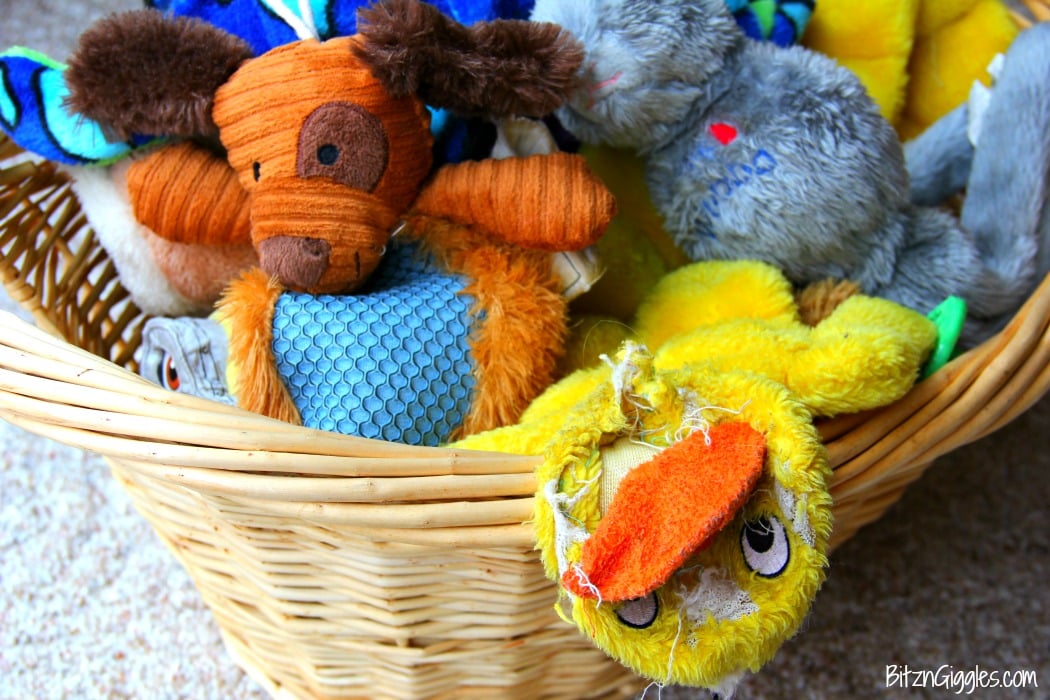 TOY CLEANING TIP: Place plastic or vinyl toys in the top rack of the dishwasher (placing a piece of clear tape over the hole of squeaky toys to keep water out) and, instead of adding detergent, add 2-3 tablespoons of white vinegar to the bottom of the dishwasher. Run them through a normal cycle and then allow the toys to air dry. 
Clean Windows & Patio Doors
I don't know about your dog, but Belle loves to look out our patio door with her nose pressed against it. So between her nose marks and the fingerprints of our two kids, we are dealing with smudges pretty much every day. Does that mean I clean our patio door everyday? Are you kidding me? That would be a big, "no." Spring, however, is the time of year I do a good cleaning of our windows and doors, inside and out. Who knew we had such a pretty view?
Disinfect Food Bowls & Containers
Do you clean your dog's food bowls regularly? How often do you clean out the container in which you store your dog's food? I'm pretty good at washing out Belle's bowls out during the week. The food container. . .not as often. Regardless, both the bowls and containers can always use a deep cleaning. Since my bowls are dishwasher-safe I run them through the "sanitize" cycle in my dishwasher. The food storage container gets cleaned out with a mixture of warm water and mild antibacterial dish detergent.
Scrub the Crate
If you use a crate for your dog, it's time to clean house (their house, that is). We still crate Belle when we leave the house to keep her safe and out of mischief while we're gone. Again, just use a rag with some warm water and a mild antibacterial dish detergent will do the job. If the tray can be removed from the crate, take it out, give it a good scrub and allow it to air dry.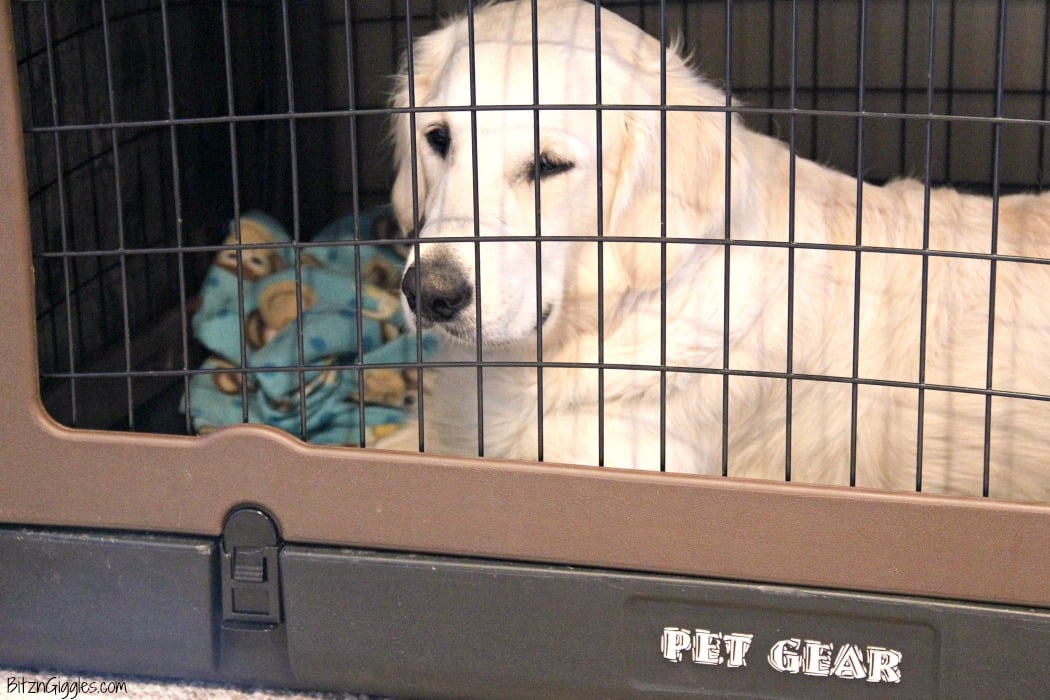 Use the rag to clean the outside of the crate as well, especially if you have a hard cover crate like we do. Lots of dust and dirt can collect in the crevices and on the surface. Demolish that dirt!
Pamper Your Pooch
Lastly, don't forget to clean YOUR DOG! It's this time of year dogs that shed, start shedding their winter coat. If you're curious about that, throw on a black shirt and some black dress pants and come on over to our house. 😉 As their new coat starts growing in, keep it shiny and healthy. Bathe your dog, trim her nails, clean her ears and give her an overall good grooming. I use a brush and a slicker brush on Belle. To keep her smelling heavenly between grooming sessions, we use a homemade dry dog shampoo.
Tackle a little at a time, but start today! You'll be so much more prepared going into the summer months if you take these spring cleaning tips to heart! And if you have a puppy like we do, there's a chance your spring cleaning may take a bit longer due to a curious, furry family member that likes to be always be underfoot. 😉
I can't wait to hear your best spring cleaning tips to keep your home clean and your dog and family safe and healthy throughout the season!
I was selected for this opportunity as a member of Clever Girls and the content and opinions expressed here are all my own.
(Visited 1,274 times, 1 visits today)