Strawberry Shortcake Trifle – A beautiful and delicious trifle layered with vanilla cake, homemade strawberry glaze and cream! Such a pretty dessert!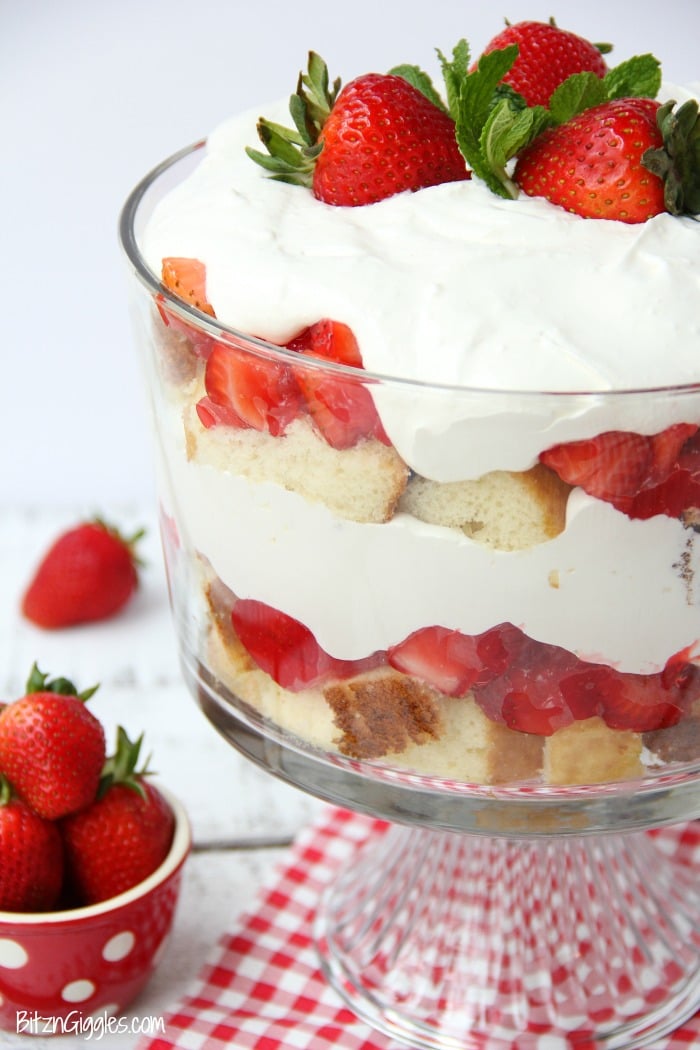 Woo hoo!! Do you know what this Strawberry Shortcake Trifle dessert means?! Well, to me it means summer weather has arrived! I tend to make a lot of trifle and no-bake desserts in the warm summer months.
We entertain a ton in the summer and it's a great dessert to whip up if you need to serve a crowd. And let me tell you what, whoever you make this for is going to LOVE it!
Putting everything together is pretty simple. For the cake, you bake a vanilla cake in a 9×13″ pan using a box mix.
Cut the cake into cubes and use half of the cake for the first layer of the trifle. The strawberries and glaze come next and then the cream (OH, the cream) goes on top of that.
Then. . .you repeat it all over again.
So. . .let's take a few steps back and talk a little about this glaze. You make it in a saucepan on the stove. The most important thing I want you to remember about this recipe is that it's important to add the JELL-O after the sugar, cornstarch and water have been brought to a boil. Keep stirring when you add the JELL-O, turn down the heat and wait for it to thicken.
Once it starts to thicken, remove it from the heat and allow it to cool. If you're in a hurry (like I usually am), place it in the fridge for about 15 minutes and it will thicken faster.
It may seem pretty thick when you pull it out of the fridge, but once you add the strawberries, the consistency will be perfect.
Then, all you need to do is top it with a few strawberries and mint leaves. SO PRETTY, don't you think?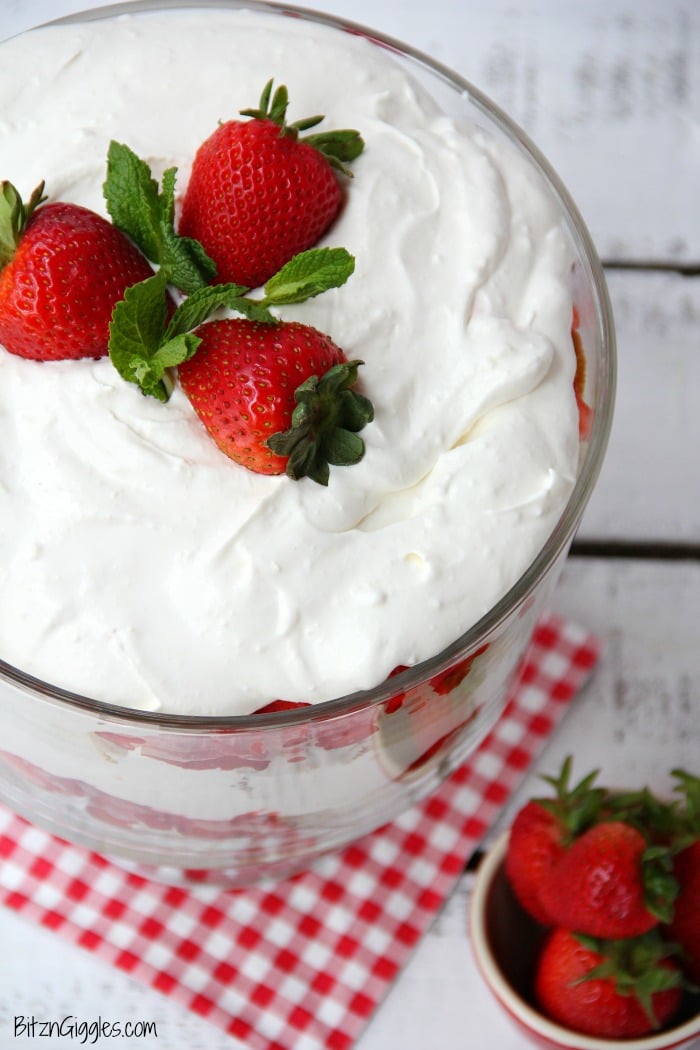 When you carry this into a party and set it down you're going to get lots of oohs and ahhs. Let me just tell you, you'll probably have some of the cream left over unless you do have a pretty large trifle bowl. I LOVE this cream.
If we do have some leftover, we'll put it on top of pancakes, ice cream, you name it, we've tried it. Just eat it out of the bowl with a spoon if you want. #nooneiswatching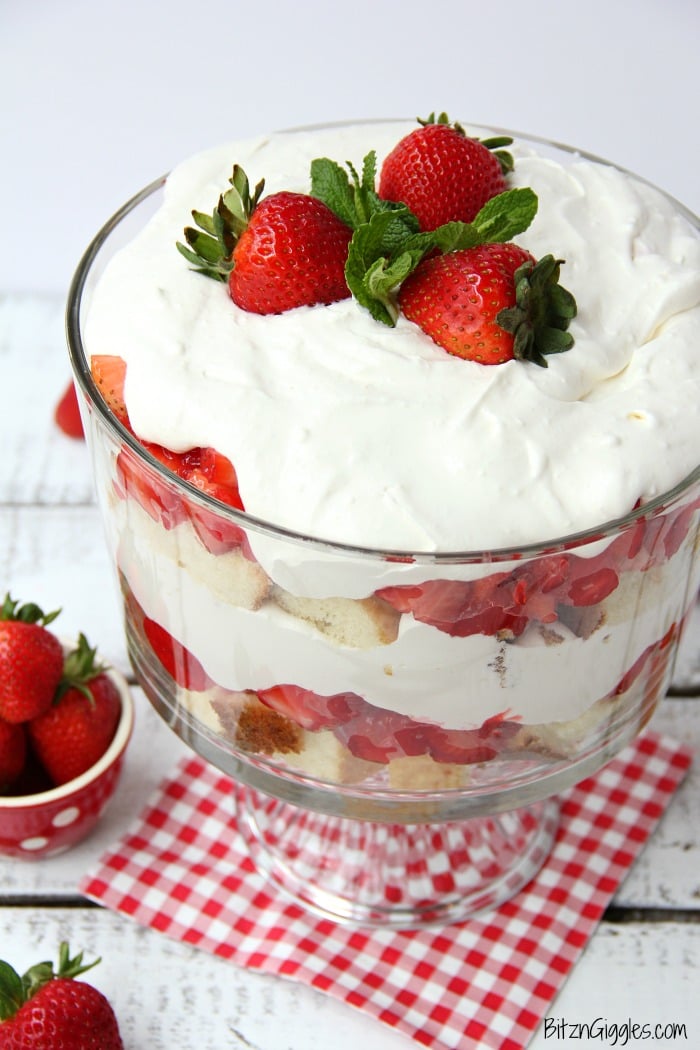 If you don't have a trifle bowl, you could always use a large glass mixing bowl or salad bowl. I'm pretty partial to glass bowls when it comes to this strawberry shortcake trifle.
Part of the beauty of this dessert is being able to see all of the layers inside of the bowl. It's almost a shame to have to scoop some of this deliciousness out of the bowl. I think I'll get over it.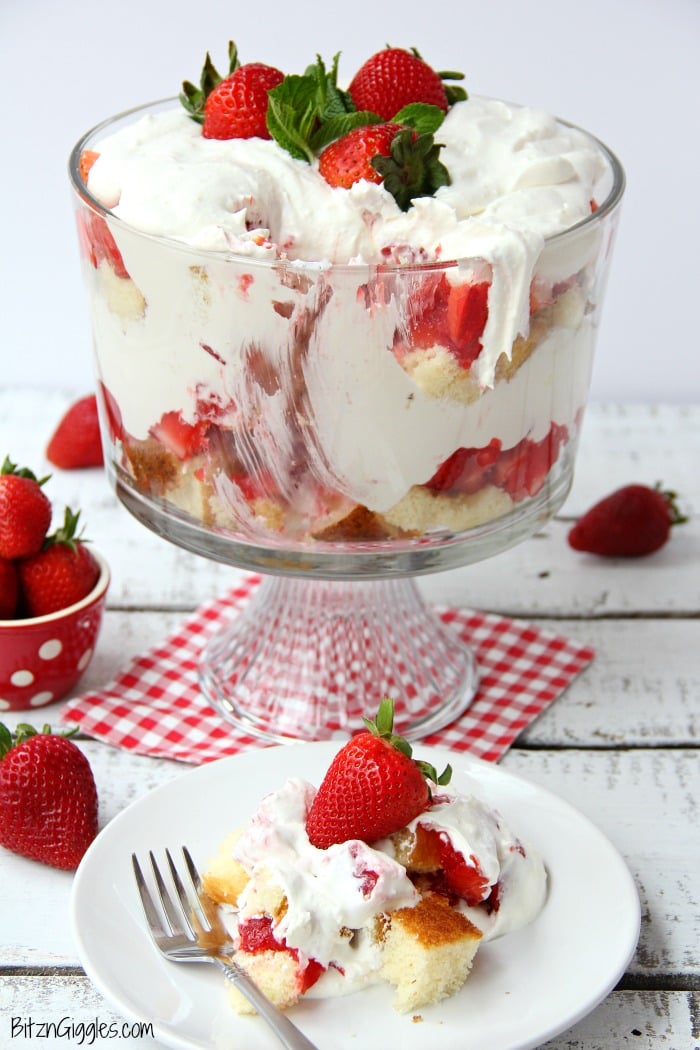 Yep, I'm pretty much over it. It's time for me to dig in.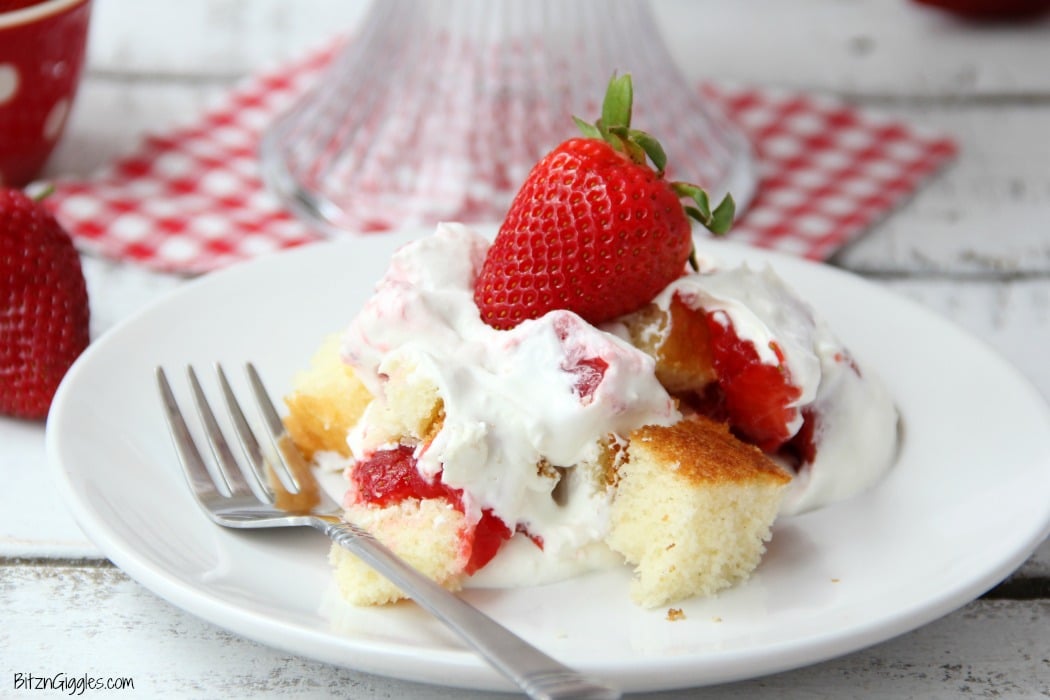 And time for you to run out to get the ingredients for this picture perfect strawberry shortcake trifle that will be the star of the show this summer! Enjoy!
Strawberry Shortcake Trifle
A beautiful and delicious trifle layered with vanilla cake, homemade strawberry glaze and cream! Such a pretty dessert!
Author:
Yield: 10-12 servings 1x
Category: Dessert
Ingredients
For the Cake
Vanilla box cake with ingredients called for on box
For the Glaze
1 cup sugar
6 tablespoons cornstarch
2 cups water
3 ounce box Strawberry JELL-O
4 cups fresh strawberries, cut into pieces
For the Cream
8 ounce whipped cream cheese
14 ounce sweetened condensed milk
12 ounce container Cool Whip
Whole strawberries and mint leaves for garnish
Instructions
For the Cake
Bake cake according to instructions on box and cool.
For the Glaze
Bring sugar, cornstarch and water to a boil stirring constantly.
Add the JELL-O to the mixture when boiling.
Turn down the heat and continue to stir until the mixture begins to thicken.
Remove from burner and allow to cool (to cool faster, place in fridge for 15-20 minutes).
Fold in strawberries.
For the Cream
Combine the cream cheese and sweetened condensed milk with a hand mixer. Fold in the Cool Whip.
To Assemble
Cut cake into squares.
Add 1/3 of the squares to the bottom of the bowl.
Top with a layer of the glaze.
Top with a layer of cream.
Repeat layering in this order.
Top trifle with whole strawberries and mint leaves for garnish.
Refrigerate until ready to serve.
(Visited 84,585 times, 1 visits today)