Sugar Cookie Cake Bars – Soft and chewy bars topped with decadent buttercream frosting and colorful sprinkles ~ perfect for a party and makes enough for a crowd!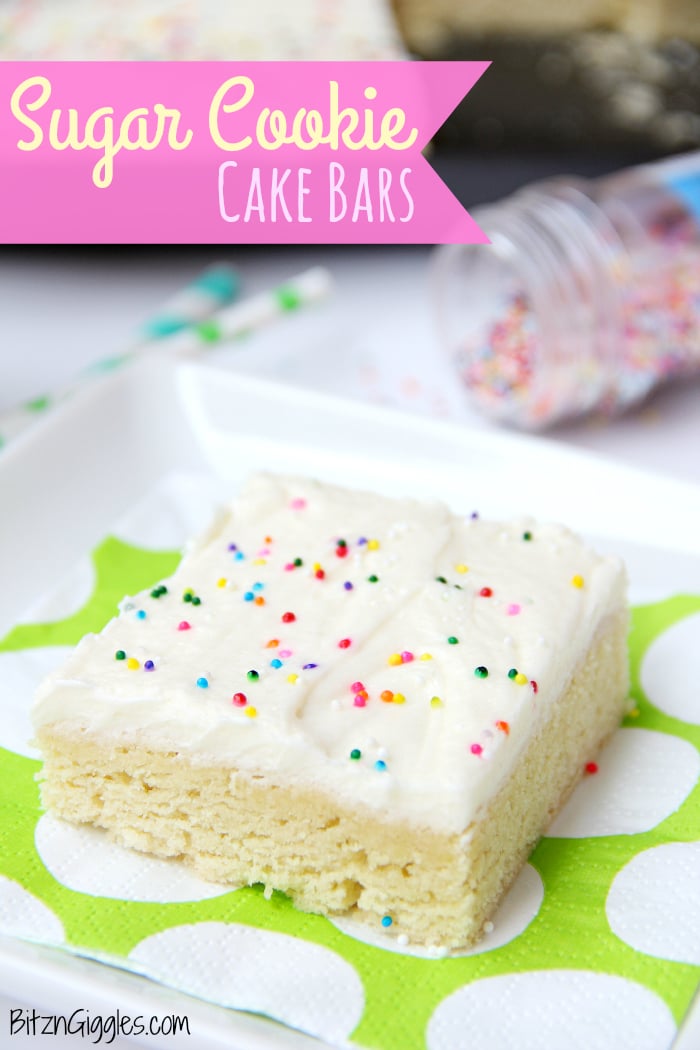 So, who doesn't love sugar cookies? They're soft, they're chewy, the frosting is amazing and you can never eat just one. Right? Right. What I don't love as much is the time it takes to bake them, frost them AND decorate them.
There are only so many hours in a day and let me tell you what. . .when the holidays are approaching, there's a lot to get done. Although sitting down and frosting a cookie (or 200 of them) can be therapeutic, I'd much rather make a pan of these Sugar Cookie Cake Bars to impress my guests. . . as well as keep my sanity in check. 😉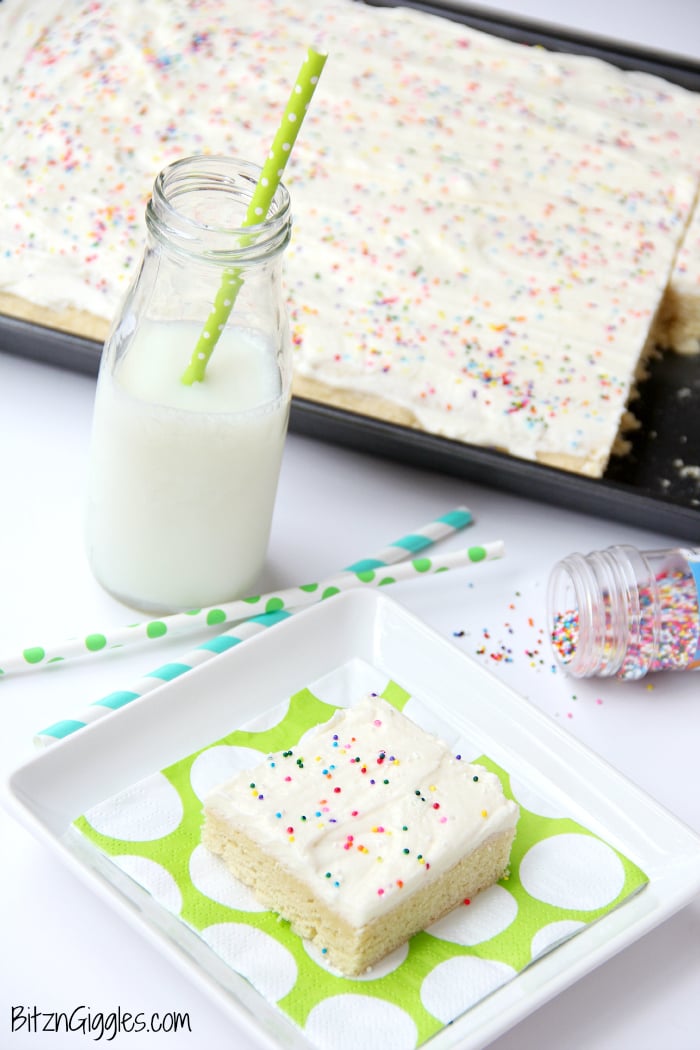 This recipe makes a big pan of bars. I actually use a jelly roll pan. If you're looking for dimensions, a standard jelly roll pan is 12½ x 17½ by 1 inch. You can see that it's certainly enough to feed a crowd. I usually get about 30 bars out of the pan, however, it all depends on how large or small you cut your bars. I say go bigger. 😉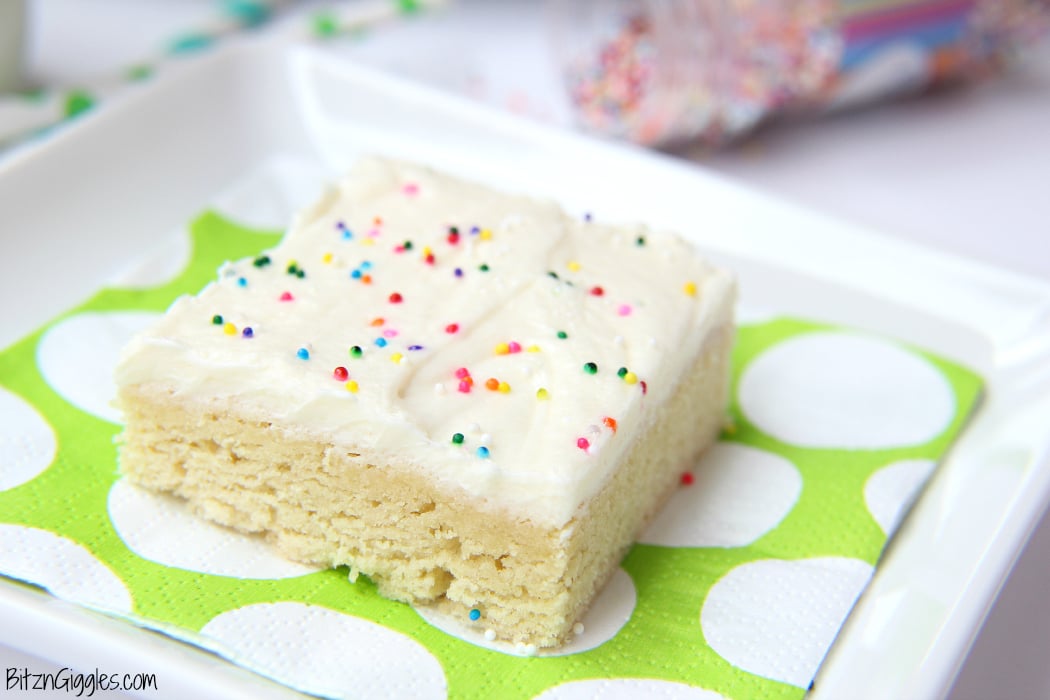 Texture-wise, these bars are a combination between a cookie and a cake, thus their name. Soft, chewy and topped with a sweet buttercream frosting. SO GOOD. Oh, and don't forget the sprinkles, right? Because they just make everything taste and look EVEN better (according to my 4-year-old).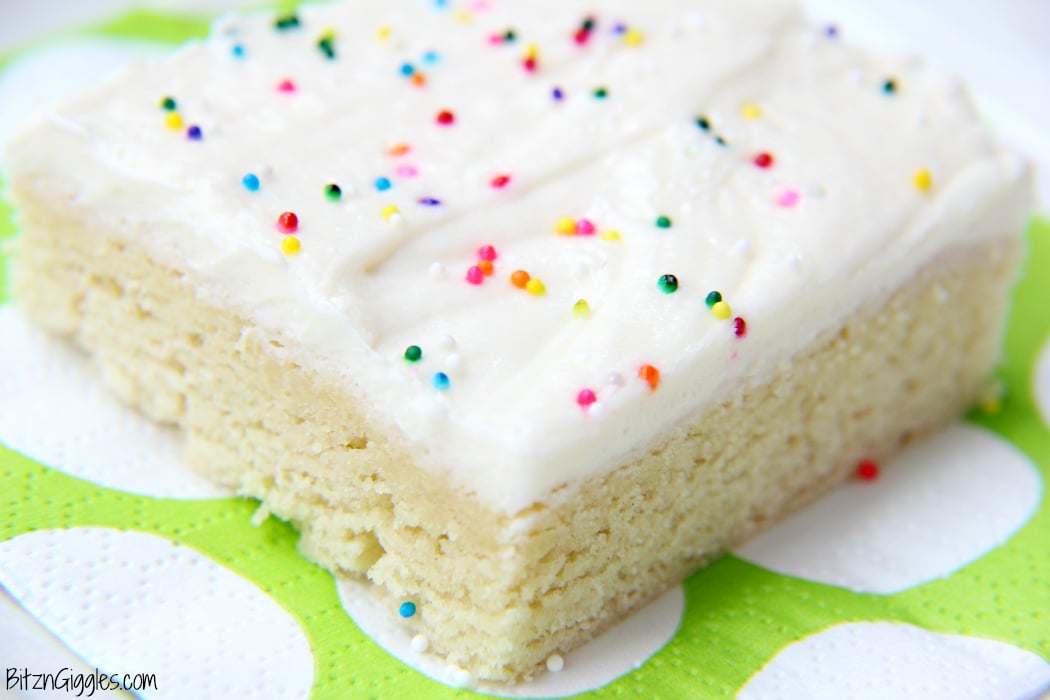 The frosting is just heavenly. I sent a pan of these bars along with my hubby to share with his deer hunting crew this past weekend. Well, almost the whole pan of bars. I did squirrel away a few to keep here at the house.
A few notes about these bars. . .they don't need to be refrigerated. Also, once the frosting sets, the bars can actually be layered on top of one another for serving off of a platter. The key phrase there is, ONCE THE FROSTING SETS. . .or you may have a bit of a mess on your hands that you would need to eat clean up.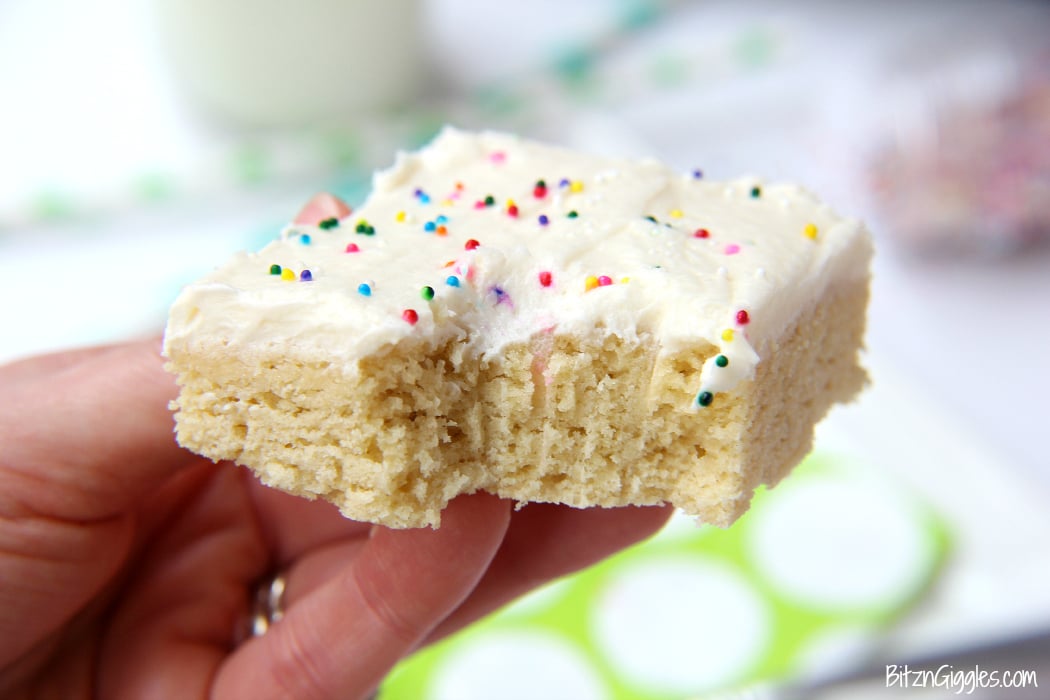 That could very well be why I make so many messes. 😉 After I frost these bars, I normally just allow the frosting to set and I cover the entire jelly roll pan with aluminum foil or cling wrap until I'm ready to cut and serve them.
These sugar cookie cake bars are an awesome addition to the holiday dessert platter. . .and they go a long way. I think I'm going to make another pan of these to take to Thanksgiving with the family this week. You should, too!
Sugar Cookie Cake Bars
Soft and chewy bars topped with decadent buttercream frosting and colorful sprinkles ~ perfect for a party and makes enough for a crowd!
Ingredients
For the Cookie Bars
2 sticks unsalted butter, room temperature
2 cups sugar
4 large eggs
5 cups flour
2 teaspoons vanilla extract
1 teaspoon salt
1/2 teaspoon baking soda
For the Frosting
2 sticks unsalted butter, room temperature
4 cups powdered sugar
4 tablespoons milk
1 teaspoon vanilla extract
A pinch of salt
Nonpareils for decoration
Instructions
For the Cookie Bars
Preheat oven to 375 degrees Fahrenheit.
In a large bowl cream together the butter and the sugar.
Mix in one egg at a time.
Add vanilla extract and mix well.
In a separate bowl, mix together the flour, salt and baking soda.
Add the dry ingredients to the wet ingredients gradually, a little at a time. Mix well.
Flour your hands to prevent the dough from sticking and spread on prepared jelly roll pan.
Bake for 12-15 minutes. Do not overbake or you'll end up with dry bars!
For the Frosting
Beat butter until creamy.
Mix in the vanilla and salt.
Add the powdered sugar gradually, mixing well.
Add the milk and mix until it reaches your desired consistency.
Spread the frosting onto the cooled cake bars.
Sprinkle on some nonpareils.
(Visited 55,089 times, 1 visits today)