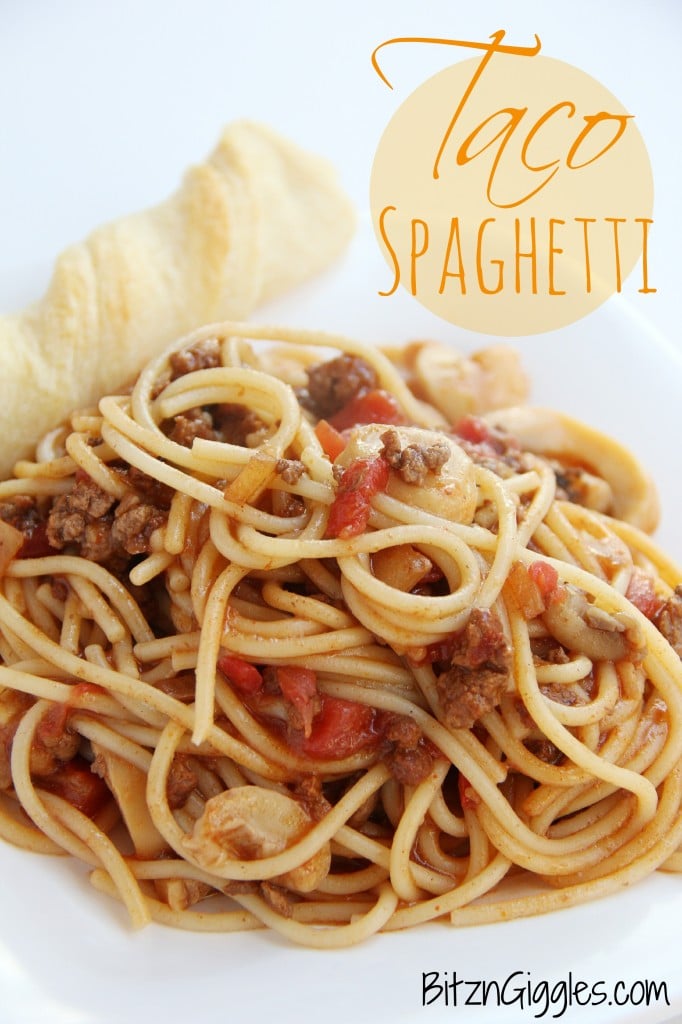 Remember when you were little and counted down the days until your birthday – looking forward to the cake and the gifts – your friends at school showing you a little extra attention because you brought a treat for everyone that day? Yep, I remember those days. How is it that the magic of birthdays kind of gets lost oh. . .at about age 30? LOL
I shouldn't be so down and out! Today is my birthday and life IS good! I have a wonderful husband, two healthy and fabulous children, a prosperous career and the support of family and friends all around me. What the heck do I have to complain about?! Nothing, besides the fact that my piece of birthday cake will need to be smaller if I want to maintain my weight. 🙂 It all comes down to the food, doesn't it?
That's why today I'm sharing some comfort food because I can! Forget the calories for a minute and just enjoy! This Taco Spaghetti is hearty, satisfying and makes a ton!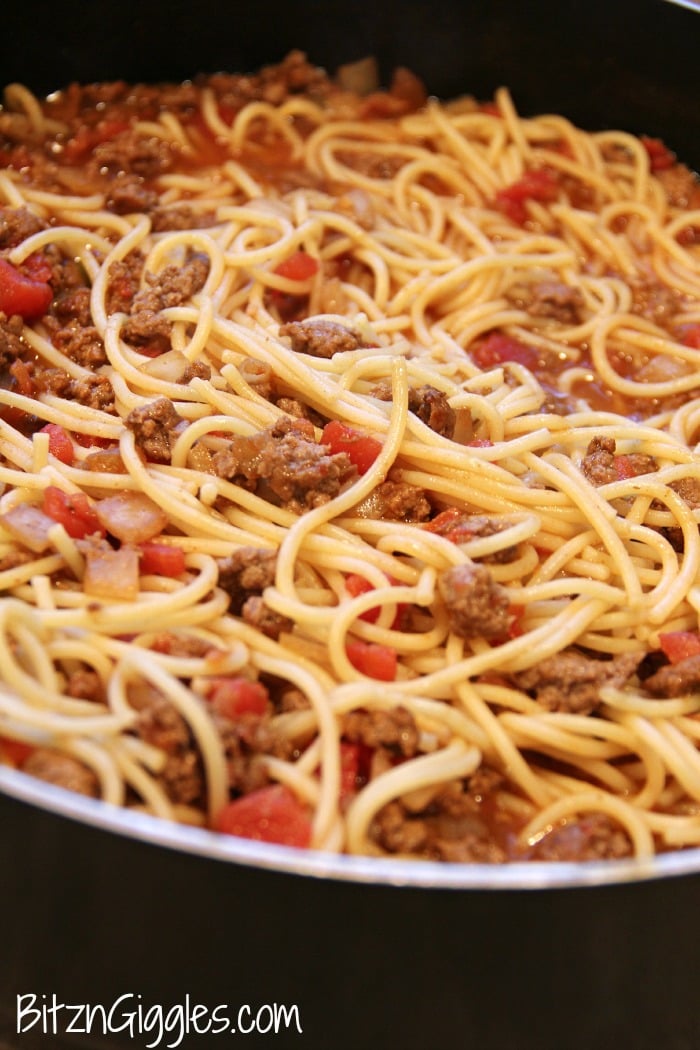 This dish actually reminds me of my mom's famous hot dish she makes. Do people still use the term hot dish? The definition is a whole lot of goodness in one pan: meat, pasta and veggies. An all-in-one meal! This Taco Spaghetti definitely meets all of the criteria!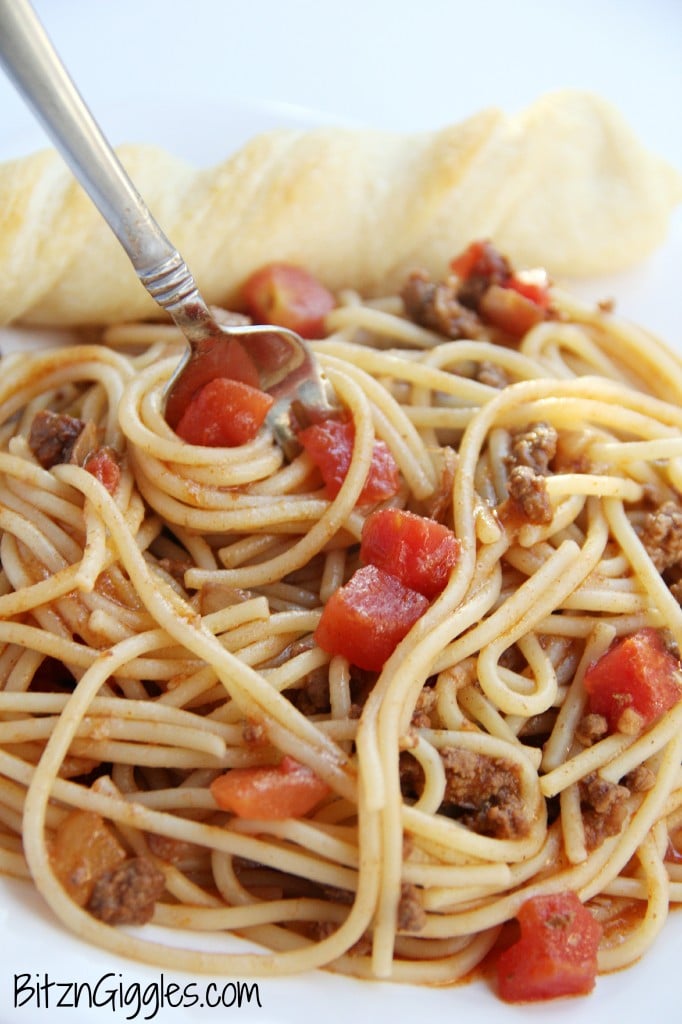 I used a can of Ro-Tel to give the spaghetti a little kick. I could tell it was there. My husband (lover of all things spicy) didn't seem to blink an eye or drop a bead of sweat. So, I guess I can't classify this as a "spicy" dish but it has a little extra "something" that makes it quite addicting and something a little bit different than your traditional spaghetti and meat sauce.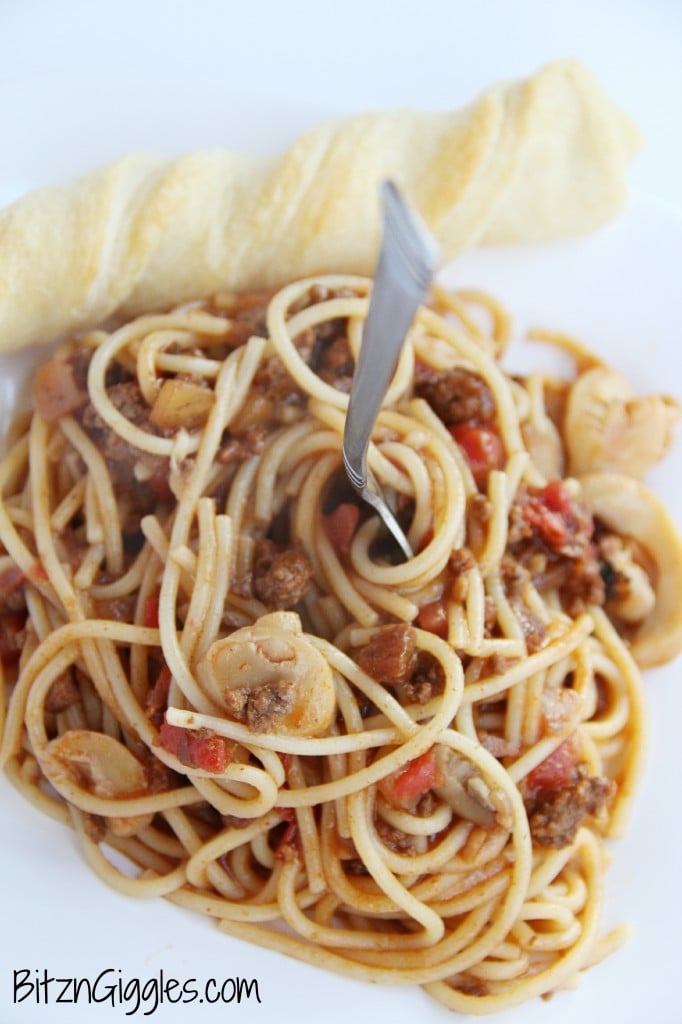 The mushrooms I added are totally optional in this dish but I added them because they reminded me of home. My mom always put canned mushrooms in her hot dish and even as a child, I loved them.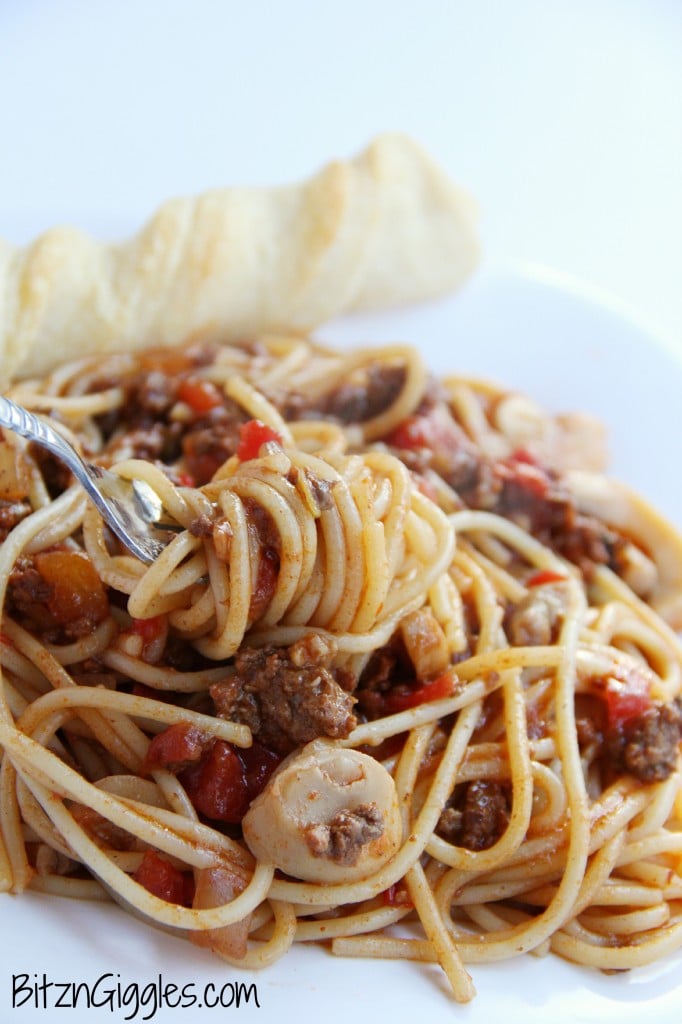 So, today as I celebrate another year of sophistication. That's what it is, right? I'll be enjoying leftovers of this wonderful dish. Did I mention this spaghetti tastes even better the NEXT day? It does. It's like chili. Unbelievable. Grab a fork and dig in.
If you're nice, I may even share some of my birthday cake. . .that I may or may not be getting this evening. Honey. . .if you're reading this. . .this is your cue to get me some cake. Hint. Hint. I'm not picky, but marble with vanilla butter cream frosting would be great. Ice cream. . .optional. I suppose I would eat it if you forced me. 🙂
Taco Spaghetti
A Mexican twist on traditional spaghetti – a one dish wonder, perfect for a hungry group!
Ingredients
1 pound 95% lean ground beef
1/2 cup onion, chopped
10 ounces long spaghetti (broken in half), cooked
10 ounce Ro*Tel diced tomatoes & green chiles, undrained
8 ounces canned mushrooms (stems and pieces), undrained
8 ounces roasted garlic tomato sauce
1 tablespoon minced garlic
1 pkg mild taco seasoning mix
1 tablespoon garlic pepper
1 tablespoon salt
2 cups water
Sour cream and Parmesan cheese for garnish
Instructions
Cook beef in large skillet with onions and minced garlic until no longer pink, about 7-8 minutes.
Add taco seasoning, water, Ro*Tel, tomato sauce and mushrooms until well mixed.
Add the cooked spaghetti to the skillet and mix together with other ingredients.
Season with the salt and garlic pepper.
Let cook for about 10 minutes before serving, stirring occasionally.
Garnish with sour cream and Parmesan cheese if you'd like.
Nutrition
Serving Size: 6
Calories: 527
Sugar: 7
Sodium: 2011
Fat: 22
Saturated Fat: 12
Unsaturated Fat: 7
Trans Fat: 0
Carbohydrates: 46
Protein: 37
Cholesterol: 87