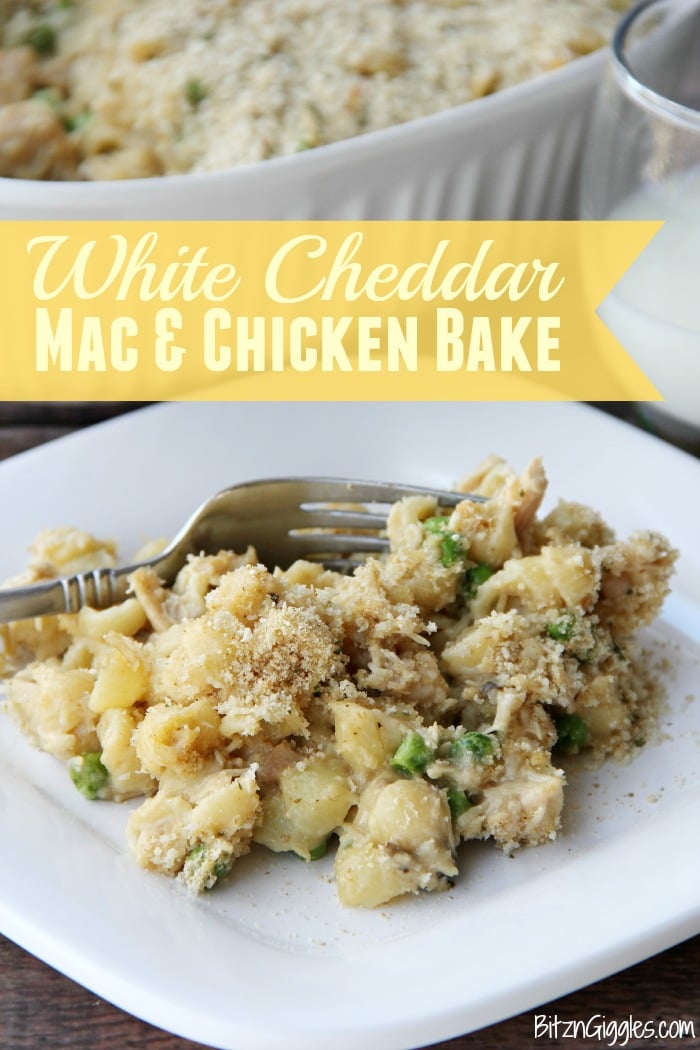 This is a sponsored conversation written by me on behalf of Horizon Organic Mac and Cheese. All opinions and text are my own. #MACNATOR​
On the way home from work the other night I realized I never took any meat out of the freezer for dinner. Do you do this, too? I'm a repeat offender. Better meal planning is actually part of my New Years resolution. . .I'm failing already. On a brighter note, I do have some recipes in my back pocket that I pull out for evenings when I need to prepare a delicious meal for my family in a pinch.
This White Cheddar Mac & Chicken Bake is one of my favorite recipes. It's a creamy, cheesy pasta dish with chicken and peas finished off with a crunchy breadcrumb topping. Did I say chicken? I did. I actually use canned chicken breast for this recipe, so there's nothing to take out of the freezer, nothing to cook in a pan, nothing to chop up. Truth.
If you do have more time on your hands you could cut up some white meat from a rotisserie chicken or use about 1 1/2 cups chopped cooked chicken.
Bottom line is, once you stick it in the oven, it's ready in 30 minutes. Bam. What could be better than that?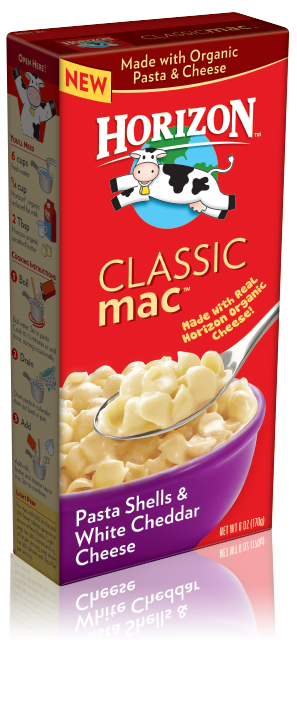 Have you tried Horizon Organic Mac N' Cheese yet? It's made with organic pasta and real Horizon® organic cheese and is absolutely delicious. It's my go-to pasta for this particular recipe – my kids love it, and so do my husband and I.
You begin by preparing the pasta as directed on the box. While the noodles are boiling, in a separate bowl I mix together the soup, chicken, peas and seasonings. Once you finish preparing the pasta (look at those CREAMY shells!), you mix them together with the other ingredients in the bowl and then spoon it all into a 1 1/2 quart casserole dish, cover with foil, and pop it in the preheated oven. SO easy, right?
This is about the time I start feeling pretty good about forgetting to take the meat out of the freezer. For the next 25 minutes, it's GO time. I use it to change out of my work clothes, put a load of laundry in the wash, make lunches for the next day. . .anything, really; it allows me to get a lot done. I literally run through the house seeing how much I can accomplish in that time. Why on earth is this a good idea? Because it gives me more RELAXATION time once the kids are in bed doing things I enjoy like reading, catching up on Facebook or planning my next blog posts. Smart? I think so.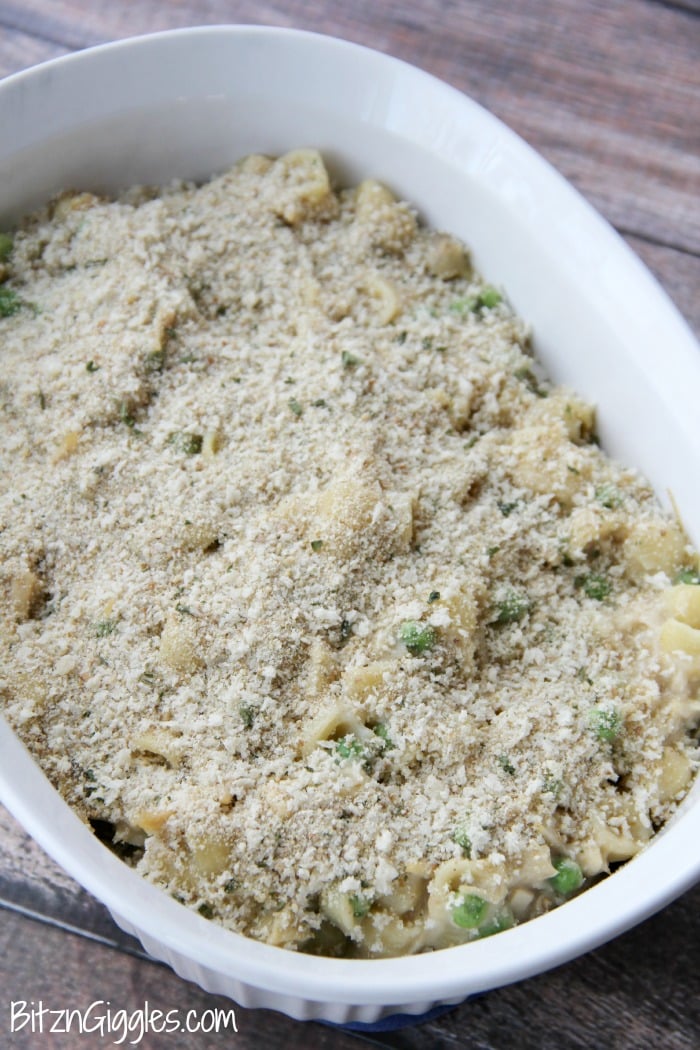 So, when the oven buzzer rings, I uncover the baking dish, sprinkle on the breadcrumb topping and put it back in the oven for 5 more minutes. A perfect amount of time to fill milk and water glasses and get the family seated at the table.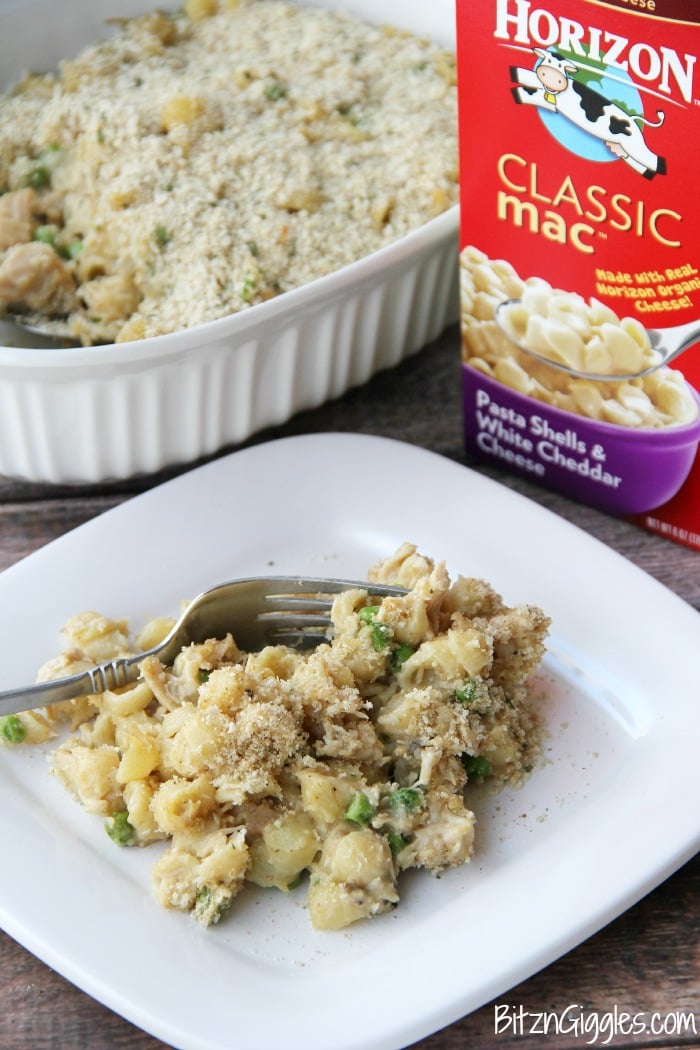 You really can't go wrong with this dish on a busy night.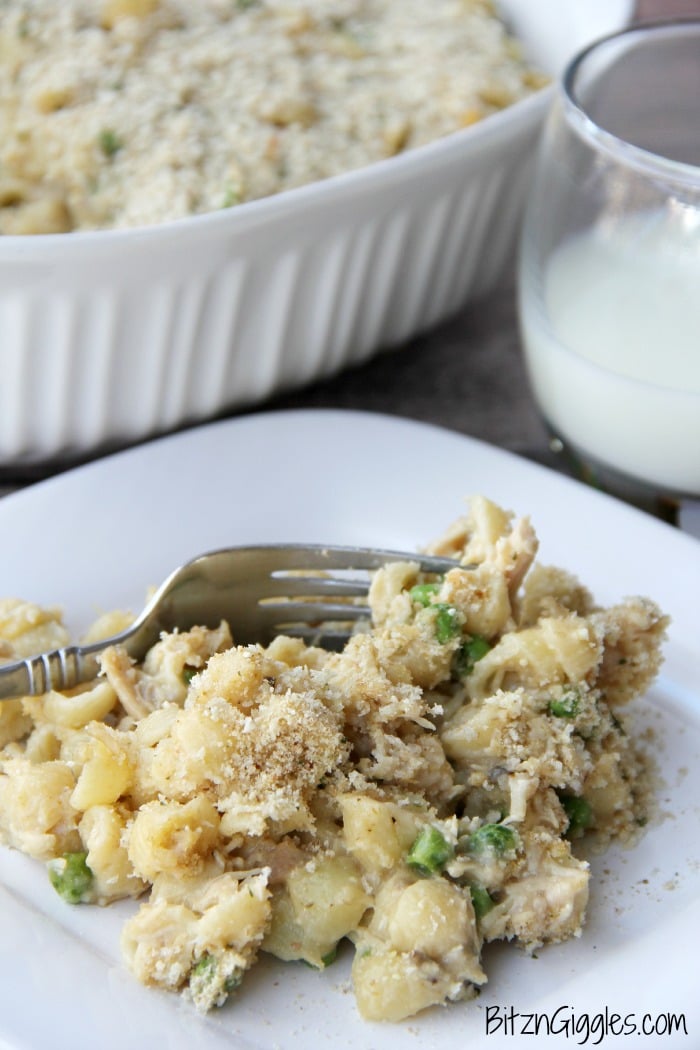 Although the ingredients are simple, the combination of flavors is truly delicious. A definite comfort food and recipe I love because I normally have all of the ingredients I need, on-hand.
Speaking of the ingredients you have on-hand, you need to check out Horizon's new MAC-N-NATOR! It will make your life a bit easier, trust me. You simply select the ingredients you have on-hand, and the Mac-N-Nator generates a mac & cheese recipe using Horizon Mac & Cheese. Super cool, right? This recipe and many others are featured in the tool. What a fabulous idea. Also make sure to stop by and follow their MAC-N-ATOR Recipe Pinterest board!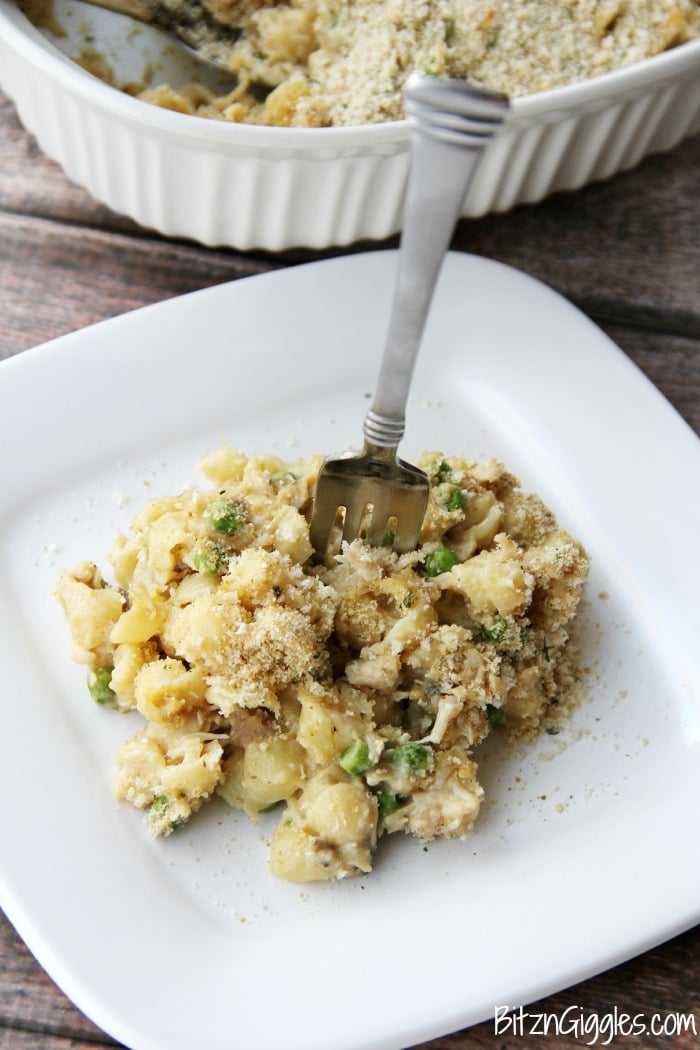 The recipe makes a perfect amount for the four of us, and once and awhile, there's enough left over for me to take to work the next day. BONUS! It's about time you dig into this dish! Make it part of your meal plan this month!
White Cheddar Mac & Chicken Bake
A creamy white cheddar chicken and pasta bake that is SO easy but absolutely delicious!
Ingredients
6 oz. box Horizon Classic Mac – Pasta Shells & White Cheddar Cheese
10 3/4 oz. can of cream of chicken with mushroom soup
13 oz. can of chicken breast chunks in water
3/4 cup frozen peas
1 teaspoon garlic powder
1/2 teaspoon salt
1/4 cup Panko bread crumbs
1/4 cup garlic & herb bread crumbs
Instructions
Preheat oven to 400 degrees.
Prepare Horizon Classic Mac as directed on box.
In a mixing bowl, combine prepared pasta, soup, chicken, peas, garlic powder and salt.
Spoon mixture into 1 1/2 quart baking dish and cover with aluminum foil.
Bake for 25 minutes.
Combine the Panko and garlic and herb bread crumbs.
Remove the pasta from the oven, uncover, top with the crumb mixture and bake for another 5 minutes.
Nutrition
Serving Size: 4
Calories: 264
Sugar: 4
Sodium: 753
Fat: 4
Saturated Fat: 1
Unsaturated Fat: 2
Trans Fat: 0
Carbohydrates: 47
Protein: 9
Cholesterol: 0
For more information on Horizon Organic, visit their website, follow them on Pinterest, and become the newest member of their Facebook community!
This is a sponsored conversation written by me on behalf of Horizon Organic. The opinions and text are all mine.
(Visited 6,300 times, 1 visits today)