12 Things You Should Never Fly Without – Whenever I travel, I make sure to never leave these things at home. You shouldn't either!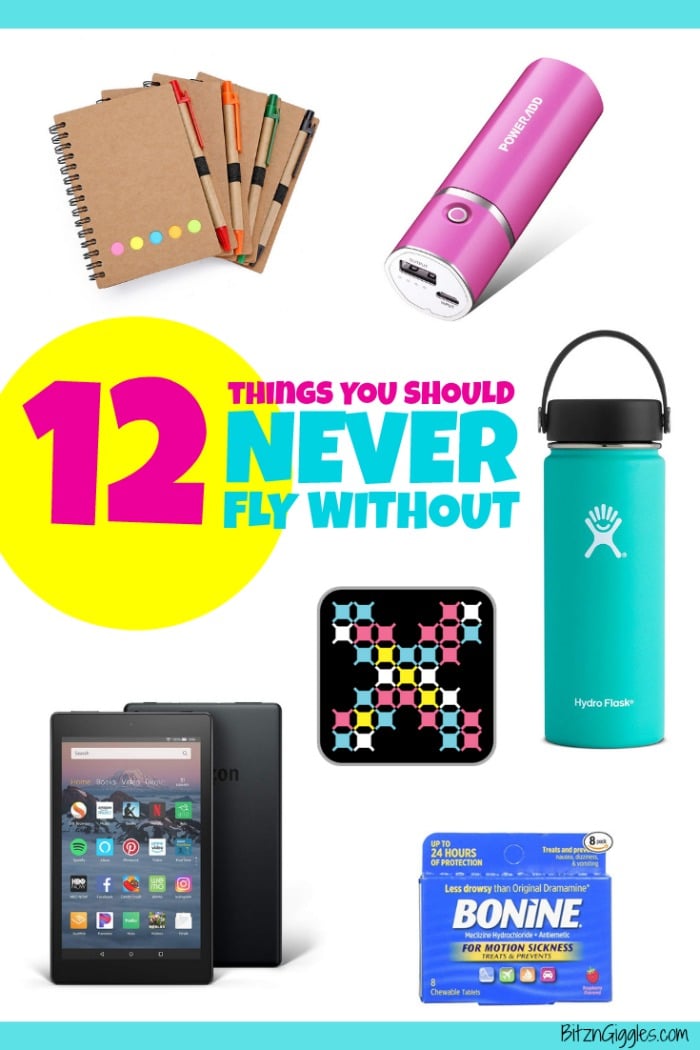 This post may include affiliate links. Please see my disclosure.
I have a few trips scheduled in the next couple months, and I've been starting to get my packing list together. As I was gathering my items, I thought. . .you know, maybe my readers would be interested in seeing some of the things I always make sure to have in my carry-on before I step foot on a plane. Yes?
If so, here are 12 things (IMO) you should NEVER fly without!
01 | Aquaphor Healing Ointment – I have multiple tubes of Aquaphor in the house. I even have these to-go size containers that I keep in my purse. Aquaphor can heal chapped lips, dry skin and even diaper rash faster than anything else I've ever seen.
When traveling, the dry air can wreak havoc on your skin and lips. I seriously never leave home without this stuff.
02 | Apple AirPods – Whether you prefer ear buds or noise-cancelling headphones, make sure to take one of the two with you on the plane.
They're great for listening to music, napping, listening to podcasts and audiobooks or just drowning out the noise that may be going on around you in an airplane.
If you enjoy audiobooks, Audible offers two free books with their free trial. It's an awesome deal, and both my husband and I have taken advantage of it.
03 | Amazon Music App – I use the Amazon Music app for all of my playlists. There are TONS of songs I can access for free as an Amazon Prime member. There are only a couple I've searched for that I couldn't access for free.
The Amazon Unlimited program gives you access to ANY song, whenever and wherever you want it. It's $7.99/month, but they offer a free one month trial for you to check it out first and see if it's something you like.
I love that I can take my music with me wherever I go and the Amazon Music app is the perfect partner to those earbuds or headphones I mentioned before.
04 | HydroFlask – There's nothing better than an insulated water bottle to get you through a long flight, especially when the airlines offer you those little cups that look more like shot glasses than anything that will actually quench your thirst.
Just remember not to fill it until you're through security. ?
05 | Clorox Disinfecting Wipes – I always carry disinfecting wipes with me when I travel. I often use them to wipe off the tray in front of my seat on the plane, tables in the airport, remotes in hotel rooms and the list goes on and on. Germs are gross – why bring them home with you?
06 | Bonine – I've never really gotten motion sick, but if I ever feel a bit "off" when traveling or at amusement parks, I take one of these. They last 24 hours, don't make you drowsy like Dramamine and really do work!
07 | Notepad & Pen – Some of my best ideas come to me on long flights. I use my time brainstorming ideas for my business, making lists of things I can't forget to do and writing down, well, anything that comes to mind.
08 | Portable Charger – Do you find that when you travel, your smart phone battery seems to drain faster than ever? Mine, too. It's because we're checking flight schedules, texting family, researching the best restaurants to try while at our destination and the list goes on.
These portable chargers are wonderful and can charge your cell phone easily at least 2-3 times before you need to recharge them. I've packed these for the Disney parks and also when we've gone on cruises, too.
09 | Fire HD Tablet – I used to have an iPad, but I found that all I really ever used it for was surfing the internet and "trying" to read off of it. I knew what I really needed was an e-reader, but I wanted something other than the Kindle or the Nook.
Last year I purchased a Fire HD 10 Tablet and I love to pack it in my carry-on for flights. It does everything I need it to and at a much lower price point than an iPad. I also love the full color screen!
10 | Cord Organizer Case – This is a lifesaver while traveling. It keeps all of your cables and portable chargers neatly stowed. Rather than having to untangle a major mess of cords and cables, now everything is organized and easily accessible. So nice!
11 | Texture App – Do you subscribe to tons of magazines, or find yourself buying them in the airport for something fun to read on the plane? I love magazines, and I used to subscribe to several. . .until I found the Texture app.
While the Texture app does come with a monthly fee of $9.99, it's worth it because it gives you unlimited access to 200+ magazines! In fact, you even have access to issues from years past!
The app also gives you the option to bookmark and tag certain articles you want to save or refer back to. This will save you money (if you're currently subscribing to several magazines) and rid your home of paper clutter. It's the best!
Before my flight, I usually download the latest issues of all of my favorite magazines and then kick back and enjoy them for the duration of my trip.
**UPDATE** – The Texture app is no longer available and has been replaced by Apple News+.
12 | Aleve – Well, I suppose this is just a given. Whether you prefer Aleve, Tylenol, Ibuprofen or another pain reliever, they are a necessity when traveling.
Who wants to find themselves on a plane with a pounding headache, backache or cramps, and no relief available until you reach your destination? Not me! I always keep a small container of Aleve in my carry-on at all times.
Well, folks, that's it! I hope you found this list helpful! If you have some favorite items you pack each time you travel, I'd love to hear about them in the comments!
Ready For More Travel Tips?
(Visited 3,027 times, 1 visits today)