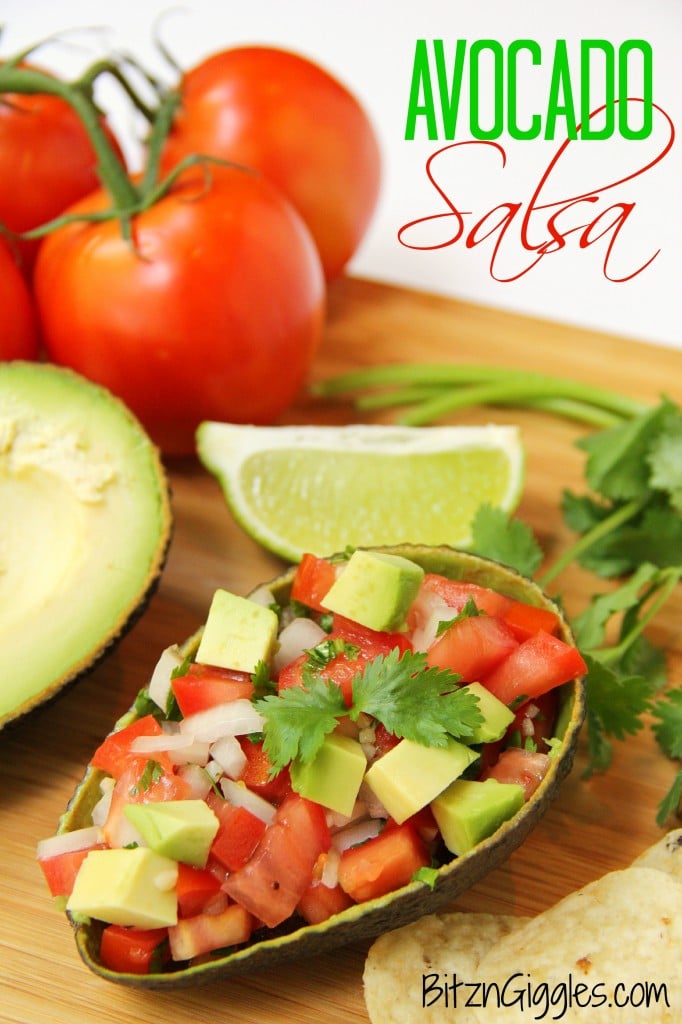 Football season is here! And last night our beloved Green Bay Packers took the win over the New York Jets! Here in Wisconsin we take our Packer football season very seriously. No phone calls are made during a game, no lawn work is done during a game and, well, you just don't leave the house unless you're going to a football party to watch the game.
And if you're hosting a party or heading over to someone else's house to watch the game, you take an appetizer to pass. As the winter months start closing in, a typical Wisconsin party "food table" would have chili, nachos, wings – wonderful warm game day foods – but until then, we're still using the grill and enjoying brats, skewered chicken and salsa and chips. Today, I'm sharing a recipe for super fresh, delicious Avocado Salsa. It's the perfect game day appetizer that makes you feel "not as guilty" as you shovel it into your mouth!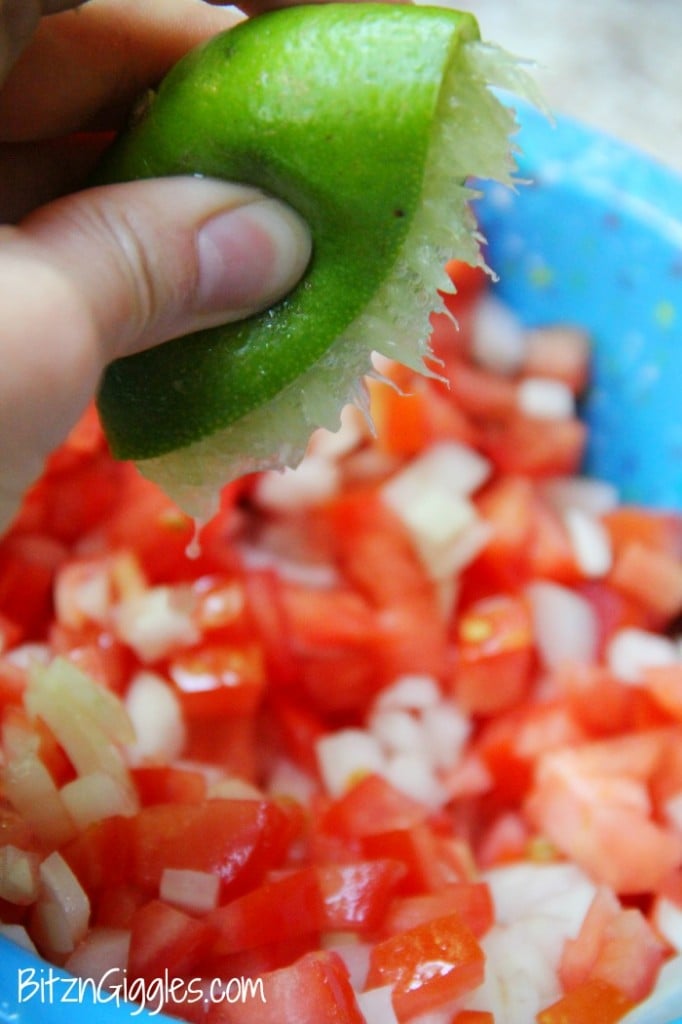 When it comes to snacking, there aren't too many things that I enjoy more than dipping a chip into fresh salsa. It's just one of those things I'm not sure I could get through the summer without. I haven't always loved avocados and tomatoes. It's funny how your tastes change over the years. There are many things I would have never tried years ago that I absolutely love now. Lobster and shrimp are also in that category.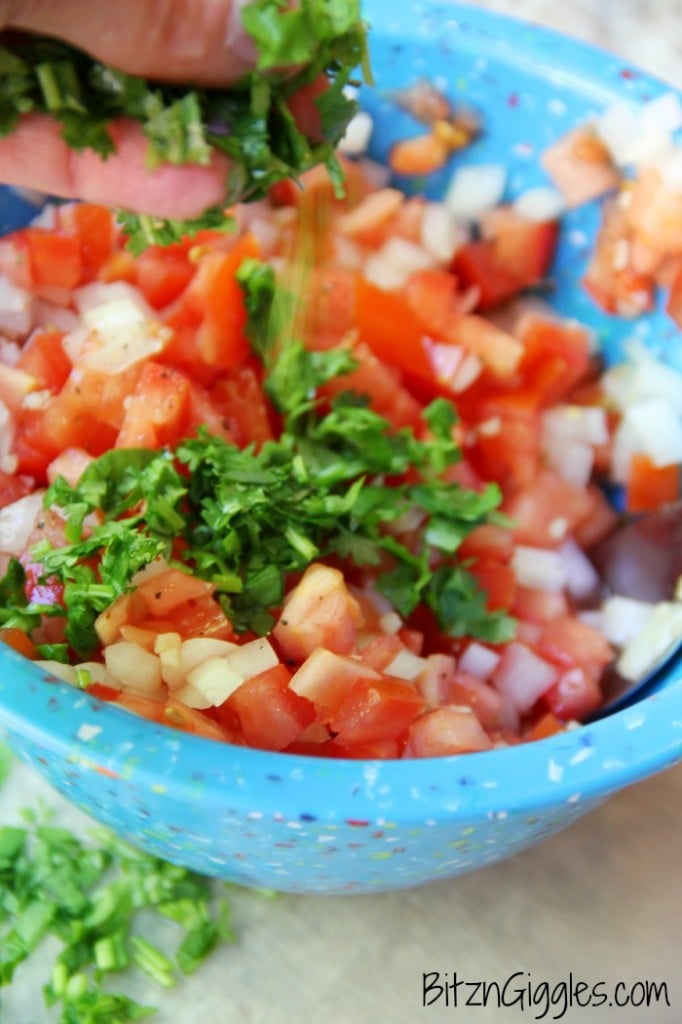 Are there any foods that you feel that way about? Food you wouldn't touch with a 10-foot pole years ago but now can't get enough of?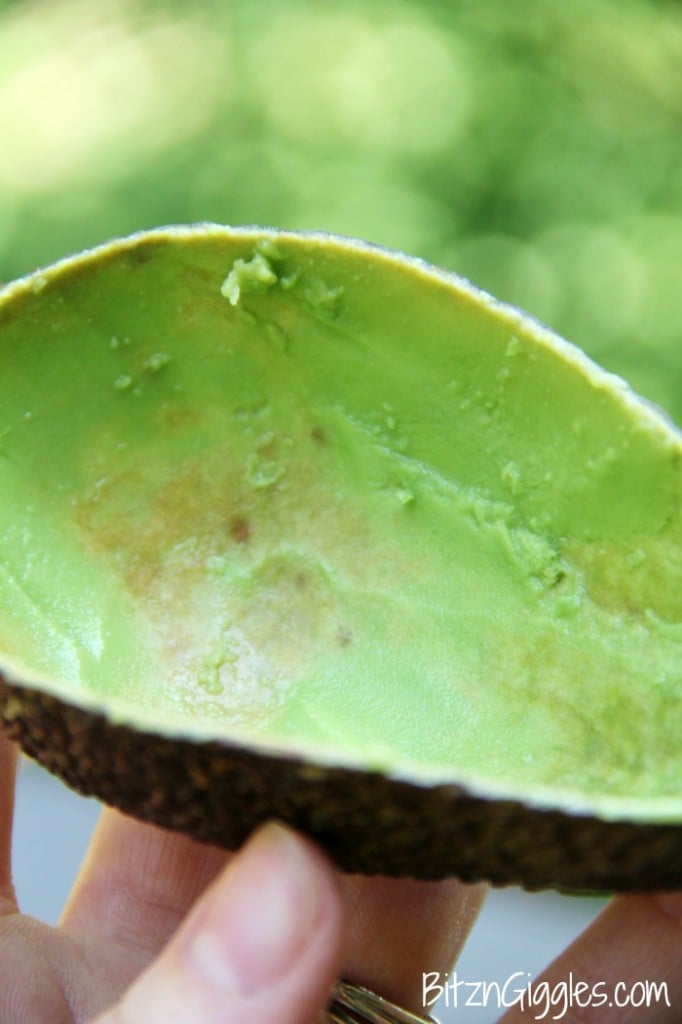 Avocado is another one of those foods for me. It just never appealed to me. I still am not a big fan of eating it just by itself, but when it's mixed with vegetables like tomatoes and onions, it turns into the star of the show – like it is in this dish. I scored a huge avocado for this salsa at the market. Instead of just tossing out the skin, I decided to use it as a serving dish. Wouldn't this be an awesome way to serve individually portioned salsa appetizers?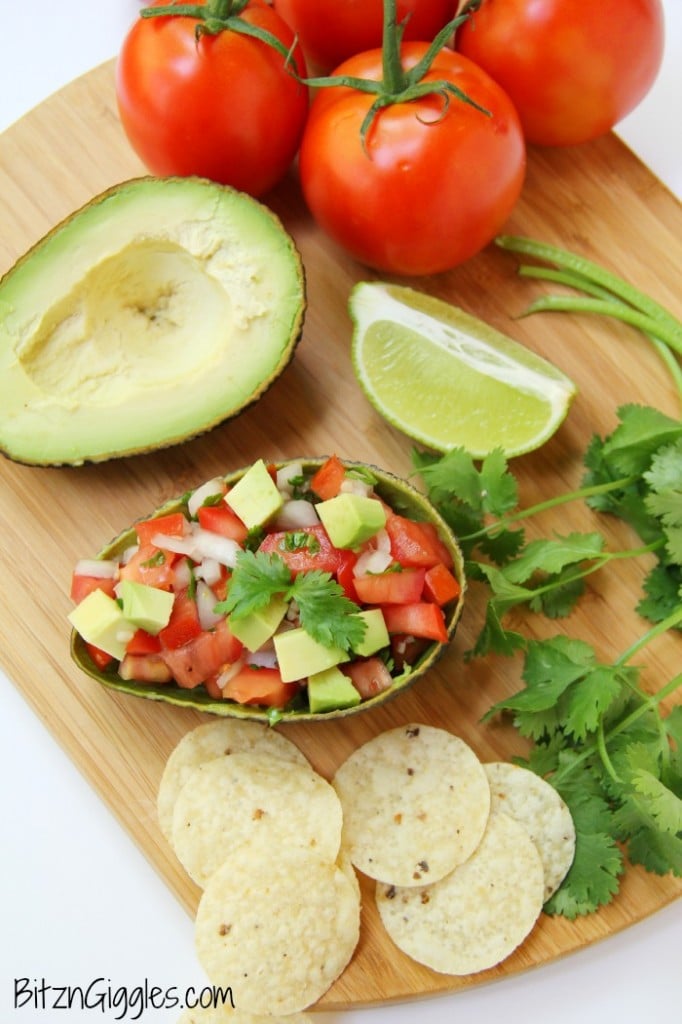 I think so. I know I'd be delighted if I showed up at a party and someone had a few of these prepared and waiting on the food table. Yes, please! I would just hang out there all night. Isn't that where everyone congregates anyway? As long as it's in the same room as the TV. Of course it is!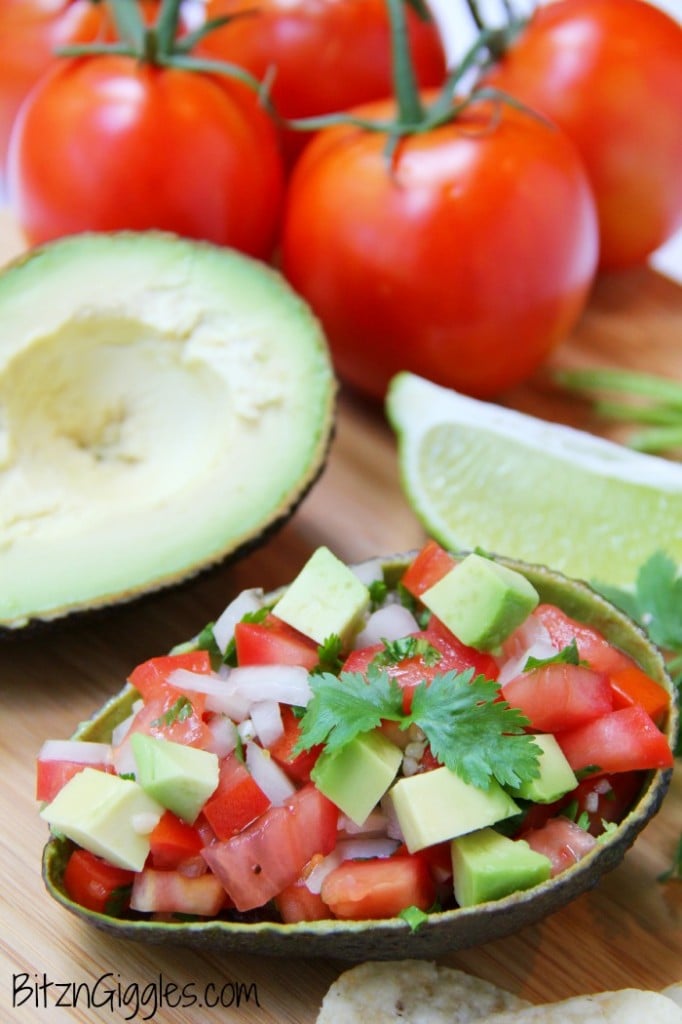 I'm just so happy that tastes DO change and as we get older we're willing to try new foods and different things. Am I making anyone feel better about getting older?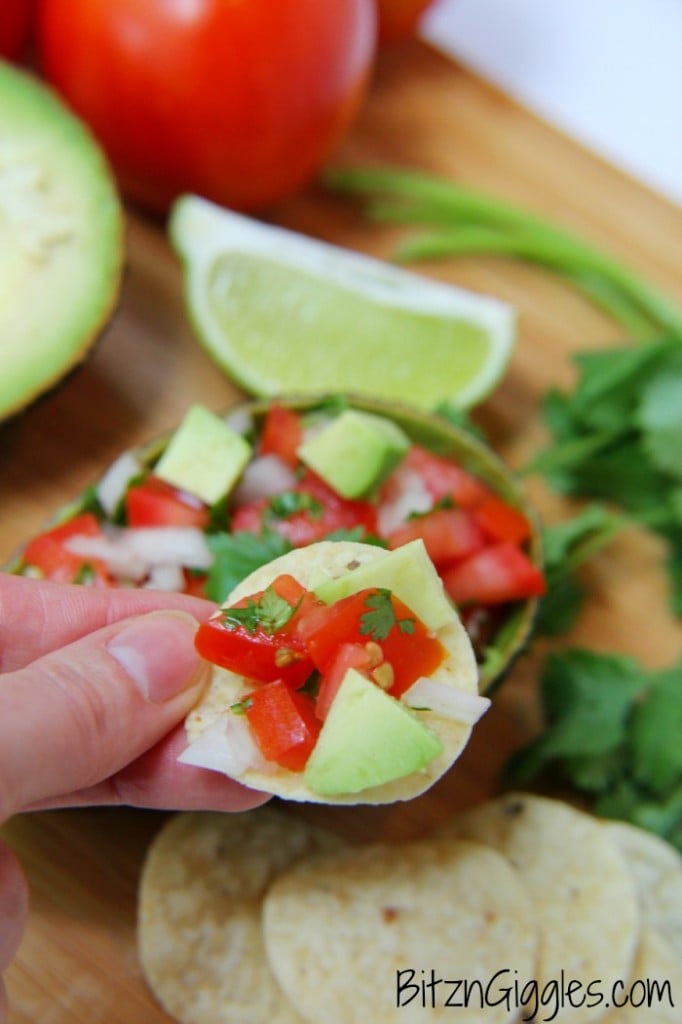 Hey, we're in this aging thing together. I actually feel like I'm doing something good for my body by eating this salsa. Everything is fresh and good for you. There should really be no guilt here. If you're having trouble believing that, pretend the chip isn't there. Or. . . try putting the salsa on something else. Like. . .how about some Cilantro Lime Chicken?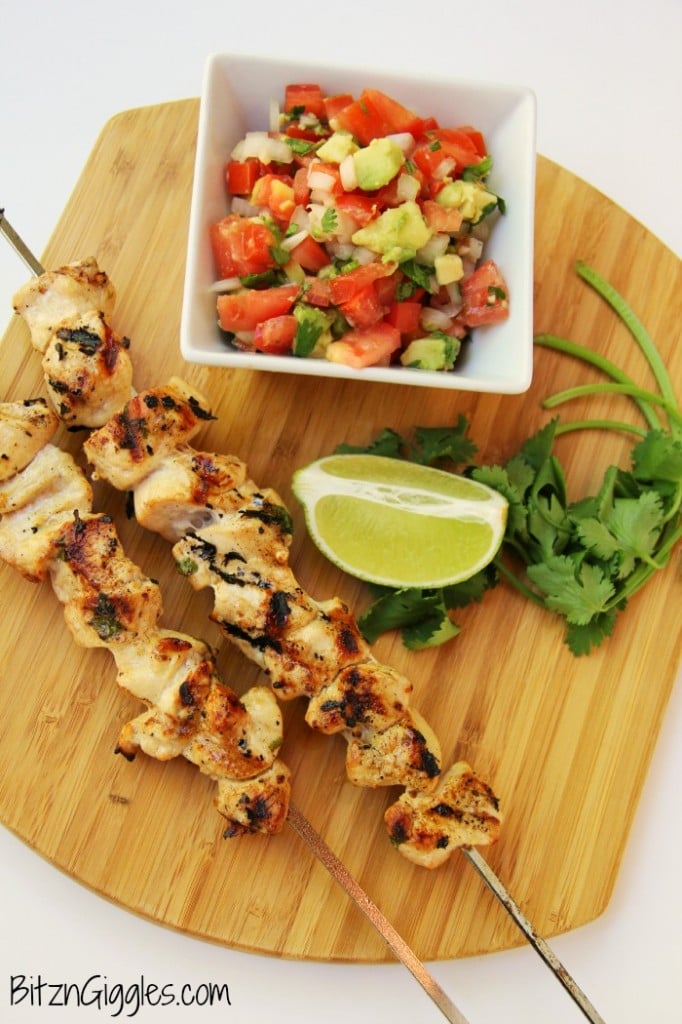 This chicken is marinated, skewered, grilled – then topped with this delicious avocado salsa. A perfect game day pairing!

CONNECT WITH ME HERE:

Twitter | Instagram | Pinterest | Google+ | Facebook | Bloglovin'
Avocado Salsa
A perfect fresh salsa for chip dipping and delicious over grilled chicken as well!
Ingredients
2 cups Roma tomatoes, diced
1/2 cup onion, diced
1/4 cup lime juice
1 tablespoon minced garlic
1 avocado, pitted and diced
1 lime, juiced
2 tablespoons fresh cilantro, minced
1/2 teaspoon salt
1/4 teaspoon pepper
Instructions
Combine all ingredients except the avocado in a bowl and mix well. Once mixed, gently add in the avocado and serve as a chip dip or topping to a main course.
Nutrition
Calories: 466
Sugar: 16
Sodium: 1228
Fat: 31
Saturated Fat: 4
Unsaturated Fat: 24
Trans Fat: 0
Carbohydrates: 53
Protein: 9
Cholesterol: 0
(Visited 2,048 times, 1 visits today)