Banana Chocolate Chip Muffins – Quick and easy banana muffins with mini chocolate chips sprinkled throughout!
This post includes affiliate links. Please see my disclosure.
Summer camp is over and the kids go back to school this week. Cora is in 4k and Dane is ready to start his first day of 2nd grade on Thursday. I'm kind of doing my own happy dance about not having to pack their lunches each morning. . .although I'm sad that summer flew by so quickly.
Very often on school mornings we move like clockwork around the house. We need to. At least I need to. Dane is normally the early bird, while Cora likes to sleep in until the last minute (I can't wait until her teenage years. That should be fun trying to get her out of bed. #Lordhelpme) Anyway, I'm the one who keeps everyone on track and we've had many mornings where we're kind of running out the door before Cora has had time to eat breakfast.
These Banana Chocolate Chip Muffins can be a lifesaver on mornings such as these and I promise all of the ingredients are staples you'll already have in your pantry and fridge.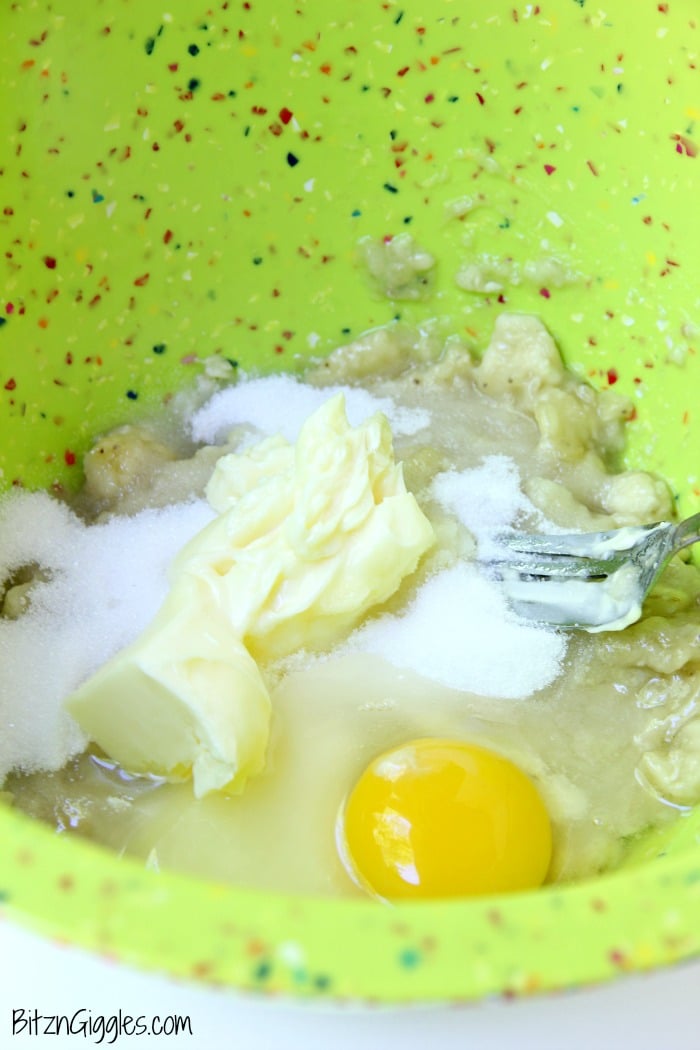 Whenever we have some very ripe bananas sitting out on the counter, I bake with them. I think that's pretty normal, isn't it? My chocolate chip banana bread served as the inspiration for these muffins.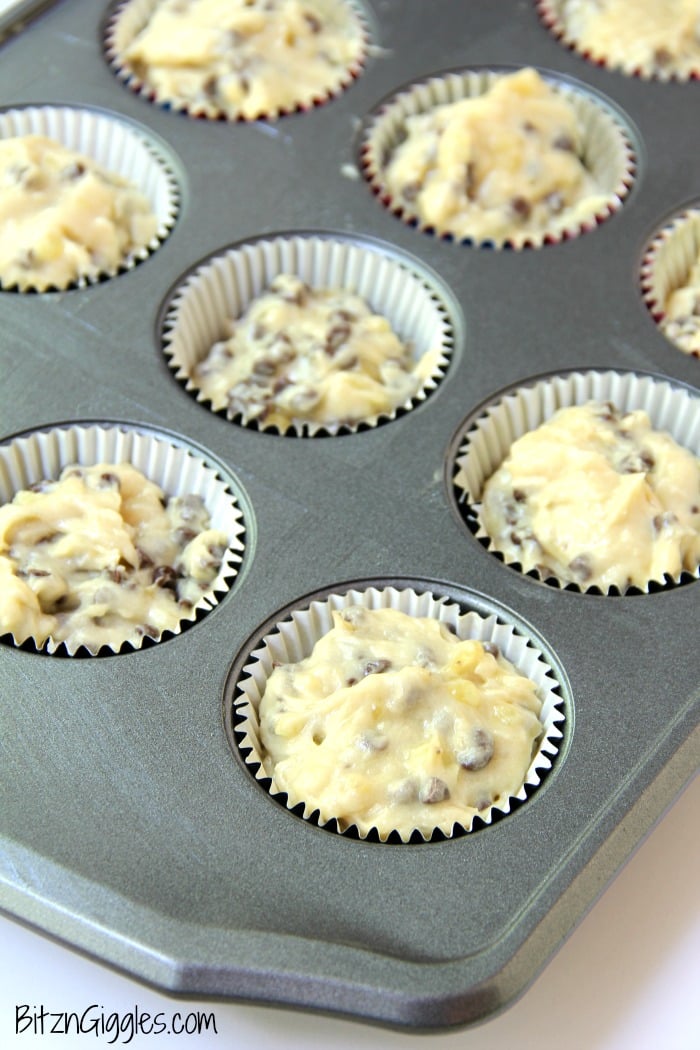 You can whip these muffins up in minutes on school nights so they're ready to go in the morning. Kids love them for their sweetness. I love them for their chocolatey taste.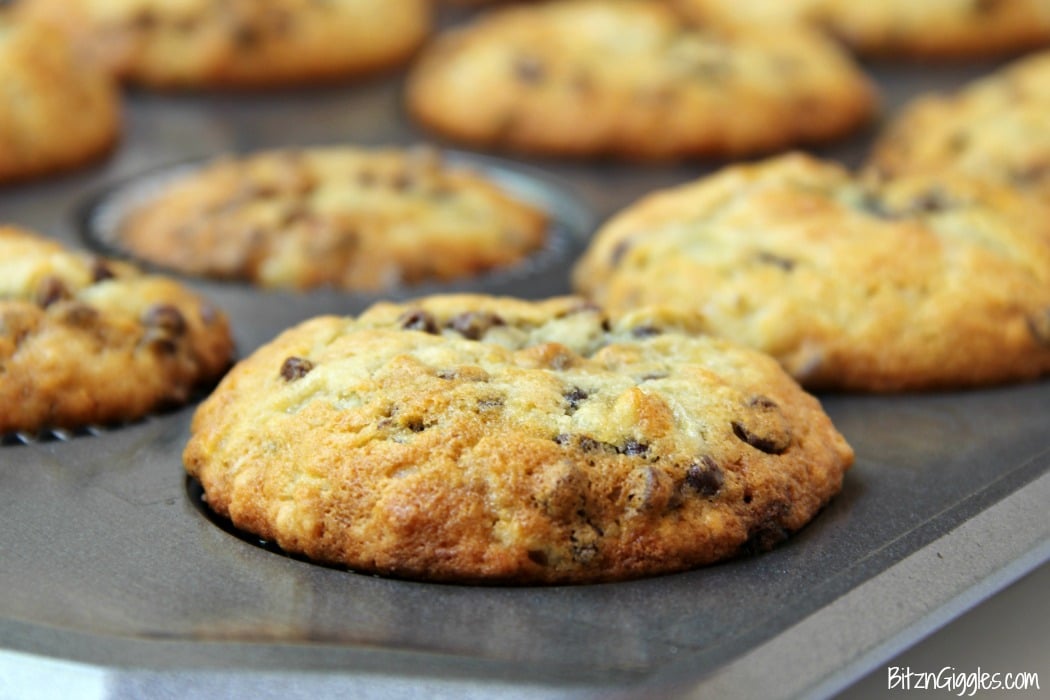 I recommend using a heaping cup of mini chocolate chips so you can taste that wonderful chocolate in each and every bite. If you've followed my blog for awhile, you may remember that I'm not a huge fruit fan. While it is part of my family's daily diet, I much rather prefer vegetables over fruit. Thus the reason for the overload of chocolate. Well, that and. . .heck, who doesn't love chocolate?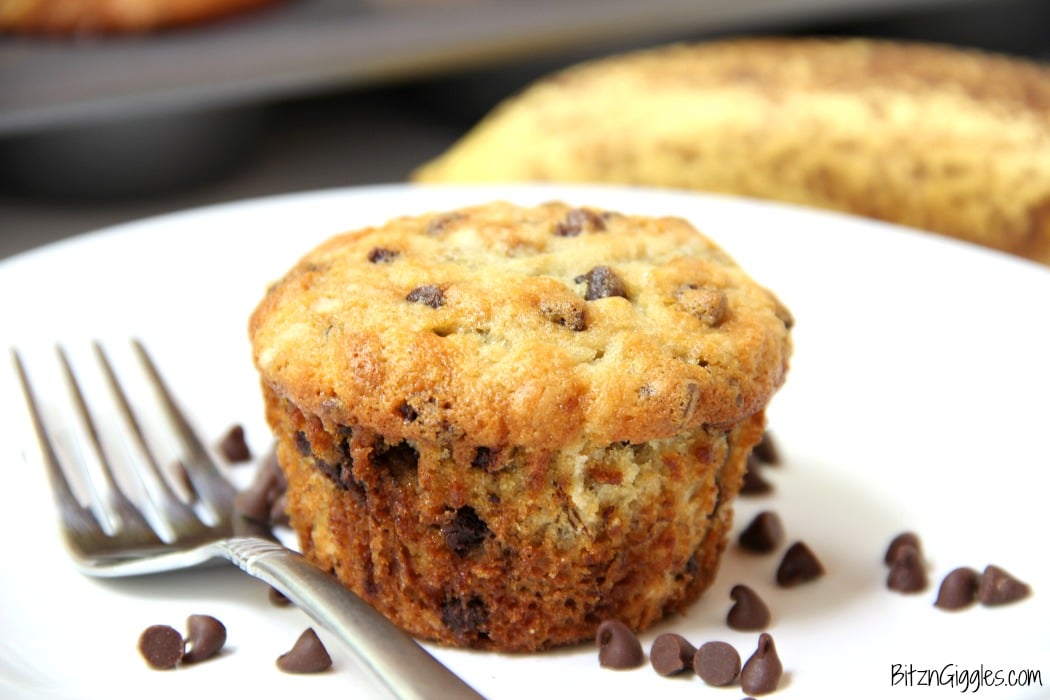 I hope your family loves these banana chocolate chip muffins as much as we do. They're quick and easy and so soft and moist. I'm a firm believer that the chocolate also helps out in that department. 😉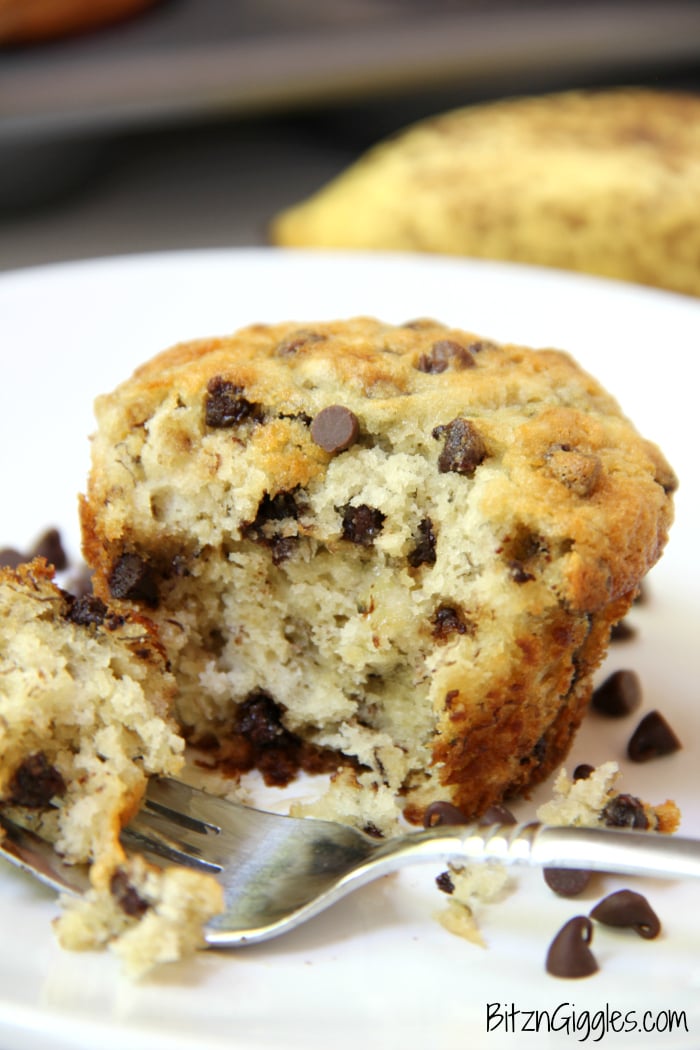 These are delicious right out of the oven. I allow them to cool for a few minutes while I pour everyone a big glass of milk. And then there we sit, with our lips covered in chocolate, hanging on each and every bite. THIS, is exactly how I like to enjoy my fruit. 😉
Banana Chocolate Chip Muffins
Quick and easy banana muffins with mini chocolate chips sprinkled throughout!
Yield: 12 1x
Category: Muffins
Ingredients
1 cup bananas (about 3 medium bananas)
3/4 cup sugar
1/3 cup butter, softened
1 egg
1 teaspoon baking soda
1 teaspoon baking powder
1 1/2 cups flour
1 cup mini chocolate chips
Instructions
Preheat oven to 375 degrees Fahrenheit.
In large mixing bowl, mash bananas until smooth.
Add sugar, butter and egg.
Stir in baking soda, baking powder and flour.
Add the chocolate chips.
Pour batter into prepared muffin cups (I like to spray mine with nonstick spray).
Bake for 17-20 minutes.
(Visited 2,450 times, 1 visits today)