Beefy Pasta Bake – Cheesy beef and noodles topped with crunchy french fried onions!
The kids are back in school, weekends at the lake are beginning to dwindle and the forecast shows cooler weather moving in over the next couple weeks. Just when I thought life was going to slow down a bit. . .it continues to give me a run for my money. Have you ever thought the same? That life will surely slow down. . .and it just never does?
It's almost something you need to be intentional about making happen – saying no to things that aren't a top priority, putting family first and finding time in the day to just breathe and reflect a bit.
This past weekend I did have some time to get into the kitchen and made a HUGE pot of chili using five pounds of ground beef. I actually used my canning pot to make it happen and then froze several containers for us to enjoy over the course of a month or two.
All that ground beef made me hungry for more so I also whipped up this Beefy Pasta Bake.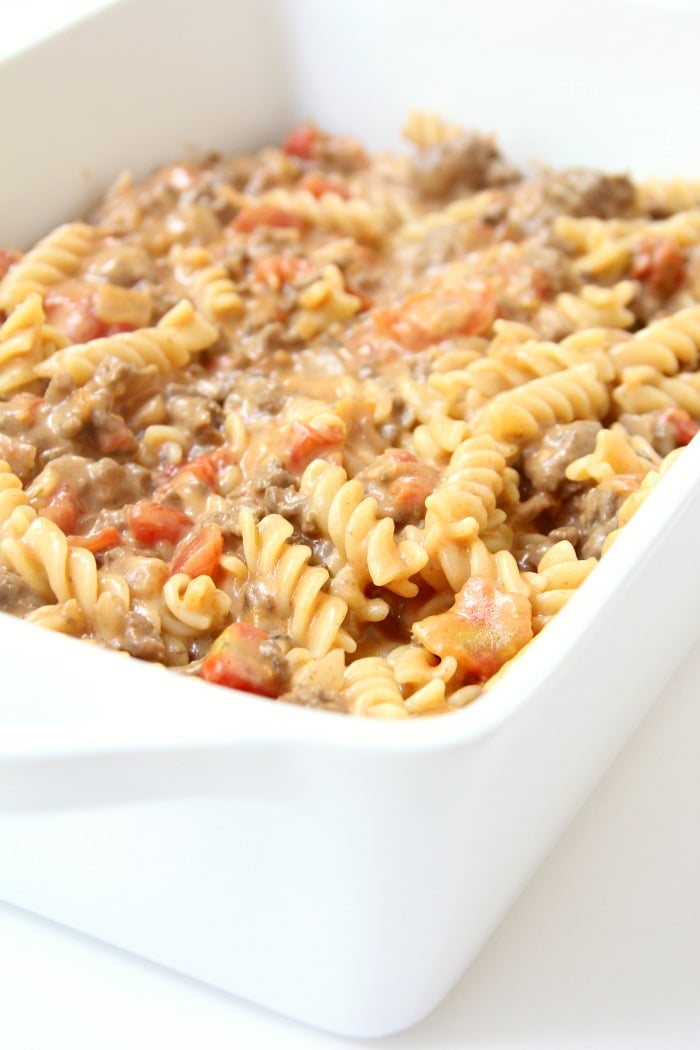 The perfect comfort food for fall, and the perfect solution for families with busy schedules like ours. I don't know about you, but my favorite bakes and casseroles are ones with crunchy French fried onions on top.
If you like them too, in addition to this bake, you need to check out this chicken crunch casserole and this tuna noodle casserole. Yum!
There's just something about casseroles that take me back to my childhood. My mom made so many delicious dishes, but one of my favorites was something she just called her "hot dish." If that isn't classic midwestern, I'm not sure what is. Someday I'll share the recipe with you, I promise.
This hearty, beefy pasta bake is just a whole lot of goodness in a pan made with simple ingredients you're bound to have in your fridge or pantry.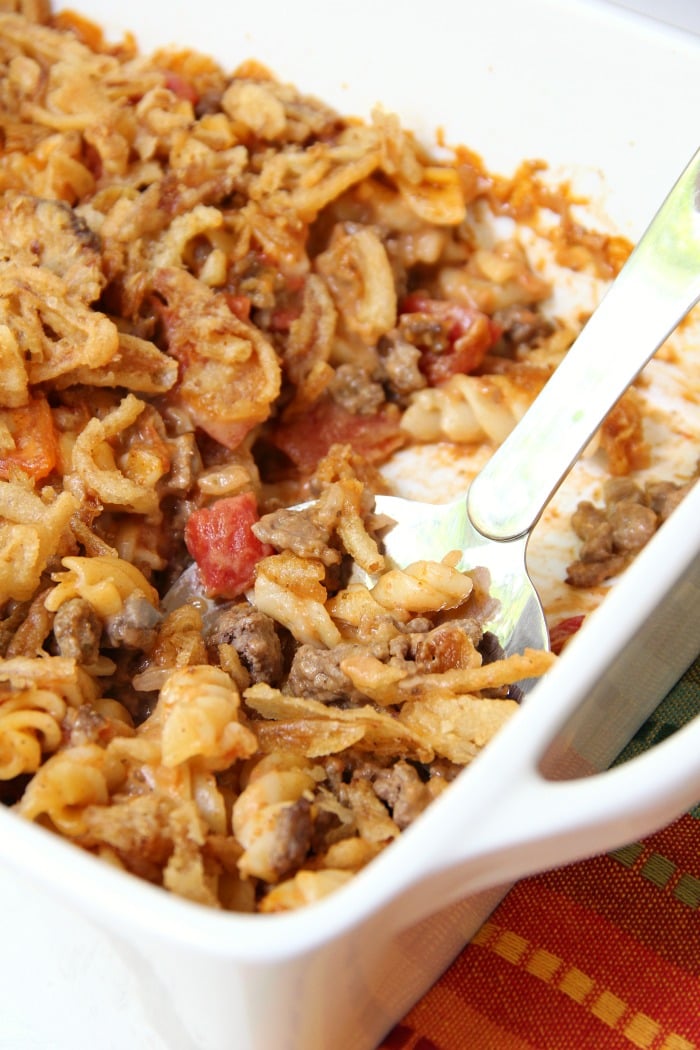 To me, casseroles like this never lose their appeal. Call me old-fashioned, but I know what tastes good. And taste never goes out of style.
Take some time this Fall to slow down, spend time with family and enjoy some delicious comfort food. The season is just beginning, so watch for more tasty, tried-and-true recipes coming your way in the next few months!
Beefy Pasta Bake
Cheesy beef and noodles topped with crunchy french fried onions!
Author:
Yield: 4-6 servings 1x
Ingredients
2 cups uncooked rotini
1 pound ground beef
1/2 cup chopped onions
1 garlic clove, minced
14 1/2 ounce can diced tomatoes, undrained
1 can condensed cream of mushroom soup
1 cup shredded cheddar cheese
3/4 cup teaspoon salt
2.8 ounce can french fried onions
Instructions
Preheat oven to 350 degrees Fahrenheit.
Cook rotini according to directions on package and drain.
In a large saucepan, cook the beef, onions and garlic over medium heat until the meat is no longer pink; drain and return to saucepan.
Add the tomatoes, soup, cheese and salt to the beef; stir to combine.
Add the pasta to the beef mixture; stir to combine.
Transfer beef and pasta mixture to 13×9″ baking pan.
Cover with aluminum foil and bake for 30 minutes.
Uncover; sprinkle with french fried onions and bake 5 minutes longer.
(Visited 5,594 times, 1 visits today)