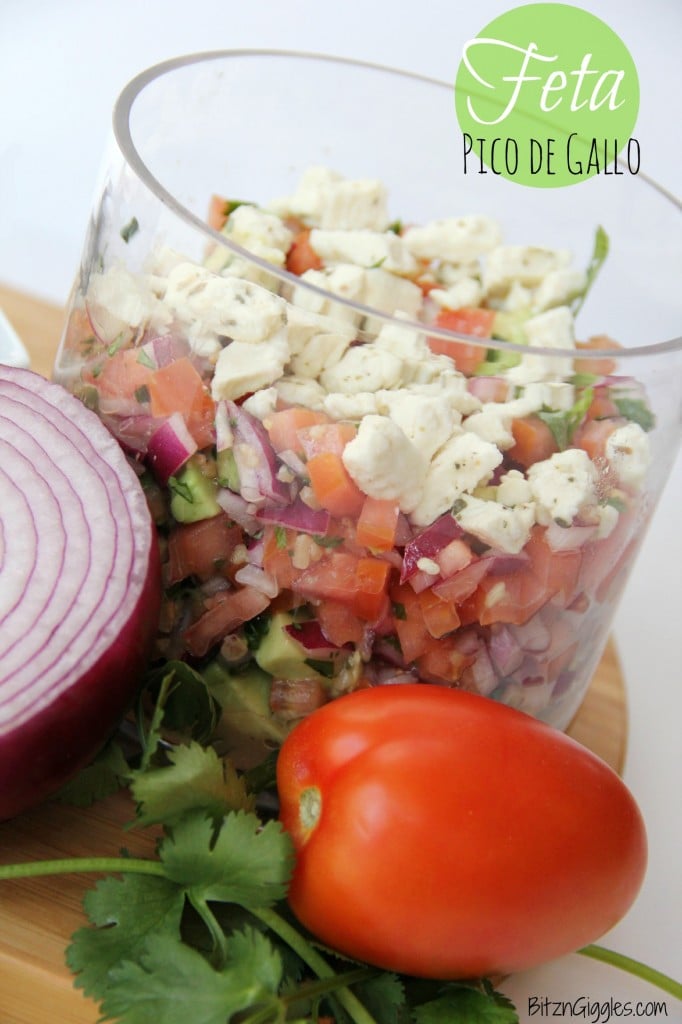 Who can resist a good Pico de Gallo recipe? Anyone? Anyone? Certainly not me. Especially when the weather starts warming up and I'm craving something fresh and light. The Pico de Gallo recipe I'm sharing today is a bit different. The first time I had it was at a relative's baby shower. I remember it being in a big glass bowl and we just kept passing it back and forth around the room dipping our chips and making "Mmmmm" and "Ahhhh" noises. During gift opening I could hardly stay focused on the onesies and rattles because I found myself scouring the room, trying to find the person who was lucky enough, at that point in time, to have the bowl of that Pico in front of them.
I liked it so much I asked the hostess for the recipe. And below is what she gave me. She's a nurse at a local clinic in town and she had gotten the recipe from one of the doctors she works for. I did remove the doctor's last name from the recipe card, but the rest remains as it is today – scribbles from my 2-year-old and all.
I was so surprised to see there were no jalapenos in the recipe – no lime juice. But you know what, that's what makes it even more delicious and different. This recipe, when I received, it didn't really even have a name. Just look at the card! So, is Feta Pico de Gallo correct? I'm not sure. That's just what I came up with! But it sounds good, right? Right? I hope so!
The recipe is super simple to put together once you have all of the ingredients in front of you. Some of the "surprise" ingredients include red wine vinegar and olive oil. I put it all together in a matter of minutes and had my chips ready to go immediately after I added the final dash of salt. And now that I've made it a few times, you'll see a few changes in my recipe compared to the original. Nothing earth shattering, don't you worry.  I just added more avocado and tomato. It's probably a personal preference, but I think it makes the dish EVEN better!
If you have a Cinco de Mayo, spring or summer party coming up, make sure this is on the menu. For the freshest, best tasting Pico, serve immediately after preparing.
Feta Pico de Gallo
A unique Pico de Gallo recipe that incorporates feta cheese, red wine vinegar and olive oil along with the regular cast of characters you would expect. The result is out-of-this-world GOOD!
Ingredients
2–3 avocados (peeled and chopped)
3 roma tomatoes (diced)
1 1/2 Tablespoons minced garlic
1/3 cup red onion (diced)
1 bunch cilantro (chopped)
8 oz. feta cheese crumbles (divided)
2 Tablespoons olive oil
3 Tablespoons red wine vinegar
Salt and pepper, to taste
Instructions
Mix the diced tomatoes, red onion, olive oil and vinegar in a bowl.
Carefully mix in the cilantro, avocado and half of the feta cheese crumbles.
Add some salt and pepper to taste.
Transfer to a serving bowl and sprinkle the rest of the feta cheese crumbles over the top.
Serve with tortilla chips.
Notes
This dish is best when served immediately after preparing.
(Visited 2,906 times, 1 visits today)