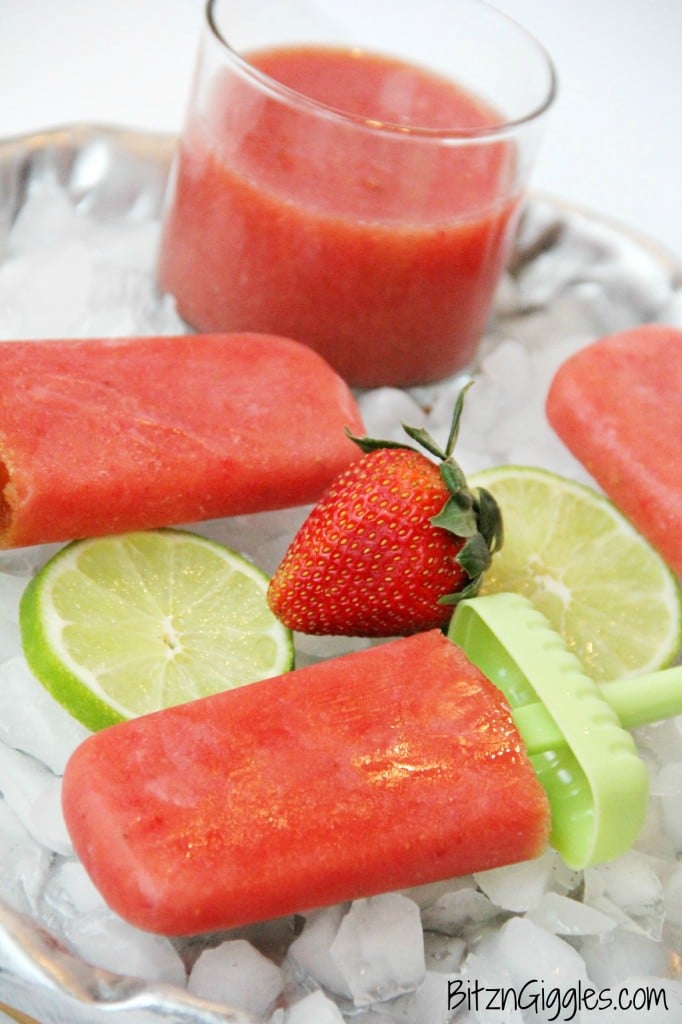 I love popsicles. I probably love ice cream just a bit more, but popsicles come in a close second. Just to get a little more cold weather humor into my posts this spring, I probably could have frozen these outside this week. The saddest part is, I'm really not joking. When is it going to warm up around here?
I continue to pretend spring is here by surrounding myself with food and fun that screams WARM WEATHER, but in reality, snow is still projected in the upcoming forecast. Holidays are truly what keep me going. So for Cinco de Mayo I've whipped up some Agua Fresca Paletas! Otherwise known as Fresh Water Popsicles.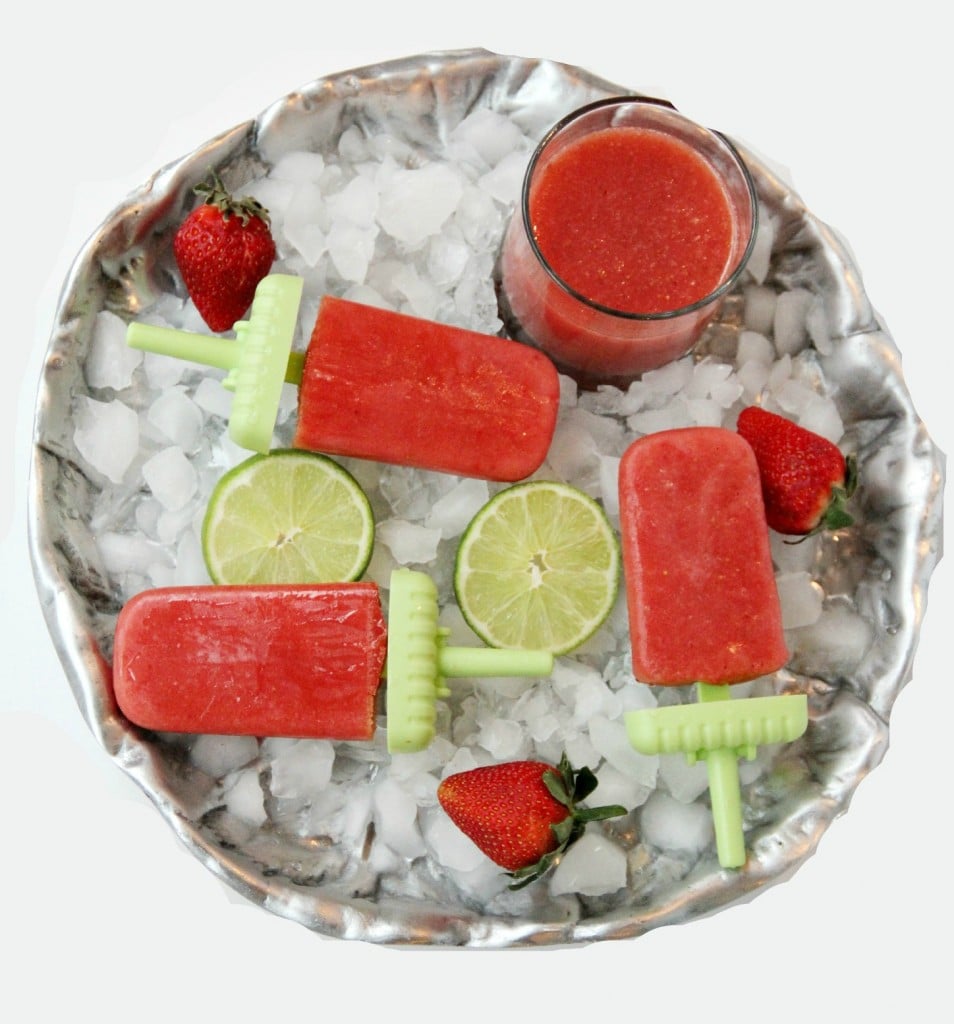 Agua Fresca is usually a drink made with fresh fruit and water. I decided to turn my Agua Fresca into popsicles using two of my favorite summer fruits: strawberries and watermelon and created these Strawberry Watermelon Agua Fresca Popsicles!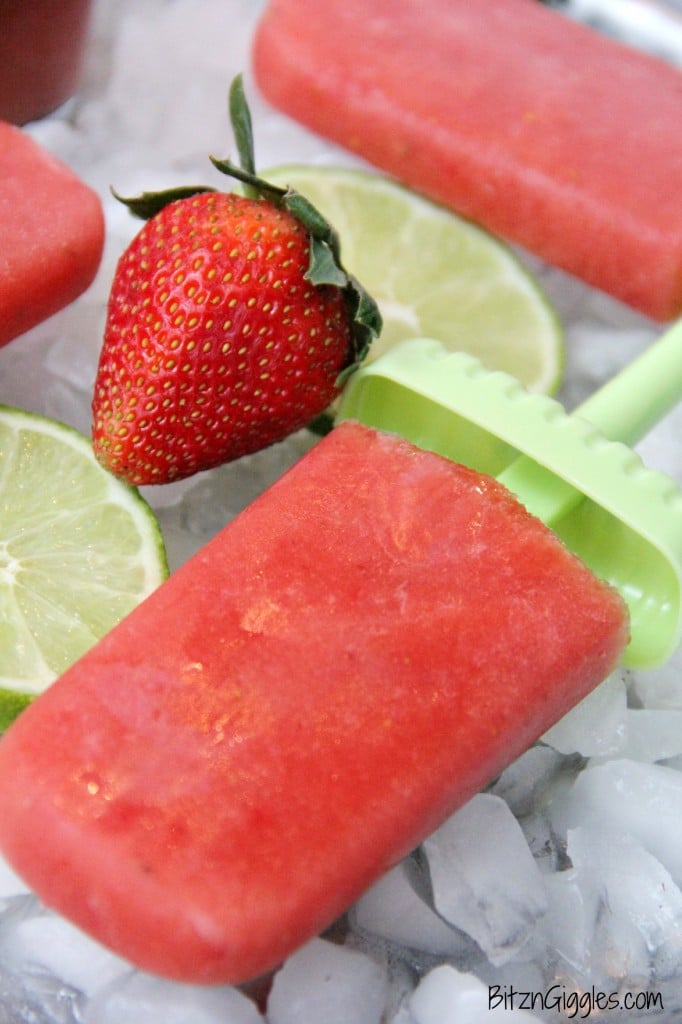 Here's where I need to brace myself. I cringe sharing these pictures below with you. Please forgive me for the horrible indoor lighting.
Because I work full time in addition to blogging, a lot of my work is done at night. I made the popsicles in the evening after work so I could freeze them overnight and shoot my photos the next day. If anything, this can be a lesson of what not to do when shooting food. Some things are just inevitable however, and for this, I apologize.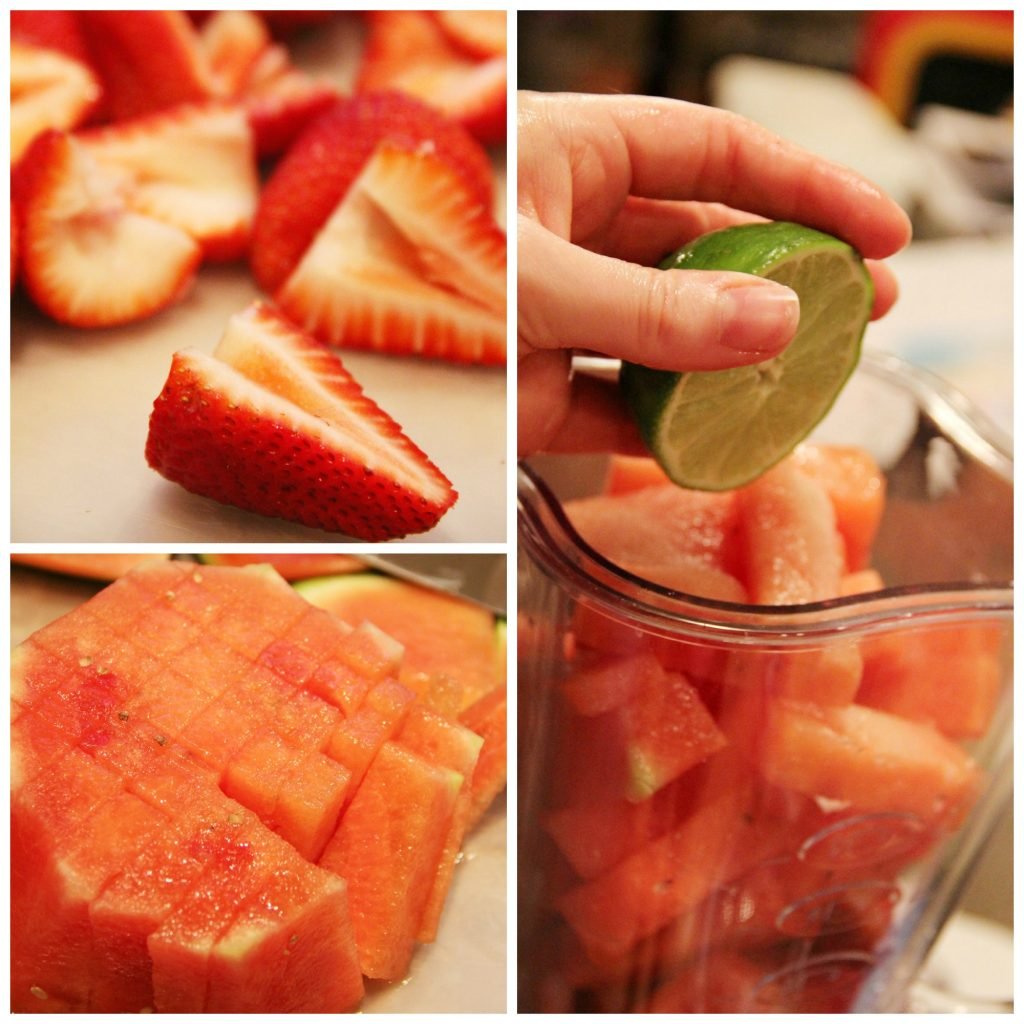 Agua Fresca is really very good for you. I have been guilty of adding maybe a tad bit more sugar than what's needed, but hey, that's just me. If the fruit is ripe enough and sweet enough, you may be able to go au natural, without having to add any sugar at all.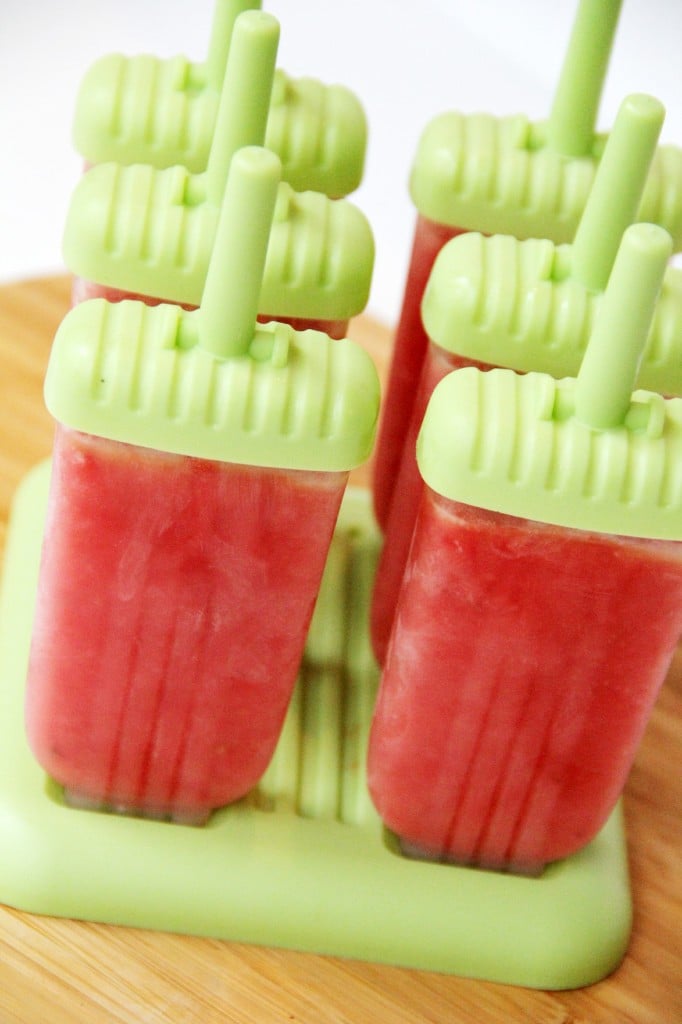 I found these fun popsicle molds on Amazon.com. I would have loved to use regular popsicle sticks rather than the plastic ones but I'll let you know in a minute why I chose to go the plastic route.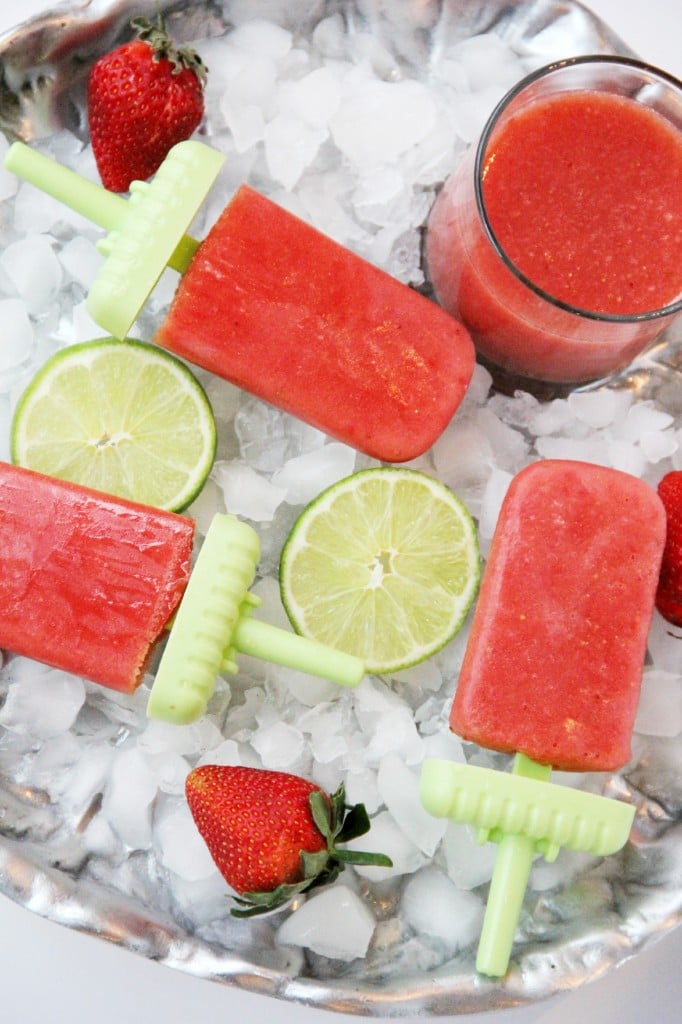 Since I've already shared my bitter feelings about the weather, has spring sprung at your house? When I was making these popsicles I kept thinking about how nice it would be to be able to sit outside on the deck with the family and enjoy them when they were ready. Winter can't last forever. At least that's what they say. As soon as things warm up around here, you can be sure I'll be making more of these.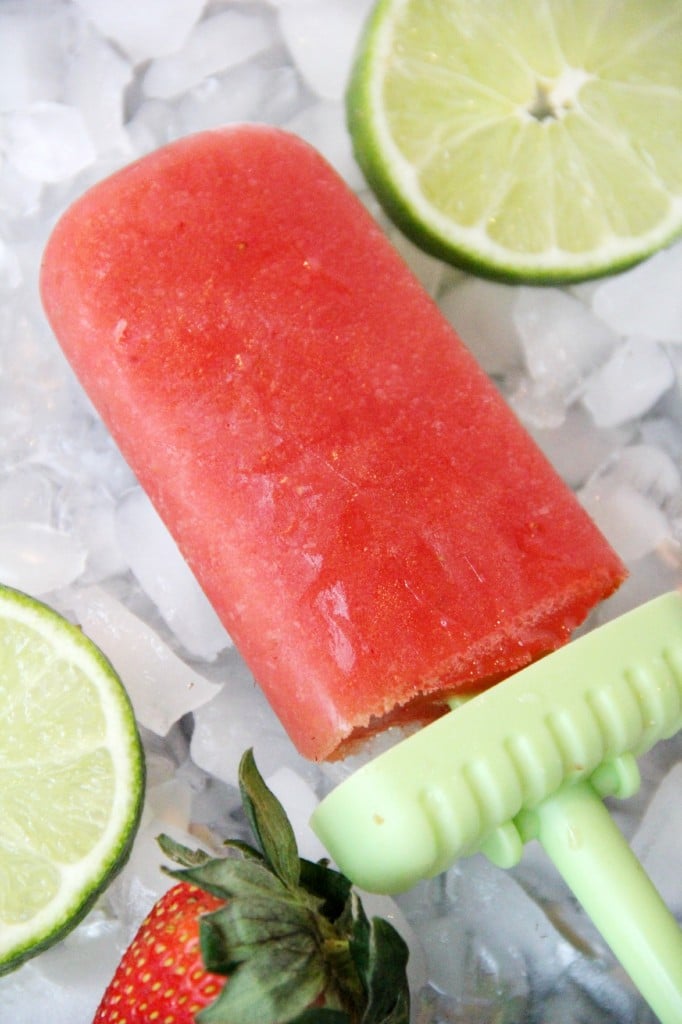 There are so many other flavors you could experiment with. For some reason I'm just drawn to red foods. Is that weird? Oh, before I leave you with the recipe, I told you I was going to let you know why I opted to freeze the pops using the plastic sticks rather than wooden popsicle sticks of my own. Here she is. The fact that she's standing in the living room is reason enough to be thankful for those little green catch trays at the bottom of each pop. Whomever created these molds undoubtedly has children of their own. Enjoy!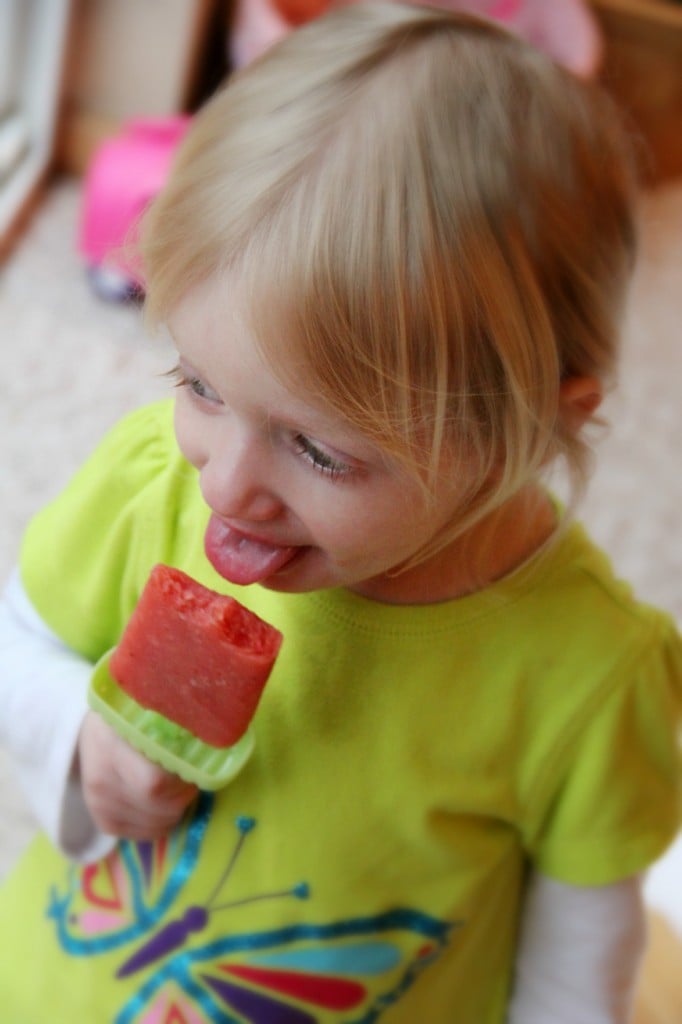 Strawberry Watermelon Agua Fresca Popsicles
Ingredients
8 ounces strawberries, stems removed (about a pint)
2 cups diced seedless watermelon
Juice from 1/2 a lime
4–5 Tablespoons sugar
Instructions
Add all ingredients into blender and blend until well pureed. Pour into popsicle molds and freeze over night.
Nutrition
Calories: 393
Sugar: 87
Sodium: 7
Fat: 1
Saturated Fat: 0
Unsaturated Fat: 1
Trans Fat: 0
Carbohydrates: 100
Protein: 4
Cholesterol: 0
(Visited 6,014 times, 1 visits today)