Caring for Your Real Christmas Tree – Tips on caring for a natural Christmas tree so it lasts all season long! Even if it's your first real tree ever!
Year after year when it's time to start decorating the house for Christmas, Josh pulls out our Christmas bins from the rafters in the garage and starts piling them all into the house. . .including a humongous box that houses our artificial Christmas tree. He puts it together branch by branch (with a key) – each piece is color-coded, and it takes considerable time. It's always a bit of a pain.
This year, we decided to try something different, and took the family out on an adventure to find our first REAL Christmas tree! I found a tree farm just a few miles from our house and away we went.
I made sure to read up on Christmas tree varieties before we left. I thought this chart was super helpful.
Christmas Tree Tip: Don't forget to measure your space at home before you go out tree hunting. Take along a tape measure so you can measure the tree before you cut it down to ensure it will fit in your designated space. Oh, and remember to take a saw!
I was pretty certain we were on the hunt for a Fraser Fir or a Blue Spruce. That is, until we saw this beautiful white pine.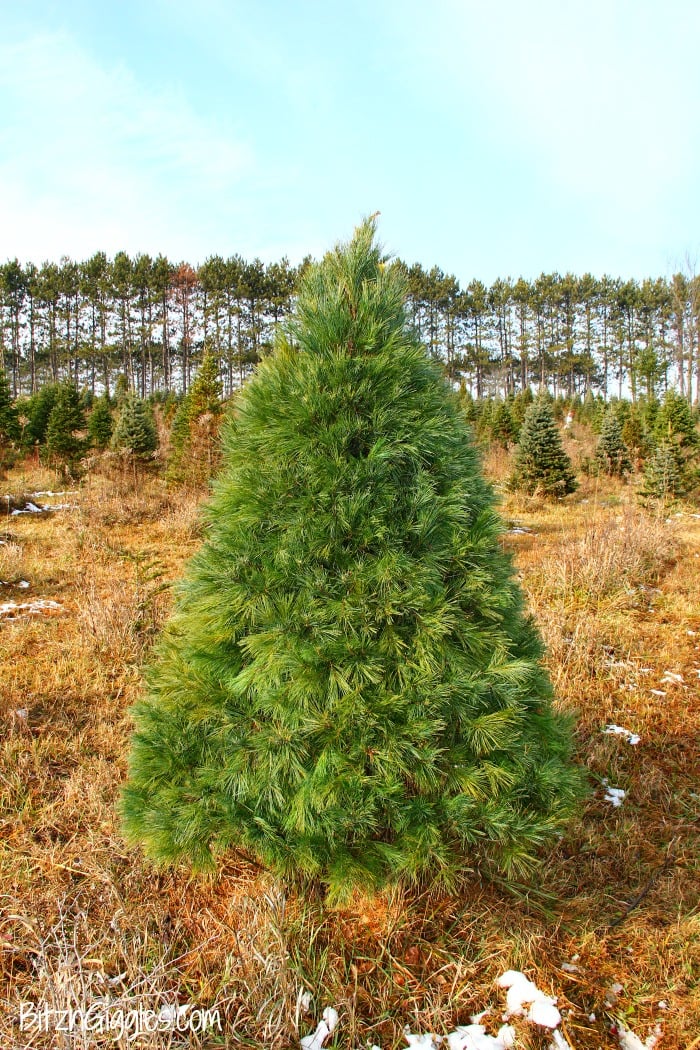 Standing on its own in a clearing, it just looked different from the rest – soft and full – almost fluffy. I knew the branches wouldn't be as firm for hanging ornaments, but we loved it. We knew it was. . .the one.
Christmas Tree Tip: Give the tree a good shake before cutting it down to get rid of any dead needles that may be left inside. It's normal for a tree to shed some needles when you shake it, but if it's excessive, you may want to find another tree.
Josh sawed away and we waited for it to fall.
As it began to wobble, we yelled, "Timberrrr!"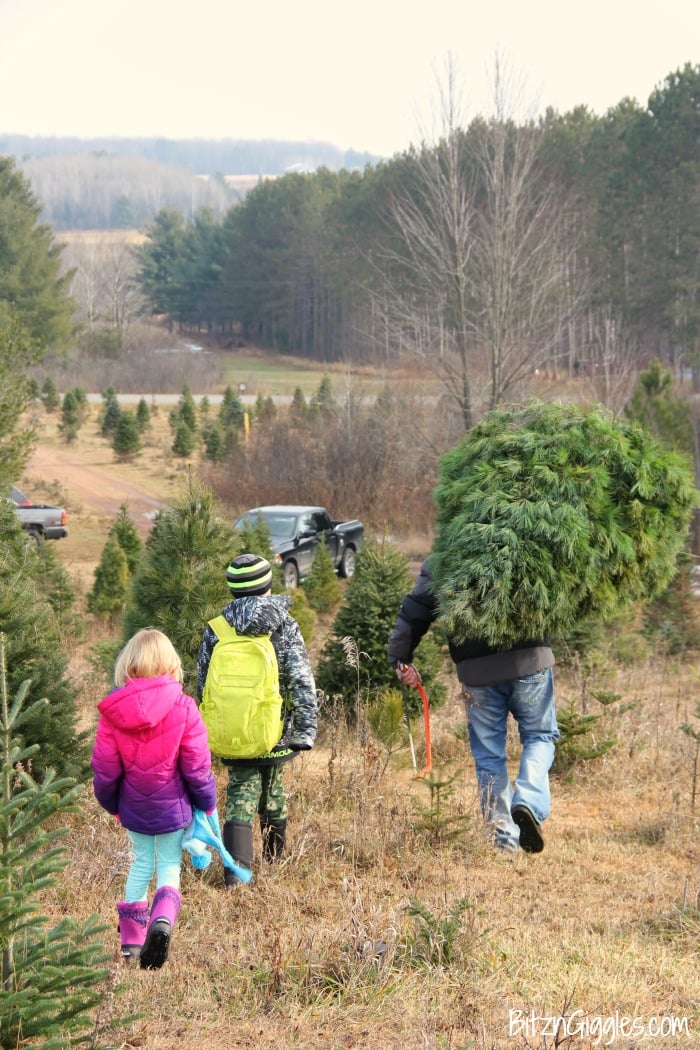 And we carried it to the truck, got it wrapped up and headed home.
Christmas Tree Tip: Before bringing the tree into the house, make a fresh cut in the trunk of at least 1 inch and get it into water as soon as possible. Your fresh-cut tree will be thirsty. Ensure the bottom 2 inches of trunk is always immersed in water.
Pretty exciting, right? So, I bet you're wondering why this is our first real tree. Why did it take us this long to convert from artificial to real?
I didn't want to deal with "the mess." You know what I mean? In fact, the #1 consumer dissatisfaction with live Christmas trees is needle drop.
Who wants needles all over their living room? Not me. I vacuum the house enough with a dog and two kids. I didn't need anything else under our roof adding to the daily workload.
My change of heart came about after I ran across Miracle-Gro® for Christmas Trees when we were doing some shopping at Home Depot. Miracle-Gro® for Christmas Trees helps reduce needle drop (vs. water only) by keeping the tree hydrated.
There's enough in this little bottle to last you all season long. All you need is 1 capful (2 teaspoons) of Miracle-Gro® for Christmas Trees for every quart of water added to your tree.
Let me tell you what. . .I'm really excited about having a real tree. And I just may be swayed to return to the tree farm next year – and quite possibly the year after that.
I can't see through our tree this year like I always could with our artificial tree. Our real tree is so "fluffy" and full. And the scent? Well, the scent is just heavenly. I'm pretty much in love.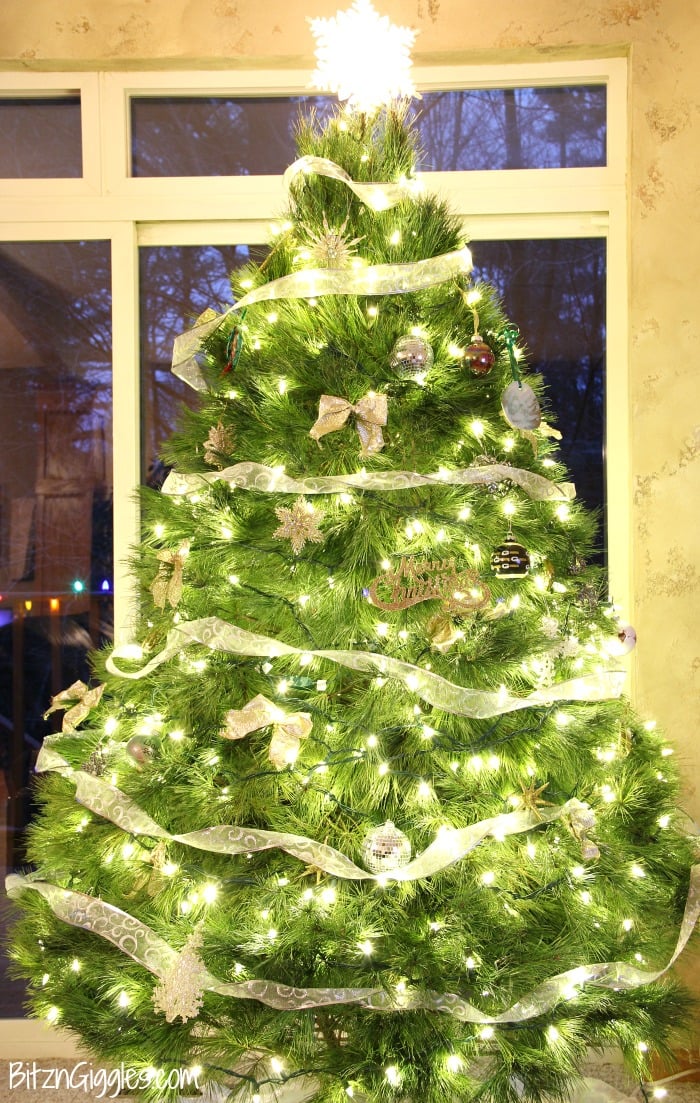 I can't tell you how happy our family is to have our very own real Christmas tree in our home. The entire experience – from going out to find it and cutting it down, to decorating and watering it – it just makes me kind of proud. It's pretty much the #BestTreeEver.
It's an experience our family will always remember, so in addition to the photos I shared here,  I captured a few of our moments on video, too! Join us on our adventure before heading out in search of your family's perfect tree!
Christmas Tree Tip: For more Christmas tree care tips, check out miraclegro.com.
Miracle-Gro® for Christmas Trees is available at Amazon and many home improvement stores.
This is a sponsored conversation written by me on behalf of Miracle-Gro. The opinions and text are all mine.