Veggie Pizza – This tasty party appetizer features crunchy and colorful veggies atop a ranch-flavored Crescent roll crust!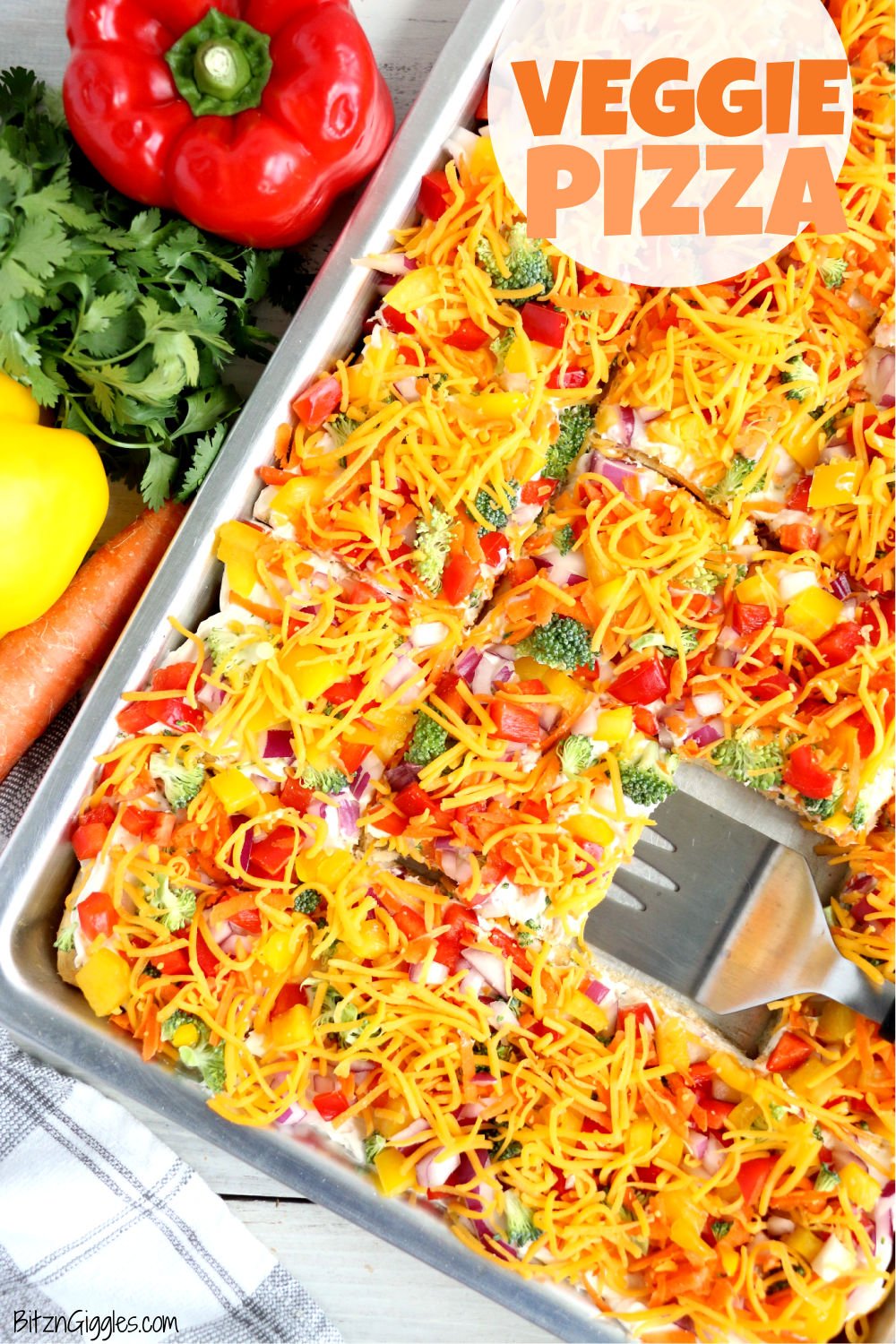 This post may include affiliate links. Please see my disclosure.
You guys, it snowed this week. We haven't even made it to Halloween yet and we had inches of snow on the ground. BUT, I am not going to let it get me down! Even if it seems winter is rapidly approaching, we're going to have a bright and colorful day today, because we're making a fresh, gorgeous Veggie Pizza!
Make sure you scroll all the way to the end of the post to see a graveyard-themed version of this pizza that will really shake things up for a spooky Halloween celebration!
HOW TO MAKE A VEGGIE PIZZA
To make this gorgeous veggie pizza, you'll need:
Pillsbury crescent rolls
Cream cheese
Sour cream
Packet dry ranch seasoning
Carrot
Red bell pepper
Yellow bell pepper
Red onion
Broccoli
Shredded cheddar cheese
Ready to whip up this healthier version of a pizza? Let's get going!
Before you start assembling anything, you'll want to prep your vegetables by cleaning and dicing them up. It's a great way to get things going while the oven preheats!
To prepare the crust, begin by placing the crescent rolls onto a greased jelly roll pan and gently start "spreading" them out.
Use your fingers to connect the "seams" together and create a solid sheet of dough.
While the crust bakes, you can start whipping up the ranch and cream cheese mixture. Using a stand or hand mixer, combine the cream cheese, sour cream and ranch seasoning until creamy and smooth.
Using a spatula, spread the mixture onto the cooled crust.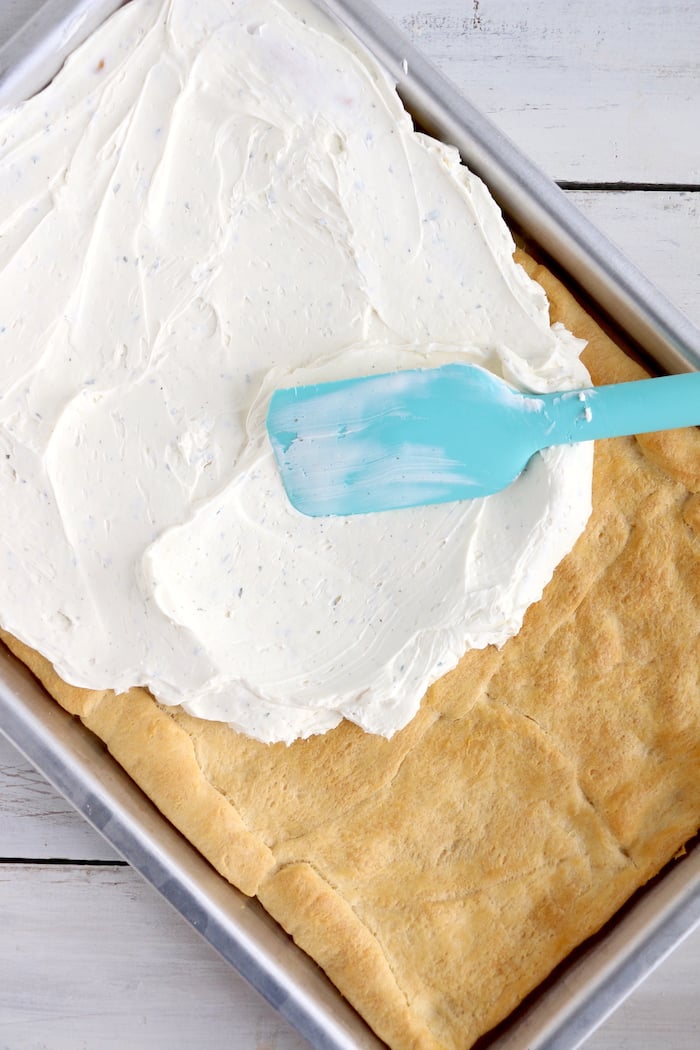 Now, you can start adding all of the veggies. It really doesn't matter what order you place them onto the pizza.
Just start creating your masterpiece and finish with sprinkling on a cup of shredded cheese.
How pretty is this appetizer? It's absolutely delicious, too!
WHAT OTHER VEGGIES COULD YOU PUT ON A VEGGIE PIZZA?
You really can dress up your pizza with whatever veggies you prefer. Some great additions could be:
Tomatoes
Cucumbers
Radishes
Green onions
Kohlrabi
Celery
Cauliflower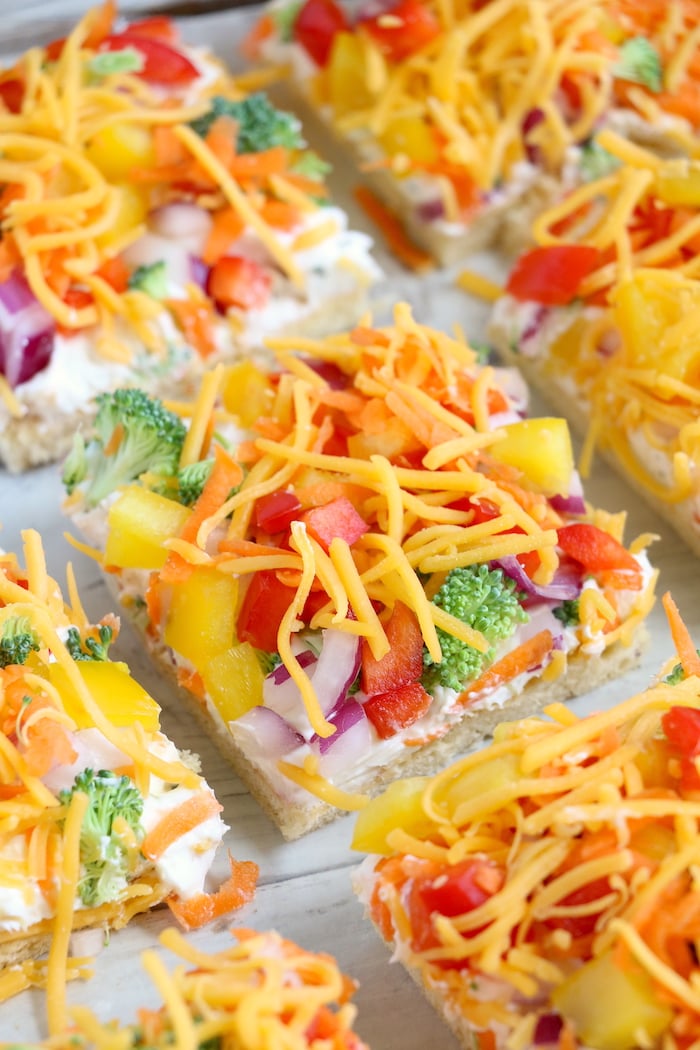 CAN YOU MAKE VEGGIE PIZZA AHEAD OF TIME?
Yes, absolutely.
Bake the crust the day before. Wrap the crust in plastic wrap and just keep it on the counter or table overnight (no need to refrigerate it).
Chop up the veggies and make the cream cheese spread. Store them in the fridge.
When you're ready to serve, assemble the pizza on the spot and hope you have a hungry crew!
TIME SAVING TIP
If you're really short on time, a tub of spreadable, flavored cream cheese could be a great substitution for the sour cream, cream cheese and dry ranch seasoning mixture.
ARE THERE OTHER VEGGIE PIZZA VARIATIONS YOU WOULD RECOMMEND?
If you want to put a bit of a different twist on the pizza, you could try making a Mexican version – a taco pizza!
Substitute taco seasoning for the dry ranch packet and top with your favorite taco toppings – veggies, lettuce, salsa, guacamole, etc.!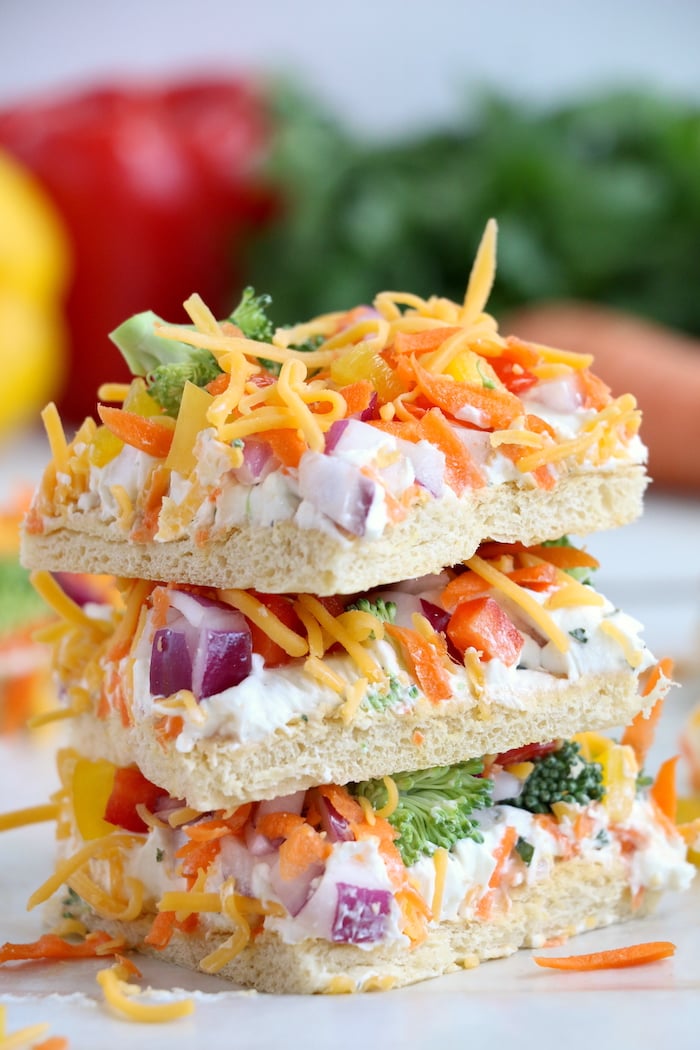 CAN YOU PRE-CUT THE VEGGIE PIZZA?
Yes! Once the pizza is prepared, you can cut the pizza into squares and refrigerate it until you're ready to serve it up.
MAKE YOUR VEGGIE PIZZA "SPOOKY" FOR HALLOWEEN!
Morph your veggie pizza into a spooky graveyard featuring cute "tombstone" crackers! You can find all of the instructions for making the Halloween-themed pizza, here.
It's the perfect appetizer for the upcoming Halloween holiday!
LOOKING FOR MORE DELICIOUS APPETIZERS?
Veggie Pizza
Creamy cream cheese meets crunchy veggies and flaky crescent rolls. Light, refreshing, and so easy to make, you will love this veggie pizza.
Ingredients
2 – 8 ounce tubes crescent rolls
16 ounces cream cheese, softened
8 ounces sour cream
1 packet dry ranch seasoning
1 carrot, shredded
1 red bell pepper, diced
1 yellow bell pepper, diced
1 medium red onion, diced
1 cup broccoli, chopped
1 cup shredded cheddar cheese
Instructions
Preheat oven to 375º Fahrenheit.
For crust, lay crescent rolls on a greased jelly roll pan. Using your hands, push the seams together to create a solid sheet.
Bake crust for 15 minutes or until golden brown. Cool.
In a medium mixing bowl, combine cream cheese, sour cream and ranch seasoning with a hand mixer.
Spread over cooled crust.
Evenly sprinkle all veggies over cream cheese mixture.
Top with shredded cheese.
Chill for at least two hours before serving.
(Visited 54,765 times, 1 visits today)