Easy Vanilla Mug Cake – Ready in 90 seconds! This mug cake is moist, delicious and topped with a lovely vanilla icing that soaks into the cake and infuses it with sweetness!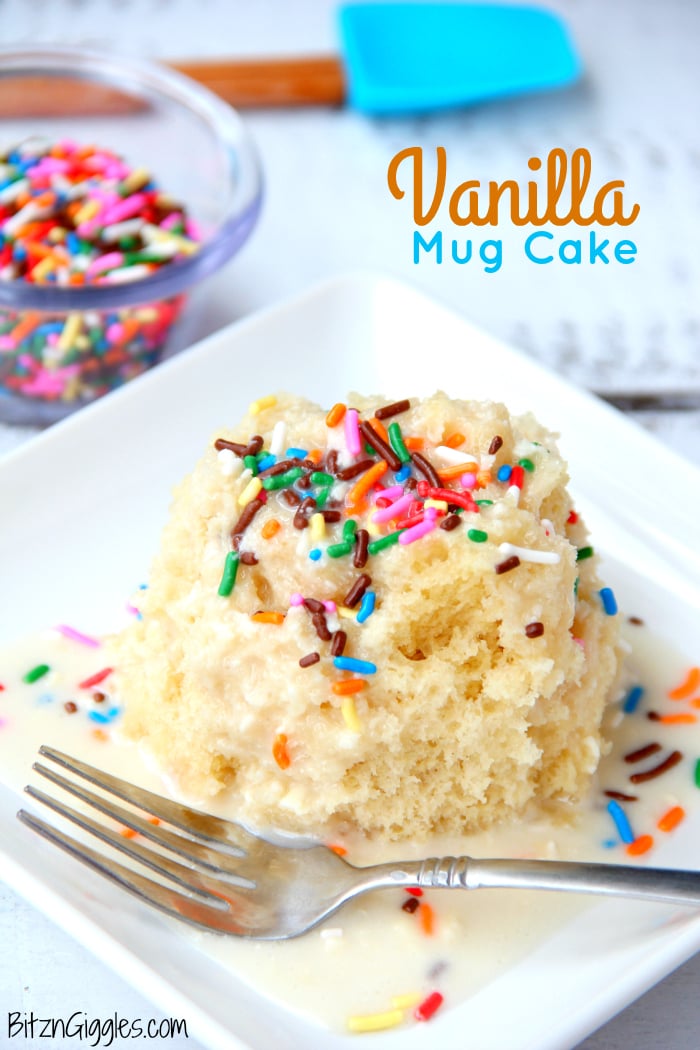 This post includes affiliate links. Please see my disclosure.
So, eating healthier and getting in shape are part of my 2016 goals. . .mine and a bazillion other people's no doubt. It has to be the reason I'm craving sweetness now more than ever. You always want what you can't or shouldn't have, right? Well, to satisfy my sweet tooth but keep the portion size in check, I made this yummy and easy Vanilla Mug Cake.

This little cake is moist, delicious and topped with a lovely vanilla icing that soaks into the cake and infuses it with sweetness! Pretty smart, right?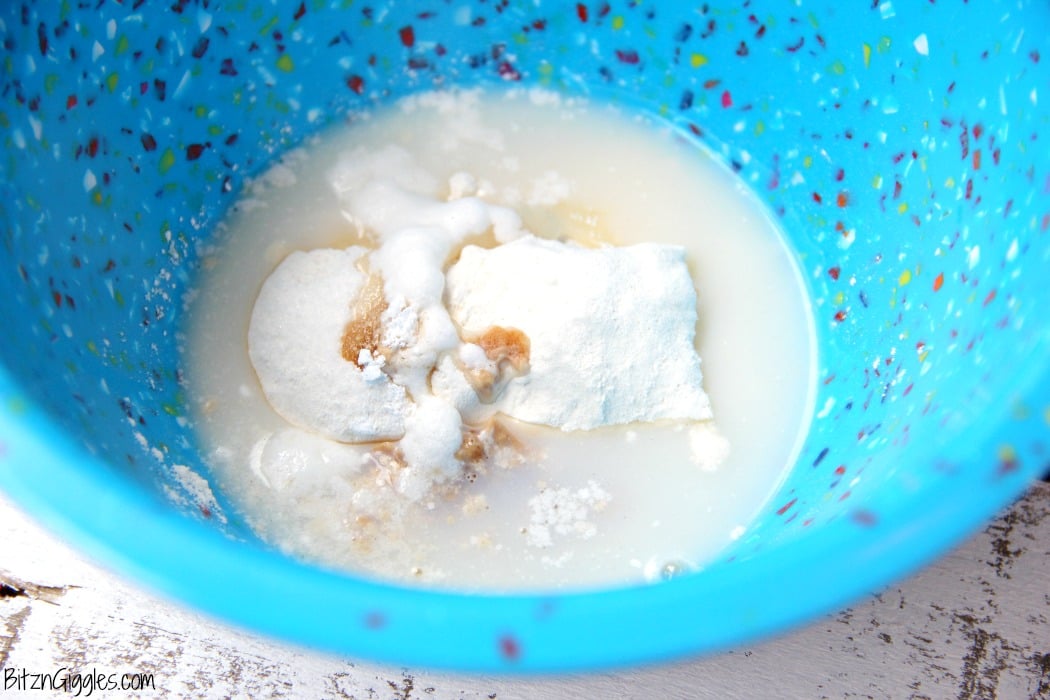 I've never really "trusted" mug cakes. I've had many that turned out dry and tasteless. It took a little experimenting until I achieved the sweetness I was looking for. And in my opinion, cake isn't really cake if you eat it out of a mug. Cake out of a mason jar, now that's a different story. You can "see" through a mason jar so it can still be "pretty." You following me?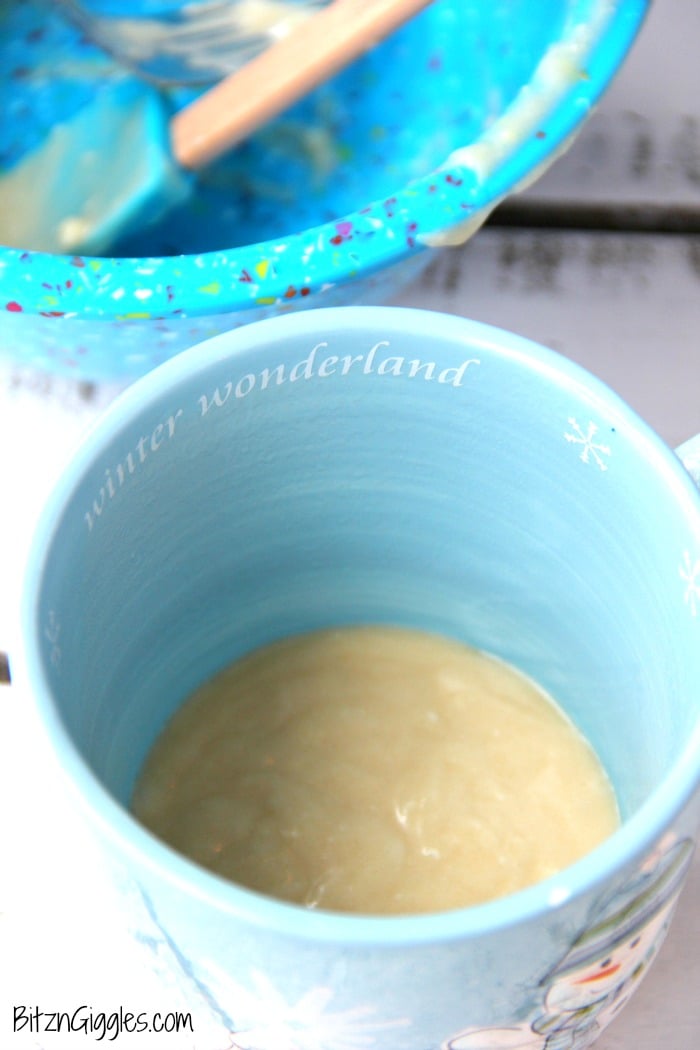 So, this is usually my hot chocolate mug from which I drink the most wonderful hot chocolate in the world. Alright, so I'm a little biased, but you can't get much better than ice cream AND white chocolate. Oh, man. I need to make more of that this winter. . .
What were we talking about again? Oh yes. This mug cake. . .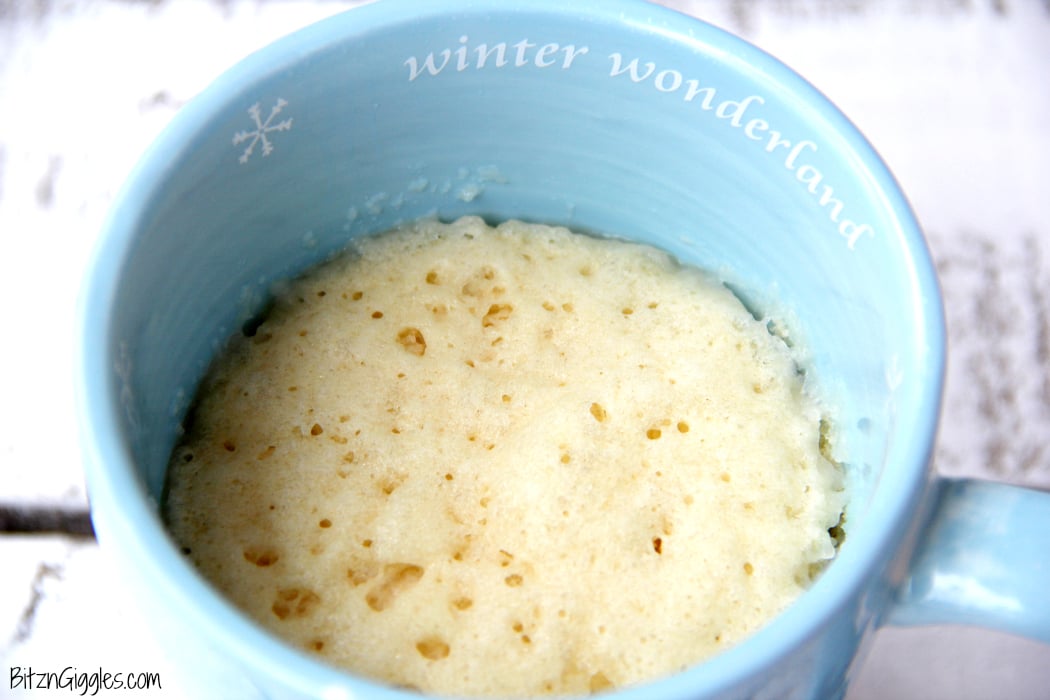 All it takes is 90 seconds in the microwave, and you'll have a little "mug" o' heaven. Classic vanilla cake is just the best. In fact, vanilla truly IS our favorite cake flavor here in the house.
One of the most important tips I can offer if you're going to make this cake is to make sure that your mug is at least 14 ounces or it may "bubble" over while baking in the microwave. Watch that mug closely!! If you use a big enough mug there's nothing to worry about. My cake took up about 3/4 of the cup, which was perfect.
I made sure to spray the mug generously with cooking spray before adding the batter and baking it. That way, when it was done, I just ran a butter knife around the edges of the cake to loosen it from the mug and flipped it over!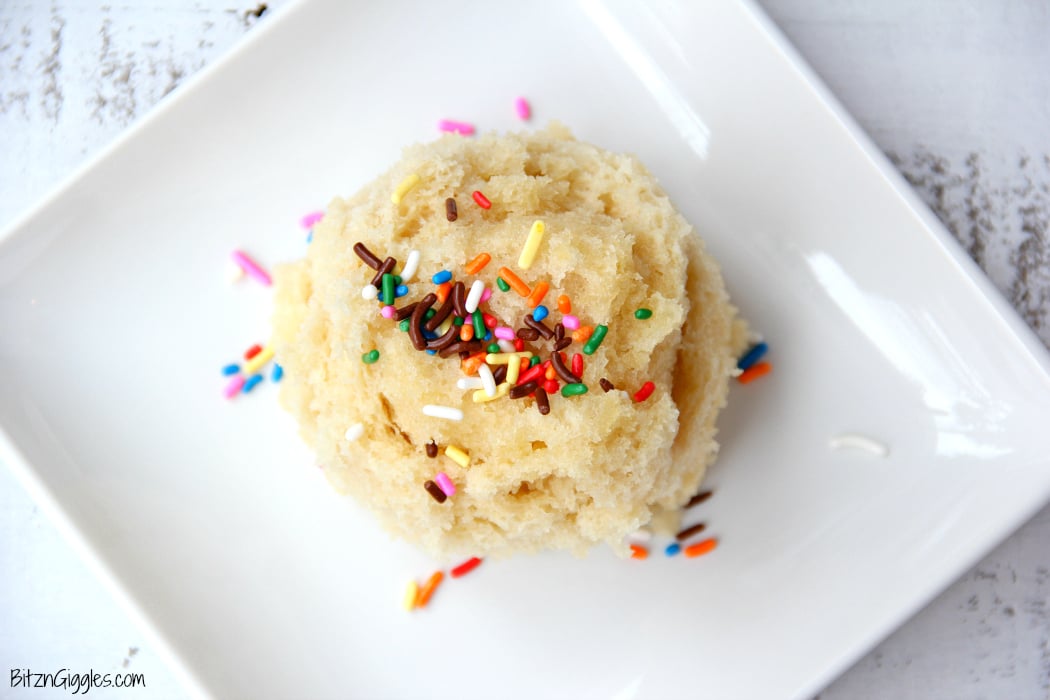 Here's the disclaimer. This is not about perfection. It may not look "perfect" when you flip it out of the mug. But in my opinion, it looks much prettier out of the mug than in it. Top it with some sprinkles and you'll begin to fall in love.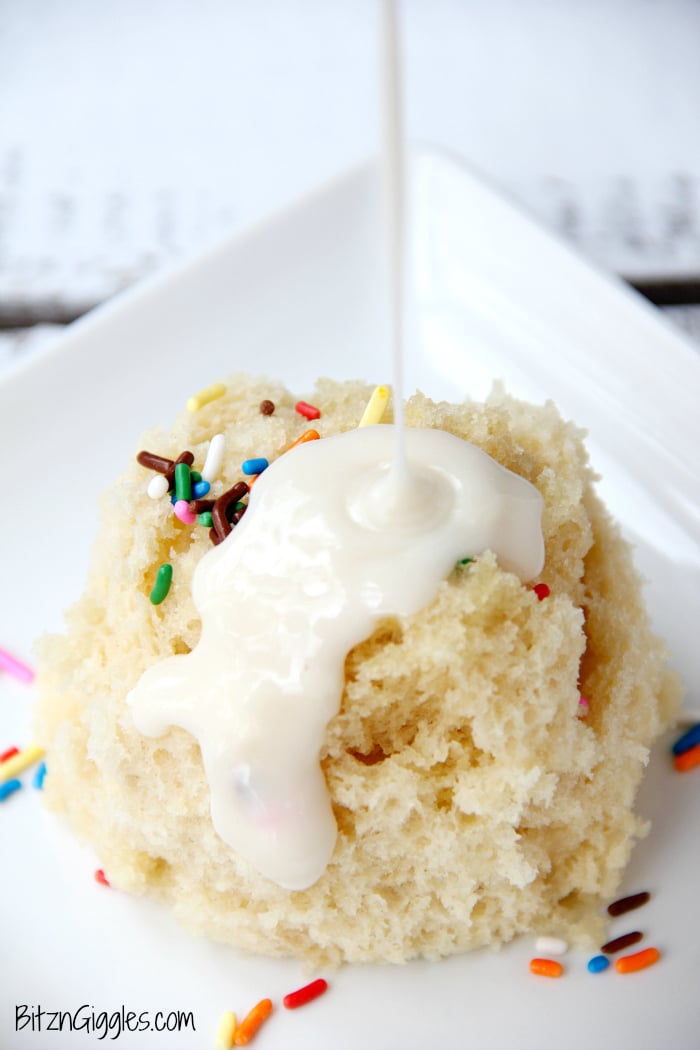 Add some sweet icing, and you'll forget the cake was ever even in a mug. What mug? See.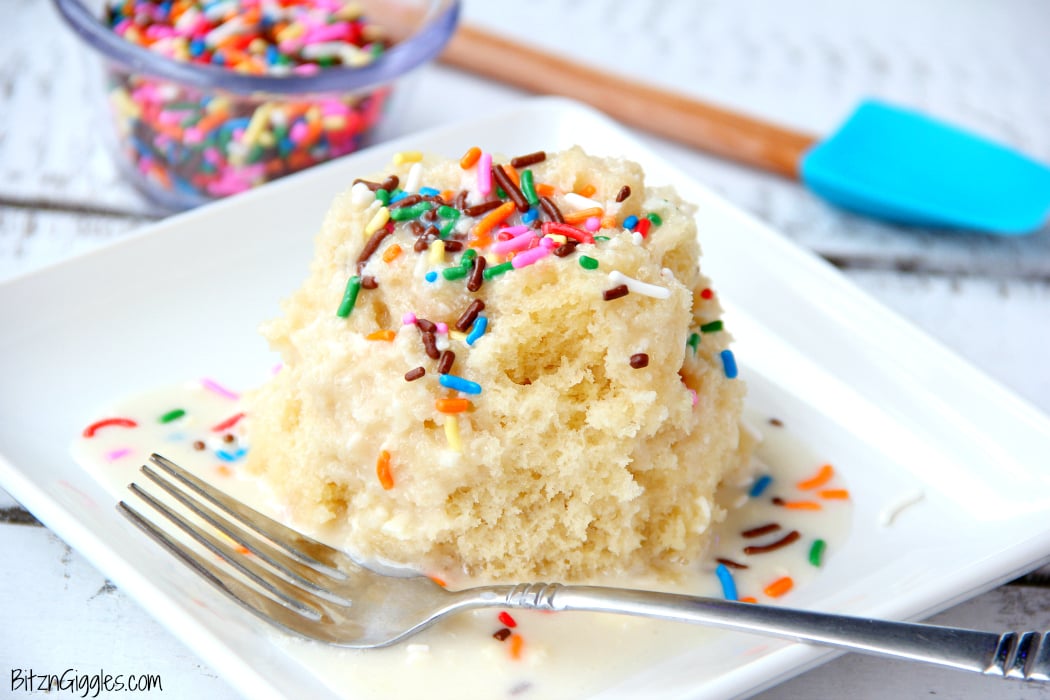 I let the icing soak in a little bit while I filled a glass of milk. . .AND. . .put a few more sprinkles on top.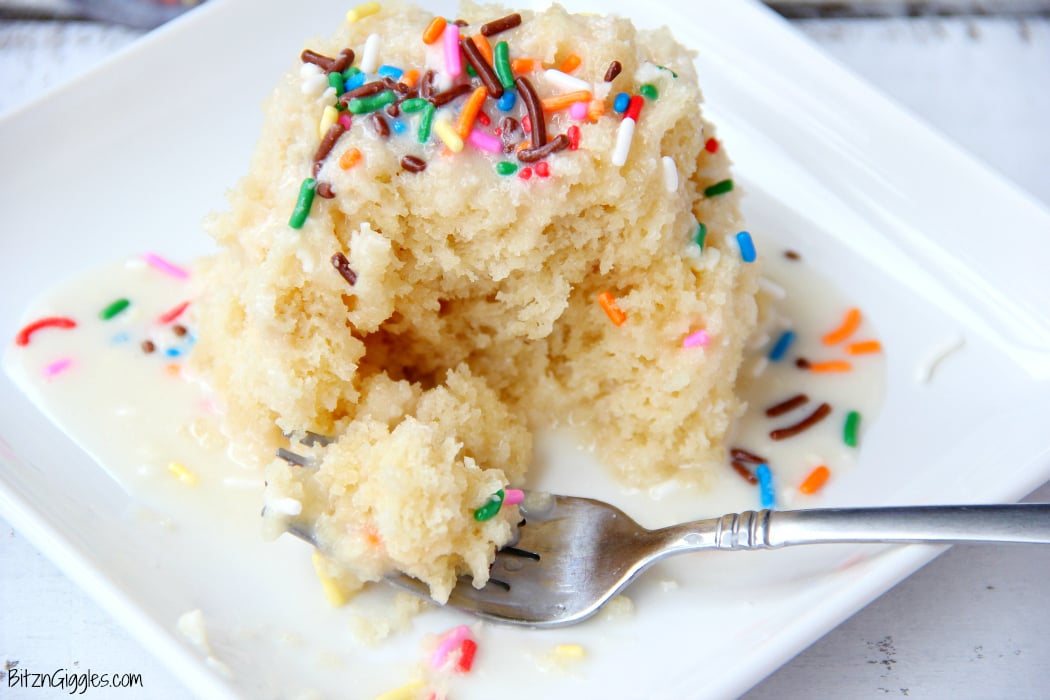 Just look at how moist this is. Drag the cake right through that little pool of icing. Holy moly. Seriously now. Promise me you'll try this. Believe it or not, the cake is fairly sweet without the icing. If you wanted to switch out the icing for some whipped cream, you could do that, too. Heck, next time I may add some sprinkles to the actual cake batter!
So, yeah. There you have it. An easy vanilla mug cake perfect for one. . .or two, if you really wanted to share. But when it comes to cake is that even a consideration? I'm going to go and grab an extra mug just to be safe. I'll make you your own. Do you have 90 seconds to spare? After that, we'll do PiYo in my basement. You in?
Easy Vanilla Mug Cake
Ready in 90 seconds! This mug cake is moist, delicious and topped with a lovely vanilla icing that soaks into the cake and infuses it with sweetness!
Ingredients
For the Cake
4 Tablespoons flour
1/2 teaspoon baking powder
3 Tablespoons sugar
1/2 Tablespoon butter, softened
4 Tablespoons milk
1/2 teaspoon vanilla extract
Pinch of salt
For the Icing
3 Tablespoons powdered sugar
1 teaspoon butter. softened
1 Tablespoon milk
1/4 teaspoon vanilla extract
Instructions
For the Cake
Mix all ingredients in a bowl.
Pour into greased mug (at least 16 ounces).
Microwave on high for 1 minute 30 seconds (or 90 seconds).
For the Icing
Mix all ingredients together and drizzle over cake either inside the mug or pop cake out of mug onto plate.
Notes
For thicker icing, add more sugar. For thinner icing, add a bit more milk.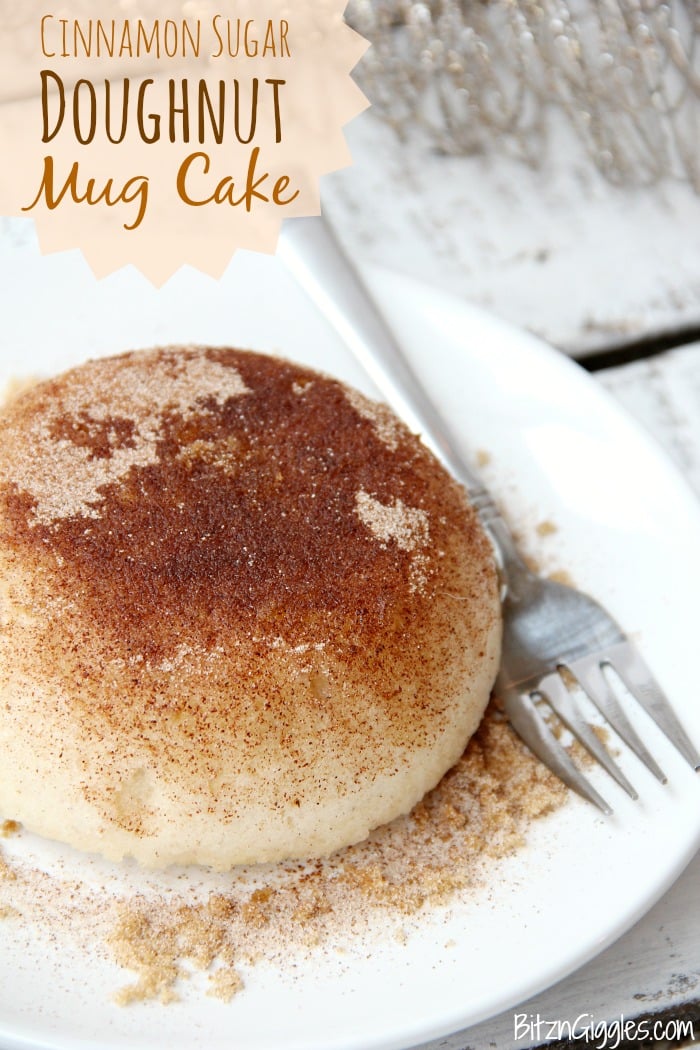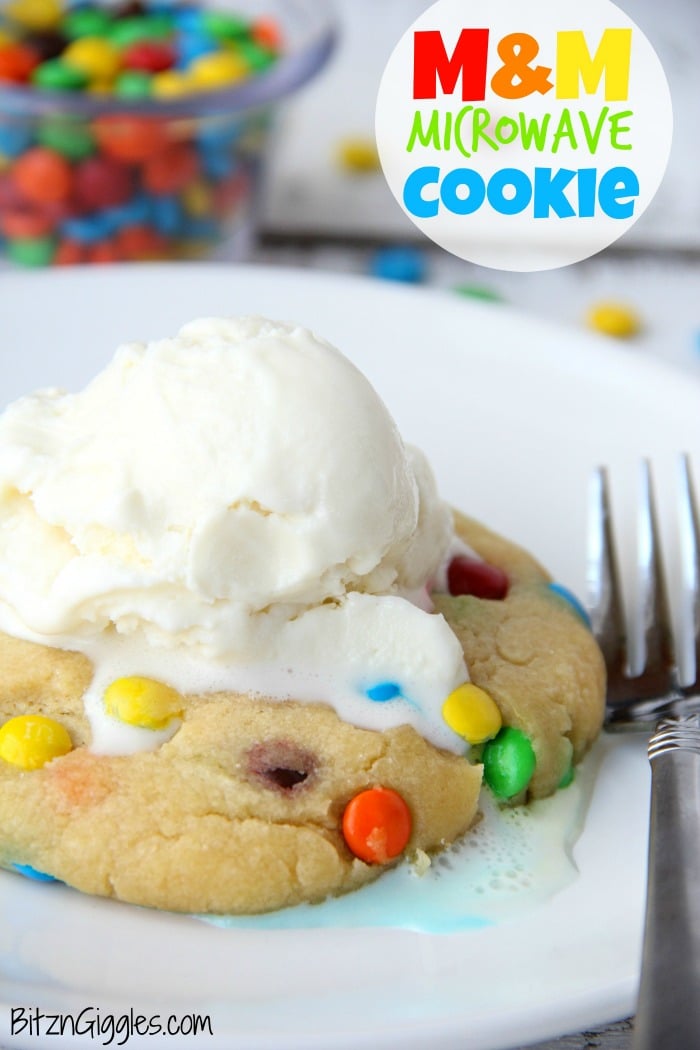 Ready For Some Spring Clean-Up?
Wouldn't it be great to start the new season in a clean, simplified, de-cluttered space? If you're ready to break through the clutter there's no better time to start than right now!
(Visited 304,480 times, 1 visits today)