Crock Pot Italian Garlic Chicken – Super moist, flavorful, tender, fall-off-the-bone chicken the whole family will enjoy!


The evenings around here have been cooling down as of late and it's got me thinking about my slow cooker. My crock pot. What do you call it in your family? I usually resort to crock pot, so if you're a slow cooker kind of family, I apologize. One of my favorite things to make in my crock pot, is chicken. I don't know about you, but I think fall-off-the-bone meat is just about the best thing ever.
I had some chicken legs I needed to use up so I decided it was a perfect opportunity to make this Crock Pot Italian Garlic Chicken. I'm not going to lie. . .I had a little extra inspiration from my blogging bud, Samantha over at Five Heart Home. She's releasing her first cookbook in October that's FILLED with 80 slow cooker (she's a slow cooker kind of gal 😉 ) dinner recipes and I'm super excited to help her spread the news about her new book and an amazing giveaway! All of the details can be found at the end of this post, but let's get to this chicken first!
I may be one of the only bloggers that is brave enough to post ugly raw chicken photos. . .but I did it. . .for you. I get comments from my readers all the time about how helpful step-by-step photos are, so I try to take them for most of my posts. Today is no exception.
I always use slow cooker liners for easy clean-up. As a disclaimer, I've never had a problem with them at all. No melting, no issues, no horror stories on this end. They've just been a timesaver for me. Completely awesome.
The way I season the chicken, is right in a ziploc bag. As I mentioned before, I used chicken legs, but you could also use thighs if you would like for this recipe. If you're not a big Italian seasoning fan, you can actually omit it and replace it with a seasoning that better suits your tastes. If I'm making this chicken for the kids, I often omit the red pepper flakes as well.
I'm a firm believer of removing the skin from chicken legs before putting them in the crock pot (especially if you don't plan to crisp up the skin in the oven later).
After you're done with the seasoning, you place the legs in the slow cooker (gasp – I said "slow cooker" – are you paying attention? 😉 ) and just sprinkle the cloves of garlic around the chicken. Whew, ok, we're done with the ugly raw chicken pics. Is everyone okay? I promise it gets better from here on out.
These crock pot Italian garlic chicken legs brown up quite nicely in the slow cooker (I did it again) without having to use the oven at all.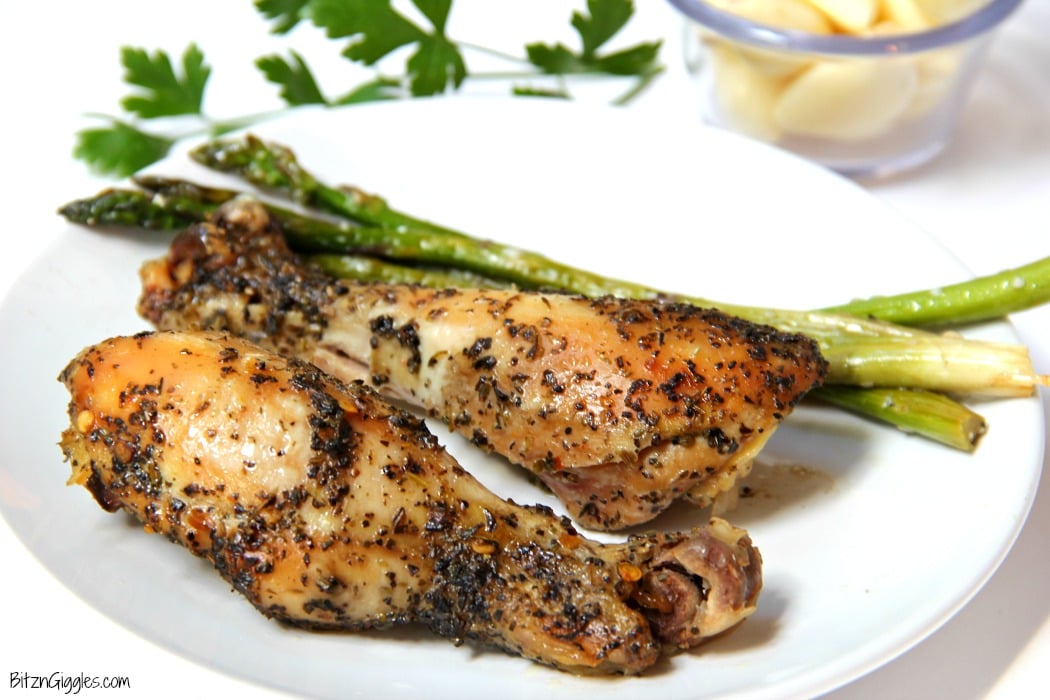 Just look at that seasoning! It sticks to the chicken quite well, don't you think?!
So, go ahead, grab one of these chicken legs and take a big bite! Don't be alarmed if the meat just falls off the bone, because chances are. . .it will.
Have I inspired you to dig out your crock pot from the cupboard? I hope so! Don't forget to check out my friend, Samantha's, new cookbook below and make sure to enter her amazing giveaway! I can't wait to share a recipe from her new cookbook with you all. That, my friends, is coming soon!
Crock Pot Italian Garlic Chicken
Super moist, tender, fall-off-the-bone chicken the whole family will enjoy!
Yield: 6 1x
Category: Chicken
Ingredients
6 chicken legs, skin off
3 tablespoons olive oil
1 teaspoon Italian seasoning
1/2 teaspoon salt
1/2 teaspoon pepper
1/4 teaspoon red pepper flakes
20–25 cloves garlic, peeled
1/3 cup vegetable broth
Instructions
In a plastic ziplock bag, add chicken legs, oil, Italian seasoning, salt, pepper and red pepper flakes.
Turn bag until chicken is well-coated.
Place chicken in crock pot and surround with garlic cloves.
Pour vegetable broth over chicken.
Cook on low for 6-8 hours.
Real Food Slow Cooker Suppers will be released on October 11, 2016, but it's available for pre-order now! The cookbook features:
♥ 80 new DINNER recipes made in the slow cooker, prepped when it's convenient for you and cooked while you go on with your day
♥ recipes utilizing real, fresh ingredients instead of processed or packaged ingredients
♥ a variety of recipes, from classics to comfort foods to soups & stews to sandwiches & tacos to holiday main courses, and
♥ a full-color photo with every recipe!
To thank those of you who have already pre-ordered or are planning to pre-order, we're hosting a big giveaway! It's easy to enter and the prize pack includes a generous Amazon gift card, a fancy new slow cooker, and some additional kitchen accessories that will come in handy when using the cookbook! 🙂
To pre-order Real Food Slow Cooker Suppers, click one of the links below:
or wherever books are sold!
And to enter the giveaway, simply fill out this form and submit!

GOOD LUCK!!!
(Visited 44,346 times, 1 visits today)