Crock Pot Shepherd's Pie – Homey and comforting, loaded with satisfying chunks of beef and veggies in a thick, rich gravy.
This post includes affiliate links. Please see my disclosure.
The colorful autumn leaves have reached their peak here in our area and that means it's the beginning of COMFORT FOOD SEASON! Well, technically, I tend to make comfort food year round, but the fact that fall is well upon us just gives me the excuse to make EVEN more.
Today's Shepherd's Pie recipe is a special one. It's a celebration of and a congratulations to my friend, Samantha, over at Five Heart Home. Remember me mentioning her book in my Italian Chicken post a couple weeks ago? Yes? No? Well, if not, she just released her first cookbook, Real Food Slow Cooker Suppers, and I couldn't be more proud or amazed by what she's accomplished. She even appeared on QVC for goodness sakes!

As a busy mom with three children, I have no idea how she was able to find the time to pull all of this deliciousness together, but that just goes to show what a talented and motivated person she is. She understands how difficult it is to get dinner on the table some nights (whether it's just for a family meal or for special guests), so she's helping the rest of us stay sane (well, somewhat) with her new cookbook that includes 80 slow cooker dinner recipes! Count them – 80!
Every recipe calls for all real, fresh, unprocessed ingredients. They're all family-friendly and influenced by a variety of cuisines. You know what my favorite part is? EVERY recipe includes a full color photo. I love being able to see what the recipe should turn out looking like, don't you?!
Alright, so let's get down to business with this Crock Pot Shepherd's Pie. Is it okay that I say crock pot? That's just what we call them around here. I wanted to show you what all the meat and veggies actually look like in the crock pot before I plated it.
"In the crock pot" photos aren't always the most beautiful, but let me tell you what. . .there's a whole lot of deliciousness right there in that slow cooker! Beef, corn, peas, mushrooms. . .all in a thick, rich gravy.
And you get to mix it all with a pile of homemade cheesy, mashed potatoes. Holy yum.
This is comfort food at its finest for sure.
Sprinkle a little more shredded cheese over the top of those potatoes. . .just for good measure. I'm telling you, the entire family is going to love this dish. There's nothing better than swirling mashed potatoes around in beef, veggies and gravy.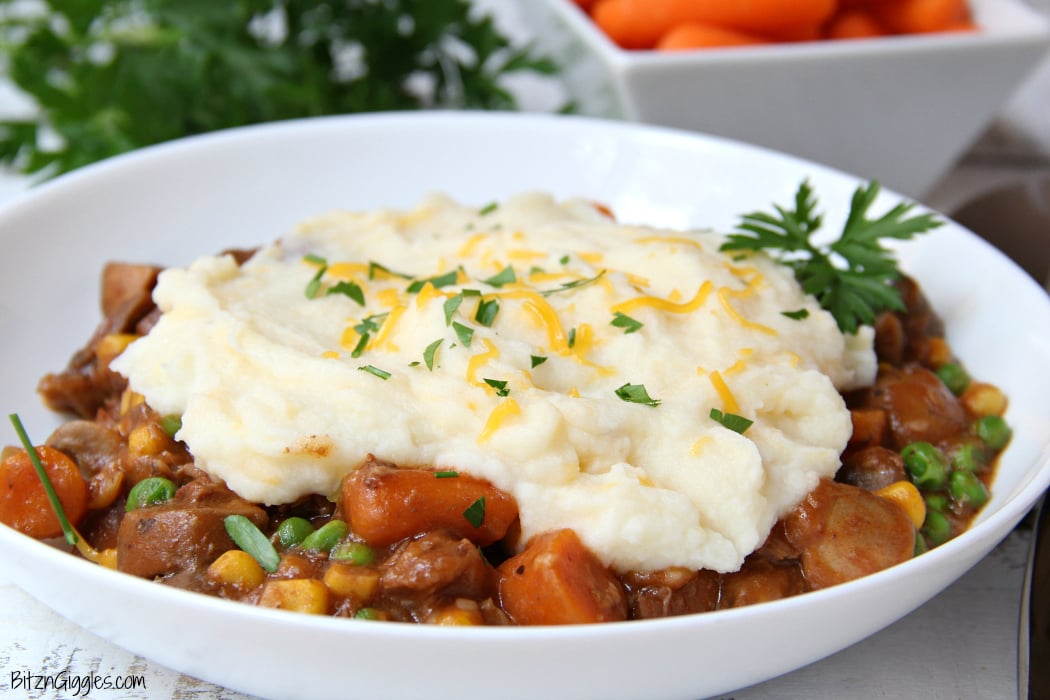 Samantha pretty much hit the ball out of the park with this recipe. Don't take my word for it though, try it for yourself!
Here's a sneak peek into some of the other yummy recipes you'll find in the book:
DINNERTIME CLASSICS
~Swedish Meatballs
~Teriyaki Chicken Breasts
~Marinated Pork Chops & Potatoes
COMFORTING MAIN DISHES
~Mexican Pot Roast with Borracho Beans
~Bacon-Wrapped Peach Jalapeño Pork Loin
~Cheesy Spinach Lasagna
SOUP'S ON
~King Ranch Chicken Soup
~Thai Shrimp Soup with Rice Noodles
~Bacon Cheeseburger Soup
STEWS, CHILIS, & CHOWDERS
~Beefy Three-Bean Chili
~Pork & Hominy Stew
~Chicken & Dumplings
SANDWICHES, TACOS, & WRAPS
~Raspberry Chipotle Chicken Sliders
~Mini Pulled Pork Pizzas
~French Dip Tacos with Caramelized Onions & Bleu Cheese
HOLIDAY HELPERS 
~Cran-Cherry Glazed Ham
~Herbed Turkey Breast
~Citrus-Glazed Cornish Hens
Bonus Chapter: HOMEMADE SEASONINGS & STOCKS
Crock Pot Shepherd's Pie
Crock Pot Shepherd's Pie – Homey and comforting, loaded with satisfying chunks of beef and veggies in a thick, rich gravy.
Ingredients
1 1/2 pound boneless beef chuck roast, trimmed and cut into 1-inch cubes
3 cloves garlic, minced
4 medium carrots, peeled and cut into 1/4-inch slices
8 ounce white mushrooms, cleaned and roughly chopped
1 1/2 cups frozen corn, thawed
3/4 cup low-sodium beef broth
6 tablespoons tomato paste
2 teaspoons Worcestershire sauce
1 teaspoon dried oregano
1 1/2 teaspoons *House Seasoning
3 tablespoons all-purpose flour
1 1/2 cups frozen peas, thawed
Salt and freshly ground black pepper, to taste
1 1/2 cups shredded cheddar cheese
5 to 6 cups mashed potatoes (recipe follows)
For the Mashed Potatoes
2 1/2 pounds russet potatoes, peeled and cut into 2-inch pieces
1 teaspoon salt
1 cup milk, warmed
6 tablespoons butter, melted
Salt and freshly ground black pepper, to taste
Instructions
Place the beef cubes in a large slow cooker. Top with the garlic, carrots, mushrooms and corn.
In a medium bowl, whisk together the beef broth, tomato paste, Worcestershire sauce, oregano and House Seasoning.
Pour the broth mixture over the contents of the slow cooker and stir to combine.
Cover the slow cooker and cook on low for 7 to 9 hours, or on high for 3 1/2 to 4 1/2 hours, until the beef is tender.
For the Mashed Potatoes
To make the mashed potatoes, place the potatoes in a large saucepan and cover them with 2 inches of water.
Bring the potatoes to a boil over high heat and stir in the salt.
Reduce the heat and simmer until the potatoes are tender when stabbed with a fork (start checking them at 15 minutes).
Drain the potatoes, and return them to the pot.
Add the milk, butter, salt and pepper, to taste.
Gently mash the potatoes with a handheld potato masher.
Use a large spoon to skim any fat from the surface of the beef and veggie mixture in the slow cooker.
In a small bowl, mix the flour and 6 tablespoons water until smooth, then slowly stir the mixture into the slow cooker. Add the peas. Adjust the seasonings to taste with salt and pepper.
Mix the cheddar cheese into the mashed potatoes and spread in an even layer over the top of the beef and vegetables.
Cover the slow cooker and cook on high for 15 to 30 minutes, until the gravy has thickened and the mashed potatoes are heated through.
Notes
*Samantha's House Seasoning Recipe is as follows: 1/4 cup fine sea salt, 1/4 cup garlic powder, 2 tablespoons onion powder, 1 tablespoon black pepper. Mix these together in a small bowl and store the House Seasoning in an airtight container.
Reprinted with permission from Real Food Slow Cookers Suppers by Samantha Skaggs
(Visited 11,866 times, 1 visits today)