Easy Elephant Ears Recipe – Fair-worthy elephant ears made faster and easier!! Ready in less than 15 minutes with less than 5 ingredients!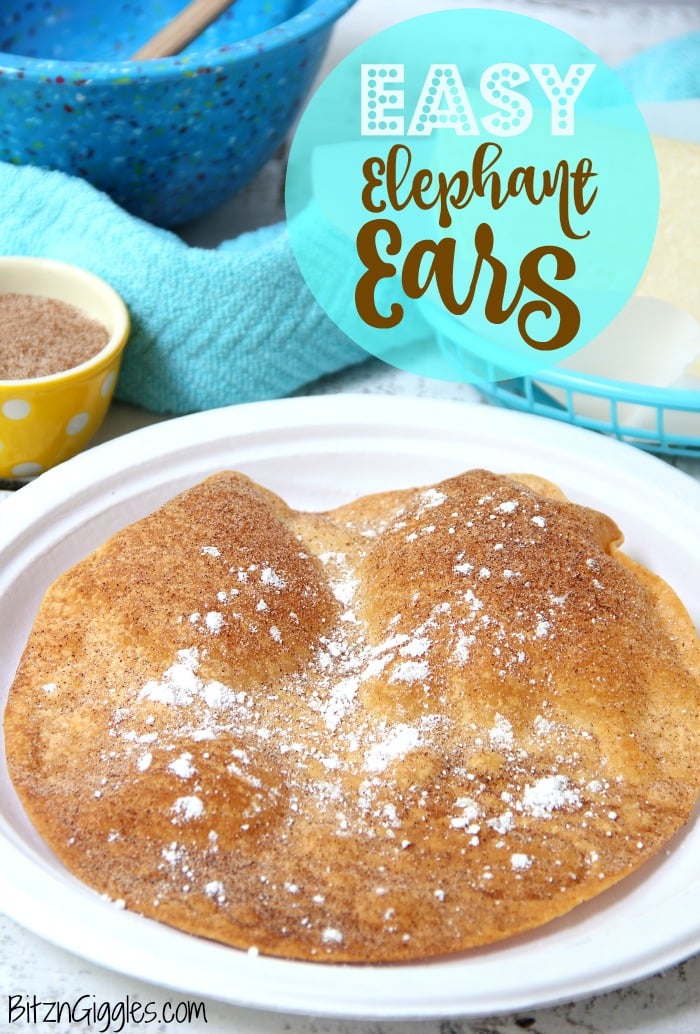 This is a sponsored post written by me on behalf of The Chinet® brand. All opinions are 100% mine.
It's about this time of year (every year) when our family starts the countdown to the official opening of our little hometown fair. My husband, Josh, and I are from the same hometown (believe it or not) and in our little "village," the fair is a BIG deal. It's basically a reunion for everyone who's ever lived and gone to school there. You just don't miss the fair. You just don't. Luckily for us, our hometown is just about a 30 minute drive from where we live now, so we get to visit our family pretty often and our kids get to experience the sights and sounds of the little community we grew up in. . . and are still proud to call "home."
Along with cheese curds and lemonade, one of the treats we always make sure to enjoy at the fair are elephant ears. While most recipes require you to prepare dough, wait for it to rise and fry it in oil, the recipe I'm sharing today is much, much easier. These are elephant ears you can make in less than 15 minutes with under 5 ingredients! Seriously? Yes, seriously.
All you need to make these elephant ears are flour tortillas, butter and cinnamon sugar. Cinnamon sugar? Yes, that's a real thing, and it comes right in its own shaker. Just look for it in the spice aisle at your local grocer.
A few other things you'll want to grab? A baking pan, microwaveable bowl to melt your butter, pastry brush and some Chinet® Classic White™ plates. I'll let you know why Chinet plates are a perfect choice in a minute!
So, you begin by brushing both sides of the tortilla with melted butter and generously sprinkling the cinnamon sugar on both sides. Once you place the tortilla in the oven, it really only takes about 8-10 minutes for it to begin to bubble and brown. So watch it closely!
Tip: The longer you leave the tortilla in the oven, the crispier it will get. If you like your elephant ears more chewy, then remove the tortilla from the oven after about 7-8 minutes.
When all is said and done, it should look something like this.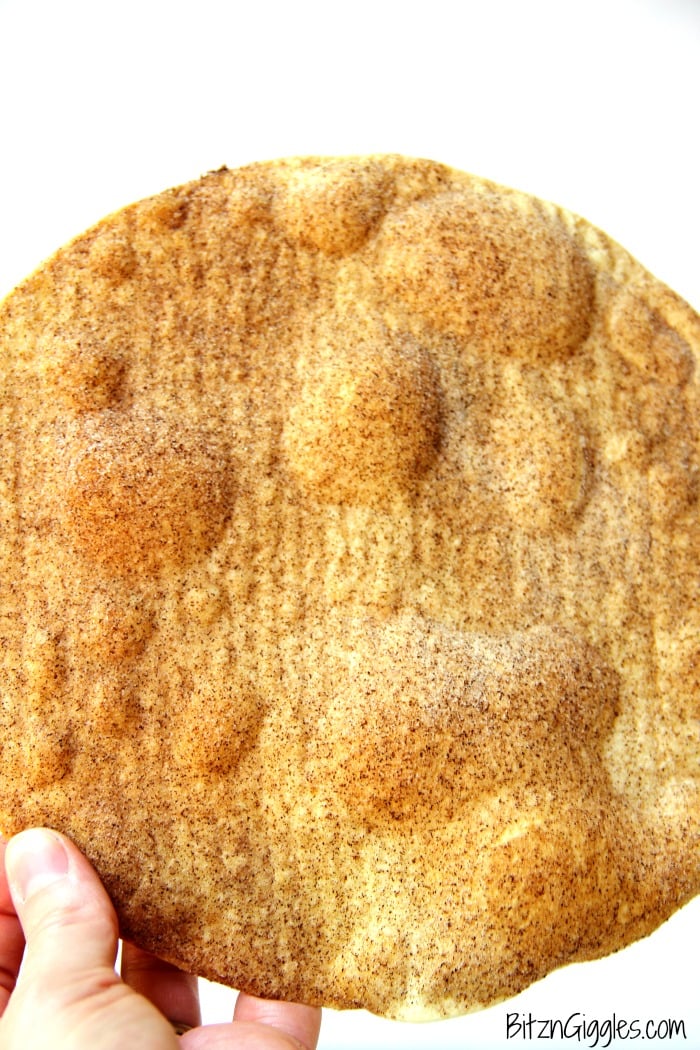 Pretty yummy, right? I like to pull my tortilla out of the oven at around 8 minutes. It's a good combo of chewy and crispy. Chewy in the middle and crispy on the outside edges.
Here's where the plates come in. Check this out.
These elephant ears fit PERFECTLY on Chinet® Classic White™ dinner plates. They're sturdy, don't leak and cleanup, after feeding these fair-inspired treats to the kids, is a complete breeze.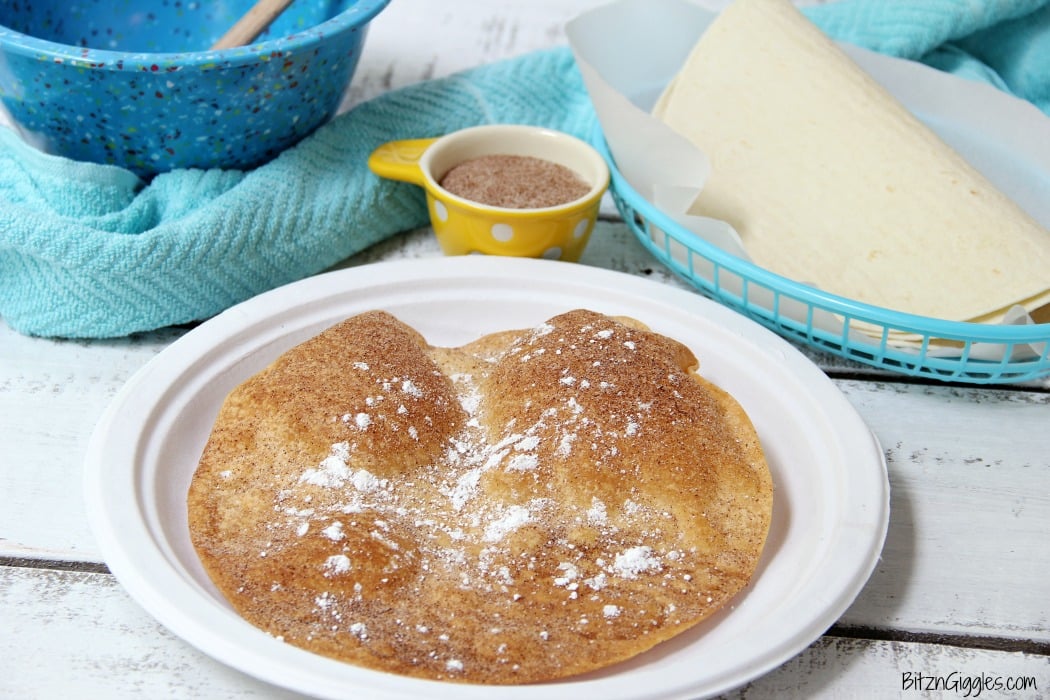 Whenever I'm making quick treats like these elephant ears and these eclairs for the family, I grab for Chinet®. You can tell they're all about bringing people together to celebrate and enjoy life's moments – whether big or small – helping you focus on the "here and now," instead of the cleanup.
The fact that Chinet® products are made in the USA, is just powdered sugar on the elephant ear. See how I did that? You know that saying, "icing on the cake?" You've heard of that, right? Right? Oh, never mind. 🙂
The powdered sugar is completely optional, by the way. I like to sprinkle some on just for a little extra sweetness.
So, I can't wait for you to try these, friends. Whether you're getting excited for a fair or carnival in your community or just need to make one of these because they remind you of good times back home, too, run out and pick up some Chinet® Classic White™ dinner plates before you turn on that oven.
Right now Sam's Club is running a sale through July 17 on a 165 count package of the Chinet® Classic White™ plates. You can find a $3.50 off coupon for them in the June Instant Savings Booklet (limit 3 per sale)! So, what are you waiting for? Find a Club near you!
Easy Elephant Ears
All the goodness you get at the county fair just faster and easier!! You can make this treat in under 15 minutes!
Yield: 1 1x
Category: Dessert
Ingredients
2 tablespoons butter
Flour tortilla
Cinnamon sugar
Powdered sugar (optional)
Instructions
Preheat oven to 350 degrees Fahrenheit.
In a microwaveable dish, melt the butter.
With a silicone pastry brush, brush butter on bottom of tortilla and generously season with cinnamon sugar.
Repeat previous step for the top of the tortilla and place on baking sheet.
Bake in oven for 8-10 minutes or until tortilla is bubbly and browned.
Remove from oven and sprinkle with powdered sugar (if desired) before serving.
This post may include affiliate links. Please see my disclosure.
(Visited 96,895 times, 1 visits today)