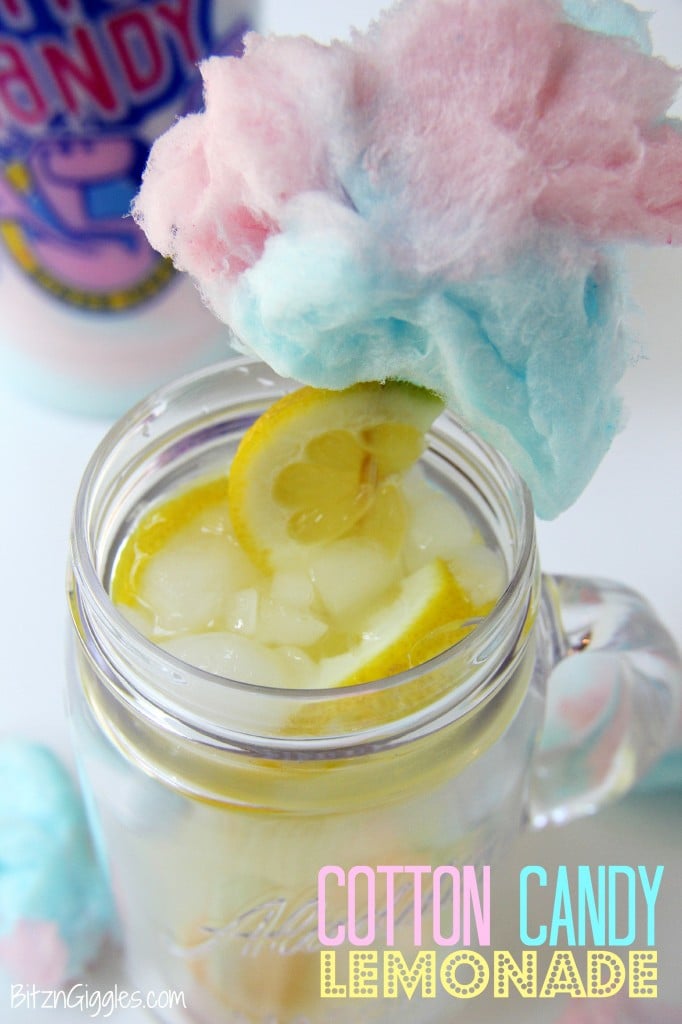 You know what really depressed me this past weekend? My mother-in-law told me that she could already tell the days were getting shorter. Wha. . what now? Summer JUST started! I waited months and months for that snow to melt and now that summer is finally here, I'm hanging on to every last moment of warmth and daylight!
I'm posting this SUPER fun Cotton Candy Lemonade recipe today in honor of summer and to get my spirits right back up to where they were on that first 75 degree day of the season. I don't know about you, but lemonade makes me think of summer. In fact, summer time is the only time I drink lemonade!!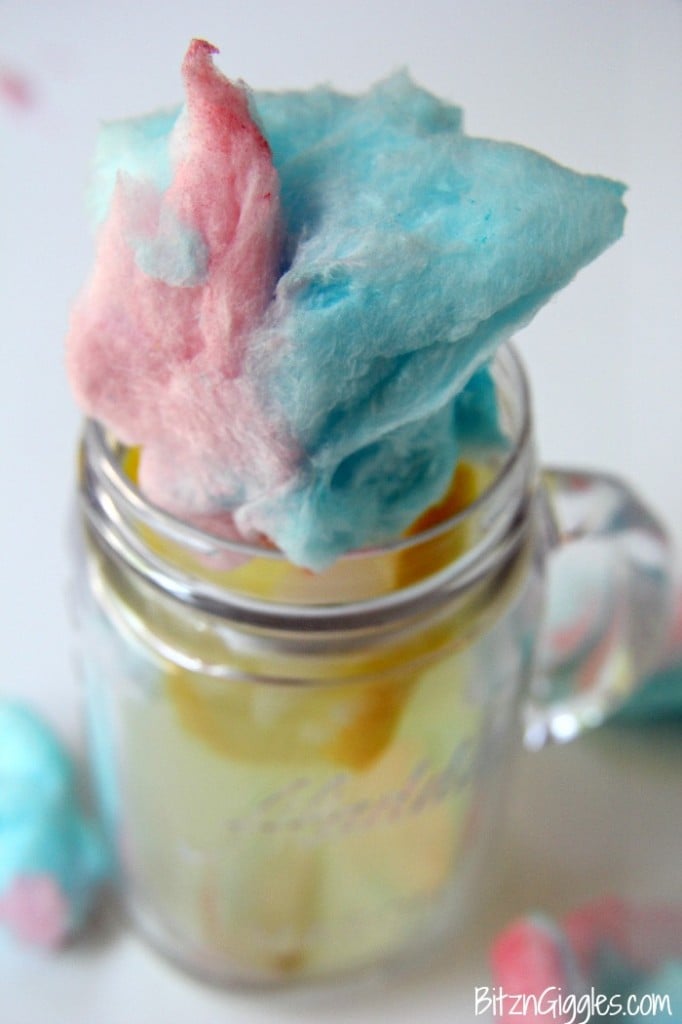 Have you ever seen Cotton Candy Lemonade before? I do know they serve it at Disney World. Why wouldn't they? Refreshing homemade lemonade sweetened by a fluff of cotton candy? I'm in. Especially if I've been waiting in lines all day in the sweltering heat. Still a little uncertain about the flavor combination?
You shouldn't be! It's wonderful, it's delicious, and it's oh so much fun! Plus, the lemonade recipe I'm sharing today is adapted from The Pioneer Woman's Homemade Lemonade Recipe. You can't go wrong with Ree. She is AMAZING!
I put a bunch of lemon slices onto a wooden skewer and left a little room at top to plop on my cotton candy (refer to the photo at the top of the post to see what I mean). It's so very important that the cotton candy doesn't touch the lemonade upon serving the drink. The lucky recipient of the lemonade should be the one to drop it in.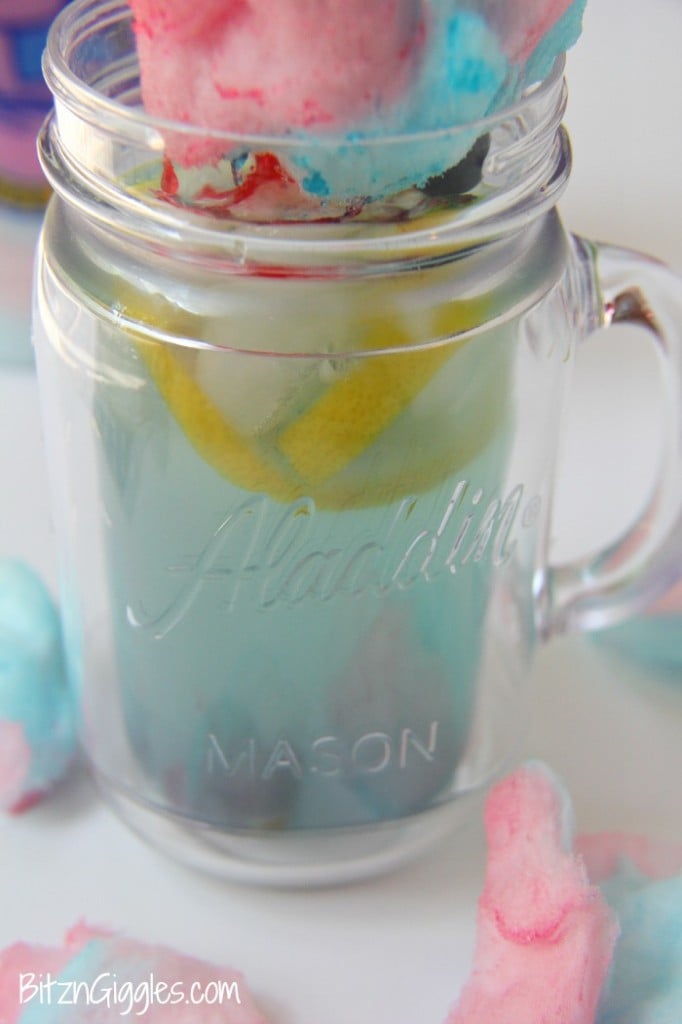 Let's be honest here. As much as I do love Ree, the star of the show in this recipe, isn't really the lemonade. It's the cotton candy, people. This drink is ALMOST as much fun as a ride at Disney World. In fact, it was so enjoyable when I made mine that I may or may not have put half a bag of cotton candy in one of the glasses of lemonade just to watch it dissolve and change colors. Can you see the pink and blue in there?
Want to see this fun in action? Check it out on Google+!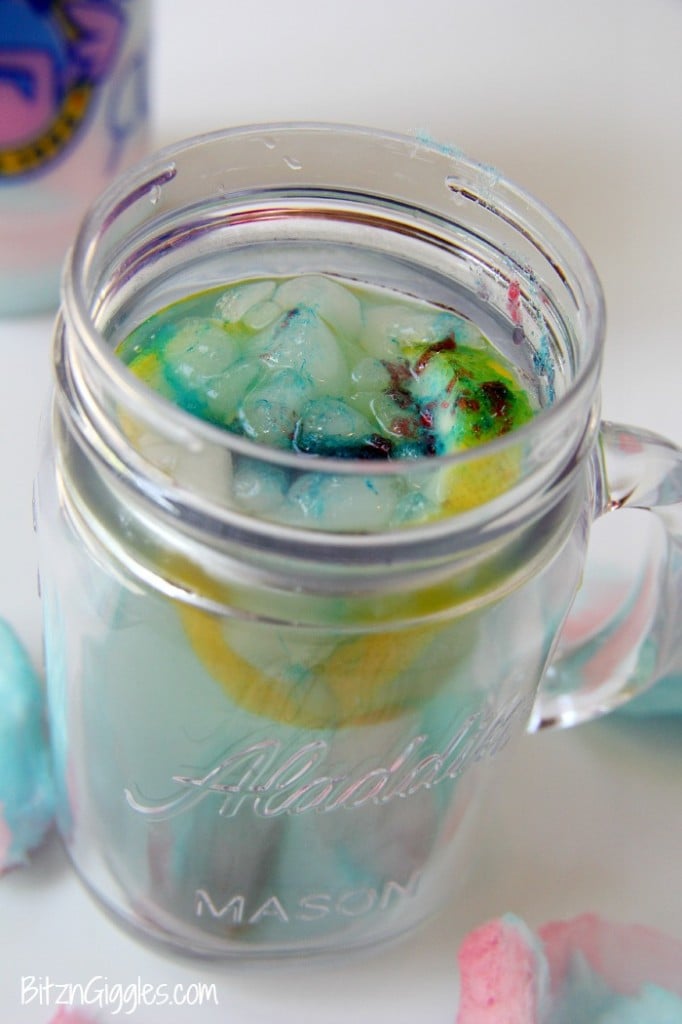 This is just the ultimate fun drink. I can't say it enough. Kids will be beside themselves and in awe of the way the lemonade just sucks up all that sugar. The cotton candy gives the lemonade just the perfect sweetness. The color change is just the visual entertainment.
So if you're looking for a fun drink that will be the talk of the party, this lemonade will get them ooohing and ahhhing like you wouldn't believe. It's so much fun to drink, but even more fun to serve!! You have to try this!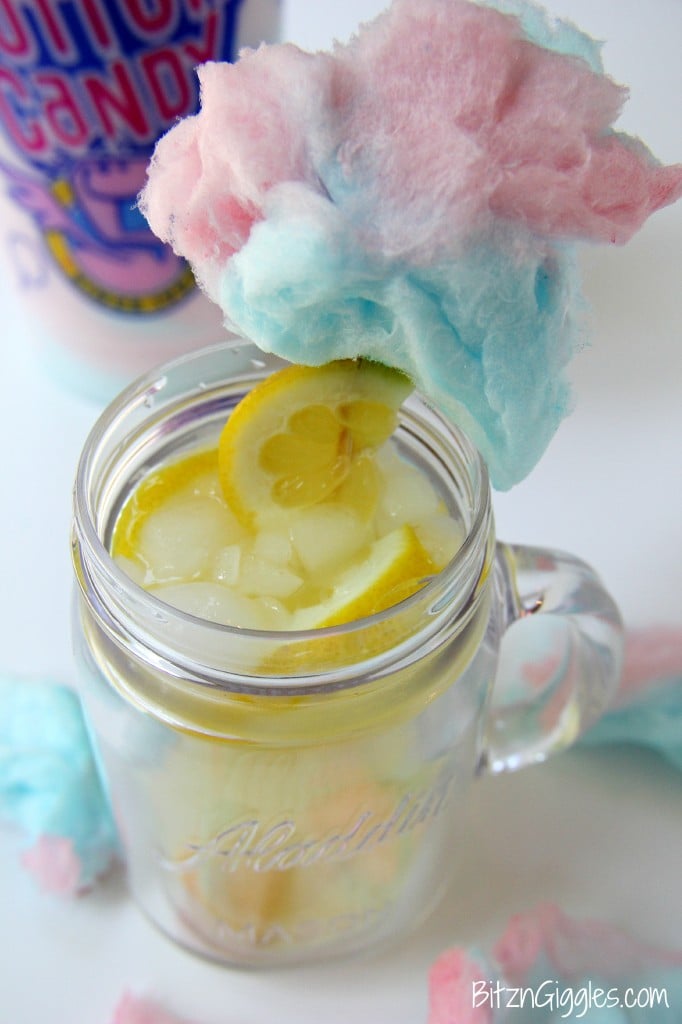 FOR MORE FUN & DELICIOUSNESS, FOLLOW ME ON:
 Twitter |  Instagram | Pinterest | Google+ | Facebook | Bloglovin'
Cotton Candy Lemonade
Delicious homemade lemonade garnished by a fluff of cotton candy to add just the right pinch of sweetness!
Ingredients
2 cups sugar
7 cups water, divided
12 whole lemons, juiced
Ice cubes
Cotton candy (about a fist-size portion) to garnish each drink
Lemon slices for garnish
Instructions
Heat 2 cups sugar with 3 cups of water in a saucepan on the stove until dissolved and set in the fridge to cool.
Pour the lemon juice into a large punch bowl. Pour in 3/4 of the syrup, then top off the bowl with ice. Pour the remaining 4 cups of water in and taste. If you'd like it a bit sweeter, add more syrup, if it needs to be diluted, add more water.
Add some lemon slices and about a fist-size dollop of cotton candy to each drink just before serving.
Serve immediately!
Notes
Remember that the cotton candy will add another level of sweetness to the lemonade. So if you'd like your lemonade more tart, go easier on the sugar.
Also, it works well to add the lemon slices to a shortened wooden skewer and then place the cotton candy at the top of the skewer to hold it just above the lemonade.
LOOKING FOR MORE SUMMER RECIPES?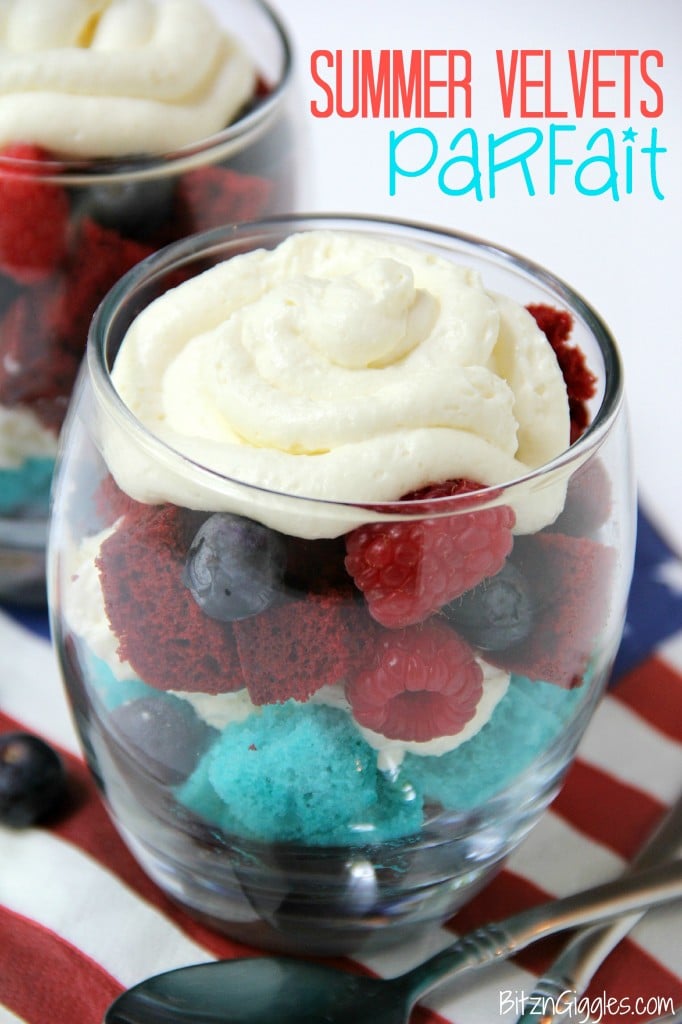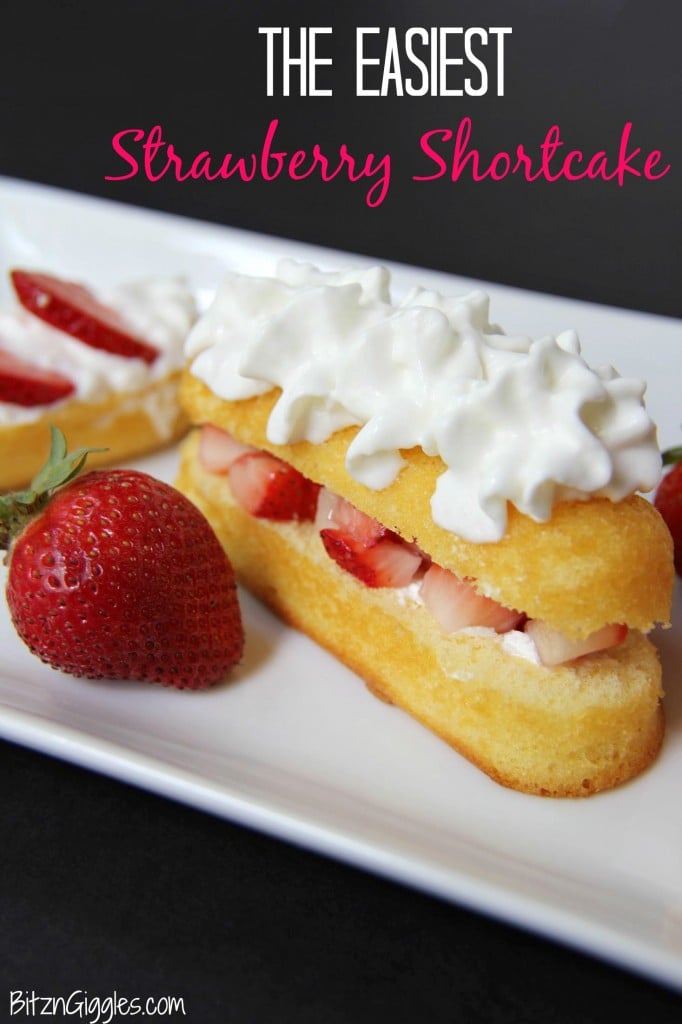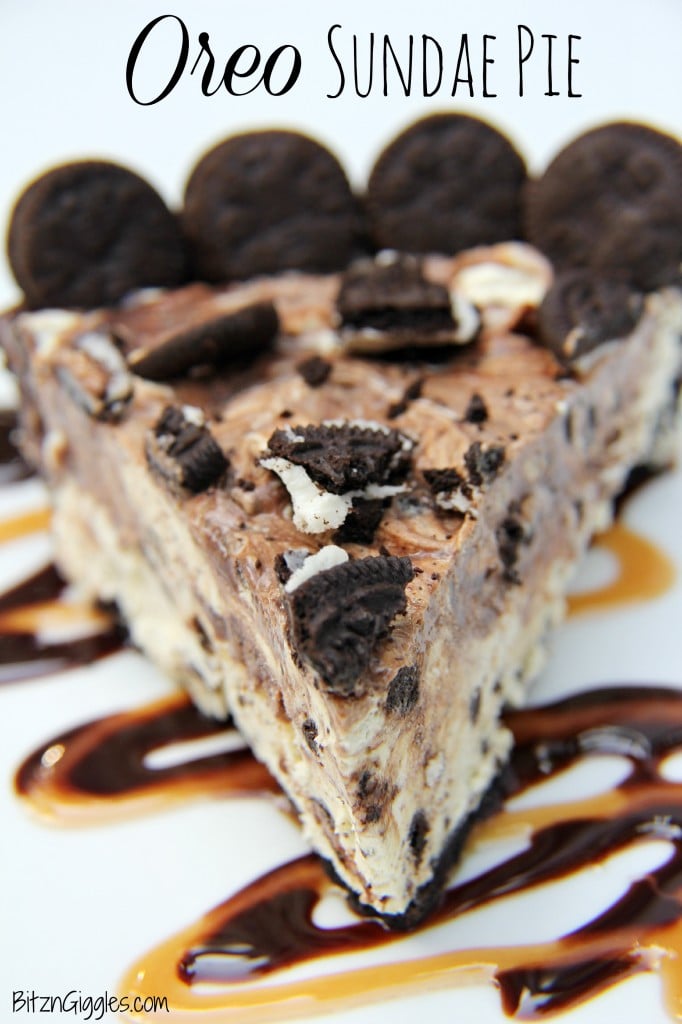 (Visited 17,435 times, 1 visits today)