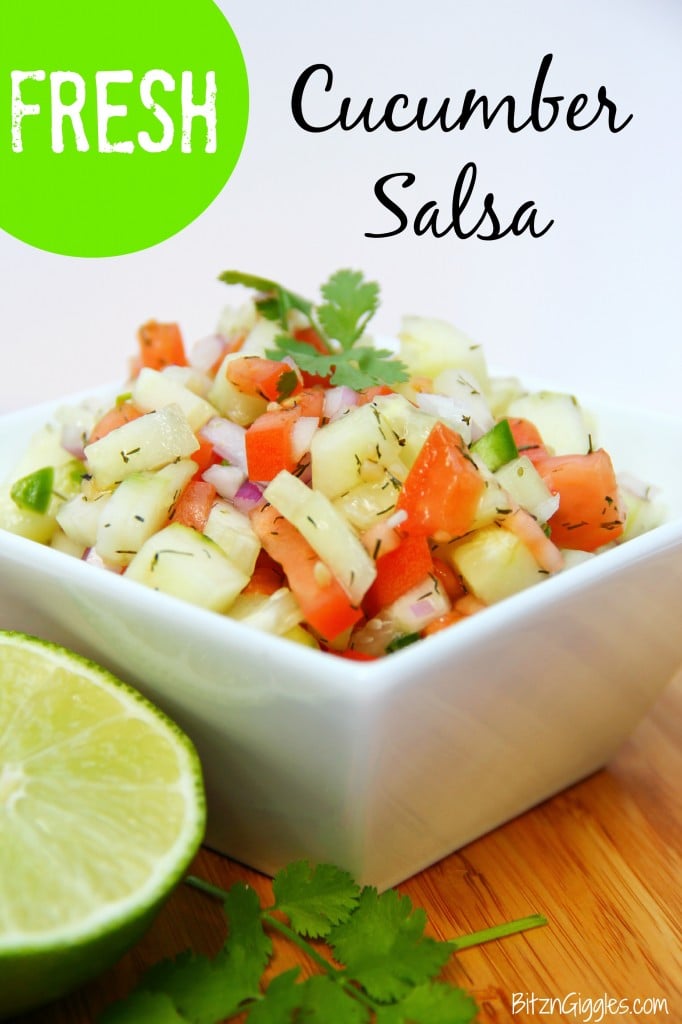 Does summer weather have you craving delicious, fresh foods? It definitely has that effect on me! One of the things I look forward to in the summer is planting our little deck garden, having access to fresh herbs and attending all of the wonderful farmer's markets around the area here. I guess it makes sense why I crave fresh foods. I am surrounded by them! This Fresh Cucumber Salsa is hands-down one of the freshest recipes I've made so far this year. I could eat it by the spoonful.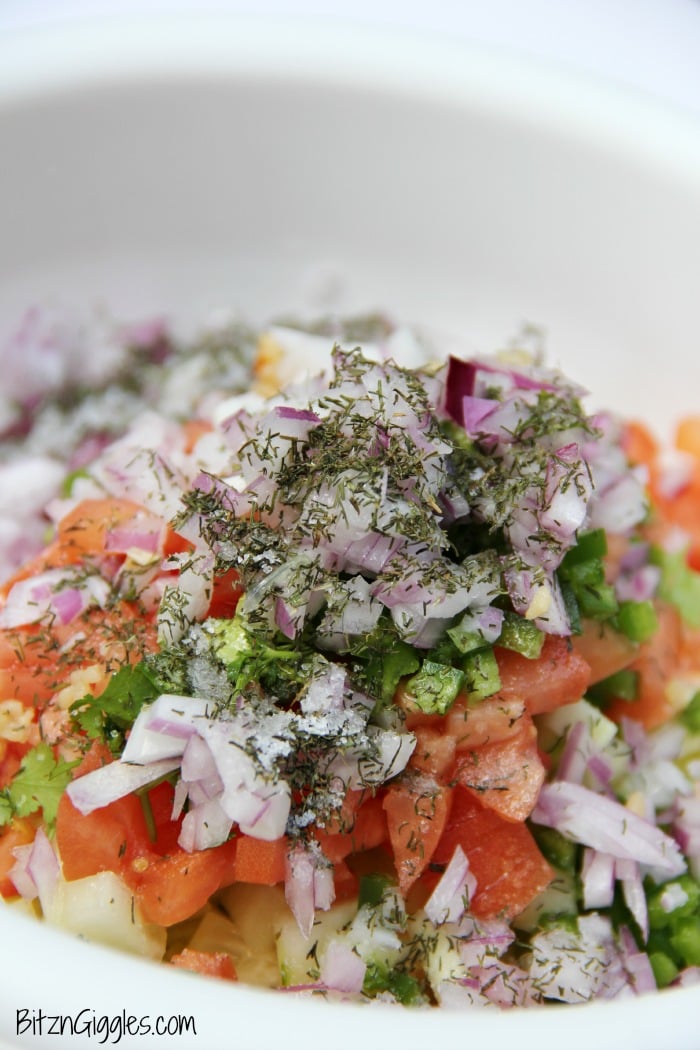 What's better than throwing a ton of fresh herbs and veggies in a bowl? Nothing. That's what.
The dill and jalapeno in this salsa gives it just the right zip and kick. Because I'm a bit of a chicken when it comes to "kick" I usually only use one jalapeno pepper and also remove the seeds. If you are the kind who likes to sweat while you enjoy your food, go wild with those peppers.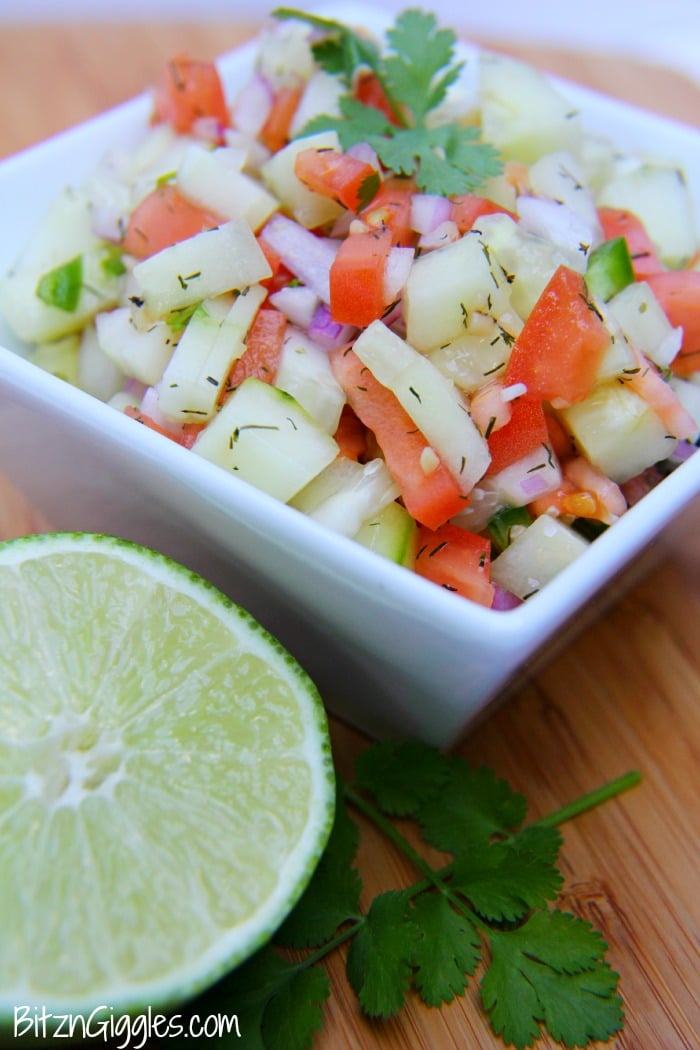 One of the best parts about this salsa is that I didn't feel guilty eating it at all. The most unhealthy part of it was the chips I was using to scoop it up. Aww, heck. It's summer people. Enjoy it!
Fresh Cucumber Salsa
Fresh cucumber salsa with dill and jalapeno to give it just the right amount of fresh "kick" is perfect for parties, game days, and just a light side dish anytime.
Ingredients
2 medium seedless cucumbers, peeled and diced
1 jalapeno pepper, seeded and diced
1 small red onion, diced
1 tablespoon minced garlic
2 medium tomatoes, diced
2 tablespoons lime juice
1 teaspoon minced fresh parsley
2 teaspoons minced fresh cilantro
1/2 teaspoon dried dill weed
1/2 teaspoon salt
Instructions
In a medium bowl, stir together all of the ingredients. Cover and chill in the refrigerator for an hour or so. Serve with tortilla chips.
Nutrition
Calories: 178
Sugar: 21
Sodium: 1215
Fat: 2
Saturated Fat: 0
Unsaturated Fat: 0
Trans Fat: 0
Carbohydrates: 37
Protein: 7
Cholesterol: 0
LOOKING FOR MORE FRESH SUMMER RECIPES?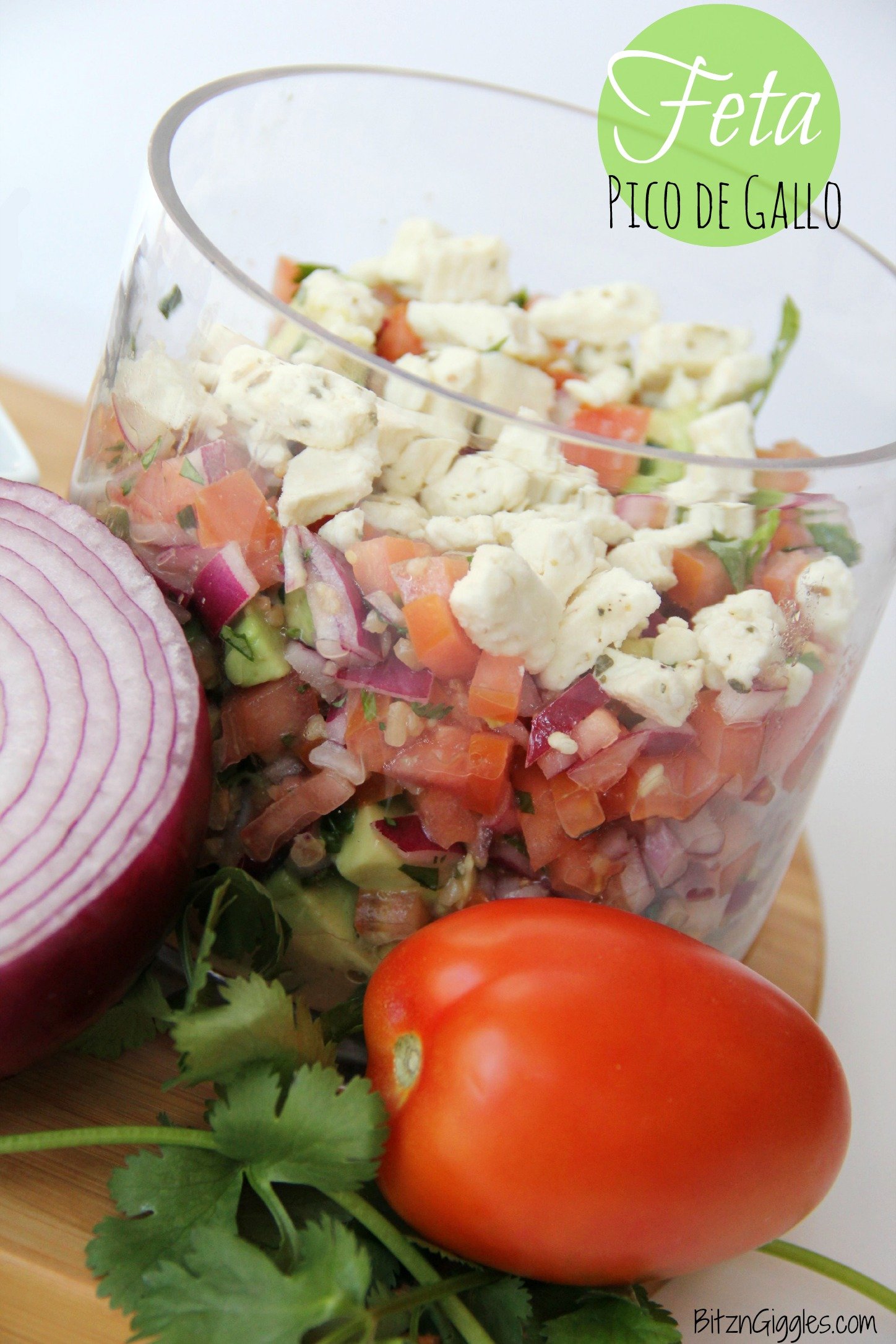 For more recipes and fun, connect with me on:
Twitter | Instagram | Pinterest | Google+ | Facebook | Bloglovin'
(Visited 8,228 times, 1 visits today)