A five-ingredient, no-bake pie loaded with chewy chocolate chip cookies, cream and Oreos! This Milk and Cookies Pie comes together in minutes!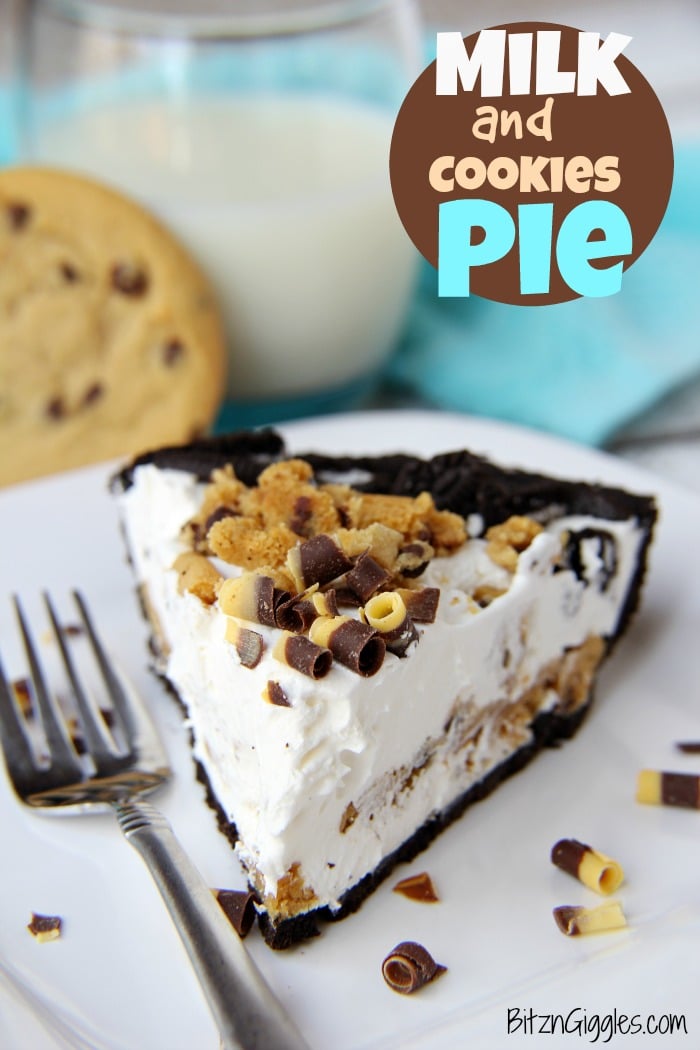 Did someone say 5-ingredient, no-bake pie? Yep, that would be me. And this one is going to blow your mind. First of all let's get the obvious out of the way. There's not a lot that's homemade about this pie, but if you wanted to get all fancy, you could. Make your own Oreo crust, bake your own famous chocolate chip cookies, shave your own chocolate curls, beat your own homemade whipped cream, yada, yada, yada. I'm here to show you the quick and easy version. The version is meant for busy women who need to whip up something delicious without a lot of fuss.
No one needs to know that it literally took you 15 minutes to put this pie together before you threw it in the fridge to set. No one needs to know anything. But chances are, people are going to ask you for the recipe. I'm just sayin'. It's up to you whether you want to give them the long version or the short version.  In case you give them the long version and you made the short version, explaining the foil pie pan could get a bit interesting. That's your business, though, so I'll keep my nose out of it.
My business is just to keep the delicious recipes comin'! Have you checked out this Oreo Sundae Pie, by the way? Alright time to quit gawkin'. . .let's get get this party started!
So, why is this pie called Milk and Cookies Pie? Where does the milk come in, you ask? In my recipe I didn't need any milk because the chocolate chip cookies I used for the pie were soft and chewy. If you decide to use crunchier chocolate chip cookies, you may want to dunk the cookies into some milk before layering them on top of the whipped topping. It just helps to soften them.
To me, this is still a true milk and cookies pie because I ALWAYS have a tall glass of milk ready when I sit down to eat a slice of this pie! The combination is oh so good.
So, once you have the cookies on top of the first layer of whipped topping, you put a final layer of whipped topping over the cookies and start sprinkling crushed cookies and chocolate curls on top of the pie.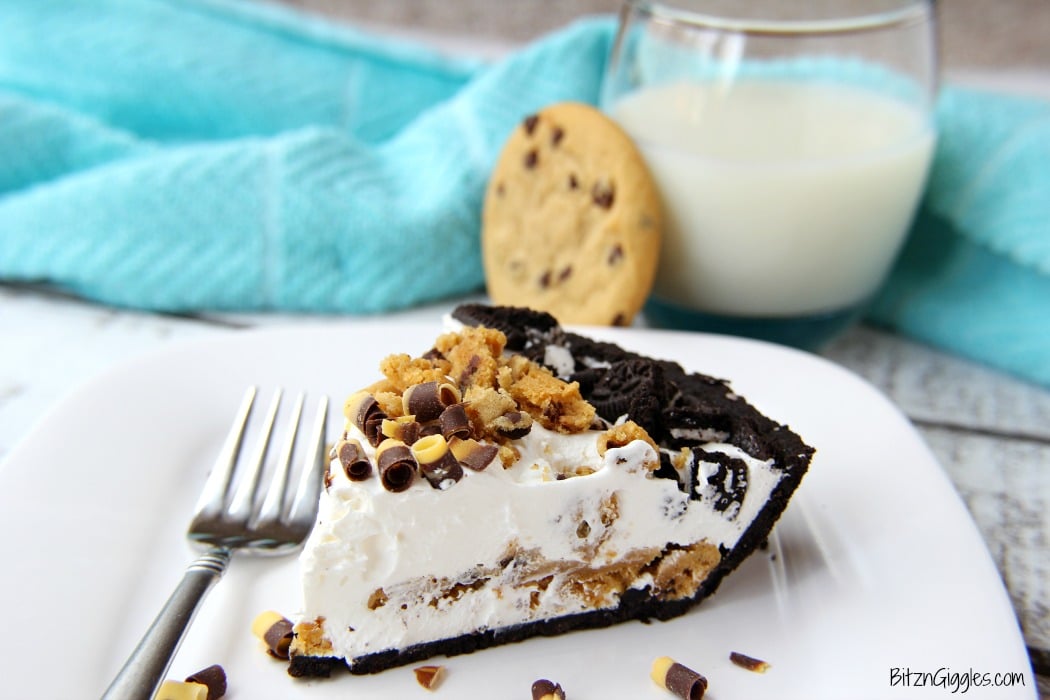 Let everything meld together in the fridge for a couple hours and you're ready to go. I promise you that when your family or dinner guests taste this pie they're going to be floored. So, once again, start thinking about which story you want to tell about how you made this pie pan of deliciousness. Short version, long version. . .
I'll just be over here finishing up this little slice of heaven. I'm here if you have questions. 😉
Milk and Cookies Pie
A five ingredient no-bake pie loaded with chewy chocolate chip cookies, cream and Oreos!
Ingredients
8 ounce container cool whip, divided
6 soft chocolate chip cookies, divided
1 Oreo crust
3 Oreo cookies, crushed
1/4 cup chocolate curls
Instructions
Spread half of the Cool Whip onto an Oreo pie crust.
Top the Cool Whip layer with 4-5 chocolate chip cookies – break apart the cookies to fill in any gaps.
Cover with remaining Cool Whip.
Garnish with crushed Oreos and crumble remaining chocolate chip cookies on top.
Sprinkle on the chocolate curls.
Refrigerate for at least 2 hours, just to soften the cookies. Serve chilled.
(Visited 5,757 times, 1 visits today)