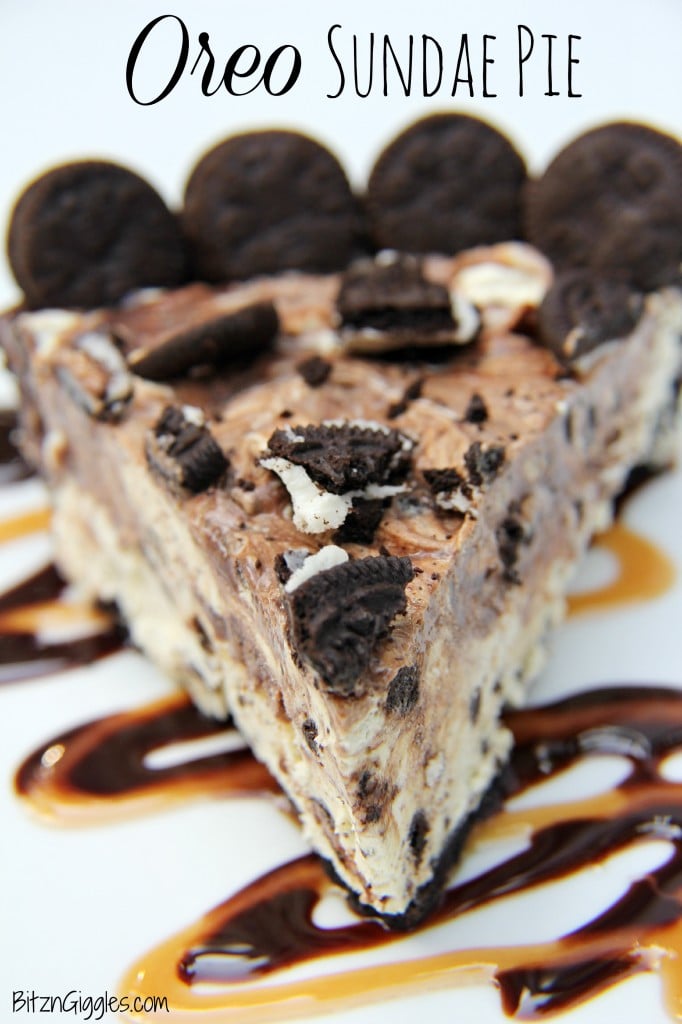 Did you know that I don't like pie? Let me clarify. I don't like fruit pie. The chunks of fruit just aren't my thing. Gag. I'd rather just eat the crust with some ice cream and call it good. Crust a la mode. If given the choice between a fruit pie and a Snickers bar on the bottom of a shoe that was lightly stepped on – I'd take the Snickers.
Now, I don't feel that way about ALL pie. Throw in some chocolate, cookies & cream. . .and now we're talking. THIS Oreo Sundae Pie is my kind of pie. It boasts an Oreo crust and cookies & cream filling, with chocolate swirled throughout.
Am I serious? Heck yeah, I'm serious. I wouldn't kid about deliciousness. I truly believe fruit pies are a bit over-rated. For one thing, they take forever to make. Who wants to sit and peel a million apples? Not me. I don't have time for that. I need quick and I need delicious. Let's be honest, isn't that what everybody wants?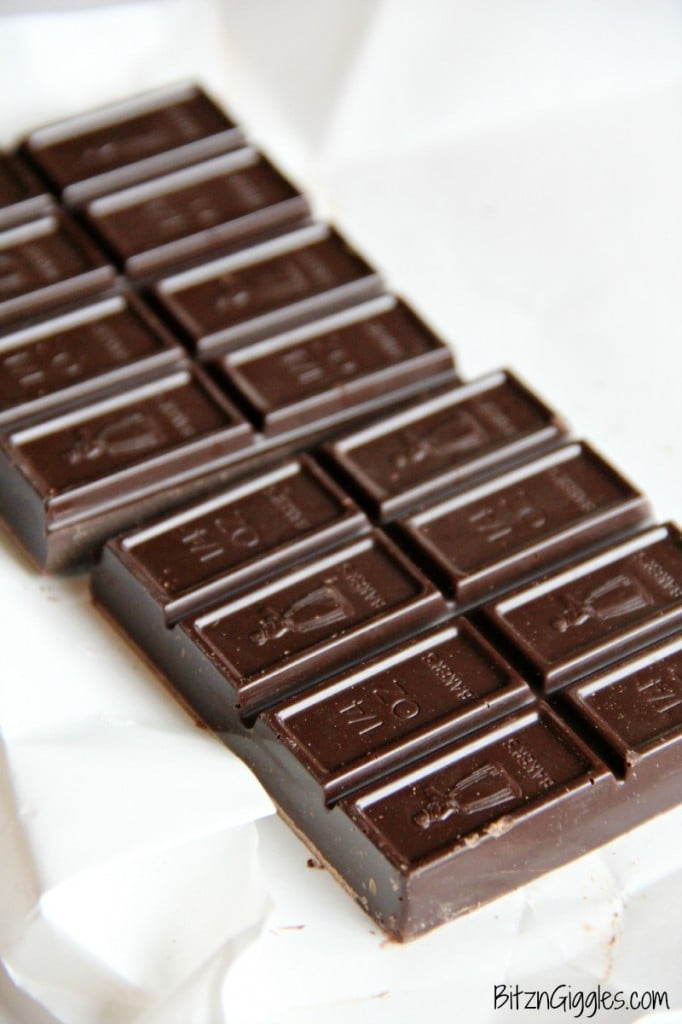 I suppose fruit pies have their time and their place. Their place just isn't in my kitchen. I apologize if I've offended you. I'll like you whether or not you like fruit pies. Just don't make one for me when I come over. Deal?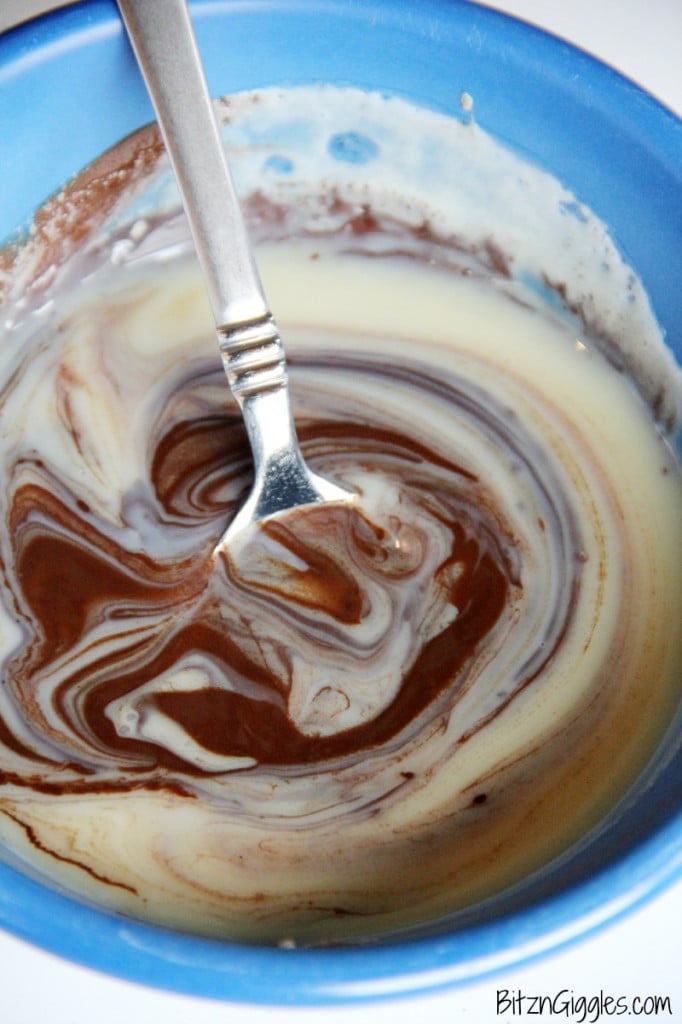 Ok, I'm not that rude. If you went out of your way to make me dessert and it turned out to be a fruit pie, just make sure you have some ice cream on hand so I can choke down a bite or two. Shudder. Gag.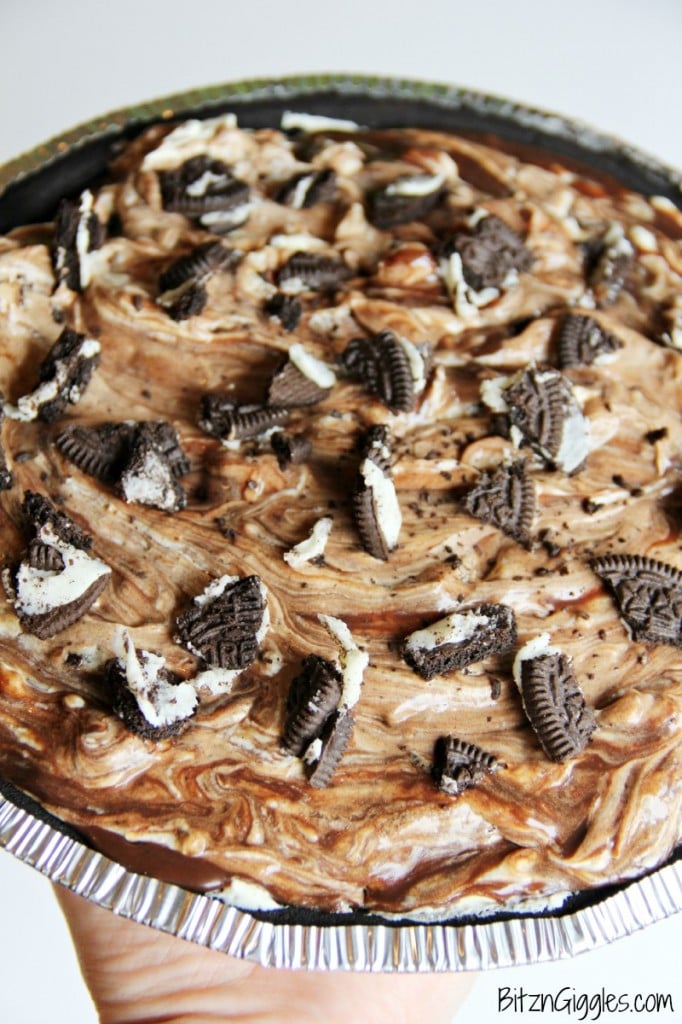 On the other hand, if you invite me over and you make this Oreo Sundae Pie, I may never leave. So, take note, I like really warm showers and can't stand hand towels that smell like mildew. Ick. Have you ever gone over to someone's house who had stinky hand towels? Like after you wash your hands, they smell worse than before? Is the problem with their water? Is the washing machine gunked up? Do they even wash their towels?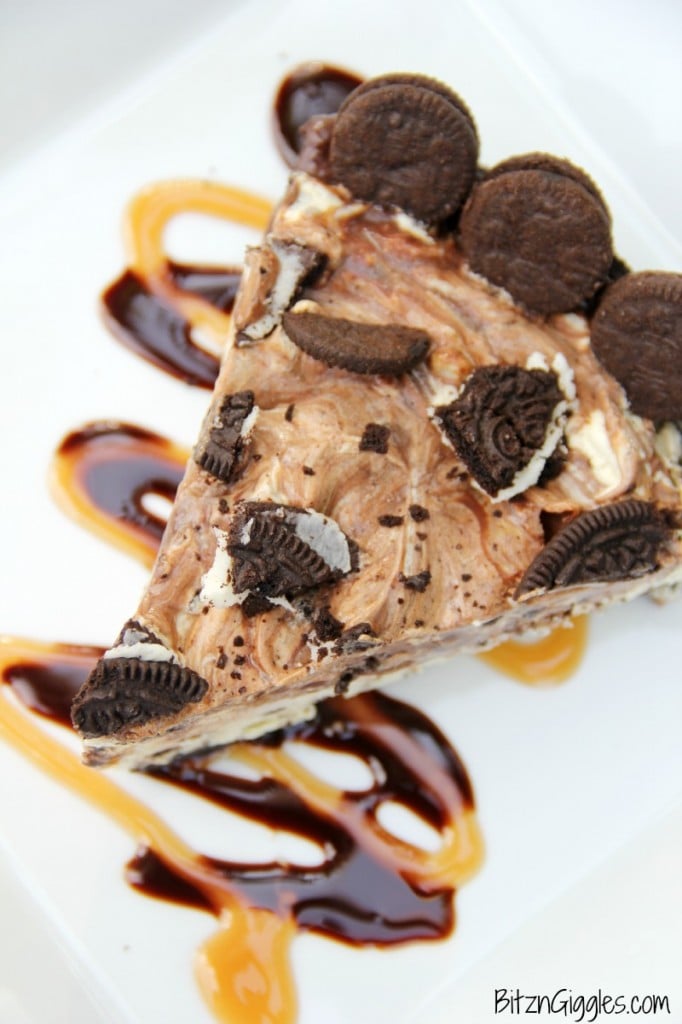 I'll admit. I do have some issues. But don't we all? I mean, what fun would it be to be perfect? Boring!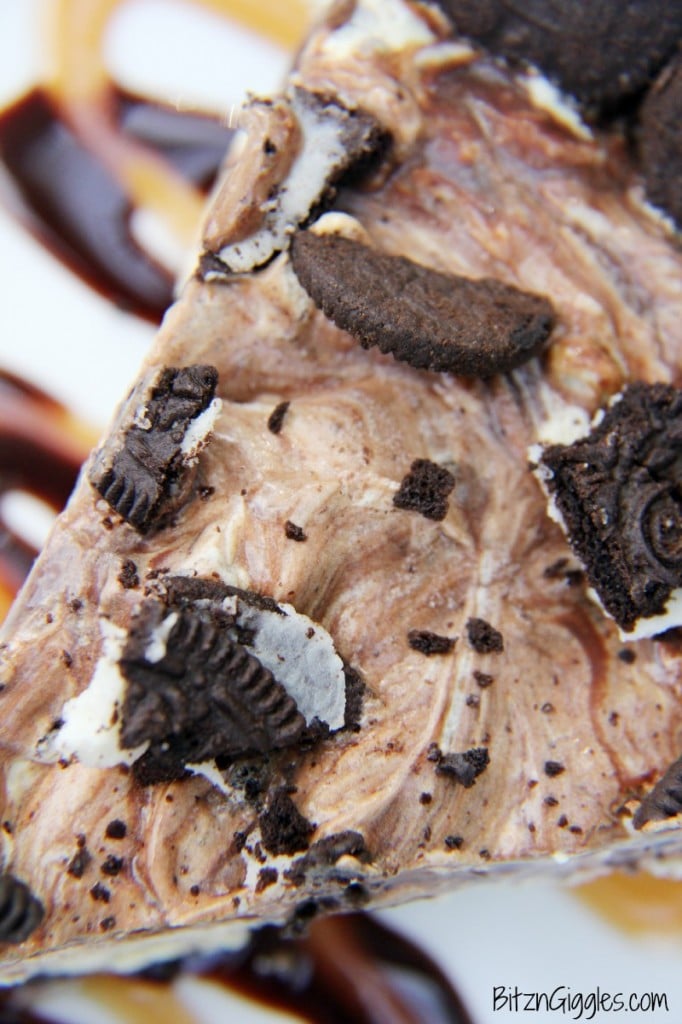 I really feel like we've gotten to know one another better after this post. Ok, well, maybe you know more about me. I would love to know more about you! What kind of pie is your favorite? Are you a fruit pie lover? Can you relate to my obsession over clean, fresh-smelling hand towels? Do you think I'm officially crazy?
I am. But that's why we have fun around here. We look at good pictures of food, share secret confessions and tell crazy stories! I'm so glad we're friends. We are friends, right? Hold that thought and just make some of this pie already! My entire family gives this recipe a BIG thumbs up!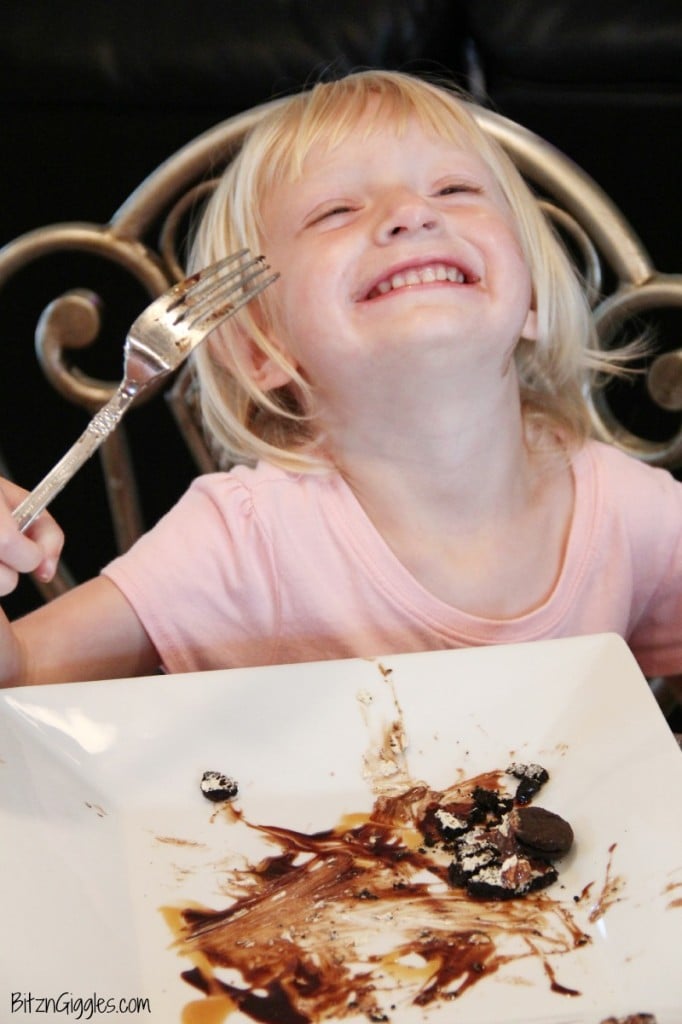 Oreo Sundae Pie
A creamy, decadent pie boasting an Oreo crust and cookies & cream filling, with chocolate swirled throughout.
Ingredients
10–12 crushed Oreo cookies
1 tub (8 oz.) COOL WHIP Whipped Topping, thawed
1 pkg. (3.4 oz.) JELL-O Vanilla Flavor Instant Pudding
1 packaged Oreo pie crust
1 cup cold milk
2 oz. BAKER'S Semi-Sweet Chocolate, melted
1/3 cup sweetened condensed milk
Extra Oreos, chocolate and caramel syrup for garnish (optional)
Instructions
Whisk pudding mix and milk in mixing bowl until pudding has thickened.
Mix in the crushed Oreos.
Stir in the Cool Whip and spoon into the Oreo crust.
Mix melted chocolate and condensed milk in a separate bowl; spoon over pie. Swirl gently with knife.
Freeze 4 hours or until firm. Let pie soften at room temperature for about 10 minutes before serving. Top with extra Oreos and drizzle with chocolate and caramel syrup.
Nutrition
Calories: 3299
Sugar: 305
Sodium: 2723
Fat: 151
Saturated Fat: 69
Unsaturated Fat: 74
Trans Fat: 0
Carbohydrates: 455
Protein: 46
Cholesterol: 59
LOOKING FOR MORE FUN SUMMER RECIPES?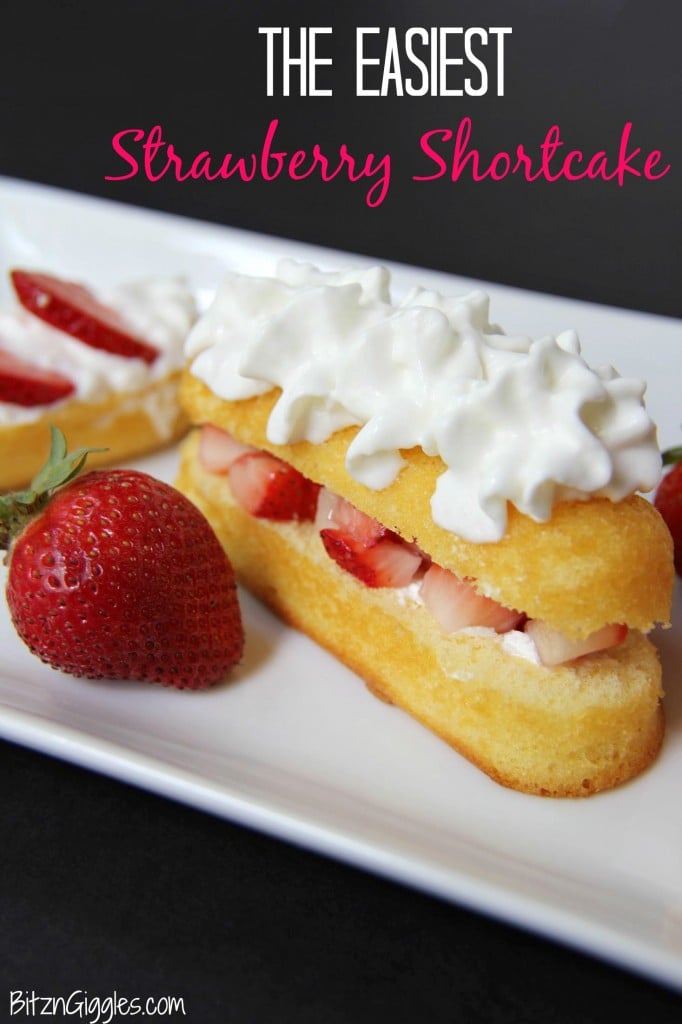 For more recipes and fun, connect with me on:
Twitter | Instagram | Pinterest | Google+ | Facebook | Bloglovin'
(Visited 4,526 times, 1 visits today)