I really should make this Miracle Carpet Cleaner by the gallon. That's just the way it is when you have kids and a dog, right? Things get messy. And when you have a husband who insists on putting carpet in the living room, the hallways and the bedrooms (because it's just more cozy that way) you need to have some tricks up your sleeve to clean up the toughest of messes.
Let me tell you where I first saw this carpet cleaner in action. Our friends Dan and Chrissy had us and our friends Frank and Terrie over to watch a Packers football game one Sunday afternoon. We had just arrived and I heard Terrie coming down the stairs into the lower level where we were all sitting, and all of a sudden with a slip of her hand she dropped her bowl of fruit salsa right onto the carpeting.
We scooped up what we could with our hands and then Chrissy ran upstairs to get some store-bought cleaner she had in the house. We sprayed it on, let it soak into the carpet a bit then started scrubbing. After lots of scrubbing, there was still a pink tint to the carpet due to the berries in the fruit salsa.
Terrie said, "I'll be right back." And she ran home (down the street :)) and came back carrying this little bottle of cleaner. We pumped some onto the stained carpet, let it soak in a bit, scrubbed a little and watched in amazement as the pink tint to the carpet started to disappear. It seriously took out the berry stain and brought the carpet back to its original condition.
So, this cleaner is three ingredients not counting water. The only ingredient I needed to purchase that I didn't have in the house was ammonia. And I found a 2 qt. jug for under $1 at the store. Here's what you need to make your own homemade carpet cleaner!
DIY Homemade Miracle Carpet Cleaner
Ingredients
3 tablespoons dish soap
1 teaspoon white vinegar
1/2 teaspoon ammonia
3/4 cup water
pump bottle (I used an empty one I had from Bath & Body Works)
Instructions
Add all ingredients to the pump bottle and shake gently to mix ingredients.
When applying to a carpet stain, first pick up any larger pieces (if it's something like fruit salsa ;))
Apply the foam liberally to stain on carpet.
Allow to sit for 5-10 minutes.
Use a rag or soft bristle brush to gently scrub the foam into the carpet, using more foam if necessary.
Allow carpet to dry once stain has been removed.
Just for fun I found a remnant of carpet downstairs that was leftover from when we built our home so, I put the cleaner to the test on one of the worst possible stains ever. . .spaghetti sauce!!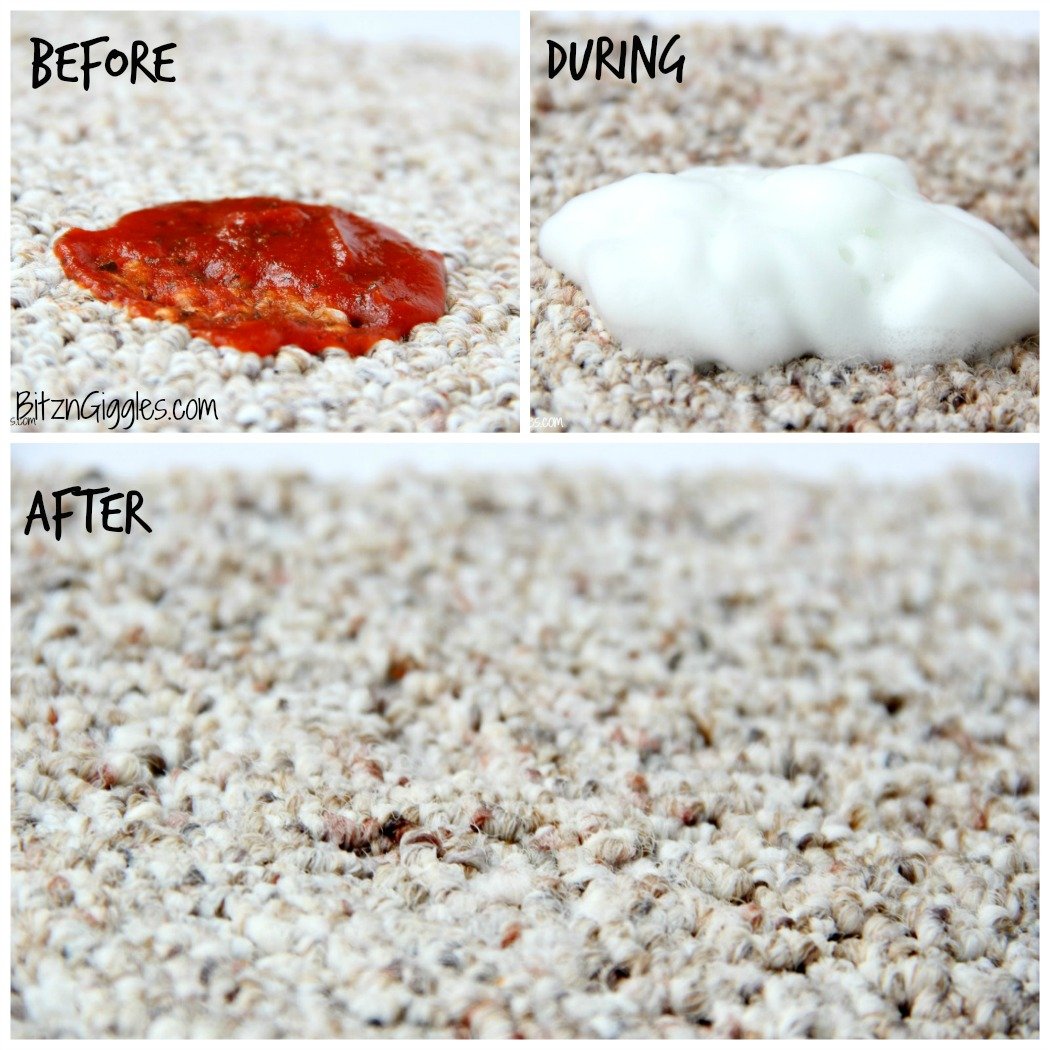 The cleaner took the stain out beautifully. And because I knew you would still be a bit skeptical, I made a video of me doing it! When I showed Josh (my husband) the video he said, "What? Are you nuts?!" He actually thought I poured the sauce on the carpeting in our house. "I used one of the pieces of carpet from downstairs," I replied back at him. He sure was getting fired up about it! Settle down, honey!
I hope the video convinces you to make a batch of this cleaner yourself. Also, if you were wondering. . .there isn't any strong or horrible scent to the cleaner. There is virtually no scent once the carpet dries. As always. . . with using any carpet cleaner, it's wise to test it in an inconspicuous spot first.
(Visited 4,868 times, 1 visits today)