Peanut Butter Brownies – For the peanut butter lovers! Moist, cake-like peanut butter brownies topped with light and fluffy peanut butter frosting!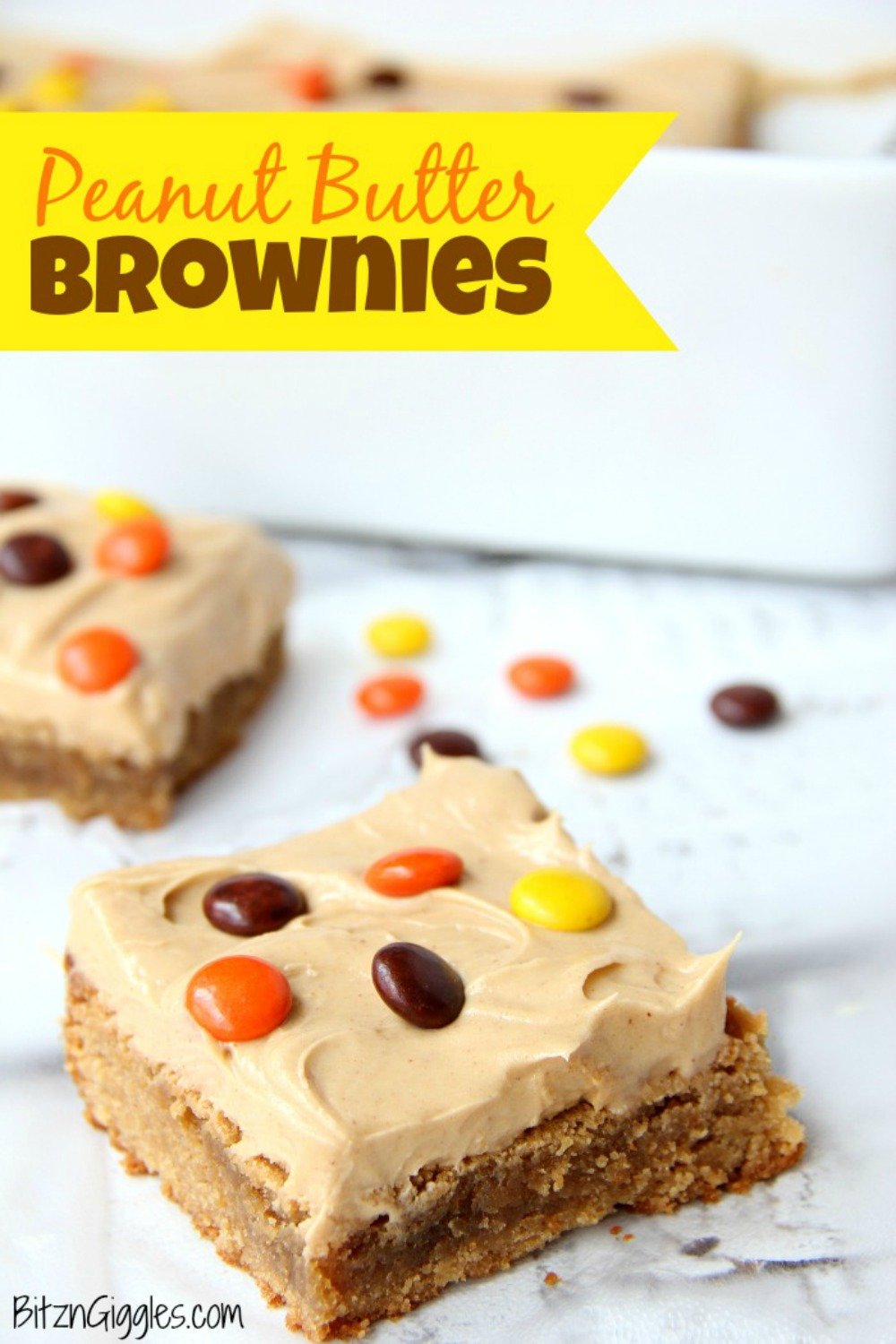 You've heard me say many times before, we're a chocolate and peanut butter family. But sometimes, we're just all about the peanut butter. And I know you are, too. So many of you have tried these delicious peanut butter cookies. They really are blue ribbon quality. If you haven't tried them, just make them right along with these peanut butter brownies and call it a good day.
These brownies have zero chocolate. They're pure bred peanut butter brownies. Our cousin Sue, who shared this yummy Muenster Chicken recipe with me, also sent me this brownie recipe. Of course she did. Everything Sue recommends is completely and utterly delicious.
I dare you not to scoop spoonfuls of this frosting out of the bowl and into your mouth when you're mixing it up. It's fluffy – almost like mousse – but creamy, too. Get. In. My. Mouth.
And when you're going all in on the peanut butter, why not sprinkle some Reese's Pieces on top? It was meant to be. They add a pop of color, too.
The brownies, themselves, are a bit cake-like vs. fudgy. I love that they stayed soft all week long as we ate our way through the pan – cutting out little pieces of heaven throughout the day. Often, that's how we eat our brownies around here. A little at a time. That way you don't feel as guilty. 😉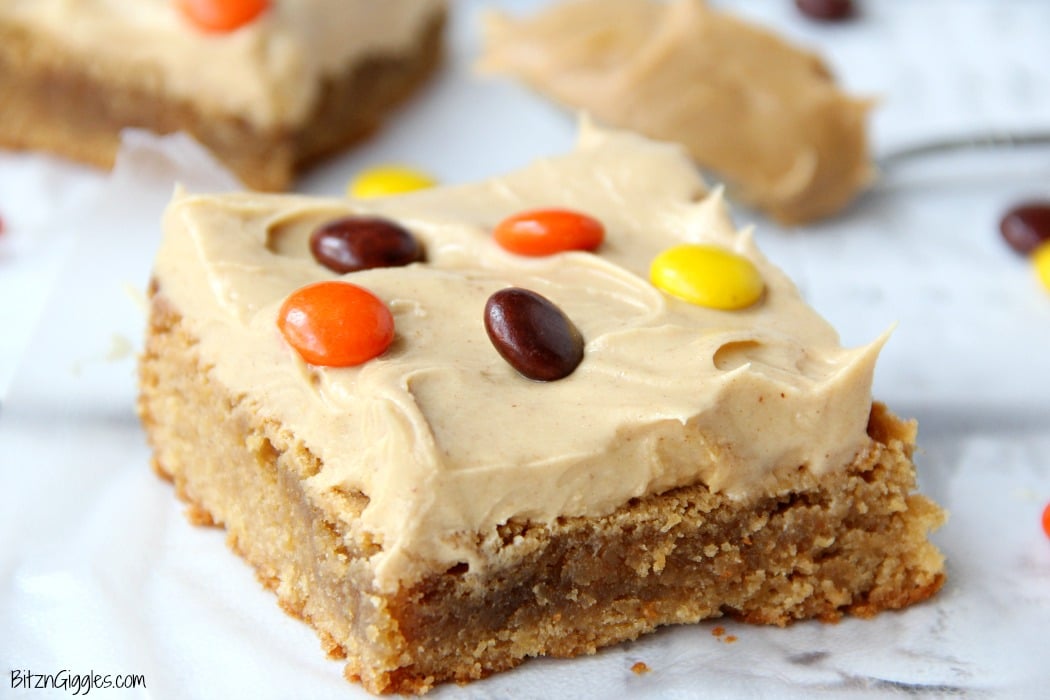 I'm not here to make you feel guilty. Your friends, family and neighbors will be more than willing to take a couple of these brownies off your hands. I can pretty much guarantee it.
Go ahead and indulge a little. Heck, if you're not a huge brownie fan, just make the frosting. It will totally be worth it. That frosting. I'm a bit obsessed.
So stop drooling over these babies and dig in. I literally had all of the ingredients I needed for these brownies on-hand minus the heavy whipping cream. THAT, I needed to run to the store for. Everything else the recipe calls for is pretty standard.
A typical Bitz & Giggles recipe. Quick, easy, delicious and uses ingredients that you're familiar with and can pronounce. Classic. Timeless. I'll shut up now. Just make these brownies. And leave my cousin, Sue, a message in the comments on what you thought of them. Enjoy!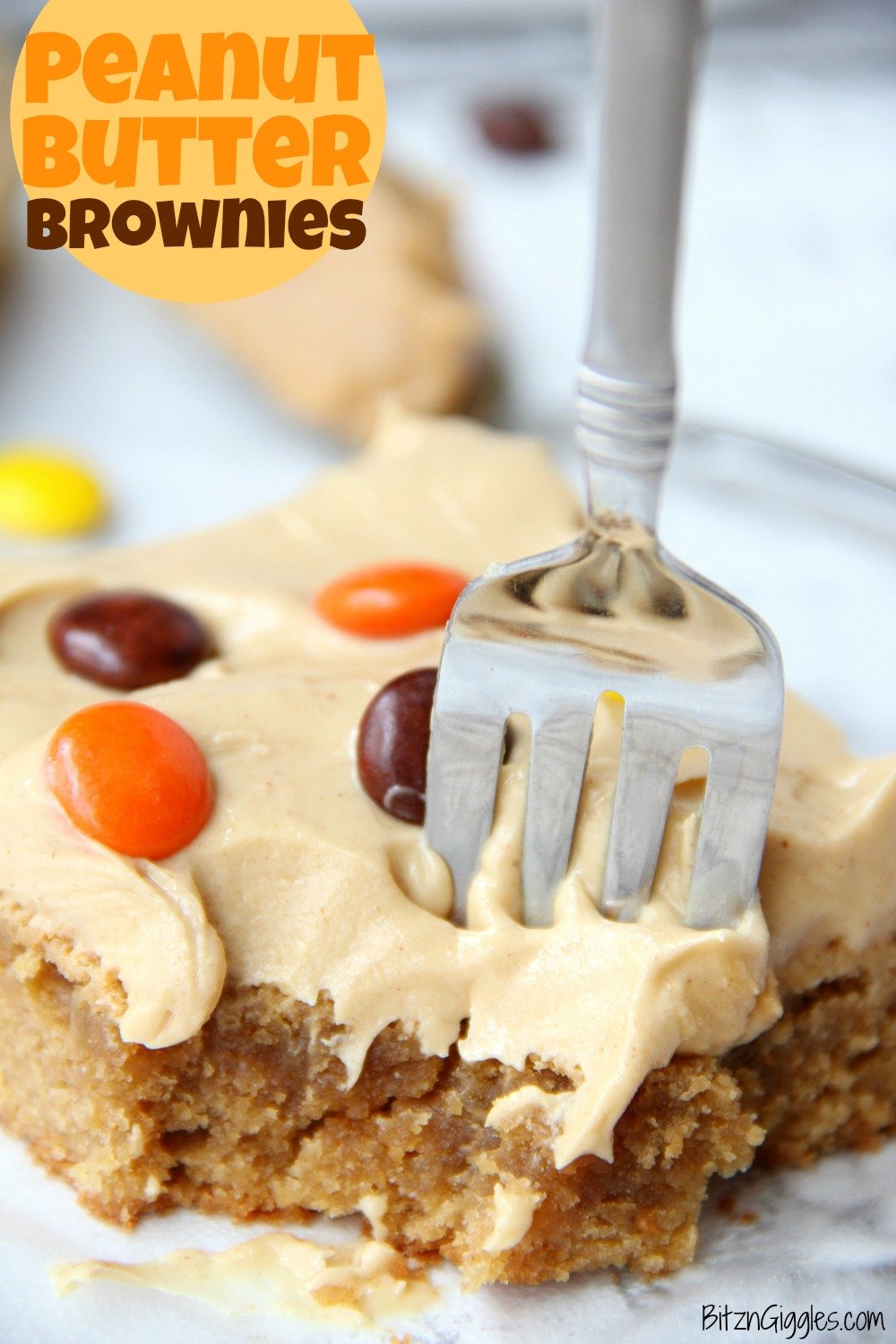 Peanut Butter Brownies
For the peanut butter lovers! Moist, cake-like peanut butter brownies topped with light and fluffy peanut butter frosting!
Ingredients
For the Brownies
1 cup creamy peanut butter
1/2 cup butter, softened
2 cups brown sugar
3 eggs, beaten
1 teaspoon vanilla extract
1 cup flour
1/2 teaspoon salt
1/2 cup Reese's Pieces candies
For the Frosting
2 cups creamy peanut butter
1 cup butter
1 teaspoon vanilla extract
1/8 teaspoon salt
4 tablespoons heavy whipping cream
2 cups powdered sugar
Instructions
For the Brownies
Preheat oven to 350 degrees Fahrenheit.
In a large bowl, blend together the peanut butter and butter.
Beat in brown sugar, eggs and vanilla.
Add flour and salt.
Spread into a greased 13×9 inch baking pan.
Bake for 30-35 minutes.
Cool in pan and frost.
Sprinkle Reese's Pieces on top of brownies.
For the Frosting
Blend peanut butter and margarine until fluffy.
Blend in remaining ingredients until smooth.
Frost cooled brownies.

SaveSave
(Visited 163,553 times, 1 visits today)