Peppermint Bath Bombs – These "blue snowballs" soothe, invigorate your senses with cool peppermint and transform your bath water color to an ocean blue.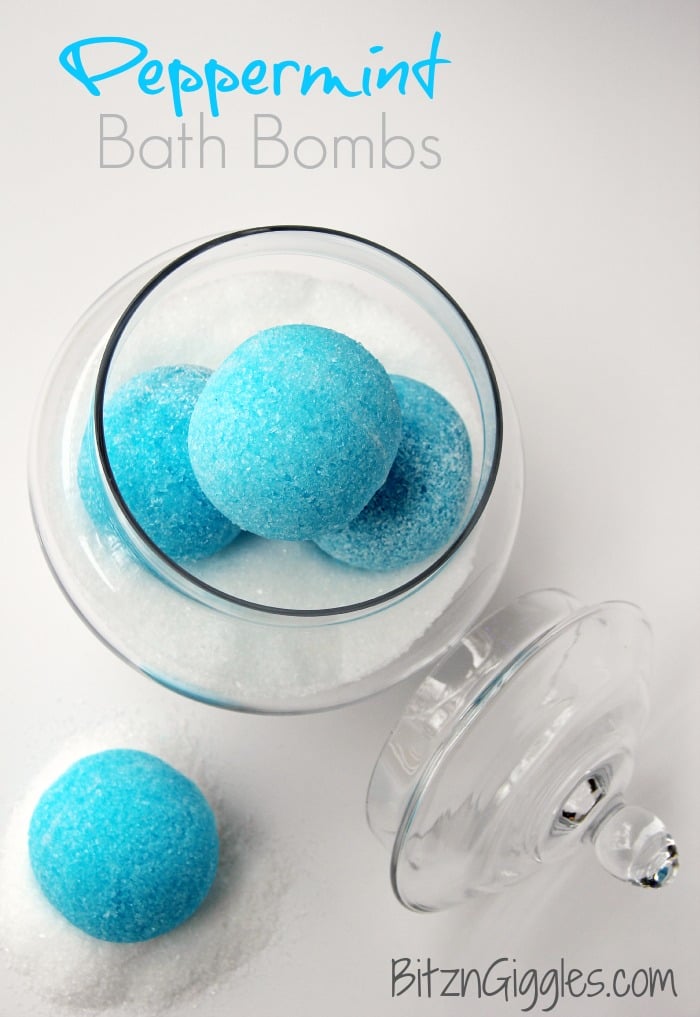 This post contains affiliate links. Please see my disclosure policy.
So, I have this thing for the color blue. . .I'm attracted to the color blue. I like to eat things that are blue, drink things that are blue, create things that are blue and yep, even BATHE with things that are the color blue. There's something just soothing about it, refreshing about it. Think of the sky, think of the ocean. . .and then get a load of these totally cool blue Peppermint Bath Bombs.
These "blue snowballs" don't fizz like my Easter Egg Bath Bombs, they soothe, invigorate your senses with cool peppermint and transform your bath water color to an ocean blue. What's not to love about them?
What if I told you you can make them with only four ingredients – one being water? You like them even more now, don't you?
Here's what you'll need to make your own:
*Recipe makes 1 large bath bomb and 1 smaller bath bomb (if you have different sizes of molds). You could also use Easter eggs as the molds if you want smaller bath bombs – it would certainly make the recipe go farther!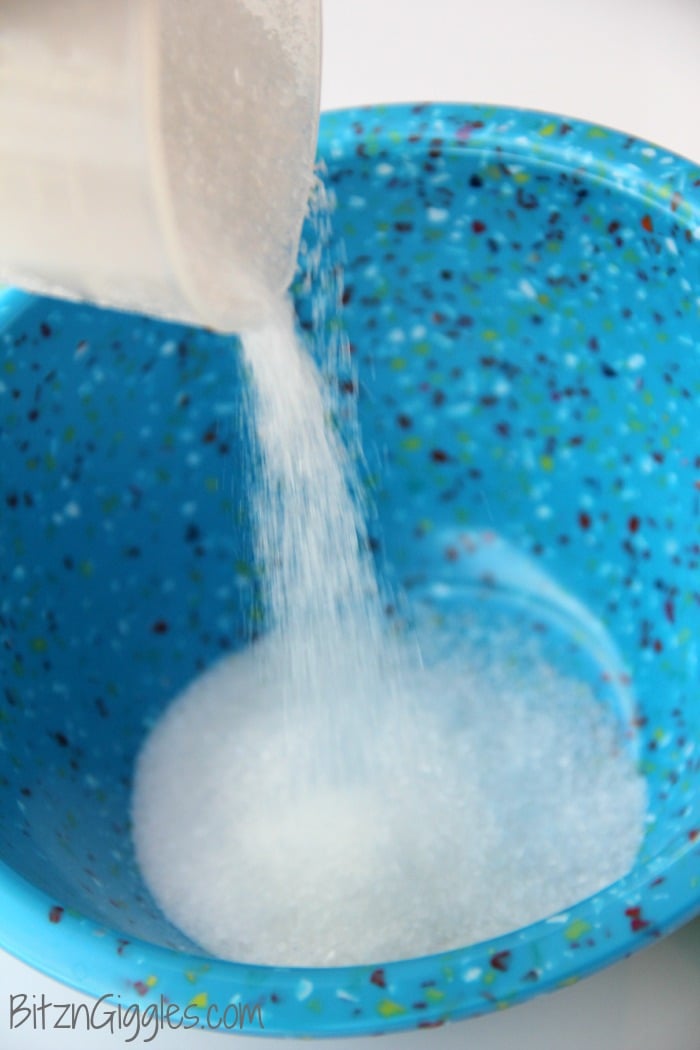 Start by pouring the Epsom Salts into a mixing bowl.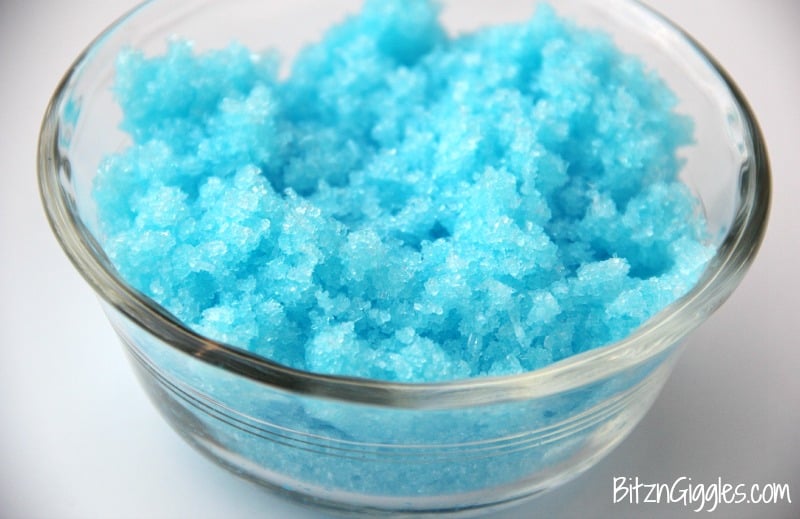 Add the water, essential oil and food coloring, and stir. See this beautiful blue we're creating? I'm in love!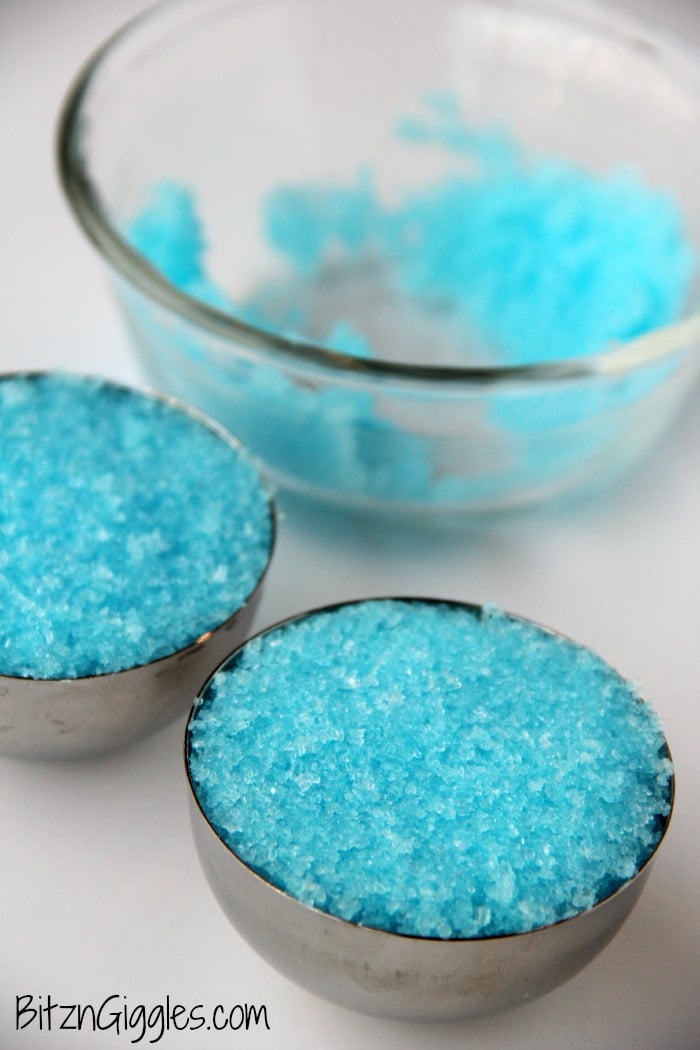 Here's what you'll want to do next:
Grab your bath bomb mold and pack each of the sides with the salts. Make sure you pack it in firmly, putting in more salts than necessary.
Put the two mold halves together and press them together firmly over your mixing bowl (so you don't make a mess) for about 30 seconds or so. Brush away any salt granules that are around the outside of the mold.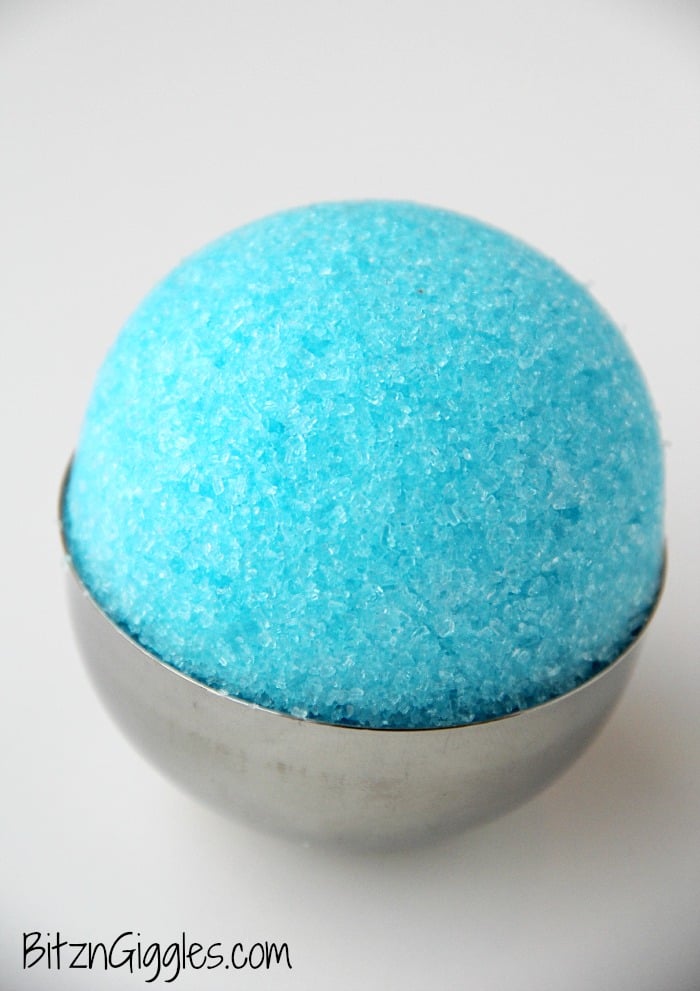 Carefully "release" the top of the mold and you should see this. Why do I want to eat this right now? I don't suggest tasting it at all, just so you know. Here's where the waiting comes in. Prop the half mold upright overnight and let it set. DO NOT TOUCH IT. If you touch it, it will probably crumble. If you're an impatient person, I'm sorry. That's just the way this works.
Also, if you were wondering about my mold. . .I purchased this mold from Amazon a couple years ago and they don't carry this one anymore which is why the molds I listed in my materials section look a bit different than the one I'm using here.
The nice part about the molds I featured in the materials section is that they come in a pack of 12. I have ONE. It's taken me some time to make all of my bombs and put together this post for you! You are WELCOME! LOL Just kidding. They're a lot of fun to make.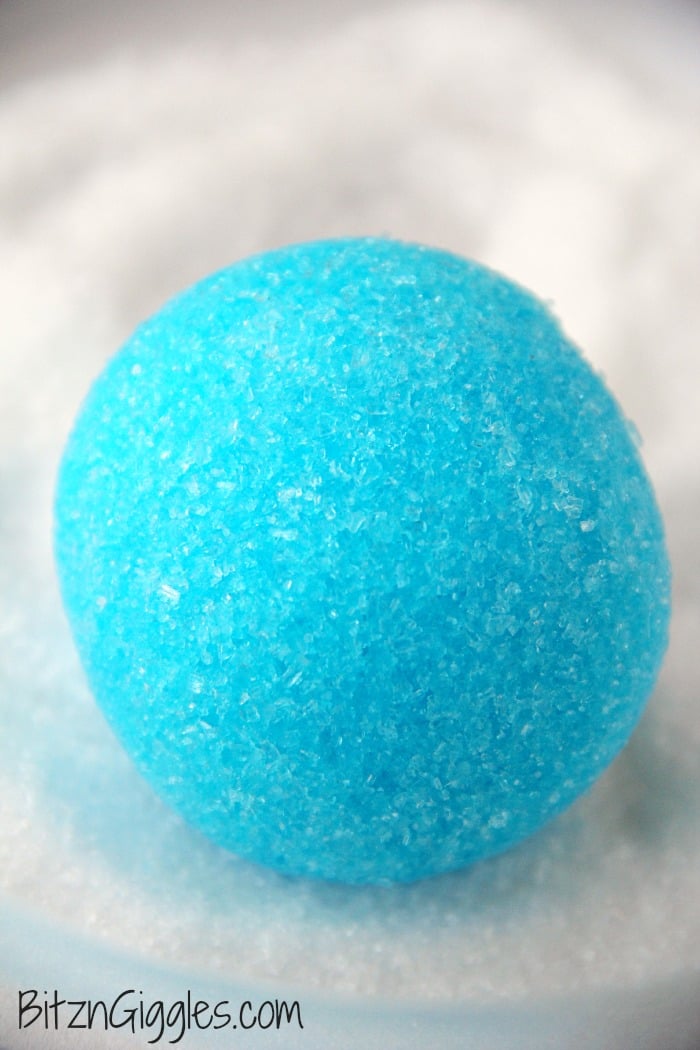 So, when you wake up in the morning, "unscrew" the bottom of the mold, and you'll be left with this beauty. Pretty fabulous, don't you think? And the scent is perfect for the winter months!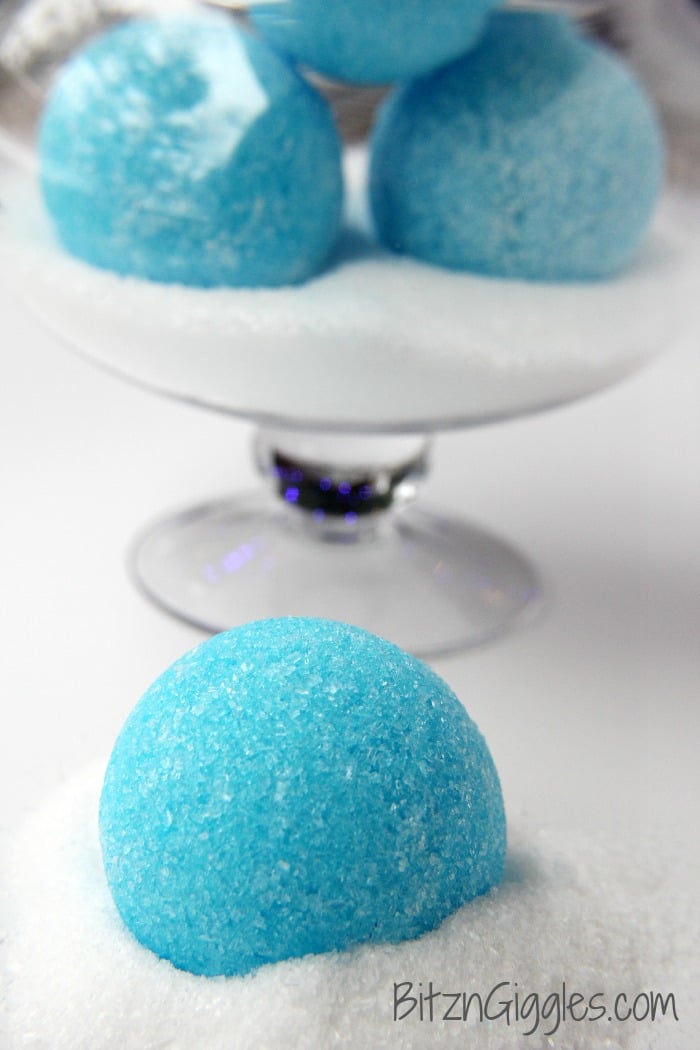 These peppermint bath bombs are wonderful for gifting during the holidays. There are so many different ways you could package them up, but the most visually appealing would be in a transparent container, allowing that beautiful blue to show through. I would love receiving these as a gift! I'd be happy to have a Blue Christmas any time. 😉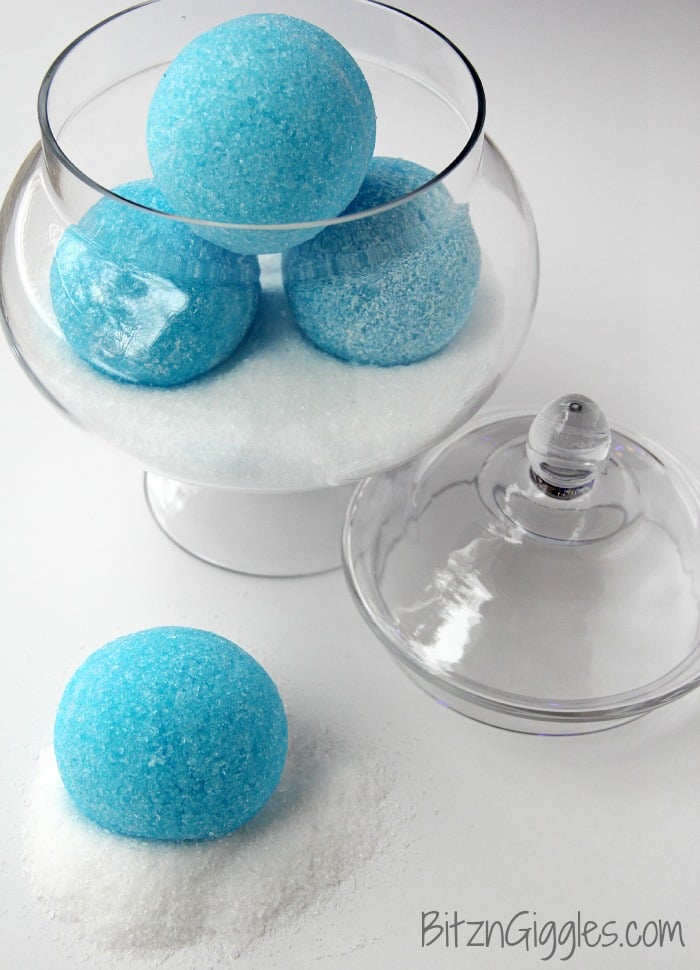 Ready to Ditch the Clutter?
If you feel like you're DROWNING in "STUFF" and are ready to break through the clutter, there's no better time to start than right now!
(Visited 13,931 times, 1 visits today)