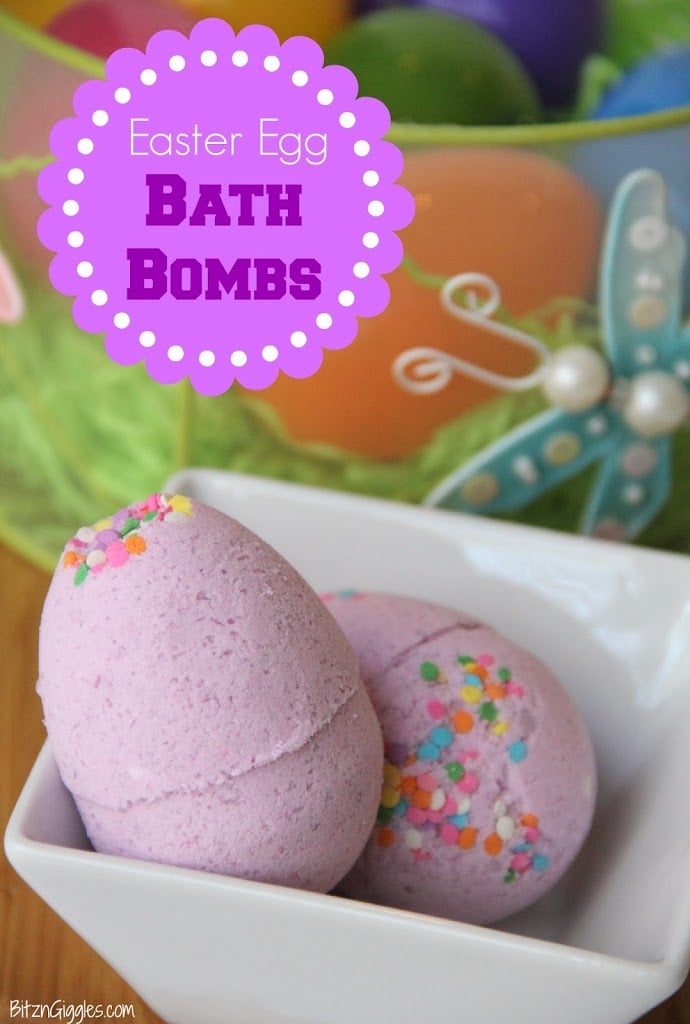 This post may include affiliate links. Please see my disclosure.
My house is overflowing with plastic Easter eggs. I've been using them for quite a few projects lately and now I have more eggs than I really know what to do with. An Easter egg hunt this year for the kiddos is inevitable.
Today, I'm using a pack of my larger plastic Easter eggs for a super fun project. Get ready because we're making Easter Egg Bath Bombs! You know, those fun little balls you throw into the tub that start to fizz and make your water smell heavenly. Yep, those are the ones. And yes, you can make them yourself!
Ingredients (Will make 6 large bath bombs)
8 oz. Baking soda
4 oz. Epsom salt
4 oz. Cornstarch
4 oz. Citric acid
3 teaspoons water
2 teaspoons essential oil or fragrance oil for soaps, etc.
2-5 drops food coloring
Larger plastic Easter eggs or silicone/plastic mold
Confetti sprinkles (optional)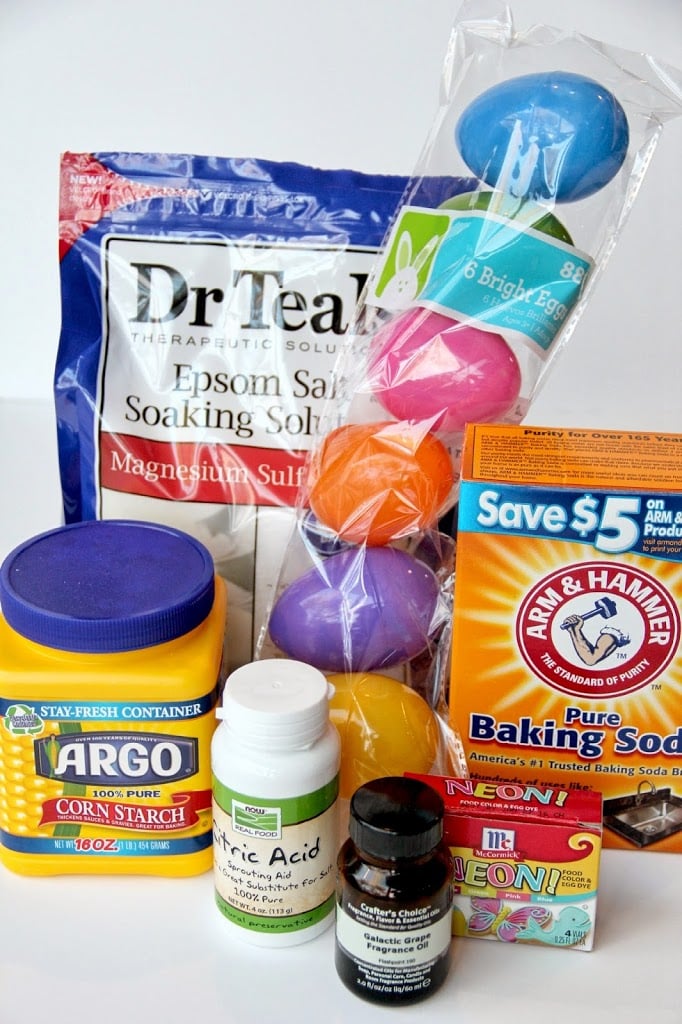 In a large bowl, combine the Epsom salt, cornstarch, baking soda and citric acid. Stir the ingredients together using a whisk. In a separate small bowl, mix together your wet ingredients: water, fragrance/
essential oil
and food coloring. Notice I used Galactic Grape. It smells AWESOME. Did you ever chew grape Hubba Bubba gum as a kid? Yes? This fragrance oil smells just like it!
Pour your wet ingredients into the bowl with your dry ingredients and whisk together.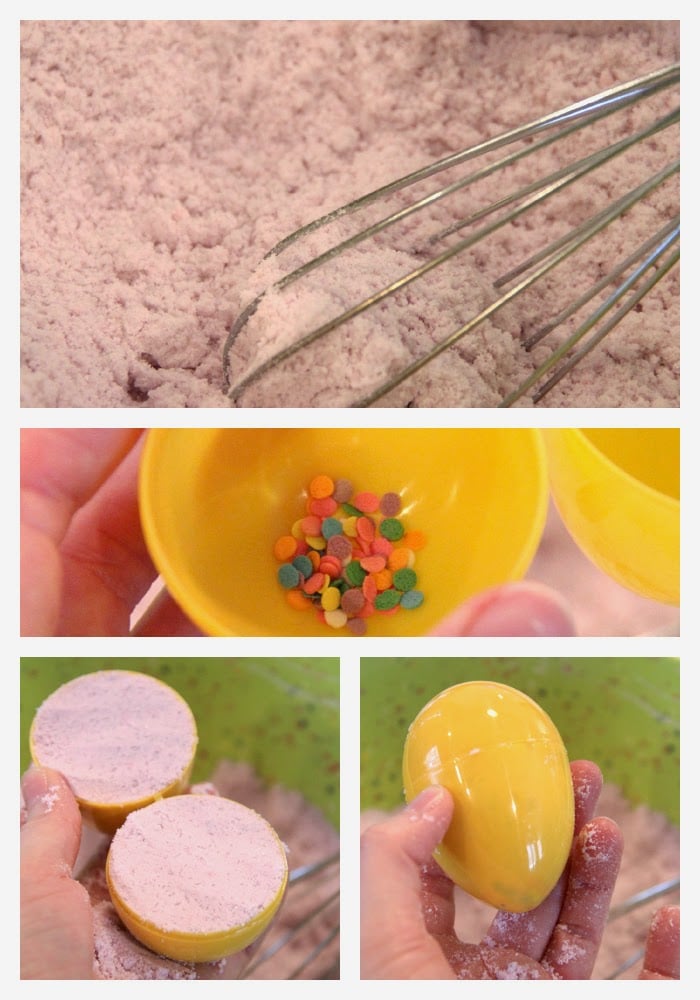 The mixture will start to clump a little. Use your fingers to ball up a bit of the mixture to see if it is starting to stick together a bit. If not, you can add a little more water, but be careful. ONLY add a very little at a time or you will ruin the entire mixture. Take one of your eggs and put a little of the confetti sprinkles in one side or both. Then start tightly packing the bath bomb powder into both sides of the egg. Make sure there aren't any air pockets – just a small hole is enough to make your bath bomb crumble so really pack the mixture in tightly.
This is also the step where you could place a very small toy inside the egg if you would like. Keep in mind this needs to be very small and light or the egg will not pack correctly. One time I tried to hide some turtle erasers in the eggs and they fell right apart.
Then push the sides together and let the egg sit on a towel covered with waxed paper for at least 15 minutes.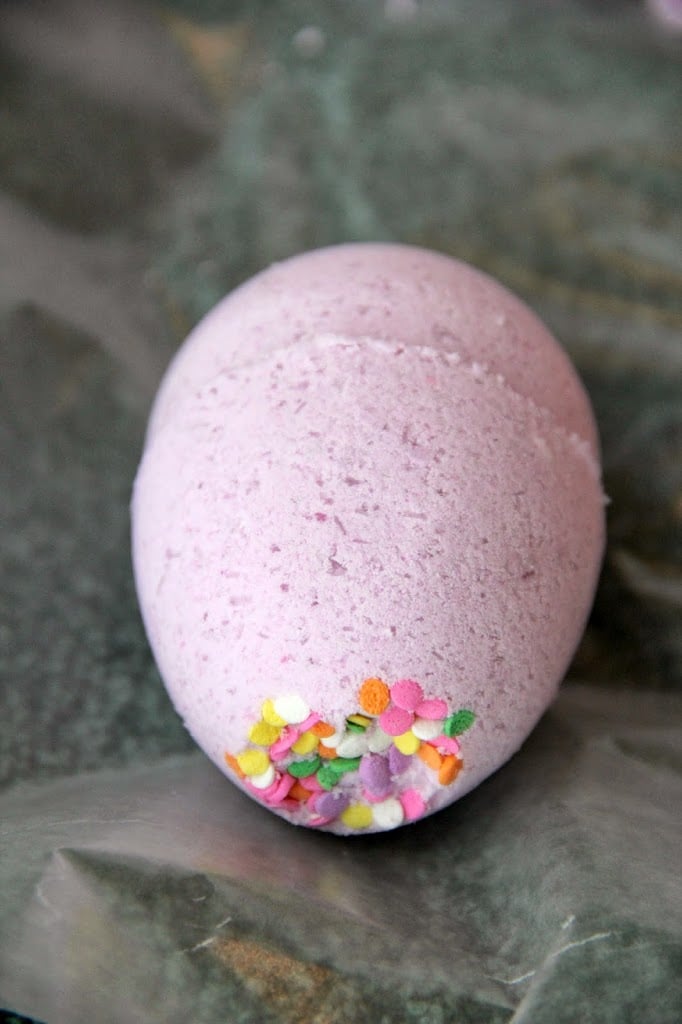 After 15 minutes carefully pry open the egg to see if the mixture has formed to the mold. If it has, it will look like this. The eggs need to dry completely overnight before you try and use them or package them up as gifts.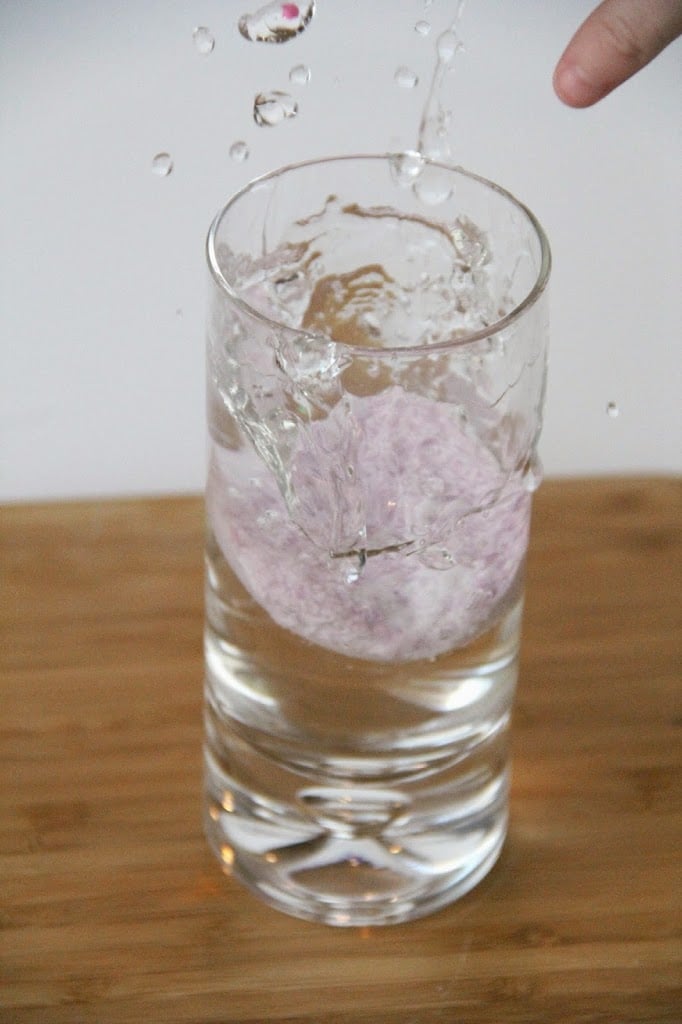 Just for fun, I had my 2-year-old help me out with a quick experiment. She dropped half of a bath bomb into this glass of water.
It worked better than we thought it would. It started fizzing and it fizzed more, and more, until I had a big mess on the table. Picture me placing my camera down as carefully and quickly as possible while I ran the glass of water to the sink to finish erupting. Really, Sara? Way to use your brain on this one. Sink next time, Einstein.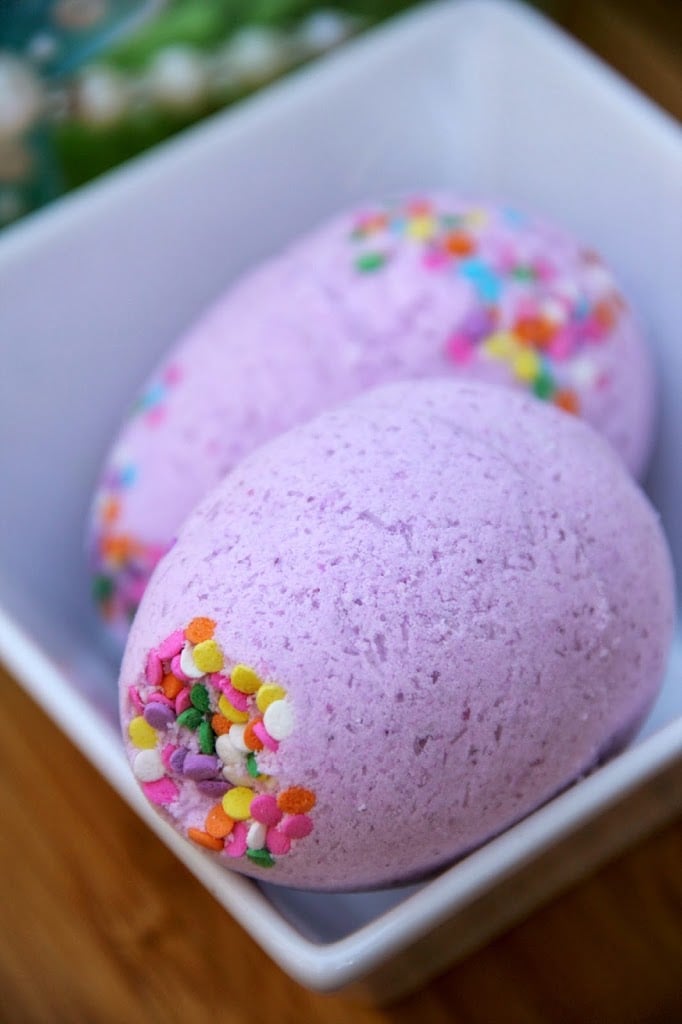 This is how my bath bombs turned out. Pretty sweet, right? These would be great gifts for friends and family and would be so much fun to put in the kids' Easter baskets. Since my kiddos actually saw these already, we'll just be playing with them in the tub this week.
Have fun making your own bath bombs! My house still smells like Galactic Grape and I'm LOVING it!
(Visited 42,631 times, 1 visits today)