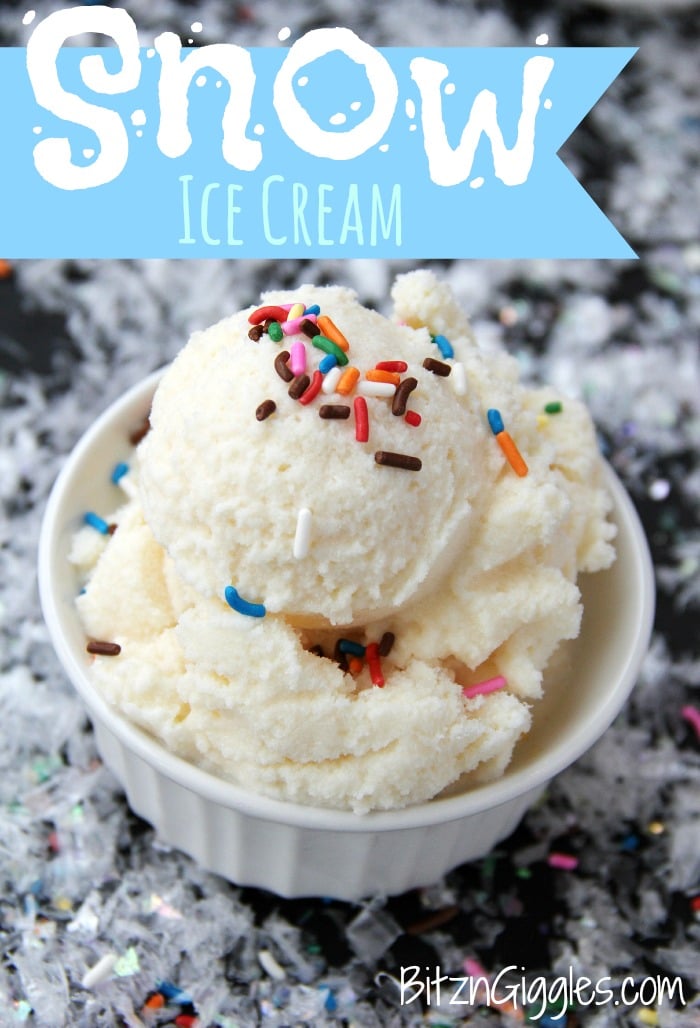 I think it's snowed every day for the past week. Christmas Eve we drove home in an absolute blizzard. Today was finally a day at home to unwind. The past couple days were crazy so it was definitely a welcome change. I couldn't help but look outside at all of the light, fluffy snow. Although I'm a bit sick of it already, it is pretty. Pretty enough. . .well, to eat.
Let me start with one of my disclaimers again. By no means am I condoning the gathering of dirty snow from off the street or sidewalk to consume. But when you live in the Midwest and there are inches and inches of fresh fallen, glistening, white snow that has been left untouched, it's definitely safe to eat. Trust me. I've eaten tons of it. As a child, it was the best way to stay hydrated while sledding.

Here's what you'll need to make your own snow ice cream:
10 cups fresh fallen snow
1 can sweetened condensed milk
1 teaspoon vanilla extract
Your choice of ice cream toppings
Simple, right? It really is
My 5 year-old was more than happy to help out. Before we gathered our snow I scraped the top layer of the snow away to ensure what we used for our ice cream was absolutely dirt-free. Dane helped me gather 10 cups of snow. Notice we didn't actually go outside to get it, we just reached outside of the patio door. This was partly because we were lazy and partly because we both were still in our pajamas.
In another bowl, add the sweetened condensed milk and the vanilla. Then, start adding in the snow. One to two cups at a time.
Continue to stir and keep adding more snow until the consistency becomes more like ice cream.
Once the ice cream is thick enough, start adding your toppings.

A little chocolate never hurt anyone either. So go ahead and pour it on. Yum! What a great treat to serve on a snow day!
(Visited 7,199 times, 1 visits today)