I remember a couple years ago when I mentioned to my husband that I had never received a box of chocolates on Valentine's Day before. The result? I received so many chocolates that year, I had to take most of them to the office to share with my coworkers. He went a bit overboard.
Believe me, I wasn't complaining, but it did make me giggle. I did let him know that just a small box would have been fine, but I thought it was sweet, first of all, that he even HEARD my request, and second of all, the fact that he wanted to go ABOVE AND BEYOND.
So now, every year when Valentine's Day approaches, I think about his sweet gesture and it reminds me of the boat load of chocolates I received that year. There's just something about chocolate, truffles and candy around Valentine's Day that's quite romantic and well, nostalgic. I'm not sharing a chocolate recipe today, however. Boo. Hiss. Right? Okay, stop it already. These Strawberry JELL-O Truffles are made with FIVE ingredients and they are NO-BAKE. Yep, you heard me. Let me say it again, NO-BAKE. I'm betting that you have all of the ingredients needed right in your pantry.

You start by mixing together cream cheese, JELL-O powder and powdered sugar.
You refrigerate your truffle "dough" for about an hour.
Roll the dough into 1-inch balls.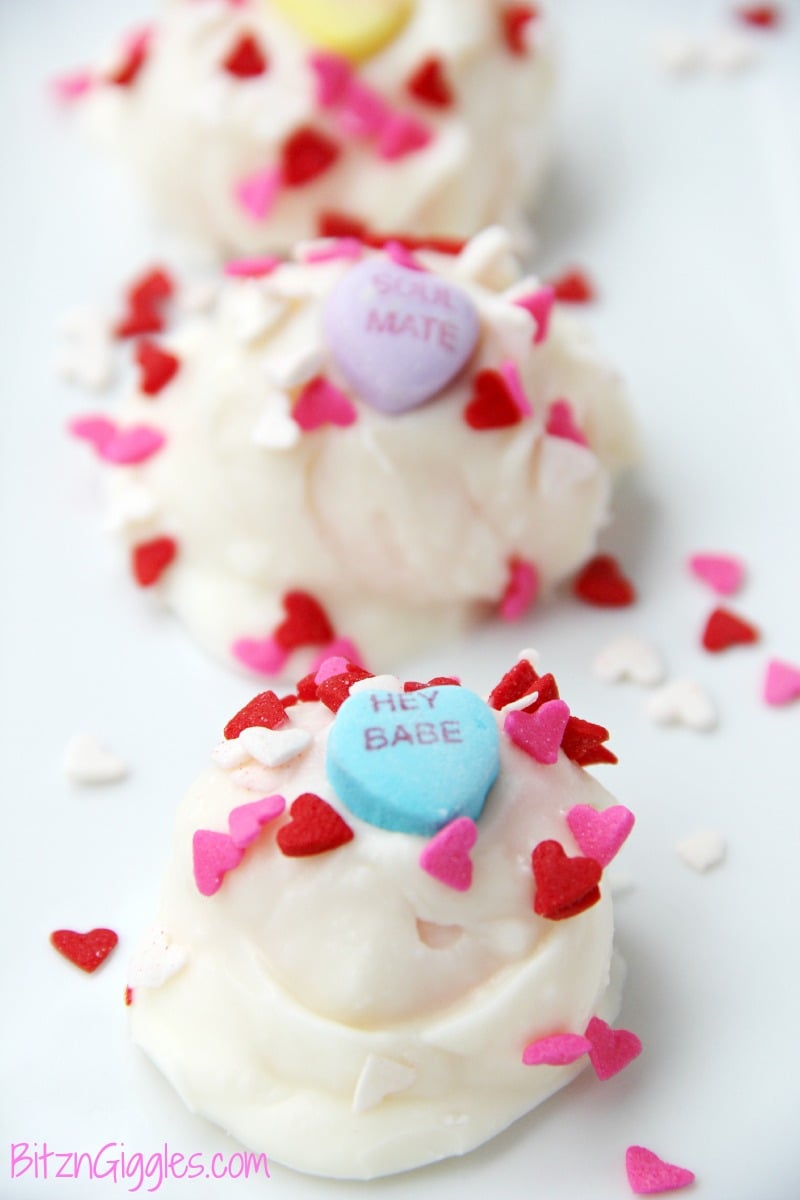 Then you dip them into melted candy coating, put a few sprinkles on, maybe a conversation heart and you have what you see above. Yum.

Allow me to zoom in a little closer. Do you see that mountain of candy coating? Yep. That's how I like it.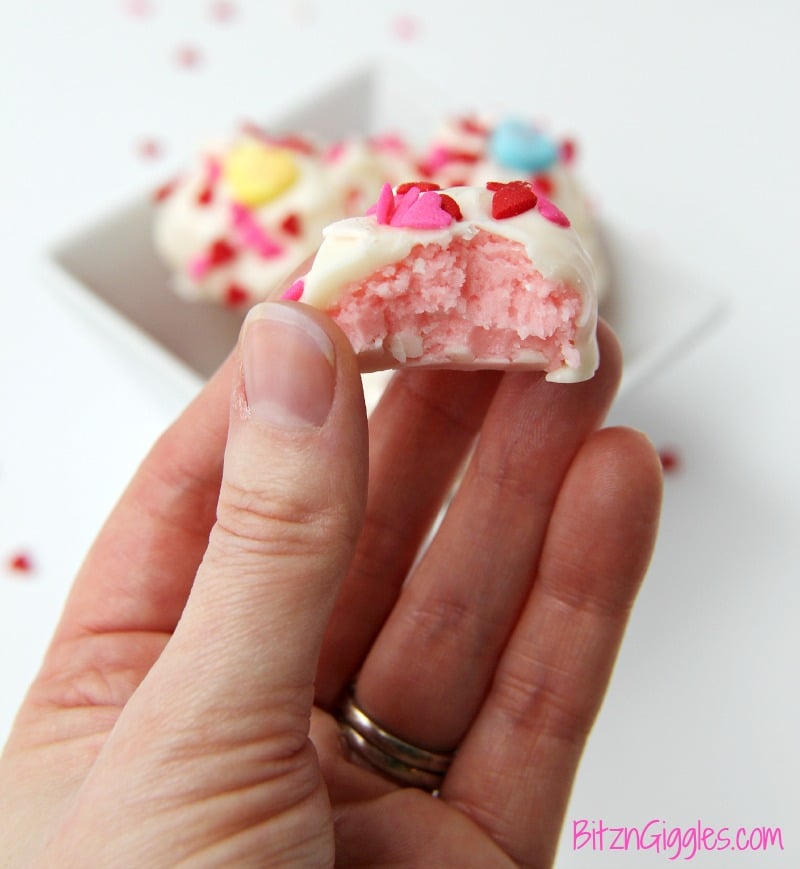 And this strawberry center. It just melts in your mouth. Seriously. Good. Who would have thought something as delicious as truffles were so easy to make? You really could experiment with different flavors of JELL-O for different occasions. Since I wanted to whip these up in honor of Valentine's Day I used strawberry. How about lime for St. Patrick's Day?
It's just a fun twist on a traditional truffle. It's a bit more spring/summer-like, don't you think?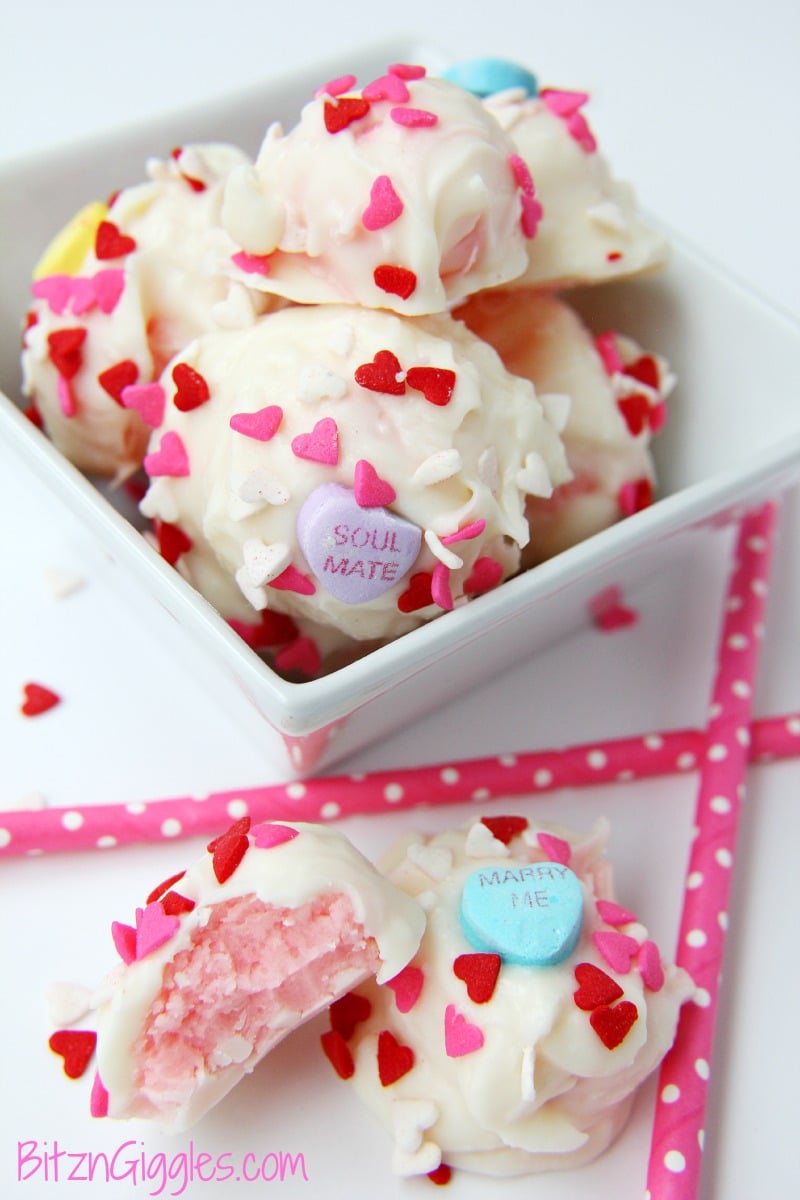 These would also be fun for a birthday party, baby or wedding shower, the possibilities are endless. This recipe is SO easy, guys like my husband (who claim they can't cook) could even whip these up and present them along with a sparkly diamond for a super sweet engagement. Are there any guys out there you think who would attempt to make some of these? I bet there are, especially if they're head-over-heels in love and want to make the love of their life smile.
Whomever or whatever you make these truffles for, enjoy them and don't forget the mountain of candy-coating – it's essential. 🙂
Strawberry JELL-O Truffles
Vanilla candy-coated truffles with a strawberry melt-a-way center!
Ingredients
8 oz. cream cheese, softened
6 cups powdered sugar
2 teaspoons strawberry JELL-O, powder-form
Vanilla candy coating
Candy sprinkles
Instructions
With a mixer, mix together the cream cheese and the JELL-O powder.
Add in the powdered sugar one cup at a time while continuing to mix until you achieve a stiff, thick consistency.
Cover the truffle "dough" and refrigerate for an hour.
Take about a tablespoon of the dough and roll into 1-inch balls, set aside.
Melt your candy coating in the microwave, stirring occasionally until melted.
Dip the truffle balls into the candy coating and set onto a cookie sheet lined with wax paper.
Allow truffles to cool and candy coating to harden.
Store in an airtight container in the refrigerator.
Nutrition
Calories: 3750
Sugar: 737
Sodium: 745
Fat: 81
Saturated Fat: 47
Unsaturated Fat: 23
Trans Fat: 0
Carbohydrates: 763
Protein: 14
Cholesterol: 249