Twice Baked Mashed Potato Casserole – Flavorful mashed potatoes you bake right in the oven!! Cheese and bacon perfection. Great for a crowd!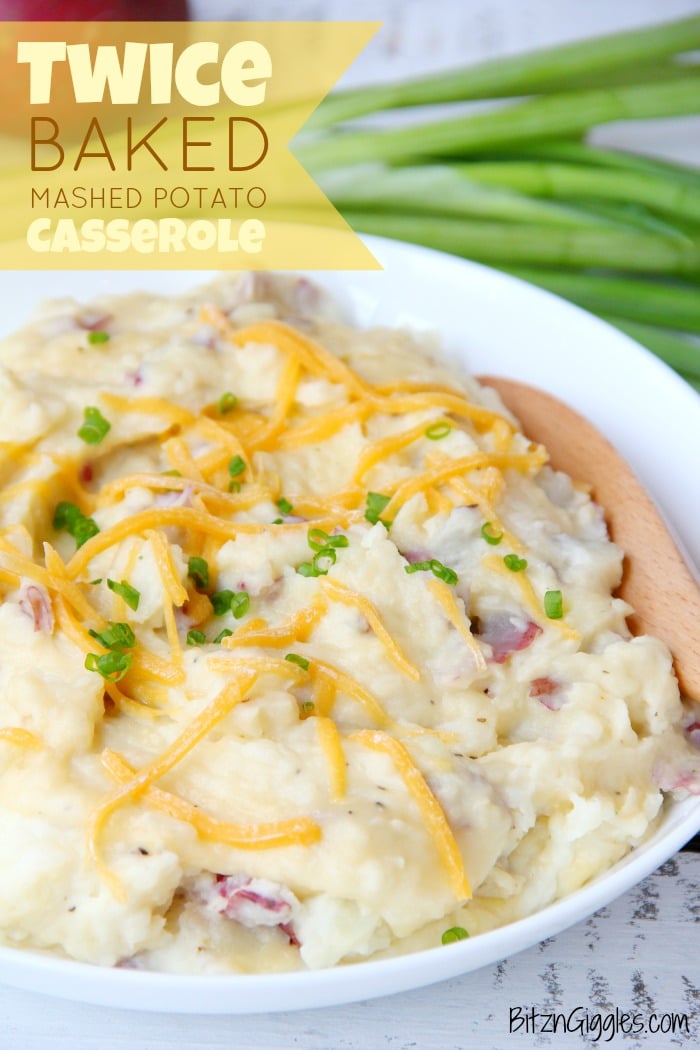 Happy New Year!! Yep, I know I'm a few days late. . . but I have a good excuse. I was making this Twice Baked Mashed Potato Casserole for you. Will you forgive me?
The truth is, I've been a bit lazy around the kitchen the last week or so. I think I just needed some time away, you know?
But I'm back now, and while the majority of the world has made resolutions to eat healthier in the new year, I'm still sharing good ole' comfort food. That's just the way I like it.

Let's just be real about something for a minute. . .have you ever been able to stick with your resolution for the entire year? I haven't. I set "GOALS." Big difference. The goals I set are normally for the next 90 days. Life changes, and goals change along with it. It makes sense, right?
If you have something really big you want to achieve, you need to chunk it out into smaller 90-day goals. You really need to BELIEVE that you will achieve what you put down on paper. If it seems too far out of reach or many months away, you'll lose focus quickly and you'll be back to square one.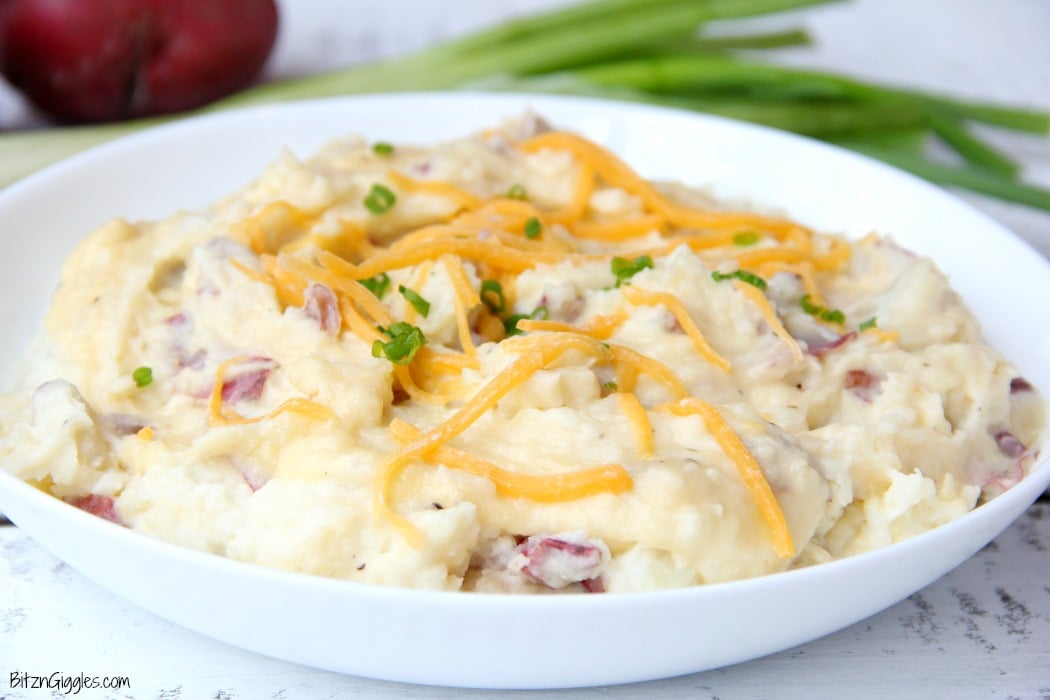 What does all of this have to do with mashed potatoes? Nothing really. I've just been thinking about what I want to accomplish in 2017. You, too? There's just something about a new year that's refreshing. It's a clean slate. It's a free pass to start over. It's an opportunity to reflect on the past and figure out what went right and. . .what didn't.
As long as we're talking about potatoes and what didn't go right, this recipe for cheesy hash brown potatoes is amazing, but most people would be scared for their life to try it because of the horrible photos (I really need to reshoot those). Hardly anyone has even seen this recipe because in the past few years I've been ashamed to share it. But today, I'm sharing it with you because I want you to know where I came from. . .how I started.
You rarely jump into something as an expert from the get-go. Being good at something takes a lot of practice, a lot of hard work and a ton of failures along the way.
But no matter how good you are. . . there's ALWAYS room for improvement. And that's what I adore about goal-setting. It pushes you outside of your comfort zone and challenges you to get better and go further than you ever thought was possible.
No matter what kind of "goals" you set in 2017, if you make this twice baked mashed potato casserole, I promise you it will go right. Are we ready to talk about potatoes now? I appreciate you hanging on this far. I'm a little passionate about goal-setting if you couldn't tell. 😉
I'm also passionate about potatoes, so let's get to it. I make this casserole to take to potlucks or when I have guests coming over. I make this casserole because it's easy. I make this casserole because it's delicious. It really is.
It's personal preference, but I don't even peel the baby red potatoes. I just cut them up and throw them into a stockpot to boil along with some fresh garlic.
It's the heavy cream, sour cream, butter, bacon and cheese that put these potatoes over the top. The casserole is so flavorful and, extremely easy to throw together. In fact, I often make these potatoes the night before (all steps except baking in the oven) and then throw the pan in the oven the next day.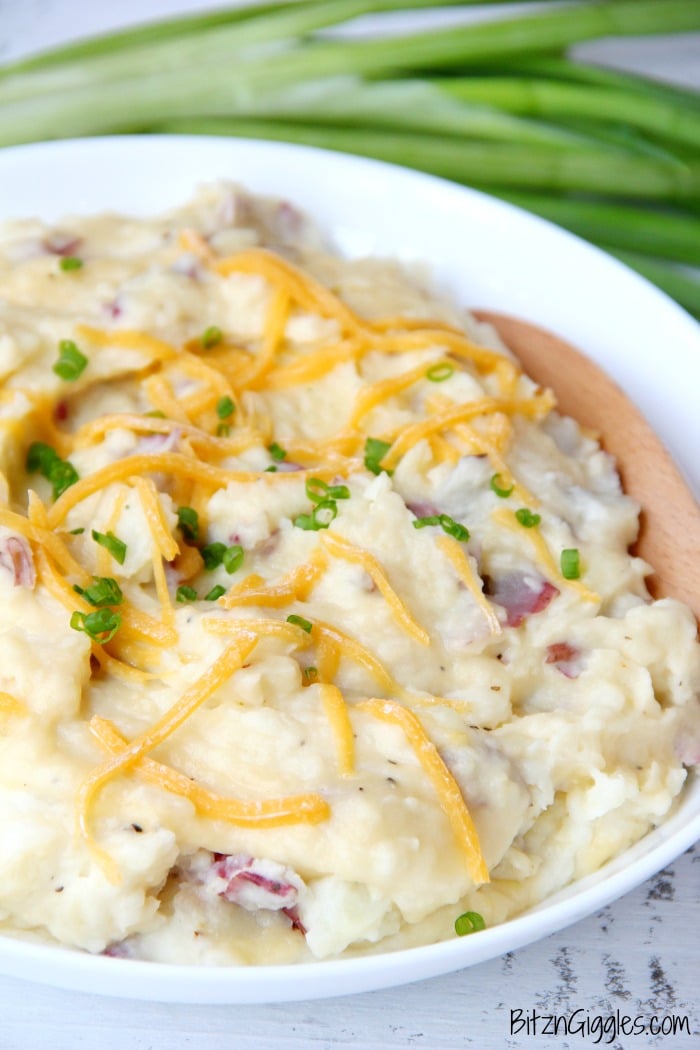 Promise me you'll make this casserole. Just try it. Put it on next week's menu plan, make it part of your Easter meal – eat it while you're setting your goals for 2017 – just try it. I know you're going to love it. . .and everyone you share it with is going to love it, too. Happy New Year, friends!
Twice Baked Mashed Potato Casserole
Flavorful mashed potatoes you bake right in the oven!! Perfect for a crowd!
Ingredients
4 pounds baby red potatoes, cut into cubes
4 cloves garlic, mashed
3/4 cup heavy cream
1 cup sour cream
4 tablespoons butter
2 cups cheddar cheese, shredded
1 tablespoon salt
1 teaspoon pepper
Green onions for garnish, optional
Instructions
Preheat oven to 350 degrees Fahrenheit.
Boil potato cubes in a large stockpot with the garlic for 20 minutes or until potatoes can be pierced easily with a fork. Drain.
Transfer the potatoes to a large bowl and mash. Stir in heavy cream, sour cream and butter.
Season with the salt and pepper.
Stir in 1 1/2 cups cheese and half the package of bacon pieces.
Scoop into a 13×9 inch baking pan and sprinkle with the remaining cheese and bacon pieces.
Bake for 25-30 minutes.
Garnish with sliced green onions and extra shredded cheese before serving if desired.
(Visited 38,714 times, 1 visits today)