Cheesy Hashbrown Potatoes – Cheesy potato casserole topped with crunchy French fried onions! One of the best hash brown casserole recipes out there!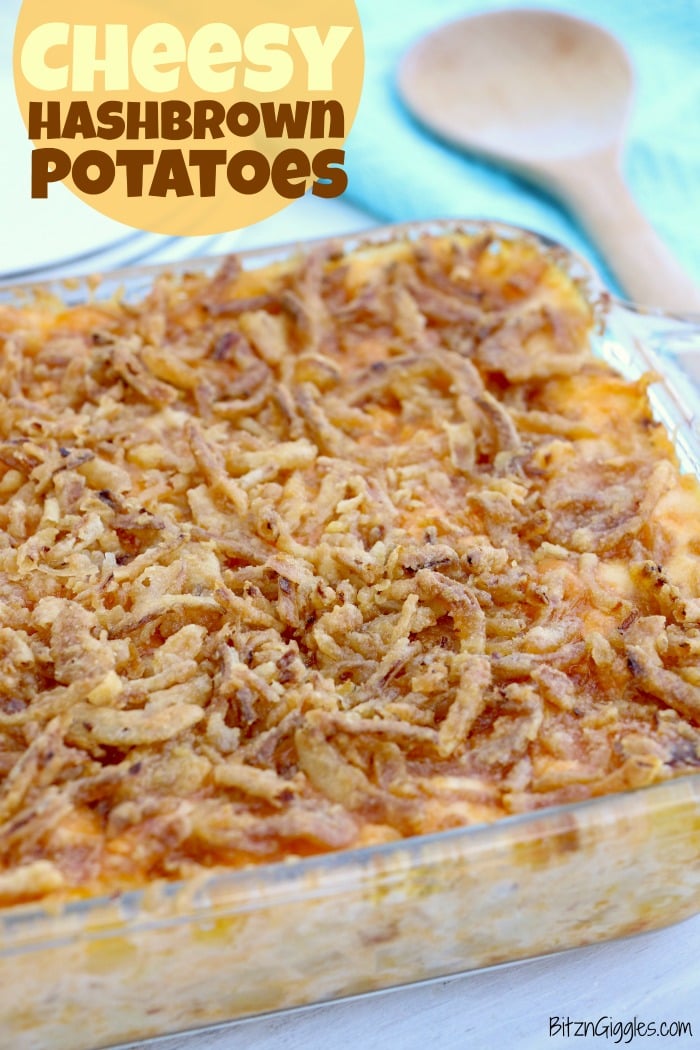 This post may include affiliate links. Please see my disclosure.
Updated: New photos have been created for this readers' favorite!
I went ahead and revived one of my oldest posts today – Cheesy Hashbrown Potatoes. Why? Because they're completely delicious and the photos I took of them years ago were just not doing them justice anymore.
I make these potatoes at least 20 times a year. I kid you not. Summer is when I find myself making them the most. They're the perfect side dish to any main course. What I love most about this potato casserole is that you can make it the night before and then just pop it into the oven the day you're serving it.
This hashbrown potato casserole has received rave reviews from all of our family and friends. The recipe is definitely a keeper!
MAKING CHEESY HASHBROWN POTATOES
To make the potatoes, you'll need:
When I make this casserole, I normally start with a REALLY big mixing bowl like this one. You begin by pouring melted butter over the thawed hashbrowns.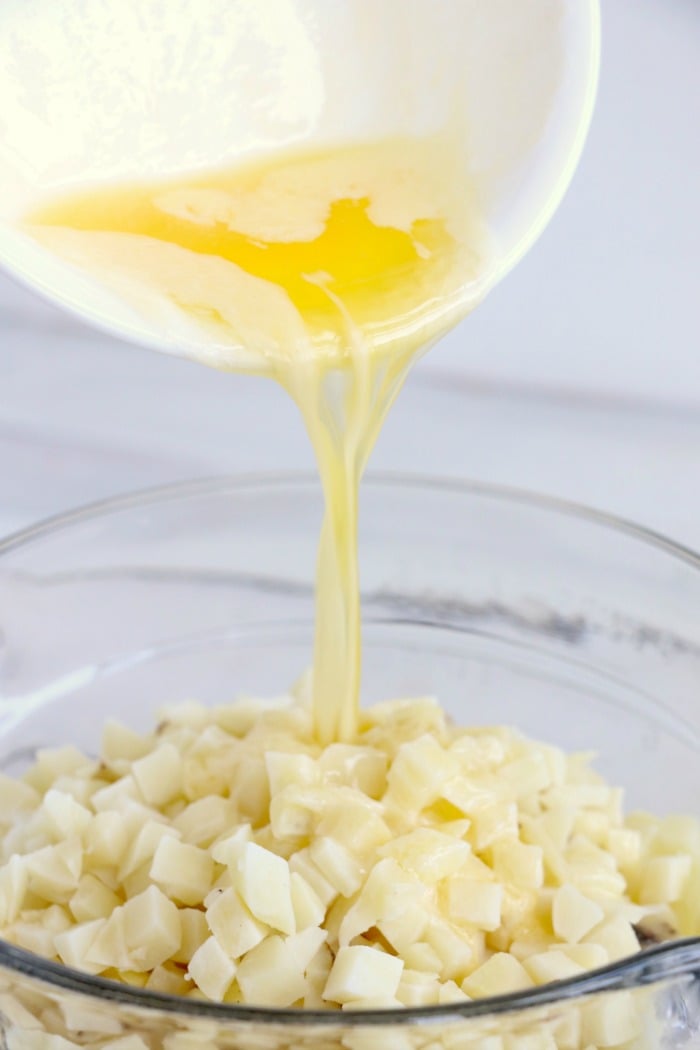 Then, you'll want to get your stove top heated up and sauté the chopped onions.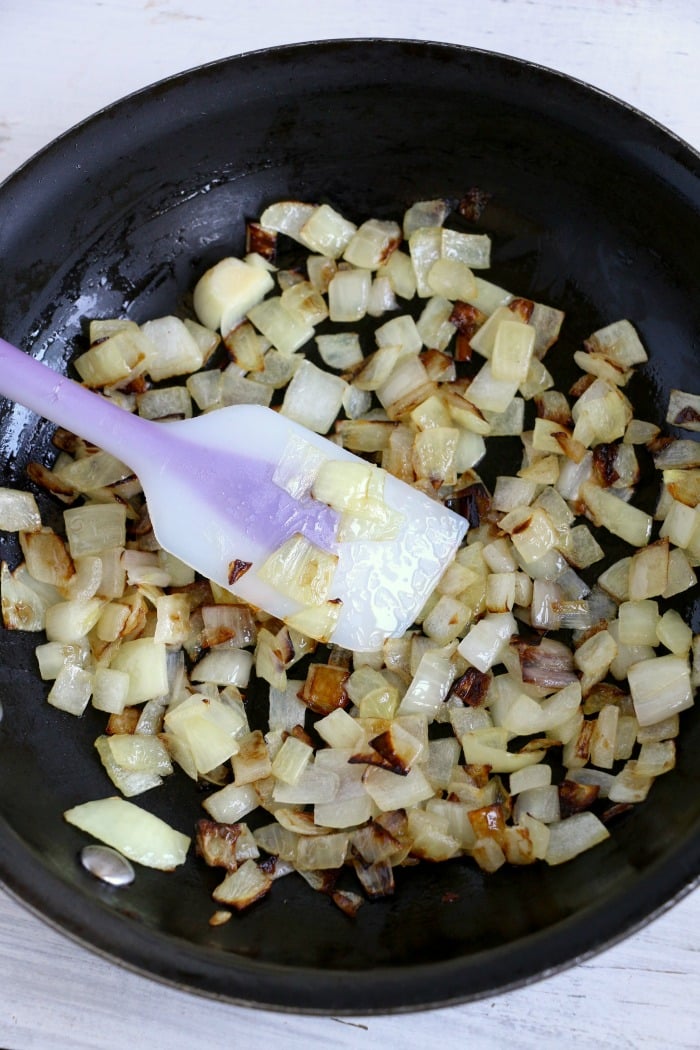 Here's where it gets fun and that BIG bowl comes in handy. Add the sautéed onions, soup, sour cream, cheese, salt and pepper to the hashbrowns and mix well!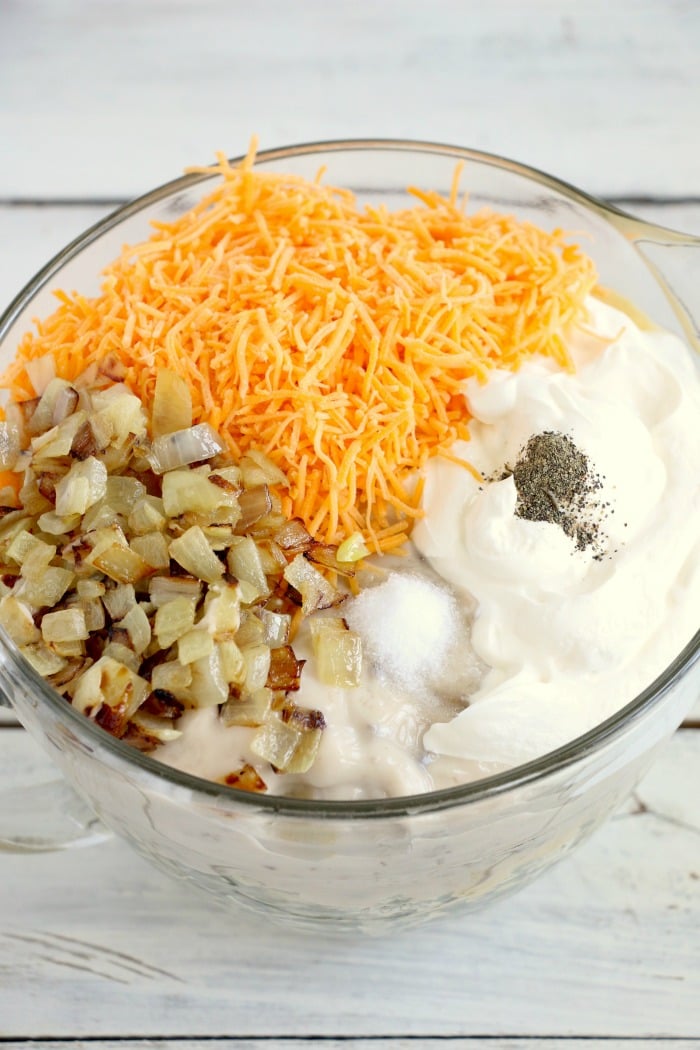 Once everything is well-combined, scoop out the whole mixture into a 13×9″ pan.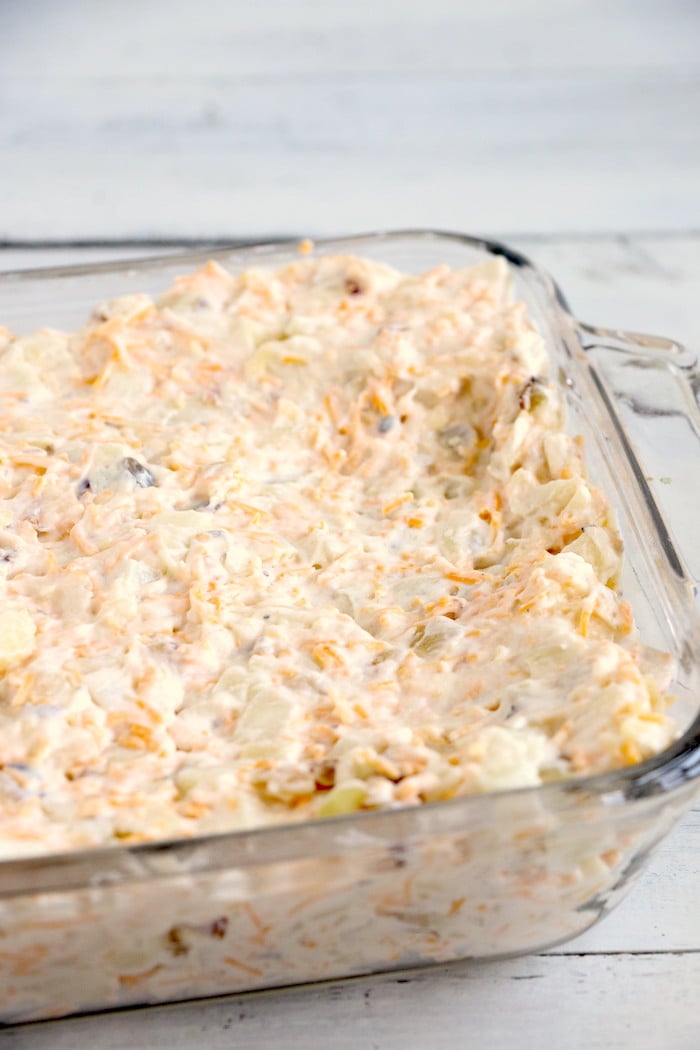 Remember NOT to add the French fried onions until after the casserole has already baked in the oven for an hour.
WHAT'S THE SECRET TO PERFECTLY BAKED FRENCH FRIED ONIONS?
I thought you'd never ask.☺️The secret to perfectly baked and crispy French fried onions is to watch them. Watch them like a hawk. Sometimes after I've sprinkled them over the top of the casserole, I actually stand there with the oven door open a crack, and watch them the entire 10-15 minutes of baking time.
If you notice they're starting to brown, perfect. Take the casserole out of the oven. These little onions can burn FAST, so you want to make sure you keep an eye on them.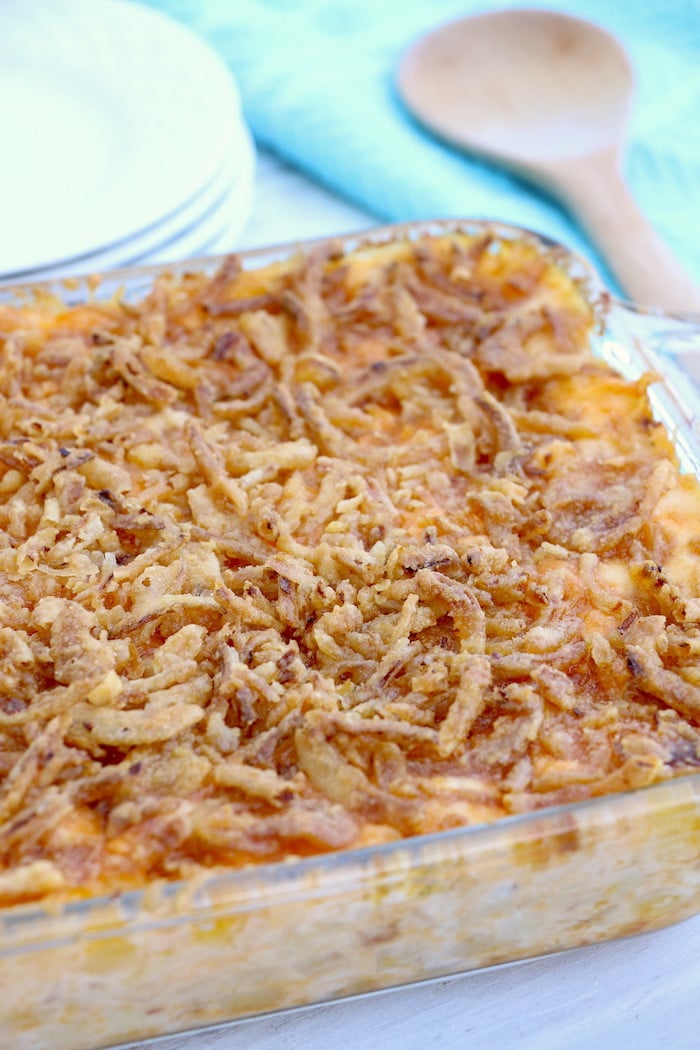 This casserole is very hot when you take it out of the oven. I know that sounds ridiculous because everything is hot when you take it out of the oven.? This casserole, though, really holds its heat. I often let it sit for a little while on top of the stove while I get the rest of the meal ready.
When all is good to go, dig right in.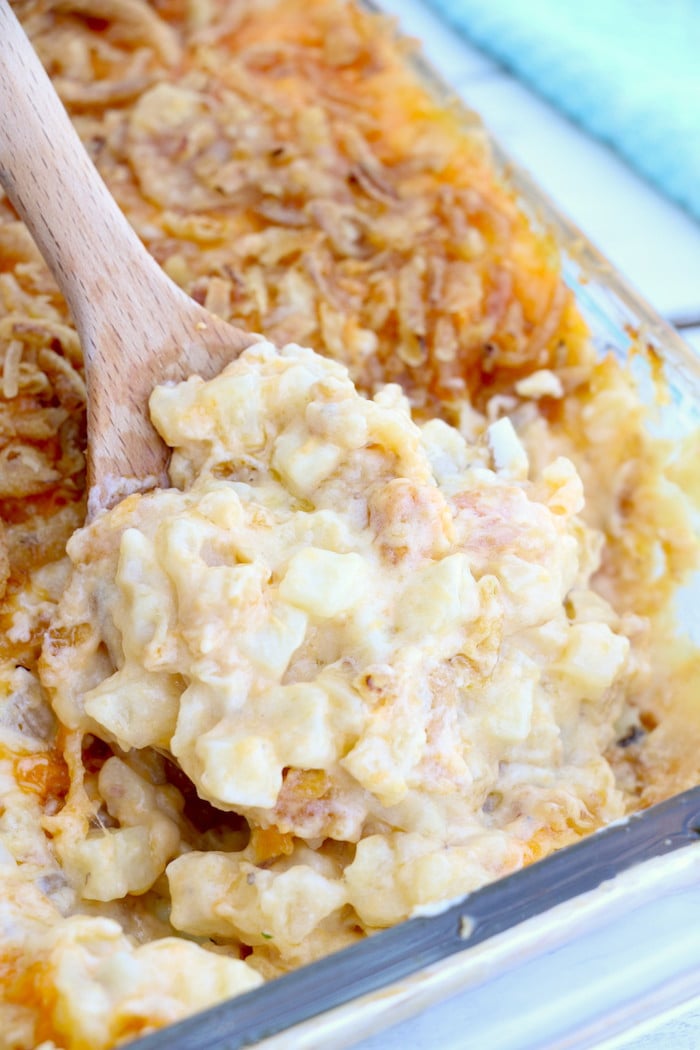 These potatoes serve a crowd, so they're a great choice for potlucks and parties.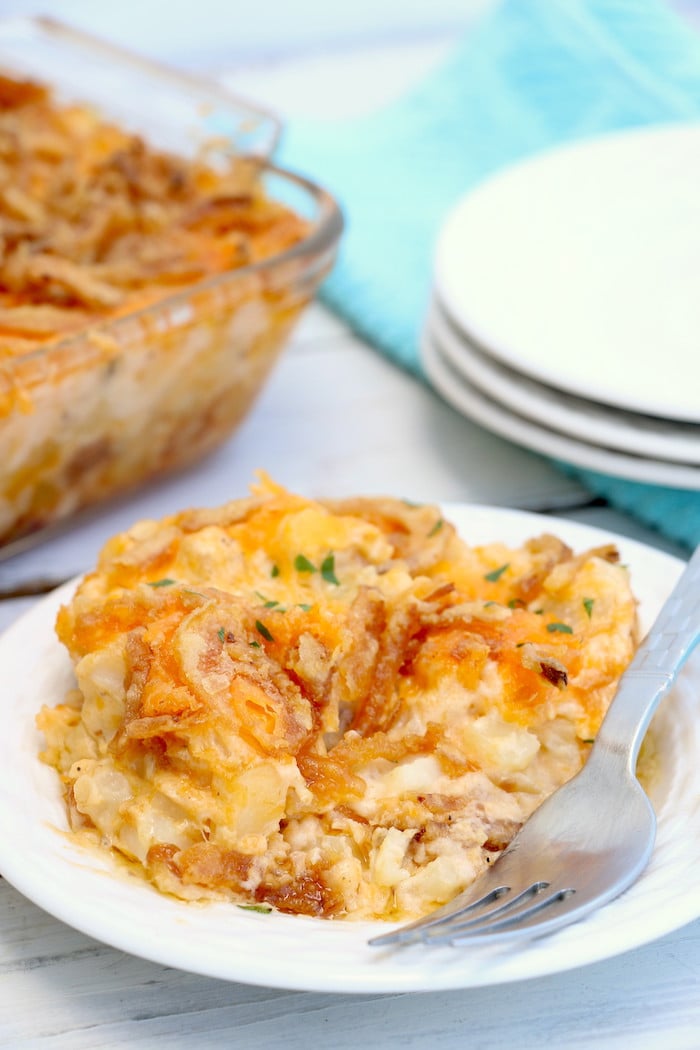 And they're still delicious when heated up the next day!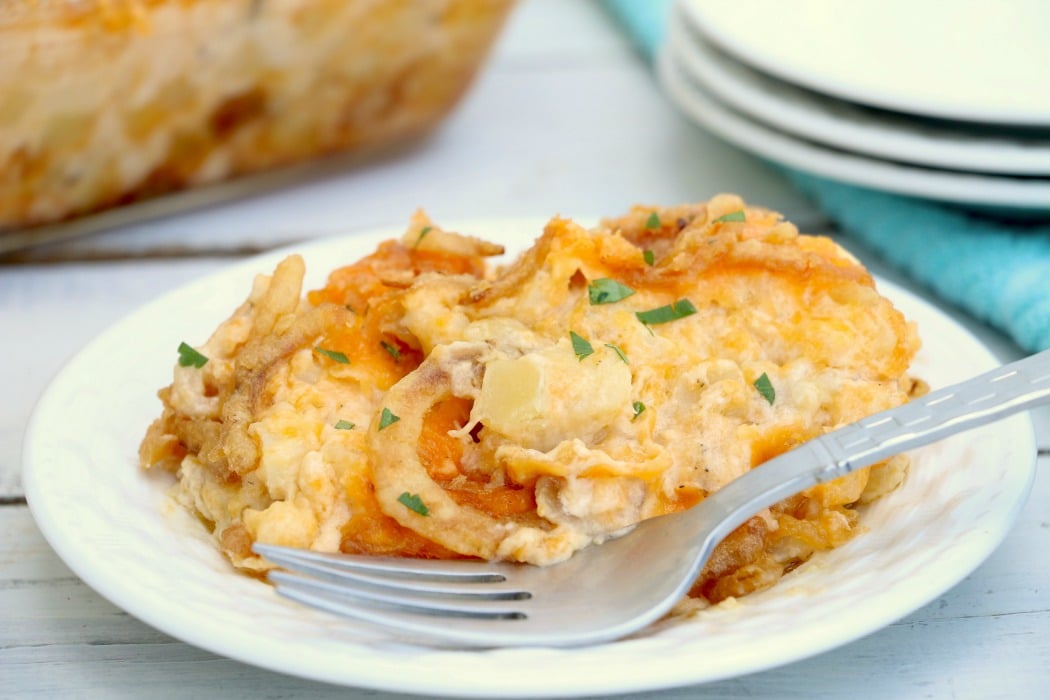 WHAT OTHER TOPPINGS CAN I USE?
If you're not a big French fried onions fan, you could try topping the potatoes with one of the following:
Cracker crumbs
Cornflakes
Breadcrumbs
Potato chips
In my opinion, the French fried onions are going to give you the best crunch and the best flavor, however.
WHAT'S THE BEST WAY TO TRANSPORT THE POTATOES?
When I take these potatoes to a party, I bake the potatoes in a foil pan and put them in my casserole carrier to keep them warm.
Often, if I'm taking the hashbrowns to a family gathering, I'll bake the casserole in the oven but then wait until I get to my destination before I sprinkle the onions on and bake them.
The topping will be more crunchy than if you try to transport the casserole with the onion-topping already on.
If you make these cheesy hashbrown potatoes, don't forget to leave a comment and let me know what you thought of the recipe! I love hearing from you!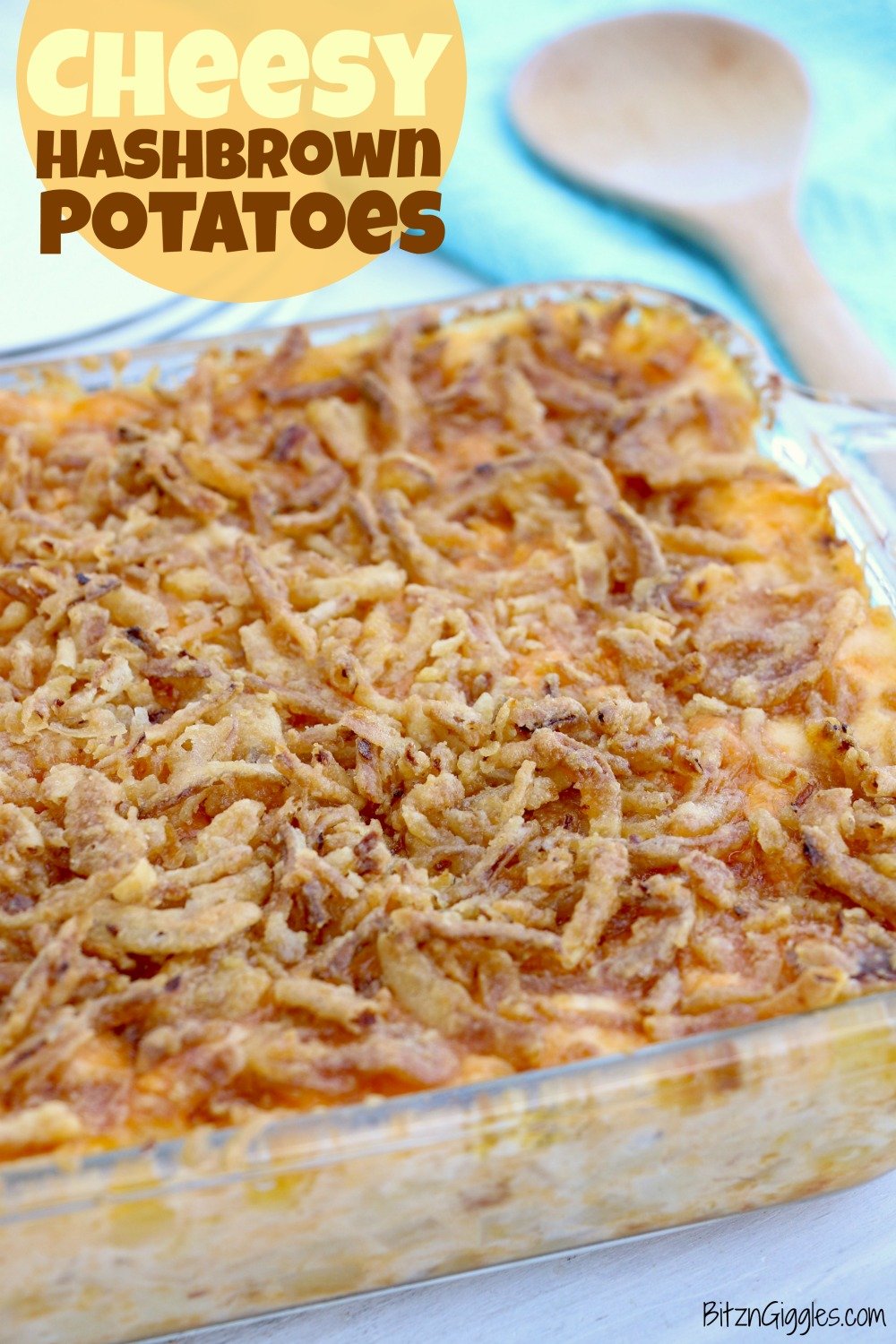 HUNGRY FOR MORE POTLUCK FAVORITES?
Cheesy Hashbrown Potatoes
Cheesy potato casserole topped with crunchy French fried onions! One of the best hash brown casserole recipes out there!
Ingredients
1 (2 lb.) package frozen cubed hash brown potatoes, thawed
1/2 cup melted butter
1/2 cup chopped onions
2 tablespoons butter
2 (10.75 oz.) cans Campbells Cream of Chicken and Mushroom soup
8 oz. sour cream
2 cups shredded cheddar cheese (plan for a little extra if you'd like to sprinkle some more on top when it's almost done baking)
6 ounce container French fried onions
1 teaspoon salt
1/4 teaspoon black pepper
Instructions
Preheat oven to 375º Fahrenheit.
Put the thawed hash browns into a large bowl, pour the 1/2 cup of melted butter over the top and mix.
Sauté the chopped onions in a small saucepan with 2 tablespoons butter for 3-4 minutes.
Now add the sautéed onions, both cans of soup, sour cream, cheese, salt and pepper to the bowl and mix well.
Transfer potatoes into a 13×9 inch pan or 3 quart casserole dish and cover with foil.
Bake covered in preheated oven for 1 hour.
Remove the foil, give the potatoes a stir and sprinkle on some additional cheese (hey, I live in Wisconsin).
Spread the French fried onions over the top and bake for 10-15 more minutes, carefully checking to ensure the fried onions don't begin to burn.
(Visited 9,886 times, 1 visits today)