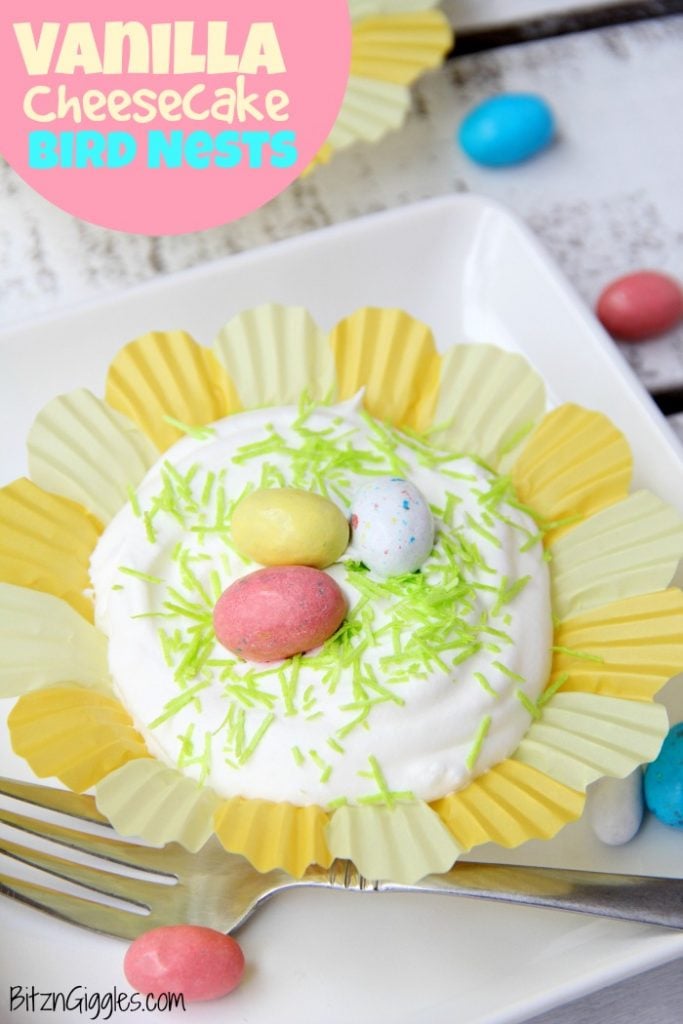 This post includes affiliate links. Please see my disclosure.
I'm always looking for light and delicious desserts. Aren't you, too? After dinner, I just need a taste of something sweet. It doesn't have to be large and extravagant – just a taste will do. That's why I love individually portioned desserts like these Vanilla Cheesecake Bird Nests.
How is it that Easter is just around the corner? It's really early this year, so maybe that's why I feel like I'm already behind. We have, however, purchased two packages of Cadbury Eggs already. I'm making my dip again this year for sure! There are so many yummy Easter desserts I've made over the years. It's always so difficult choosing between them all!
Alright, so back to these mini cheesecake desserts. This is such a simple recipe and all you need are a few easy-to-find ingredients!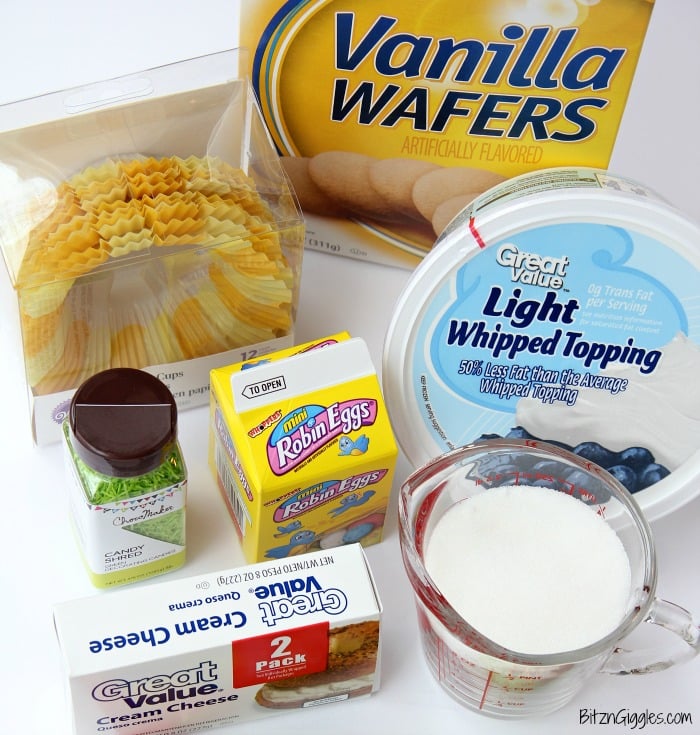 If you didn't count garnishes like the candy shred or robin eggs, you would be talking 4 ingredients. Count them. . .FOUR!! I found some super cute baking cups at Walmart. They were so sturdy, there was no need to try and transfer the dessert out of them. You can eat these little cheesecakes right out of the liner you assembled them in!

I think the baking cups would make pretty flower petals as well. Couldn't you picture some mini M&Ms in the middle of this dessert? You could easily make them into flowers, too! So, hey, switch it up. Make a couple nests and make a couple flowers! Why don't I ever come up with these ideas when I'm actually creating the recipes? I could have made a few of both!!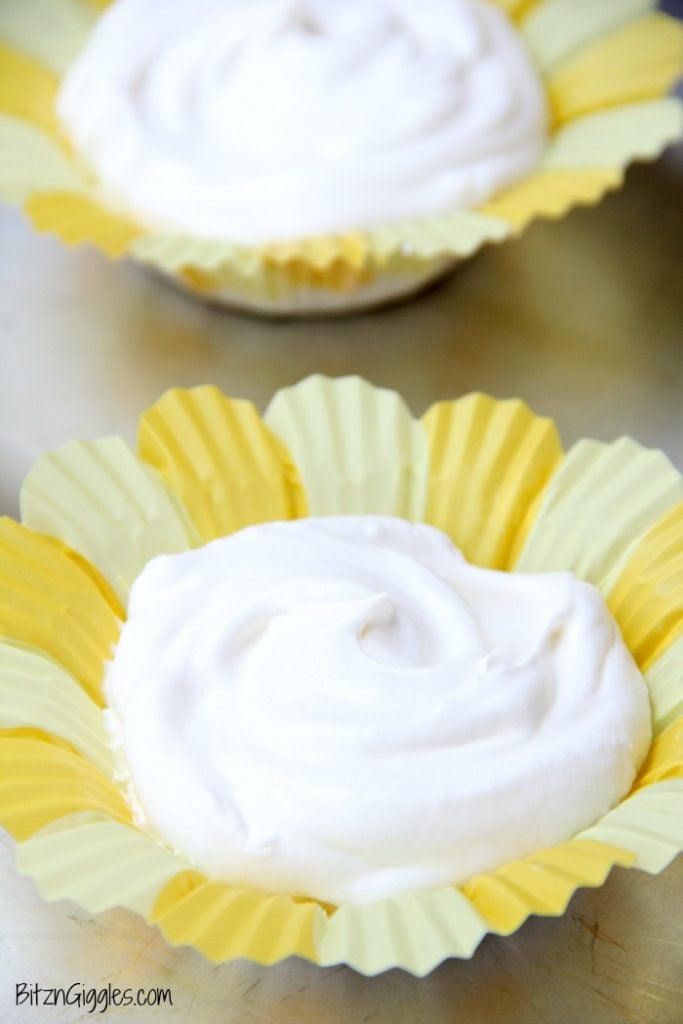 Well for now, let's just focus on the nests. Boy would this be a soft and fluffy nest for a little bird egg. Once you dollop a spoonful of Cool Whip on each of the cheesecakes, the little desserts start taking on real beauty.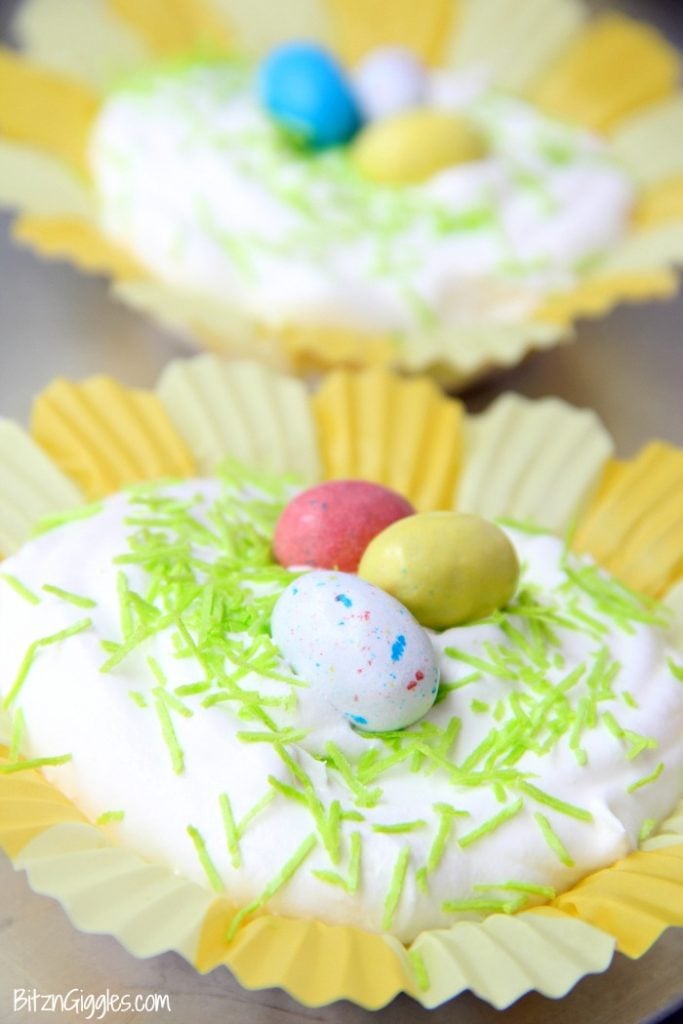 And add the candy shred and the little chocolate eggs? I mean, come on. Who wouldn't want to dig right into this?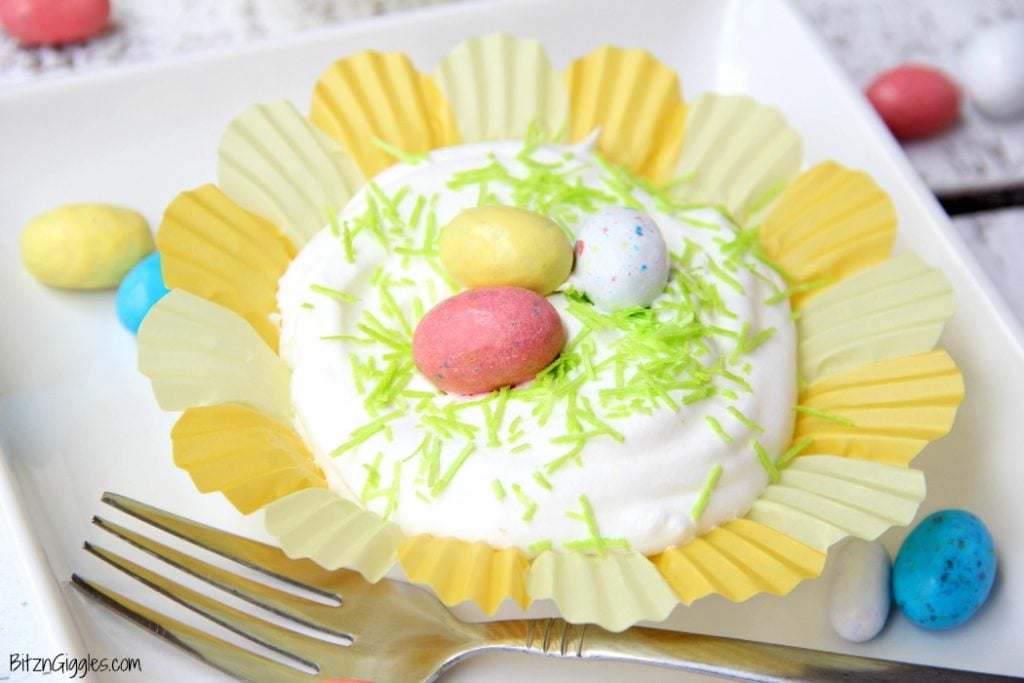 These little bird nests really have something for everyone. A crunchy wafer crust for cookie lovers, a cheesecake layer for the cheesecake fans, whipped topping (that makes it feel lighter) for the dieters and candy eggs on top for the chocolate lovers! Alright, I'm sure you're rolling your eyes about the dieting thing, but come on. . .I DID use Light Cool Whip. 🙂
So just dig in! No worries. . .I'll go first. . .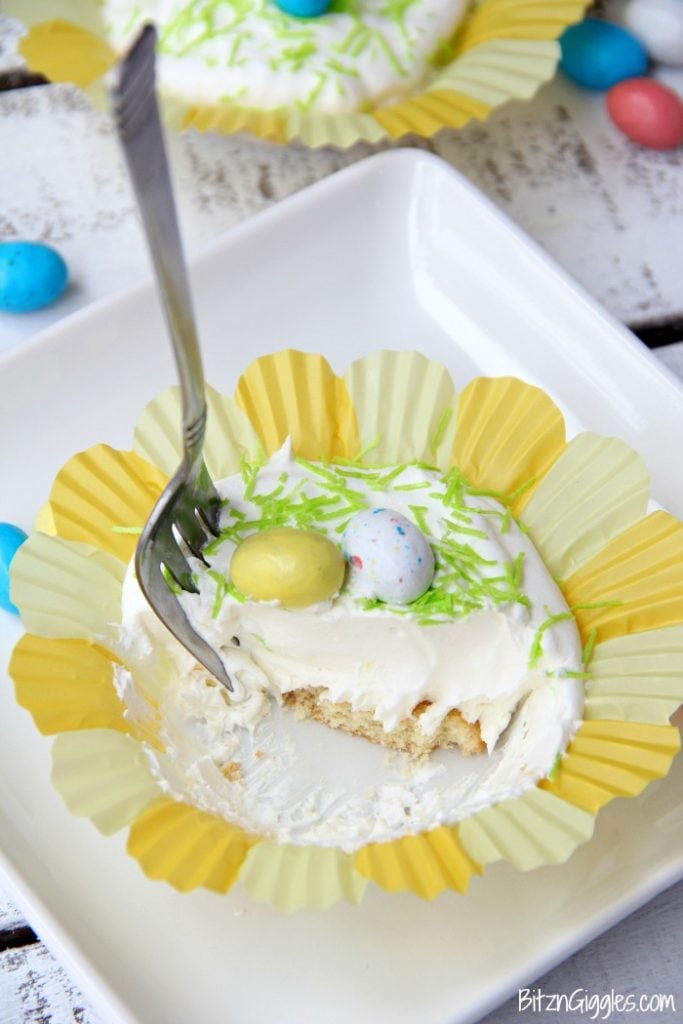 I think the rule with mini desserts like this is that you can have 2-3, right? I swear I read that somewhere.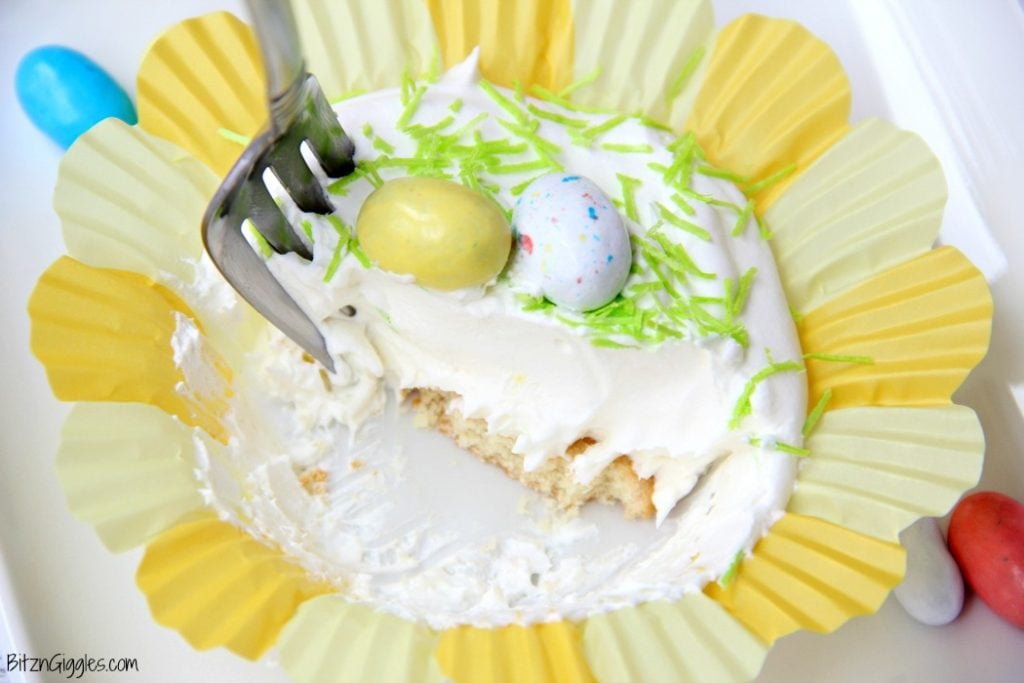 The point is, after a big Easter dinner, you're going to want a lighter dessert and these little bird nests are just that. You don't walk away from this dessert moaning and groaning – feeling like you ate way too much again. Nope. It's just the right amount of sweet to end an amazing meal. I promise you that the "amazing" will go right through dessert time as well.
I mean, just look what you can do with just a few ingredients. Pretty spectacular, right? Right.
Vanilla Cheesecake Bird Nests
Mini vanilla cheesecake desserts with a wafer crust and creamy, dreamy filling. So light and delicious!
Ingredients
12 vanilla wafers
8 ounce cream cheese, softened
1/3 cup sugar
8 ounces Cool Whip topping, thawed, divided
1/4 cup green candy shreds
36 candy coated chocolate eggs
12 sturdy cupcake liners
Instructions
Divide the cupcake liners between two baking sheets (6 liners to each sheet).
Place 1 wafer on bottom of each cupcake liner.
Beat cream cheese and sugar with hand or stand mixer until well-combined.
Add 2 1/4 cups of the Cool Whip until combined.
Spoon evenly into the cupcake liners.
Cover and refrigerate for 4 hours or overnight.
Spread tops with remaining whipped topping.
Sprinkle with green candy shreds.
Place 3 chocolate eggs on top of each "nest."
Store leftover cheesecakes covered in refrigerator.