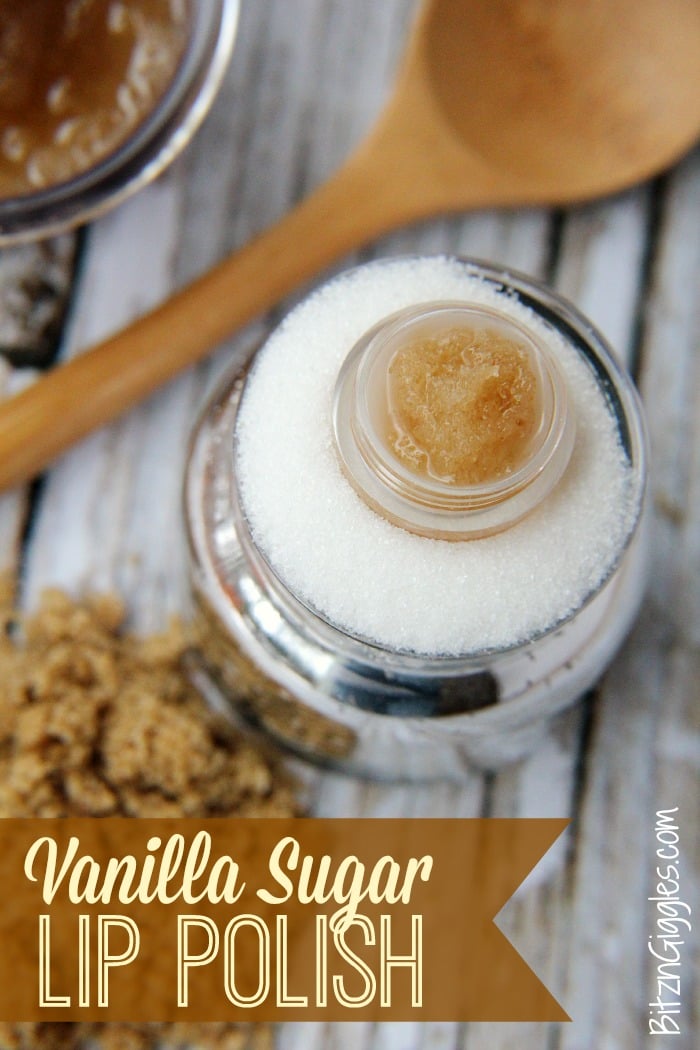 *Post contains affiliate links
Isn't it crazy to think how close Christmas actually is now? The kids are super excited and I have the week off of work this week to tie up some loose ends, wrap the final gifts and get things packed up for the little road trips we'll be taking to go and visit family and friends. We've had a bit of a strange winter so far. We got snow, then it got cold, then it warmed up. About a week ago we were left with barely ANY snow on the ground which is very strange for Wisconsin this time of year. Regardless, it's been cold and dry. The winter always seems to do a number on my skin, but the parts that are usually affected the most are my hands and my lips.
I wear lip balm A LOT, but occasionally I like to put on some lipstick when I'm going out or you know, am dressing up beyond my t-shirt and yoga pants. 🙂
The Vanilla Sugar Lip Polish I'm sharing today, helps slough off that icky, dead, dry skin that's on and around your lips and leaves them feeling so smooth and kissable – creating a perfect foundation for lipstick or gloss.
You only need a few ingredients to make this sweet recipe and most of them you may already have at your disposal.
Ingredients
1/4 cup white granulated sugar
1/4 cup brown sugar
Vitamin E capsule
1/2 teaspoon vanilla extract
1 tablespoon honey
2 1/2 tablespoons coconut oil (you can find this at your local grocery store or Walmart)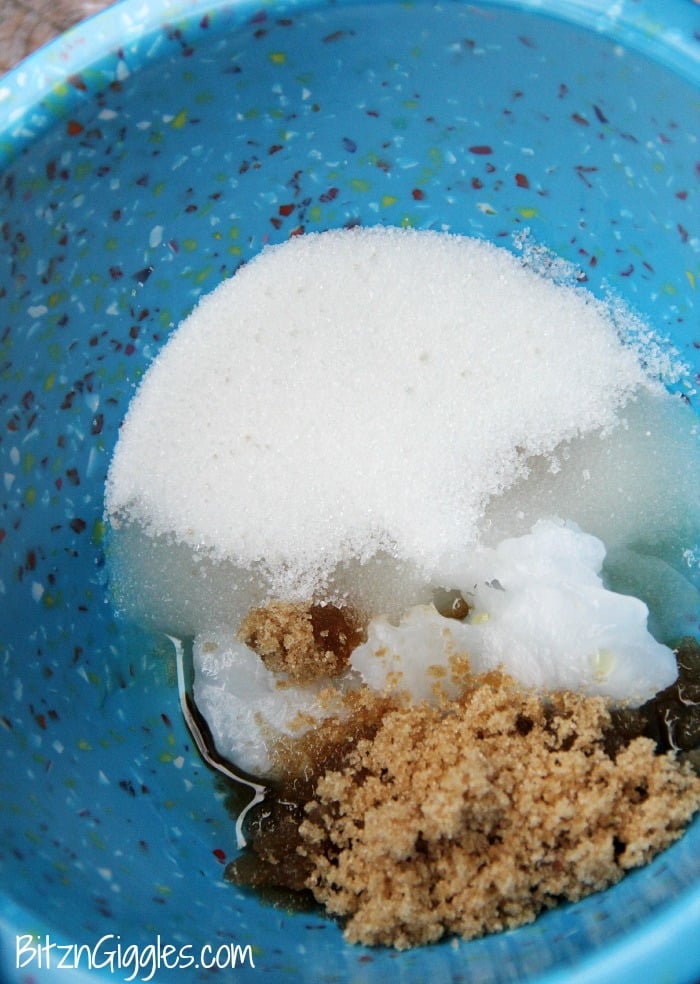 This lip scrub is absolutely easy to make and I gotta' tell you, the results are completely delicious. You start by warming the coconut oil with the honey in the microwave for about 30 seconds or so. You don't want it liquified, you just want it softened and easy to mix.
Then add the rest of the ingredients to the bowl and mix. For the vitamin E capsule, don't you have to squeeze the vitamin E out of the capsule and then just dispose of the capsule, itself. You should end up with something that looks a little like this: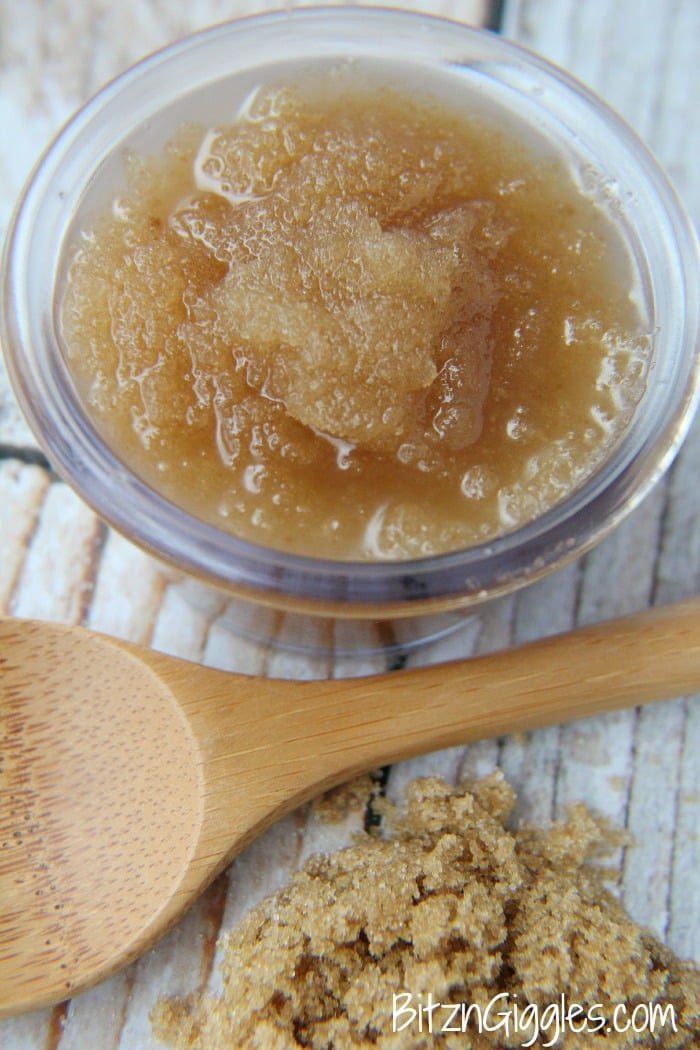 The minute you put this stuff on your lips you're going to want to eat the entire bowl. I'm going to advise against that, but if you want to lick the stuff of your lips that you rubbed on, I think that's acceptable. But then put the spoon down and back away. 😉
I put mine in lip gloss containers
that I found on Amazon so I could carry them in my purse. I did, however, just put the rest in a little airtight storage container. This polish will keep at least 2-3 months. It's perfect for the winter months because if you do keep it in the car or your purse, it's not going to get so hot that the coconut oil starts melting. That's what you have to watch out for in the summer with any products you make with coconut oil.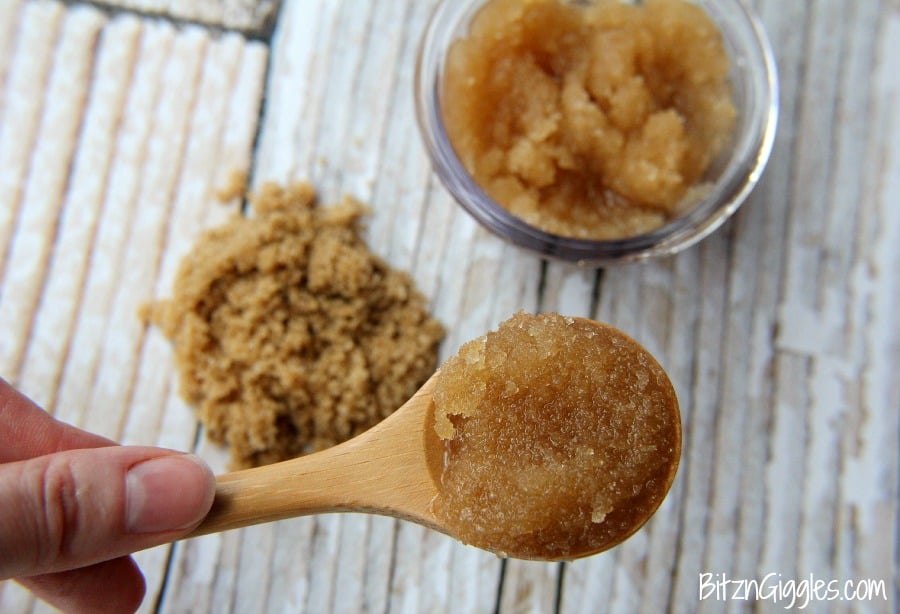 This lip polish is a perfect gift for your girlfriends, too. Just between you and me, my husband tried some too. He asked if I was going to make some cookies out of it later. Sure, honey. Lip scrub cookies coming right up. :/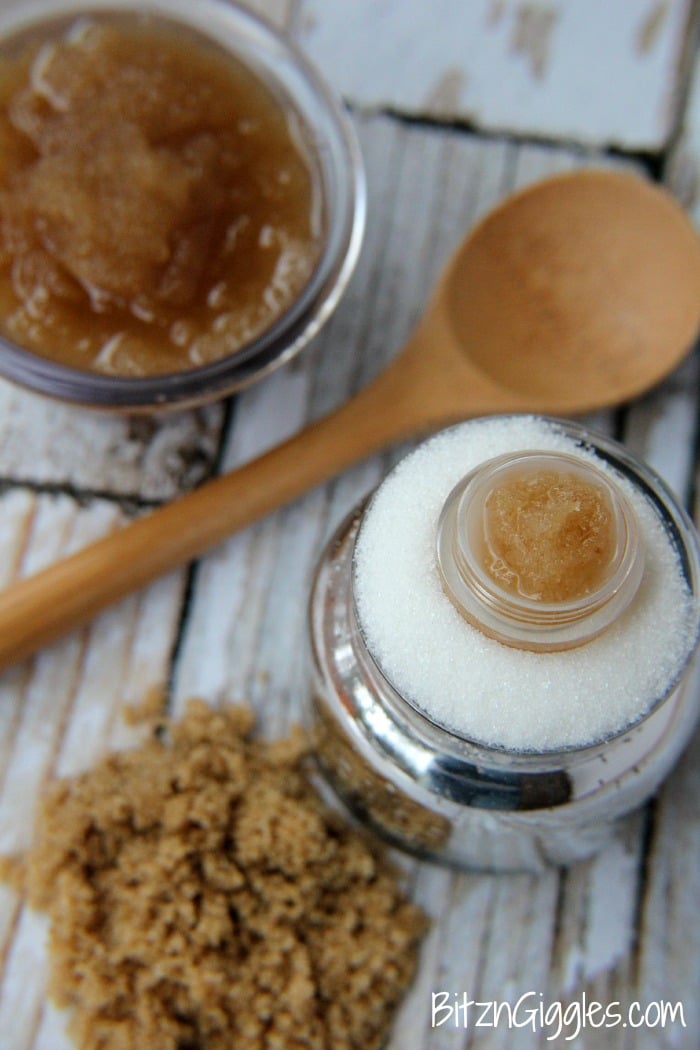 Run and get a bowl, gather up the ingredients and make some of this ASAP. You won't be sorry. It's super sweet, tastes divine and really does what it's intended to do. Did I mention it's much more affordable to make this stuff than buy it at the store. It is and the amount it makes could very well get you through the entire winter. Merry Christmas everyone! I hope you enjoy time spent with family and friends in the next week. What a special time of year!
(Visited 18,476 times, 1 visits today)