What's Holding You Back From Being More Productive ~ and 5 Ways to Stop it – Take back control of your time and get more done. Leave behind the stress and overwhelm for increased focus and happiness with these 5 tips!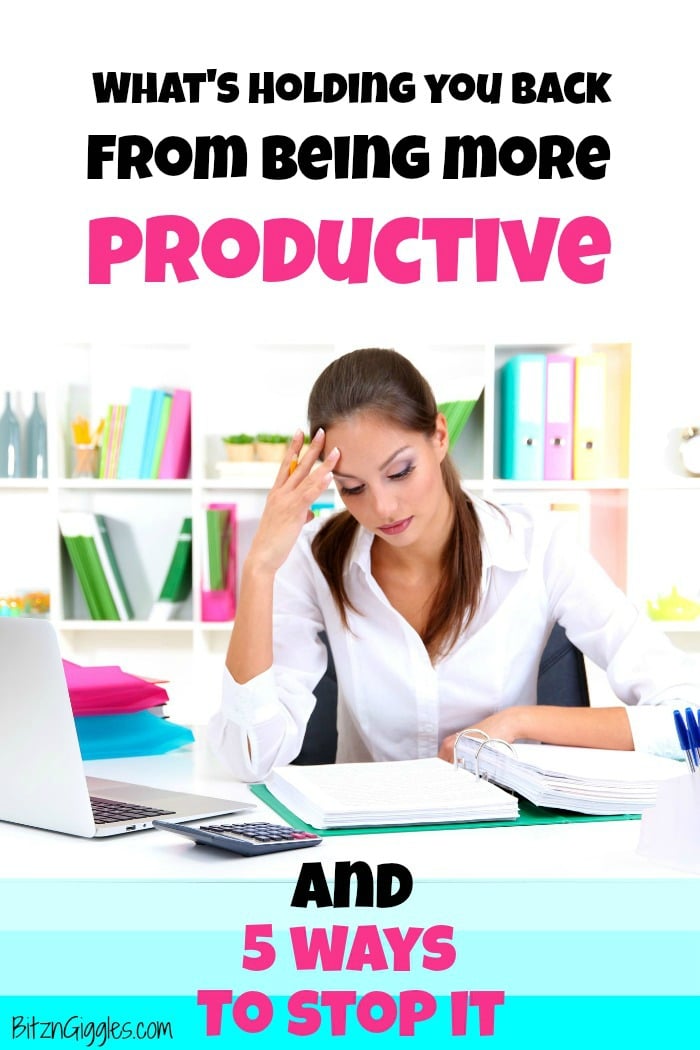 I'm sure you've heard the saying, "There are just not enough hours in a day." There are so many tasks and "to-dos" that we're trying to fit into our days. We find ourselves running here and there, making phone calls, checking emails, packing lunches, planning meals, doing laundry, and the list goes on. We're so exhausted by the end of the day just trying to "keep up."
And when we think about what we've accomplished, we often don't have much to show for all that "busyness."
What's really killing your productivity?
So, how is it that we can be busy all day but yet feel like we haven't been productive?
That's how I used to feel ALL the time until I realized that what I thought was a good thing and an amazing talent, was actually killing my productivity and making me feel completely overwhelmed. Can you guess what that was? It was multitasking. Multitasking used to be a word I used all the time in my corporate job. Even on my resume I made sure to point out that I was an expert multi-tasker.
Go ahead and check corporate job listings. Many times, you'll see companies still listing multitasking as a desirable trait in their job descriptions. The world seems to view multitasking as something positive. You're taking action and juggling tons of things. That has to be a good thing, right? Wrong. It's the worst thing you can do when you're trying to accomplish something. In fact, studies show that multitasking can reduce productivity by as much as 40%.
Don't believe me? Ask your brain. Studies show that your brain can only think about one thing at a time. We're not talking about breathing and digesting food here, we're talking about functions that take a conscious effort to do. When you're multitasking, you're transitioning between tasks, and the change in focus increases the amount of mistakes you make as well as the time it takes you to do things. And when you're changing focus so quickly, thoughts of what you had done previously start to muddy up the next thing you try and focus on.
For example, you're in the middle of writing an email when the phone rings. It's your mom and she wanted to let you know that some plans changed on her end and she won't be able to watch your kids next Friday when you and your spouse had plans to go out. When you hang up the phone and try to finish up the email, it's hard to concentrate because you're trying to think about who else might be available to watch the kids, so you can keep your dinner plans.
That one phone call cost you time and productivity. I'm not saying that you should stop taking phone calls from your mom. I'm also not saying to banish multitasking completely. I think at times it's necessary and somewhat inevitable. What I am saying is there are ways to try and avoid multitasking and better manage your time to help you feel less exhausted and overwhelmed and more calm, productive and focused.
5 ways to accomplish more each day

1. Don't check email first thing in the morning.
We all do it. Whether it's our personal email, work email. . .or both. We often allow email to dictate our day. It can suck us in, put us in a bad mood and even stress us out. Checking email in the morning can derail the entire day. You'll find yourself putting out fires, checking out shopping promotions and watching videos rather than making progress on your work. Dedicate specific times in the day to answer your emails and limit that time to 10-15 minutes. Around noon and 3:00 pm usually works well for me (sometimes I cheat and also check before bedtime to wake up to a cleaner inbox).
2. Theme and plan your day.
You'll accomplish more if you stay focused. So in regards to my blog, I theme my days – meaning one day I may go shopping for my supplies, the next day I may cook and take photos and the day after I spend editing and writing my blog post. You can read more about theming under #5 here. Don't forget to assign blocks of time to each task and remember to schedule in some breaks as well so you give yourself some time to recharge.
3. Give yourself less time to accomplish something.
Let's face it, when you don't set deadlines for yourself, you'll take forever to get something done. Set aside a block of time or give yourself a deadline for a task. If you give yourself a little less time than you think you'll need, you'll most likely surprise yourself and finish up right on time or maybe even a little early. We all tend to give ourselves more time than we really need to accomplish something. If we set tighter timelines and deadlines for our work, we'll actually have more time in our day to do things we enjoy even more, like spending time with family or going for a walk in the park.
4. Put away your phone, close out of messenger, etc.
Uggh. This is the worst productivity killer EVER and when we talk about multitasking, this is a biggie. We are constantly checking our phone for notifications, emails, alerts, you name it. It's completely distracting and makes us so unproductive. Let's be honest, how many times have you gotten sucked into Facebook or Instagram for hours at a time?
Even if you aren't staying on your phone for long durations, I bet if you'd added up all of the little checkpoints throughout the day you'd be shocked at the total amount of time spent on your phone everyday.Mute your phone, turn off the notifications and stop checking email when you need to be focused.
Better yet, place your phone in another room so it doesn't tempt you. Use it as a reward. If you finish up what you needed to focus on, give yourself 10-15 minutes to browse the Internet – but don't forget to set a timer or you'll find yourself back where you started. Busy but unproductive.
5. Don't be afraid to say no.
On top of everything we have on our own schedules, we often get asked for help by others. Maybe it's to join a committee, maybe it's to volunteer at a local charity, maybe it's to help a friend with their resume or watch their children while they run to the store.
Don't get me wrong. It's GOOD to help others, but when you really need to be focused and are intent on getting something done, just be honest with people and let them know that you'd like to help but you're in the middle of an important project that needs your focus. Maybe there's another way to help.
For example, if you're asked to volunteer at the local humane shelter, let them know that because of your current priorities you're not able to be there in person, but offer to donate some supplies or share some of their Facebook posts with your friends to spread the word on animals looking for forever homes. Get creative. There may be other ways to help.
Start small
So there you have it. It's time to turn off those distractions, schedule your day and set some deadlines. If this all sounds too overwhelming, start small. Put these tips into motion for a day and see what happens. The goal is to start feeling less overwhelmed and more in control. When you're focused, you'll accomplish more and have more time in your day for the things you truly love to do.
(Visited 2,793 times, 1 visits today)