Witch Cauldron Mug Cake – A chocolate mug cake made in a ceramic witch cauldron with halloween-themed frosting and sprinkles!
This post may include affiliate links. Please see my disclosure.
Double, double toil and trouble, fire burn and cauldron bubble! I have something so fun to share today! A Witch Cauldron MUG CAKE! These little treats only take 90 seconds to make in the microwave and they're a super fun activity for families to do together.
I got my inspiration for these mug cakes from these cupcakes made by A Pumpkin and a Princess. Aren't they super cute?
Let's get started on this Halloween-themed treat!
HOW TO MAKE A CAULDRON MUG CAKE
To make these spooky (well, kind of spooky) mug cakes, you'll need:
Flour
Baking powder
Sugar
Butter
Milk
Vanilla extract
Salt
Unsweetened cocoa powder
Chocolate chips
WHERE DO YOU GET CERAMIC WITCH CAULDRONS?
I got my 2.5″ ceramic cauldrons from Michaels. The most important thing you need to check and make sure is that they are microwave- and food-safe if you're going to use them to make mug cakes.
If the cauldrons are sold out (which often happens before the end of the Halloween season) you could just bypass the whole mug cake route and plop a decorated cupcake into a cauldron, instead. If you find yourself in this situation, these plastic cauldrons will suffice!
Alright, let's get to making these witch cauldron mug cakes!
Begin by mixing the flour, baking powder, sugar, butter, milk, vanilla, salt and cocoa powder in a bowl. I suppose you could try and mix it all right in the cauldron, but I wouldn't recommend it.
When you mix the ingredients in a bowl, there's less of an opportunity for any of the ingredients to get stuck to the bottom of the cauldron.
Pour HALF of the batter into the cauldron and top with a tablespoon of chocolate chips.
Top with the rest of the batter and one more tablespoon of chocolate chips.
Place the cauldron into the microwave for 90 seconds.
WILL THE MUG CAKE BUBBLE OVER?
I always put a piece of paper toweling under all of my mug cakes in the microwave – just in case.? But in my experience, in MY microwave, I have never had the cake bubble over.
The batter, however, will LOOK like it's going to bubble over. It will gain some height as it bakes but will then shrink a bit and "mushroom over" once you remove it from the microwave.
If the cake still has a bit too much height, just use the palm of your hand to flatten it a bit before it cools.
I never let mug cakes cool TOO long – they tend to dry out quickly.
As soon as they've cooled a bit, you can go ahead and put the frosting on and start decorating. I used these Halloween-themed sprinkle pouches from Michaels craft store. There were several different options to choose from.
If you'd rather order from Amazon, you can see they've also got quite the Halloween sprinkle collection.
I used both green and purple frosting. Why? Well, because I have two children. One likes the color green and the other likes purple.
They also just looked like fun Halloween colors so I snagged them from the baking aisle at the grocery store.
CAN YOU MAKE MUG CAKES AHEAD OF TIME?
I wouldn't. As I already mentioned, mug cakes tend to dry out quickly, so your best bet is to serve them while they are still warm (not hot, warm). Well, you could serve them hot if you're not frosting them.
CAN YOU USE OIL INSTEAD OF MELTED BUTTER IN THE MUG CAKE?
I wouldn't. Butter gives the cake a lighter and fluffier texture than oil. If you've ever had a mug cake that tasted "rubbery" it was most likely from using too much oil or just overcooking the cake itself.
WILL A MUG CAKE REALLY BE READY IN 90 SECONDS?
Well, for me it is, but always remember to use the time provided in this recipe as a guide.
Every microwave is different, so the first time you go to make this or any other mug cake, watch it while it bakes. You may need to experiment a bit to find the perfect bake time for your microwave oven.
Have some fun this Halloween and try out this spooktacular mug cake that's ready in just 90 seconds!
READY FOR MORE SPOOKY HALLOWEEN TREATS & DRINKS?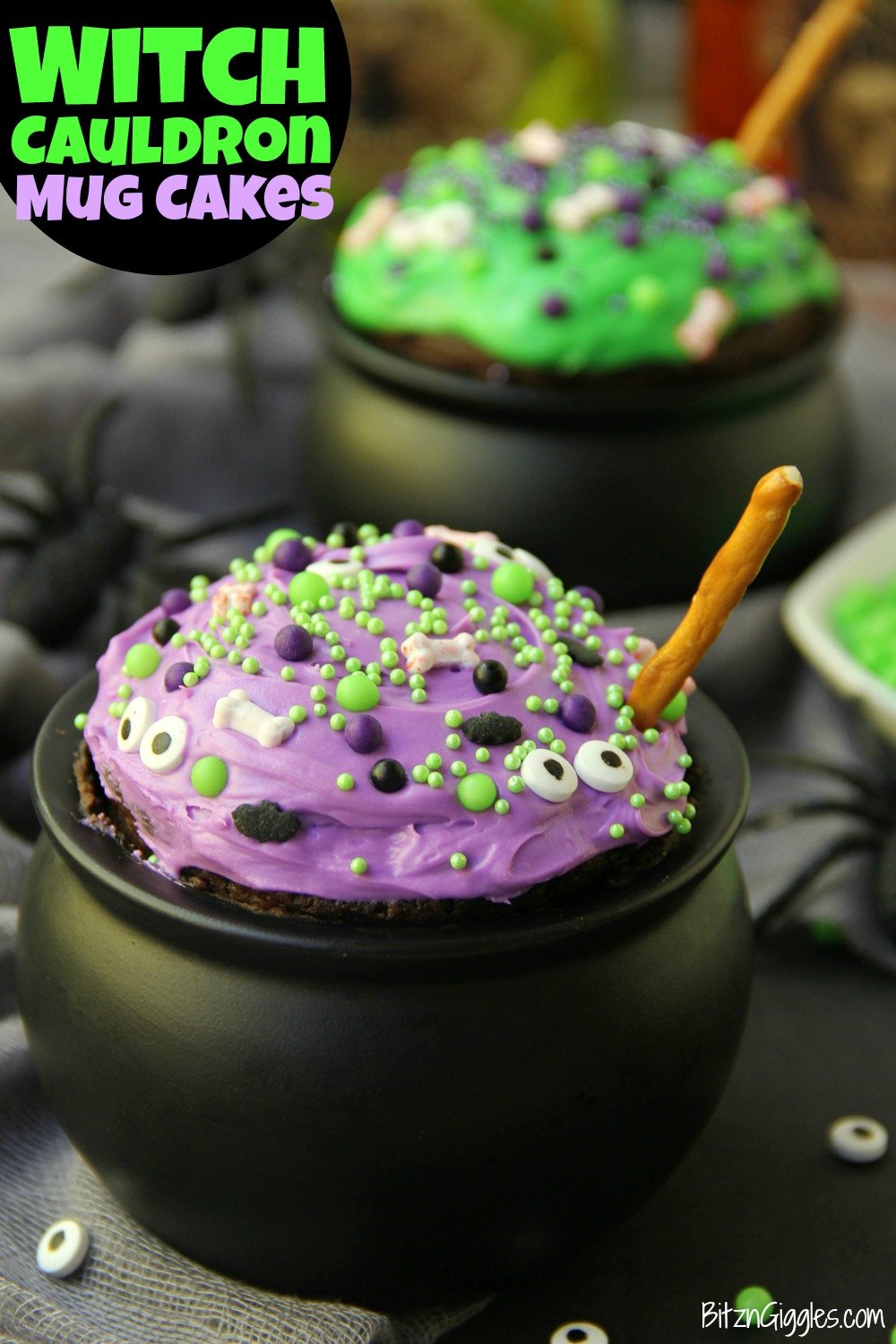 Witch Cauldron Mug Cake
A chocolate mug cake made in a ceramic witch cauldron with halloween-themed frosting and sprinkles!
Ingredients
4 Tablespoons flour
1/2 teaspoon baking powder
3 Tablespoons sugar
1 Tablespoon butter, melted
5 Tablespoons milk
1/2 teaspoon vanilla extract
Pinch of salt
1 heaping tablespoon unsweetened cocoa powder
2 tablespoons chocolate chips, divided
Store-bought frosting (I used Pillsbury Funfetti Bold Purple and a Wilton Green Decorating Icing Pouch)
Instructions
Mix all ingredients in a bowl.
Pour half of batter into greased ceramic cauldron.
Top with 1 tablespoon chocolate chips.
Pour remaining batter into cauldron.
Top with remaining chocolate chips.
Microwave on high for 90 seconds.
Set to cool for 10-15 minutes.
Frost and decorate.
(Visited 6,374 times, 1 visits today)