7 Summer Health Care Tips for Dogs – Great tips for keeping your dog healthy and active this summer!
If only summer could last forever, right? It's undoubtedly my favorite season of the year and it seems to fly by so quickly! However, we've had our share of "really" warm days this year and it sounds like we're in for more heat in the coming weeks.
Our English cream golden retriever, Belle, spends most of her time outside in the summer, exploring the backyard, sprawling out on the grass and swimming in the lake on weekends up at our cabin. If you have a dog, I'm sure you can relate to their desire to be outside as much as possible in the summer. Pups love the sun as much as we do, however, as dog owners there are some important things we need to be aware of when it comes to keeping our furry family members safe, happy and healthy in the summer.
So that's why today I'm sharing 7 summer health care tips for dogs you'll want to take note of to ensure your pup stays healthy this season and well beyond.
1) Keep your pet cool.
The best times for your dog to be outdoors on hot summer days are in the morning and evening when the sun is less intense. Dogs cool from the bottom up, so lay a cool, wet towel outside in the shade for her to lounge on, or use a spray bottle filled with cool water to spritz her paws and tummy.
2) Groom, but never shave your dog.
Have you ever given your dog a close "shave" in the summer rather than just a trim to help keep her cool? If yes, you're doing more harm than good. 🙁 By shaving the fur, you're exposing their skin to the sun – and believe it or not, it can lead to sunburn. Your best bet is to leave at least an inch of fur on your dog at all times to protect your pet from the sun's harmful rays.
3) Leave your pet at home on hot days.
Our dogs want to be with us. . .all the time. I get it. But cars can be deadly to animals in the summer – even when parked in the shade. There's a risk of dehydration as well as heat stroke when you leave animals in a parked car. If a car trip is necessary, make sure to keep the A/C running and provide plenty of fresh water.
4) Protect against pests.
The warmth of summer brings out pesky parasites like ticks, mosquitoes, flies and fleas. I can't stress how important it is to protect your pet. Your veterinarian knows best, so talk to them about appropriate protection for your dog. There are so many options now available from oral medications and collars, to shampoos and sprays.
5) Give plenty of exercise.
I know we've talked about keeping our dogs cool and leaving them home on hot days, but it's important to remember that exercising your dog is still very important. Did you know that swimming is one of the best forms of exercise you can give your dog? Not only do they get exercise, but they keep cool while doing it! Belle loves to spend her days up at the lake swimming and exploring in the water. And so do I!
Our challenge this summer was to get out and play in the lake together! Often I would kayak and she would swim beside me or we would just splash and swim around in the water together.
Check out my Instagram to see Belle's swimming skills in action!
Don't have a pool or body of water near you? Then just build in some "water time" after a morning or evening walk by filling a kiddie pool and allowing them to play and splash around in it.
6) Always have lots of fresh, clean water available.
Even if you take your dog swimming, take some fresh, clean water along – especially if your dog has been swimming in a pool with chlorine in it. The chemicals can irritate the skin or give your dog a tummy ache if ingested. Your pup should always have access to clean water in order to stay well-hydrated.
Note: Make sure to shower off your dog if he's been swimming in a pool to remove any leftover chemicals from the chlorine.
7) Feed them a quality dog food.
And finally. . .we all want what's best for our dogs, right? When it comes to choosing what to feed them, I'm pretty picky.
Because I knew the summer was just around the corner and Belle would be needing and expending more energy, I thought an adjustment to her diet might be in order, so I started transitioning her to an IAMS™ diet.
I made sure the transition was slow and gradual. I wasn't quite sure what to expect, but it didn't take long before I started seeing visible differences in her. Her coat looked shinier and she certainly had more energy than she had during the winter months. She pushed me to get myself into shape so I could keep up with her during our swimming challenges!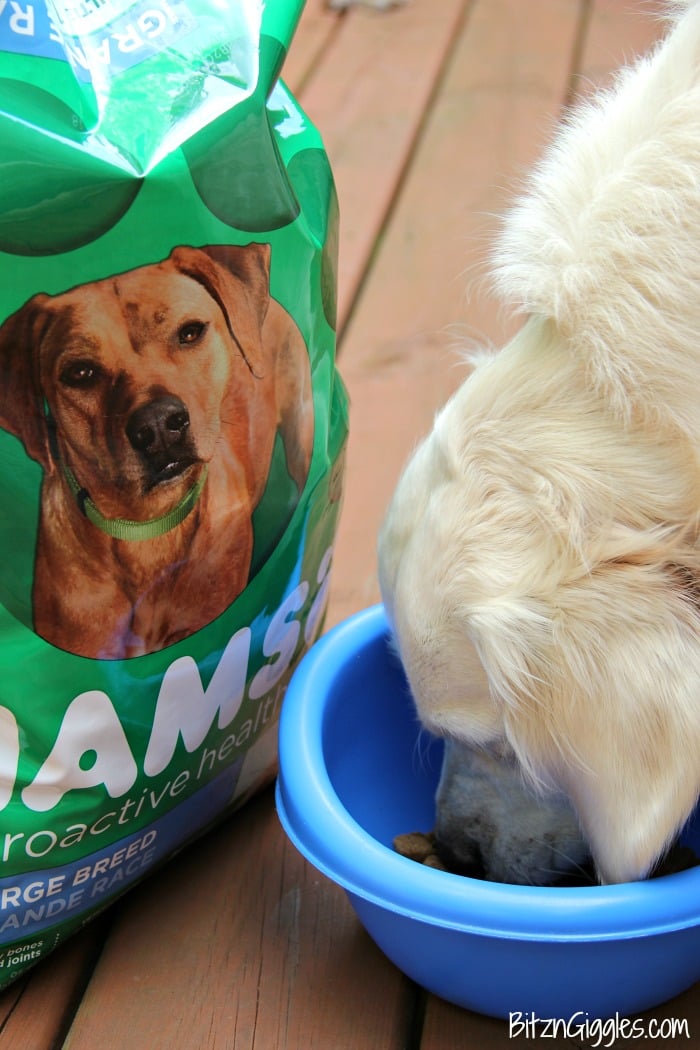 With IAMS™ you're going to see three identifiable visible differences in your dog including:
Healthy skin & coat: A dog's skin and coat are essential in preventing things (like water and heat) from leaving or other things (like viruses and bacteria) from entering their body.
IAMs includes Omega 6 & 3 fatty acids which gives a dog's skin and coat the nutrients it needs to do its job.
Healthy digestion: Dogs need fiber in their diets just like we do! A healthy digestive system allows nutrients to be absorbed into dog's body.
IAMs contains a fiber blend that includes beet pulp (a natural source of fiber) and a prebiotic that promotes the development of beneficial bacteria in your dog's digestive system. 
Healthy energy: Dogs require the right balance of carbohydrates to keep up with. . .well. . .life.
IAMs provides a customized carbohydrate blend – from ingredients like sorghum, barley and corn– that will contribute to sustained energy.
So, there you have it! I hope you found these summer health care tips helpful. I mean, just look at that face. She's one happy, healthy and active pooch!
IAMS™ is so confident that you'll see a visible difference in your dog when you choose IAMS™ dog food that they offer a money back guarantee. Yep, you heard me right. It's definitely worth a shot if you're looking to transition your dog to a different diet.
For more information on IAMS™ products for dogs of all sizes and ages and to learn about the Visible Difference Guarantee, visit Iams.com/VisibleDifference.
I was selected for this opportunity as a member of Clever Girls and the content and opinions expressed here are all my own.
(Visited 1,038 times, 1 visits today)