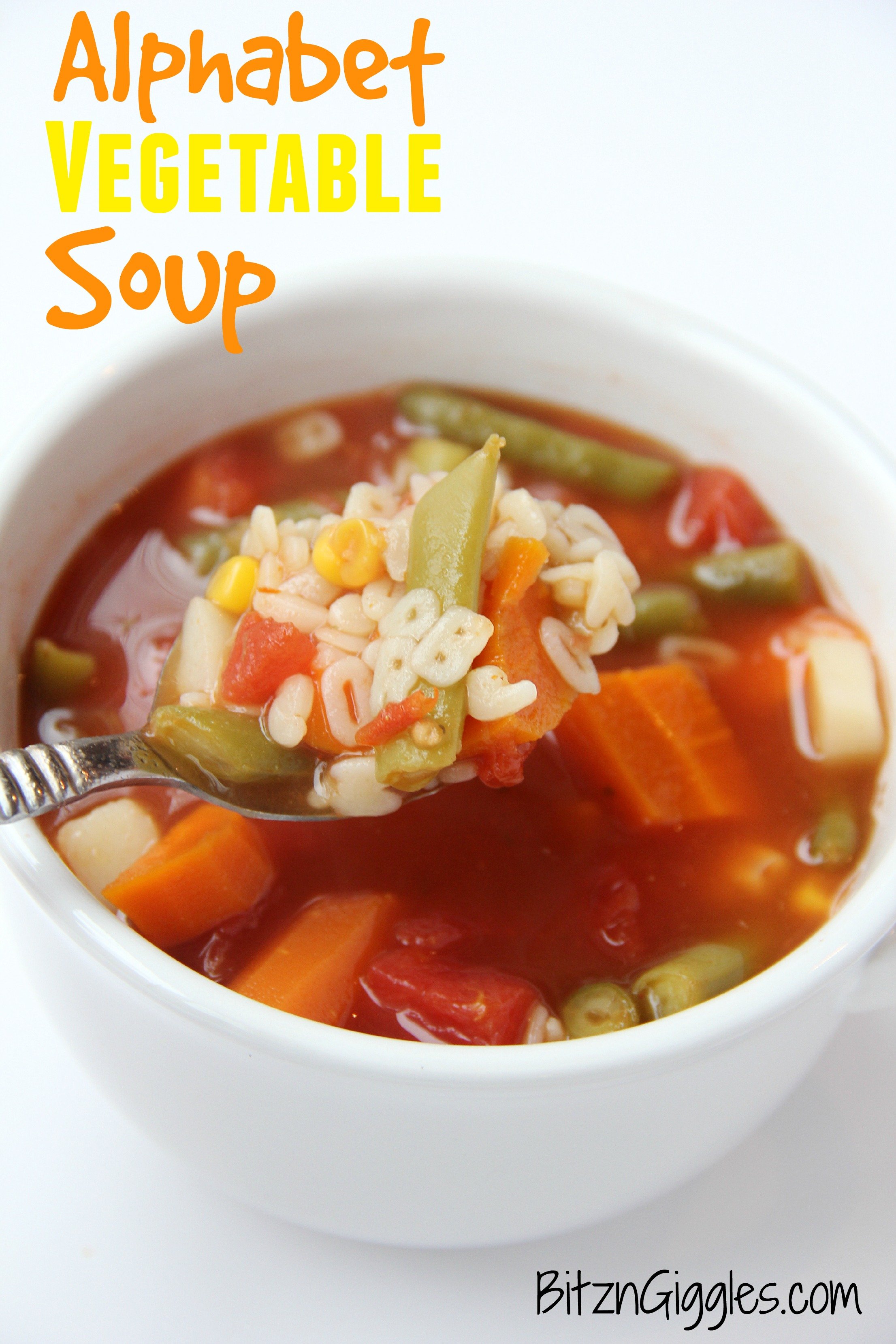 So, you'll never believe what we woke up to yesterday morning. SNOW. I know, I know. I live in Wisconsin so I should expect this, right? Right. Am I ready for it? No. No, I am not. Don't get me wrong, it's beautiful and all, but I know this is just the beginning. We're actually under a winter storm warning for the next two days, so I guess we'll see how this all plays out. Thank goodness we got our patio set covered and everything winterized before this last weekend or we'd be in trouble.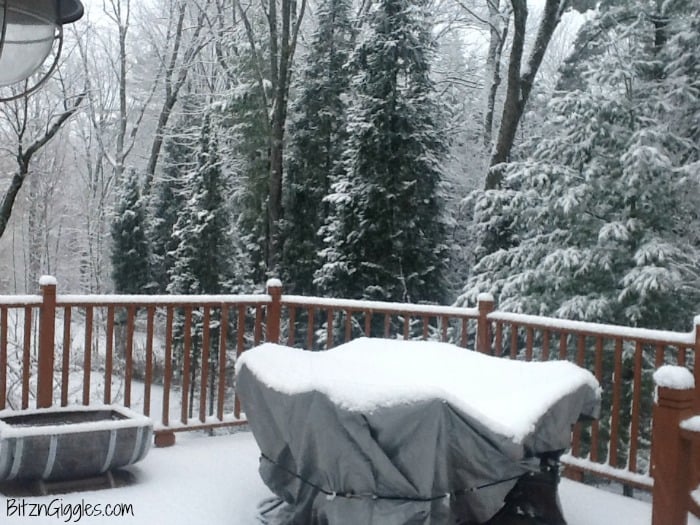 So, because the snow is officially here now and I'm starting to wear socks to bed again, I thought a soup recipe was in order. Alphabet Vegetable Soup, in fact. This is a wonderful soup to throw together when you don't have a lot of time. Most of the vegetables I use in this recipe are canned, except for the carrots. Please don't shudder.
You can use fresh vegetables if you like. I just think in this vegetable soup the canned vegetables just taste better. Throw in some alphabet noodles and you won't be able to keep the kids away from it! True story.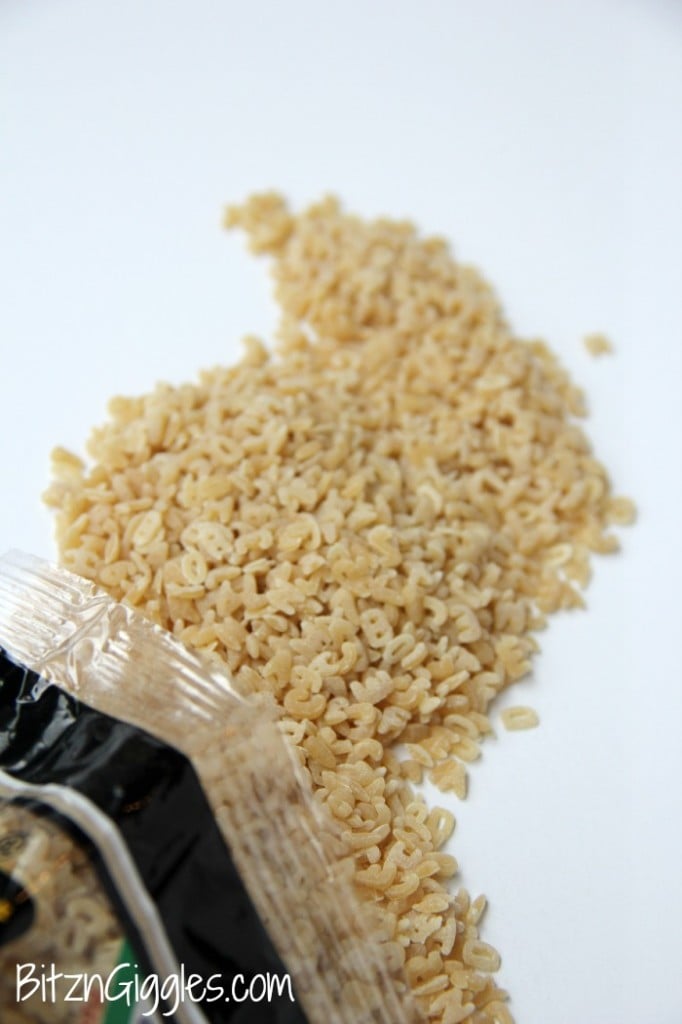 Did you know that alphabet noodles are really difficult to find? And once you find them, they still aren't good enough – they're way too small. If anyone finds alphabet noodles that you don't need to use a magnifying glass to see, please let me know. Until then, this is what I found. If you're really desperate, I know they sell them on Amazon.com.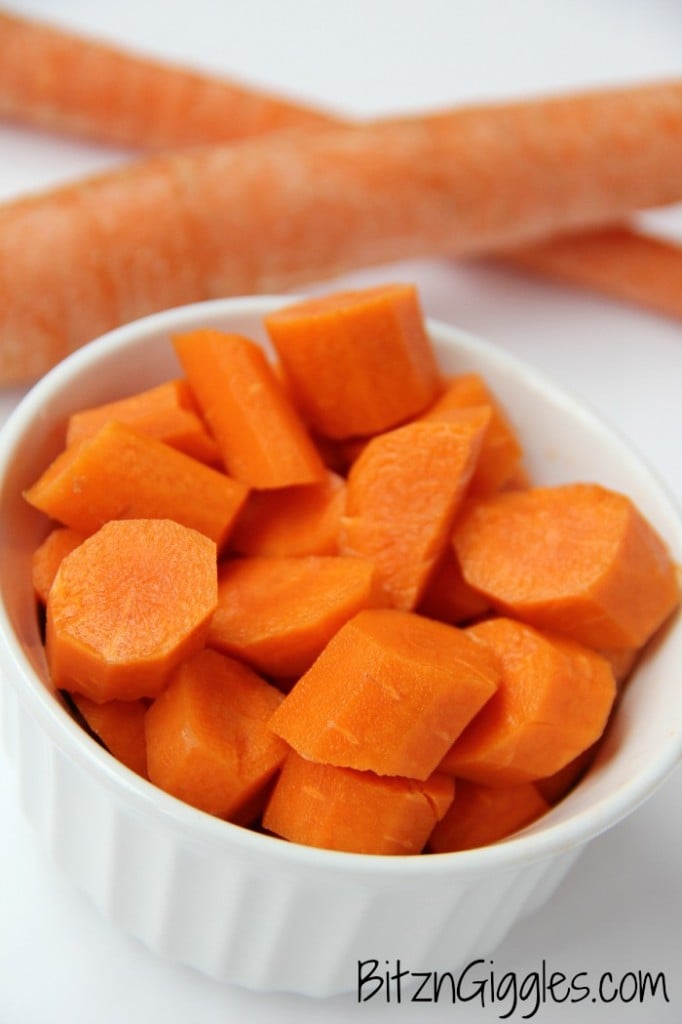 Because I knew some of you may give me trouble about using the canned vegetables, I made sure to take a picture of the beautiful, fresh carrots I included in my soup. Yum! I added three whole carrots to the soup because I LOVE cooked carrots, especially in soup.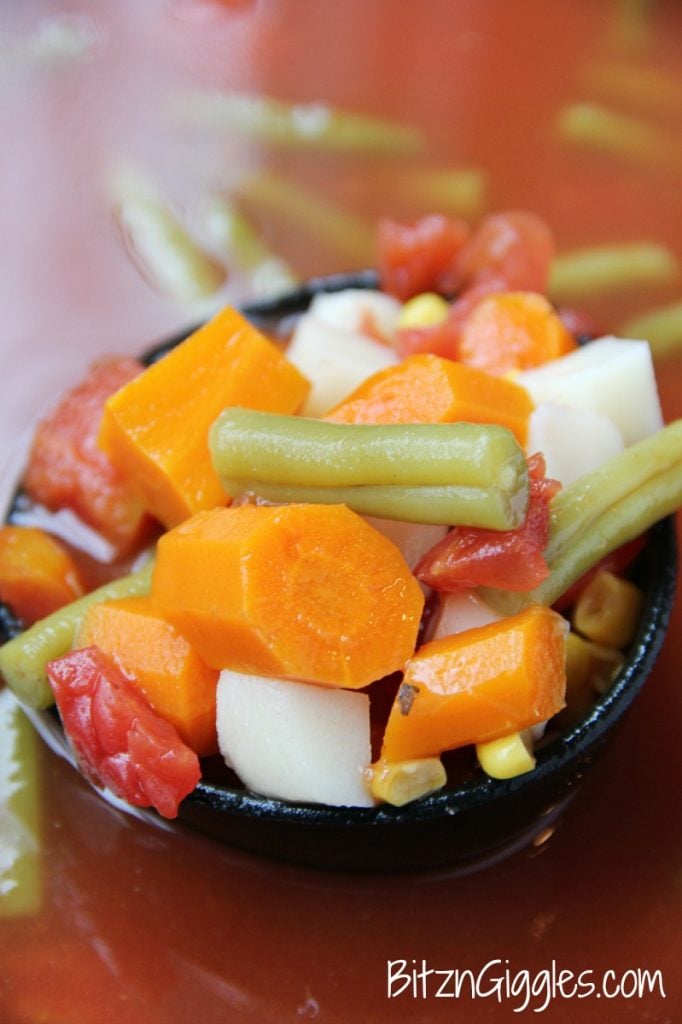 When all is said and done, you really will forgive me about this whole canned veggie thing. How many of you look for quick and easy meals during the week? I thought so. Just hear me out. Take a look at all of the veggie goodness in that ladle! Potatoes, corn, beans, tomatoes and carrots, oh my!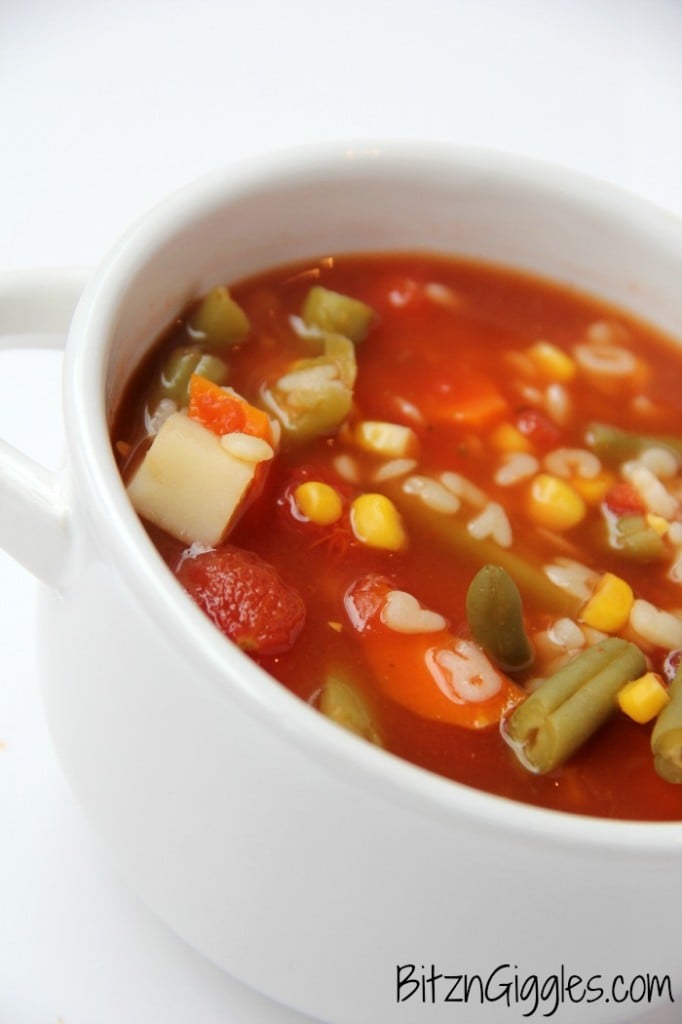 Add in the alphabet pasta and you have. . .well, a bowl of fun. . .if you could only read the letters. LOL Okay, so I can read the letters. I just think they need to make them bigger. Who's with me, here?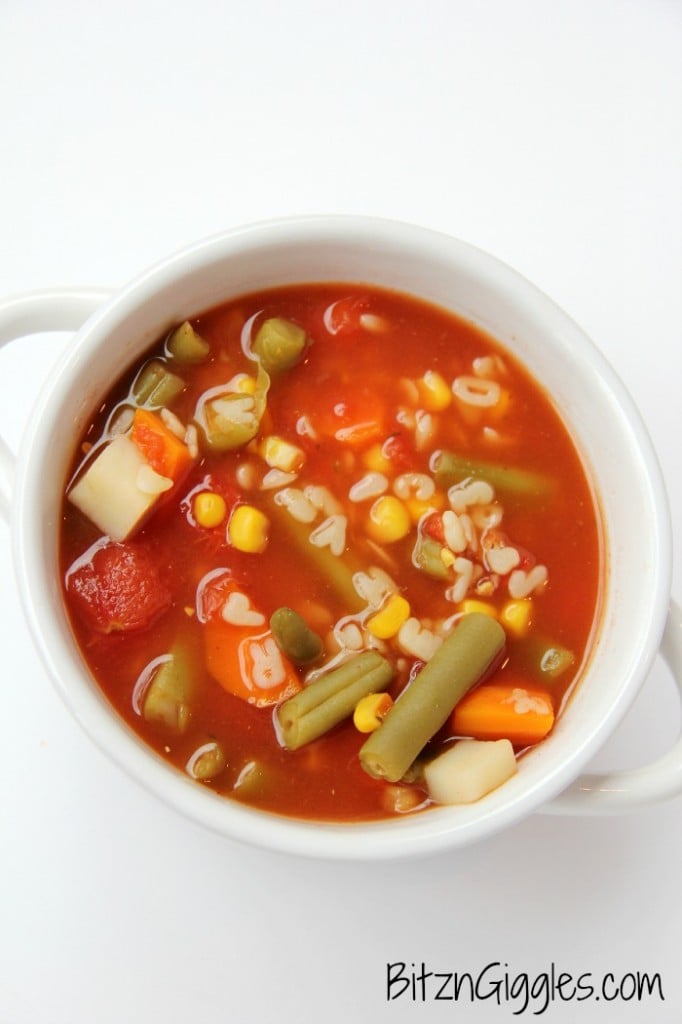 If you can't find alphabet noodles, any kind of noodles will do. And if you're just having one of those days, there's no need to add any noodles at all. At that point, it turns into delicious vegetable soup. It may not be AS fun, but it's definitely still tasty! Grab a spoon and join me. . .oh, and please send some sunshine my way. Brrrrrr. . .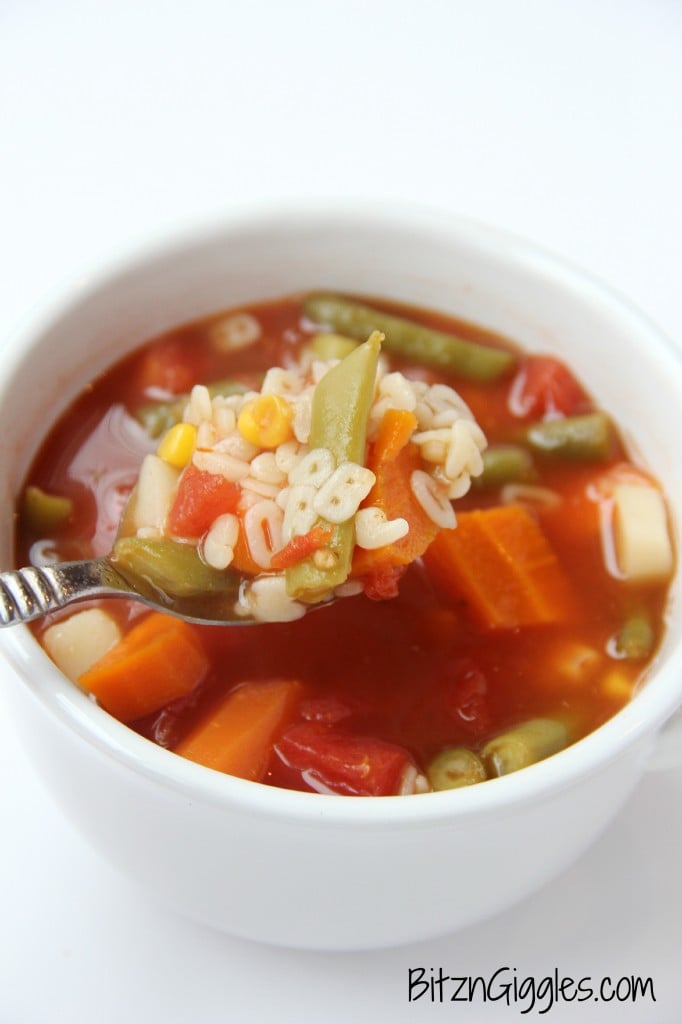 Alphabet Vegetable Soup
A delicious tomato-based soup filled with veggies and alphabet pasta. SO quick and easy to make!
Ingredients
32 ounces vegetable broth
(2) 11.5 oz cans low sodium or original V8 vegetable juice
Can of diced potatoes, drained
2–3 carrots, peeled and chopped
14.5 ounce can diced tomatoes
Can of green beans, drained
Can of sweet corn, drained
2 tablespoons Old Bay seasoning
2 cups alphabet pasta, cooked
Instructions
In a medium-size saucepan, bring about 2 cups of water to a boil and add carrots.
Turn heat down to medium-low and allow to cook for 15-20 minutes or until tender. Drain and set aside.
In a large stockpot, add the vegetable broth, V8, diced potatoes, diced tomatoes, green beans, corn, pasta, carrots and Old Bay seasoning.
Bring the soup to a boil and then allow to simmer for 30-40 minutes.
Notes
If you don't have the alphabet pasta, you can substitute any type of noodle for the soup. It's even delicious without any pasta at all!
Nutrition
Serving Size: 6
Calories: 170
Sugar: 6
Sodium: 937
Fat: 1
Saturated Fat: 0
Unsaturated Fat: 1
Trans Fat: 0
Carbohydrates: 35
Protein: 6
Cholesterol: 0
(Visited 3,135 times, 1 visits today)