Balsamic Glazed Halibut – A flavorful brown sugar and balsamic glaze coats this light and flaky fish.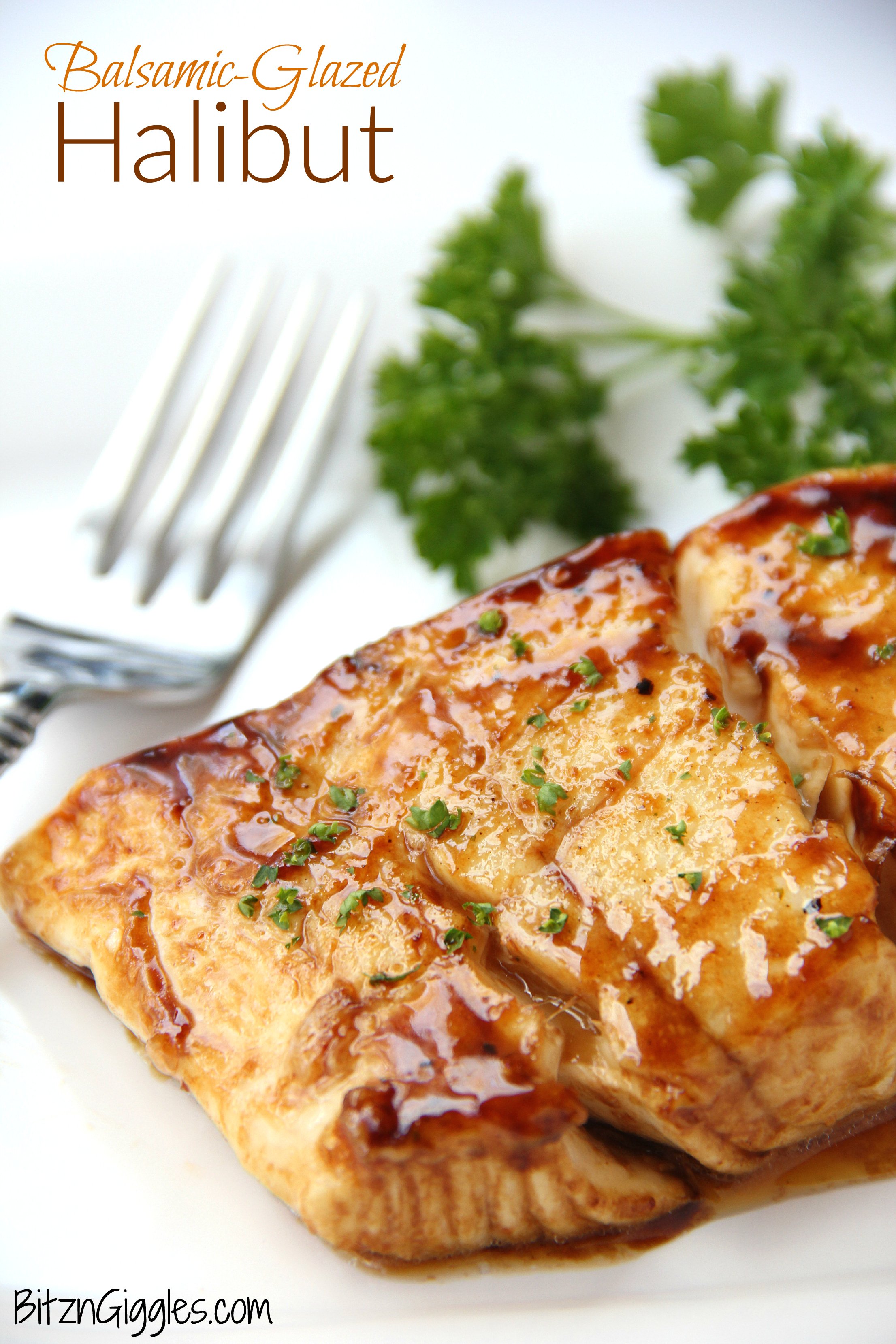 This post is sponsored by alli®.  All thoughts and opinions are my own.
A new meat market opened in town a while ago.  For months, I would just drive past – smiling and waving at their mascot standing alongside the road. You guys, this kid was dressed in a full-fledged hot dog suit with ketchup and mustard in the bun. Talk about a good awareness campaign. I was aware. Everyone in the local area was aware. I think it really could have been that hot dog that inspired me enough to pull in one day.  I finally ventured inside, and to my surprise, they not only had a full meat counter, but a full fresh seafood counter, too. . .and that's how this Balsamic-Glazed Halibut came to be.
If you've never tried halibut before, it's a firm, meaty white fish with mild flavor and texture. Kind of similar to cod, kind of. I will admit, it's a bit of a splurge, dollar-wise, but if it's fresh, it's completely worth it.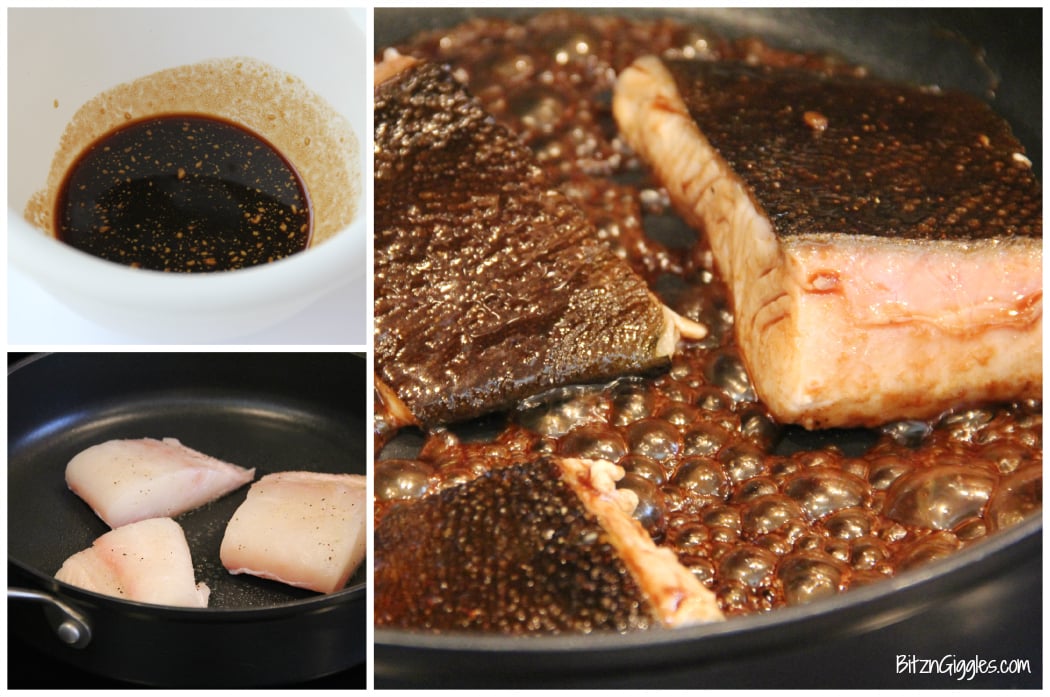 This particular recipe comes together in just minutes flat – I promise. The most difficult part of the recipe is mixing the balsamic glaze and when in a pinch, I'd probably trust my 6-year-old to prepare it. The glaze is literally 3 ingredients: balsamic vinegar, brown sugar and Dijon mustard. That's IT – and it's incredible.
Halibut, as I said before, is a firm fish. It's great for skewering and grilling – so versatile. All you need for this recipe, however, is a skillet. You're going put the fish into the pan skin down and let it cook for about 4 minutes. Then, flip the fish over and pour or brush on the balsamic glaze. BUT, before you do. . .make a decision about the skin. Do you want to keep it on or take it off? If it's the latter, here's where you can peel the skin off. I prefer my halibut without the skin, so I usually remove it before putting on the glaze.
Once the glaze is on you allow the fish to continue to cook in the pan about 4-5 more minutes. The glaze will start to thicken and caramelize. I like to move the halibut around a bit in the pan and get all of the pieces really glazed up. SO GOOD!!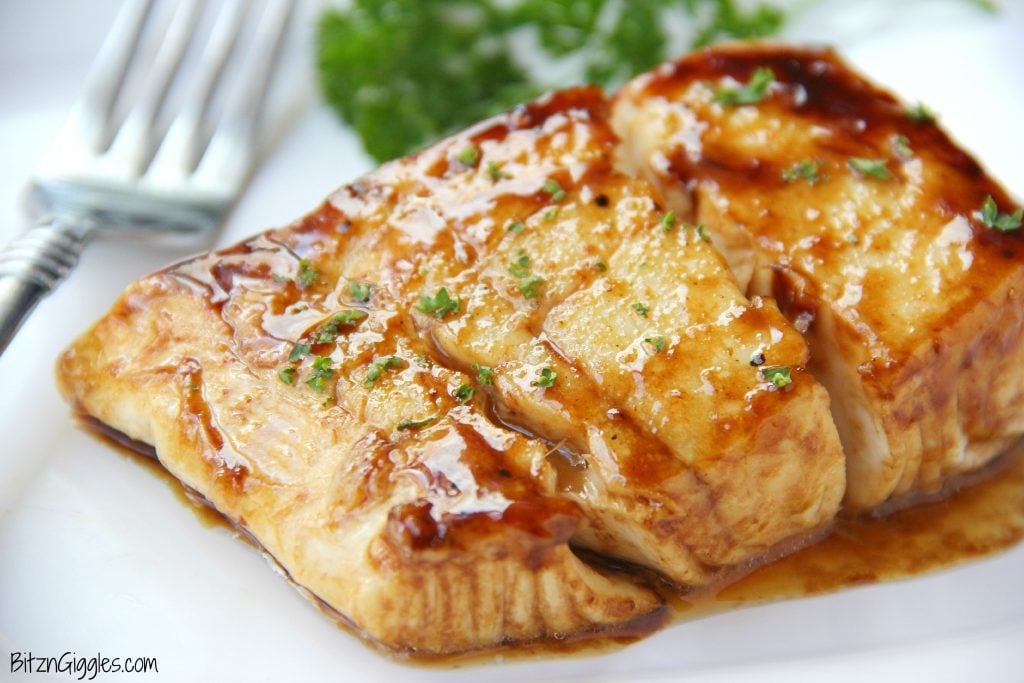 Just look at that glaze! It just adds so much flavor to the fish. Whenever I'm looking for something fresh and light, I turn to seafood. If you're a seafood lover too, you're going to love this orange roughy – and this brown sugar salmon. How about Poor Man's Lobster or broiled lobster tails for those special occasions when it makes sense to splurge a little?
I'm literally salivating just talking about all of this delicious seafood! You just can't go wrong with this Balsamic-Glazed Halibut. I know you're going to love it as much as I do! For more great recipes, check out myalli.com/recipes-for-you!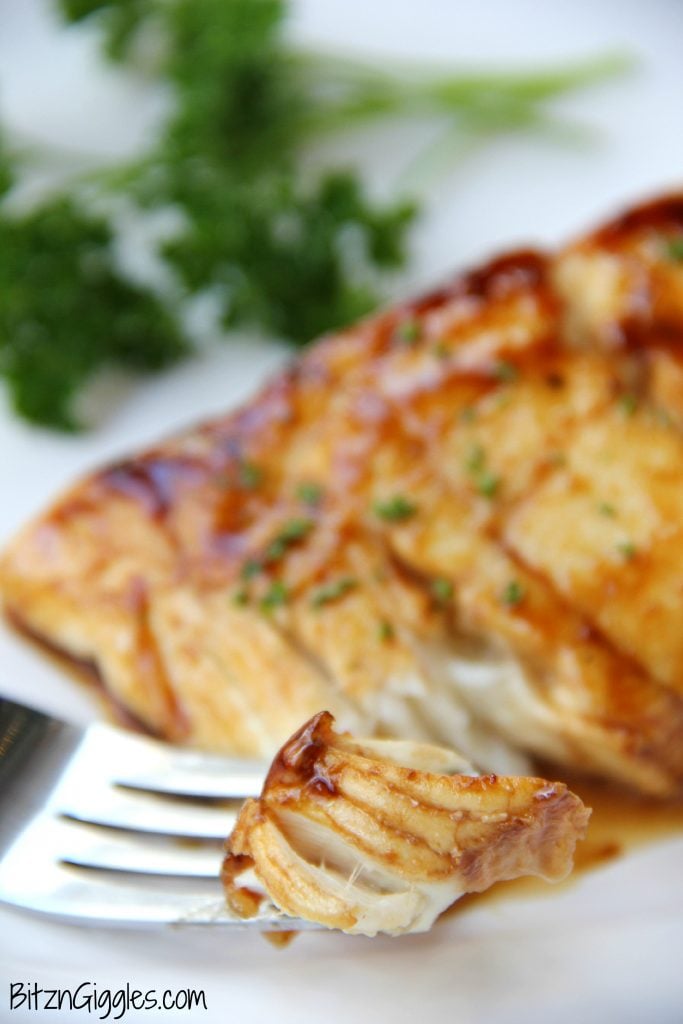 Balsamic-Glazed Halibut
A flavorful brown sugar and balsamic glaze coats this light and flaky fish.
Prep Time: 10 mins
Cook Time: 10 mins
Total Time: 20 minutes
Ingredients
2 tablespoons balsamic vinegar
1 teaspoon brown sugar, packed
1 teaspoon Dijon mustard
12 ounces halibut
.12 teaspoon black pepper
Instructions
In a bowl, mix together vinegar, brown sugar and mustard.
Rinse fish and pat dry with paper towels.
Lightly spray fish with cooking spray, then sprinkle with black pepper.
Heat a large non-stick skillet lightly coated with cooking spray over medium-high heat.
Add fish and cook until browned on the bottom, about 4 minutes.
Turn pieces over. Spoon vinegar mixture over browned sides.
Reduce heat and cook until fish is opaque but still moist in the center, about 4 to 5 minutes longer. Serve immediately.
Notes
Nutrition facts are estimates only.
Nutrition
Serving Size: 2
Calories: 360
Sugar: 4.4g
Sodium: 184.2
Fat: 25.4g
Saturated Fat: 4.4g
Unsaturated Fat: 2g
Carbohydrates: 4.7g
Protein: 26.4g
(Visited 67,041 times, 1 visits today)