Brussel Sprout Casserole – Tender, cheesy brussels sprouts topped with a crunchy parmesan cornflake crust!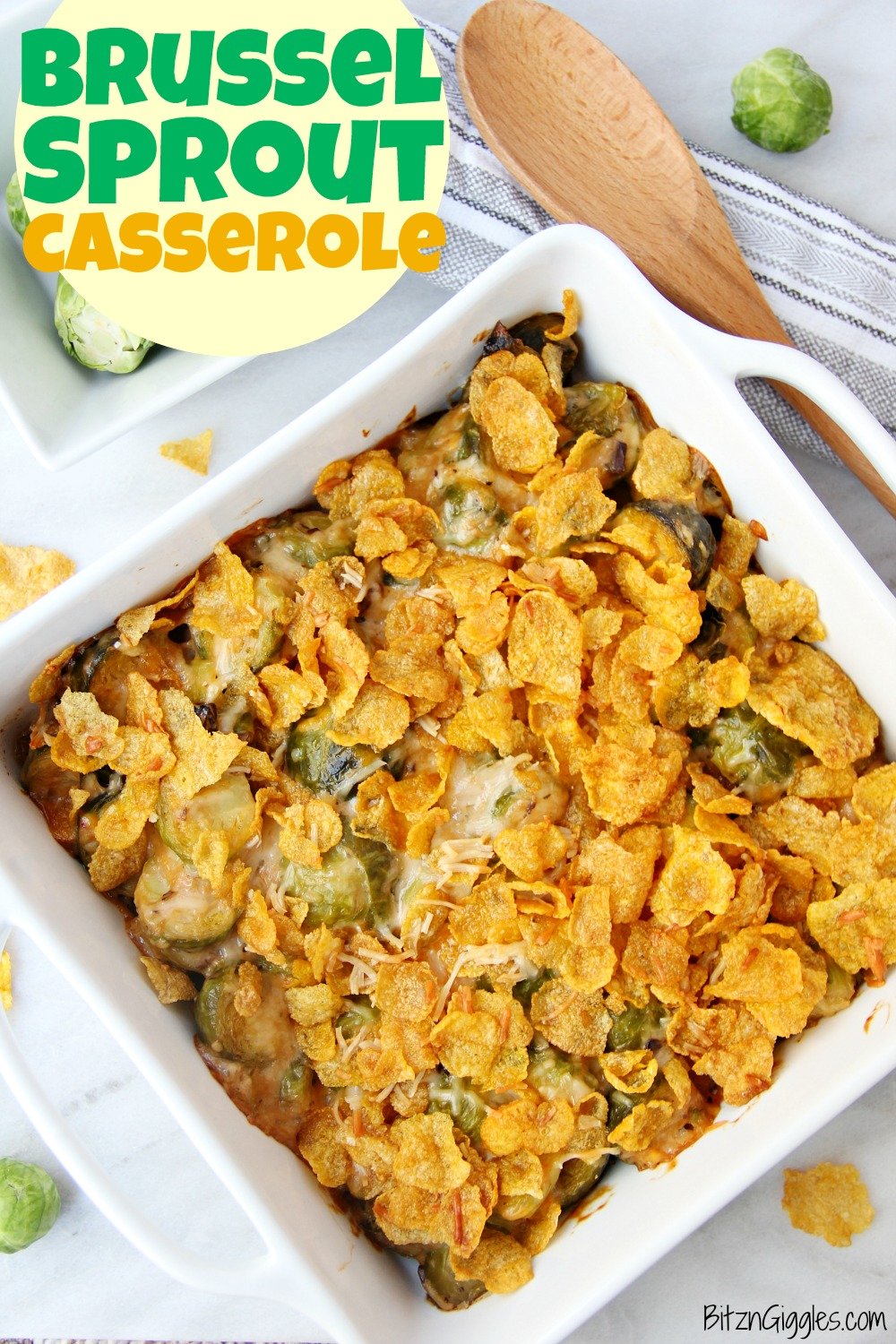 This post may include affiliate links. Please see my disclosure.
Another Thanksgiving has come and gone, and here we are, preparing for Christmas. For Thanksgiving, I was assigned to bring the hot vegetables. Guess what I've been assigned to bring for Christmas? Yep, you guessed it. HOT VEGETABLES.
Either no one else likes making vegetables or the family assigns them to me because they enjoy my vegetable dishes. I'm sincerely hoping it's the latter.
The recipe I'm sharing today came from my Cousin Sue. Sue has some of the best recipes. Many of them have been passed down to her from family members or dear friends. Her husband, Bob, has been the true test to the casserole I'm sharing today. He's not a big Brussels sprouts fan, but when Sue prepares this casserole, I believe he's been known to have seconds and maybe thirds. ?
One more thing before we get into the recipe instructions. You'll see different variations of the spelling of Brussels throughout my post today. Why is that? Well, it's because Brussels sprouts (which is the correct spelling) is very often misspelled.
People tend to drop the "s" in Brussels when doing Google searches. The incorrect spelling is actually more popular than the correct spelling.
So, if you're one of those folks that don't like using the "s," but made it here to the recipe. . .congratulations, we're happy to have you!
Let's get cooking!
HOW TO MAKE BRUSSELS SPROUT CASSEROLE
To make Brussels sprout casserole, you'll need:
Fresh Brussels sprouts
Parmesan cheese
Cheddar cheese
Salt & pepper
Cornflakes
Butter
When you have all of your ingredients together, you're going to start out by cleaning the sprouts.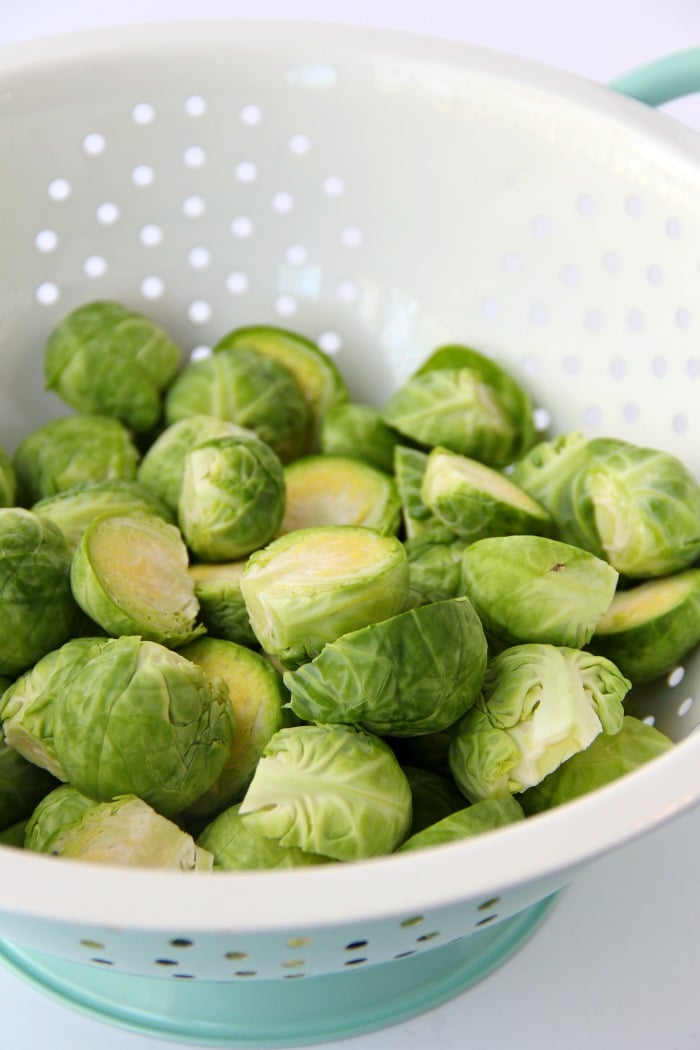 HOW DO I CLEAN BRUSSELS SPROUTS?
Trim off the woody end of the Brussels sprouts core.
Remove the outer layer of leaves.
Slice the sprouts in half lengthwise.
Rinse well with water.
There are a few vegetables I like to sauté, boil or steam before adding to soups and casseroles. Carrots, celery and Brussels sprouts top the list.
So, when it comes to adding Brussels sprouts to this casserole I make sure to soften them up a bit before I throw them into the casserole.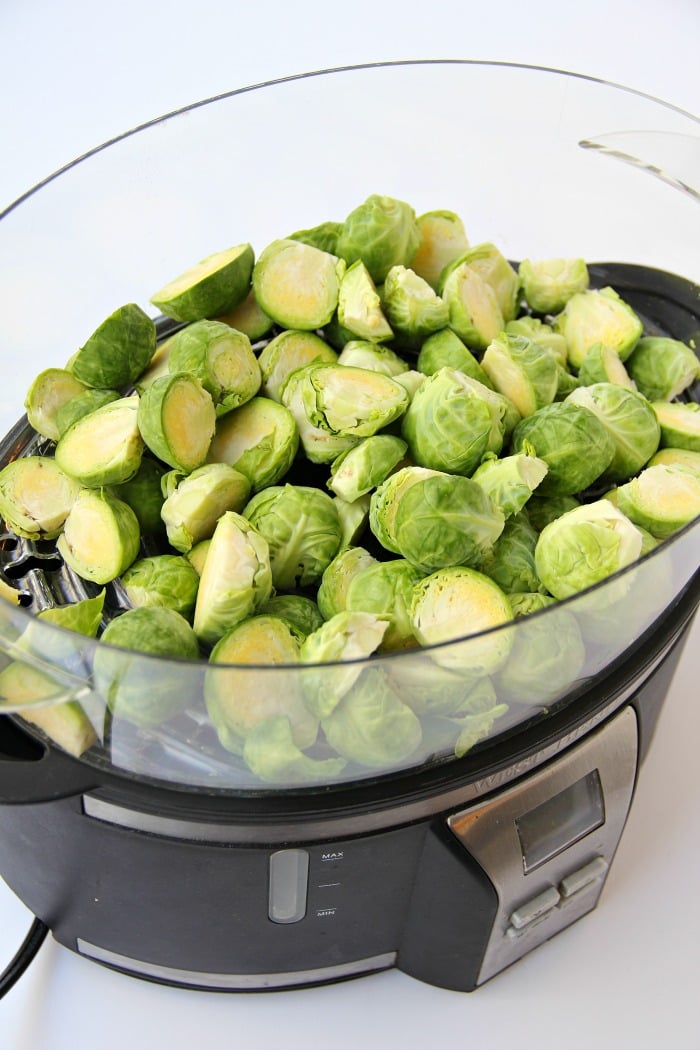 WHAT ARE THE BEST WAYS TO SOFTEN BRUSSELS SPROUTS?
I would either boil or steam the Brussels sprouts before adding to the casserole.
To boil the Brussels sprouts, place them in boiling water for 8-10 minutes. To steam (which is my preferred method), it takes 15-17 minutes.
Remember you don't want to fully cook them, you just want to soften them. Overcooking can make them taste bitter.
Once the Brussels sprouts are softened, grab a large bowl and mix the Brussels sprouts, soup and Parmesan and cheddar cheese.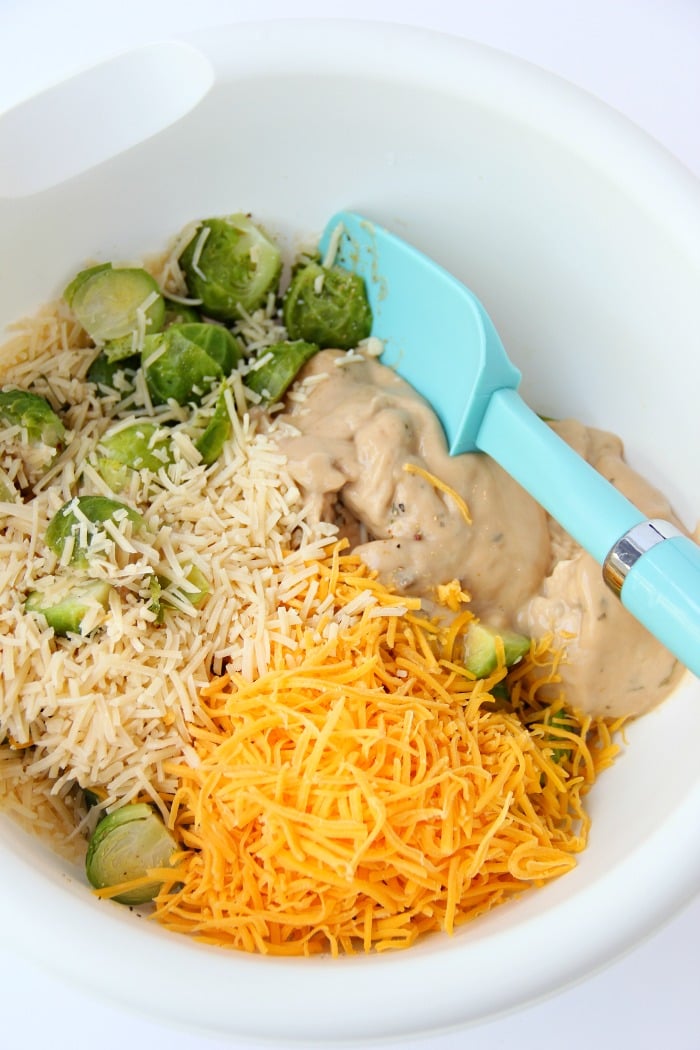 Transfer all of the ingredients into a 1.5 quart baking dish.
Just a quick note about the cheese. . .because the Brussels sprouts will still be warm when you mix all of the ingredients together, some of the cheese may start melting on the sprouts. It's okay. No need to panic.?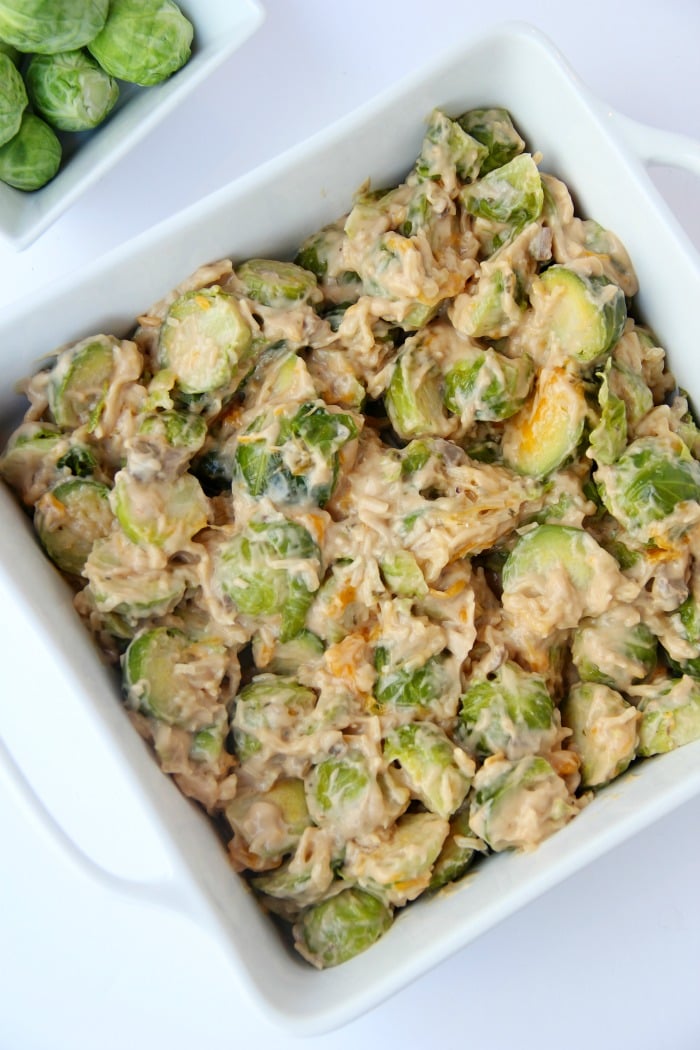 Sprinkle a little salt and pepper on top of the casserole and set aside while you make the topping.
Mix the cornflakes, butter and Parmesan cheese.
Note: If you'd rather not use whole cornflakes, you can use cornflake crumbs instead. I just like the extra crunch whole cornflakes provide.
Top the casserole with the cornflake mixture and bake for 40-45 minutes at 350º Fahrenheit. The casserole will be bubbly, the cornflakes will be browned and the Brussels sprouts will be cooked perfectly.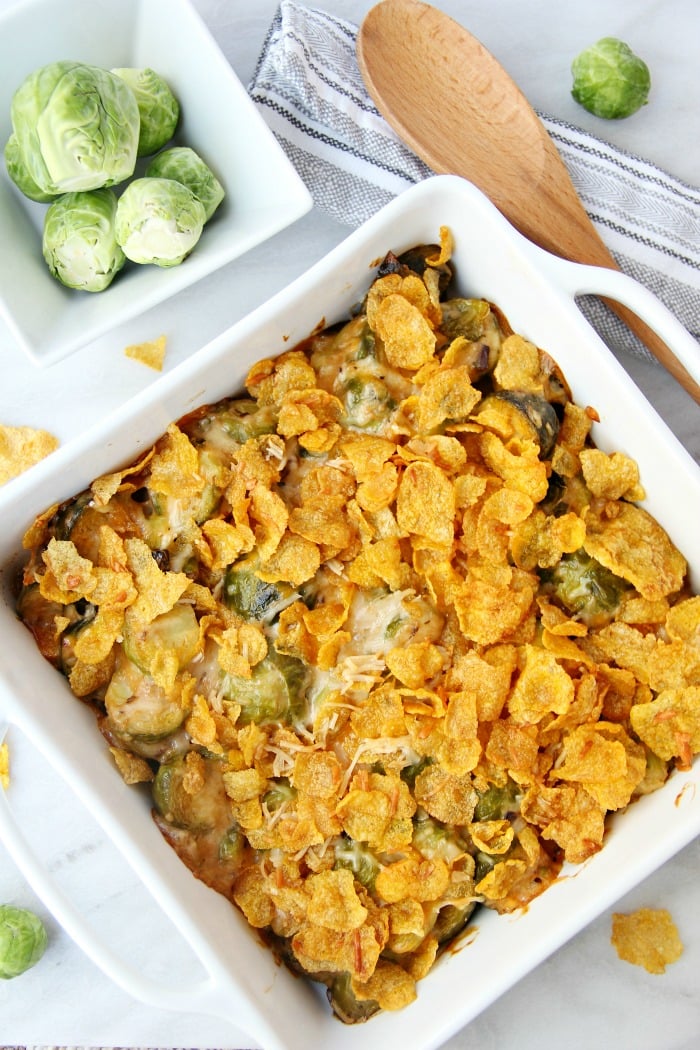 I love the creaminess of this casserole with the addition of the crunchy cornflakes on top. It's such a delicious way to prepare Brussels sprouts.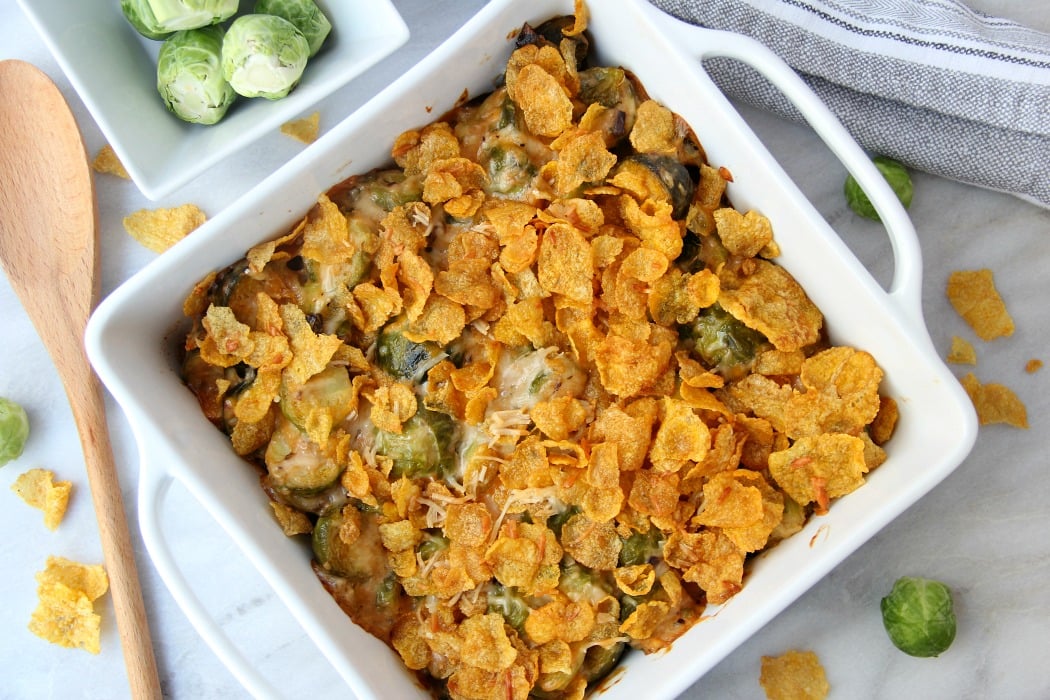 Family and friends will love this dish, I promise. They'll be asking for seconds. . .even the ones that really don't care for Brussels sprouts.?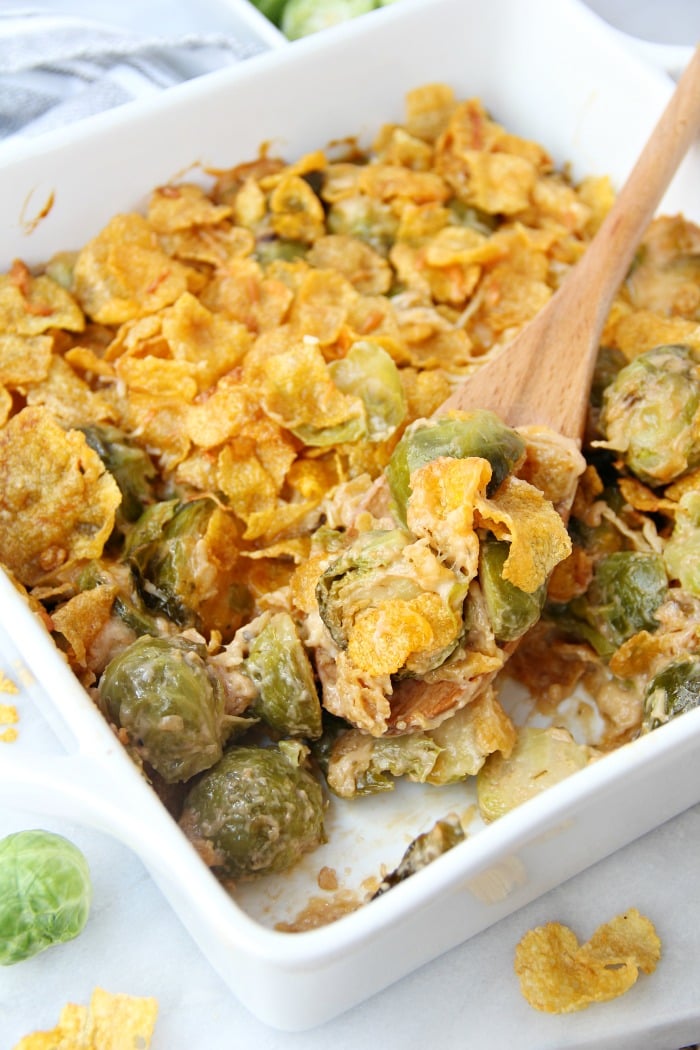 CAN YOU USE FROZEN BRUSSELS SPROUTS INSTEAD OF FRESH?
Yes, you can. In fact, my Cousin Sue mentioned she usually uses petite frozen Brussels sprouts when making this recipe.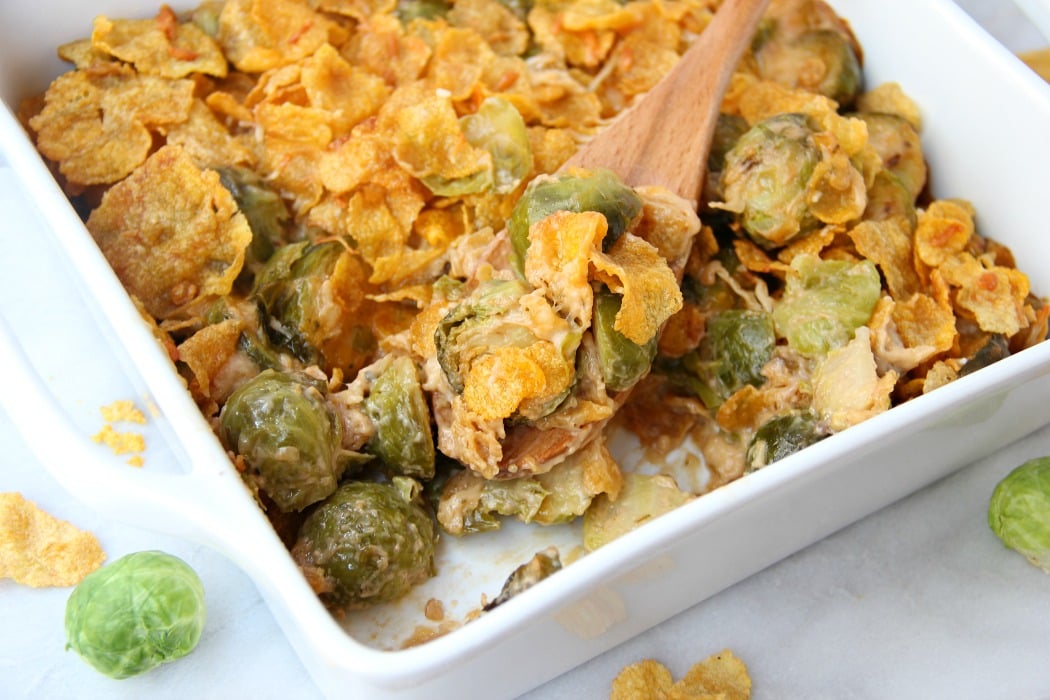 WHAT SIZE OF BRUSSELS SPROUTS ARE BEST?
If you're looking for more sweetness, opt for smaller sprouts, but be aware that smaller sprouts sometimes take a bit more time to cook because their center leaves are tighter.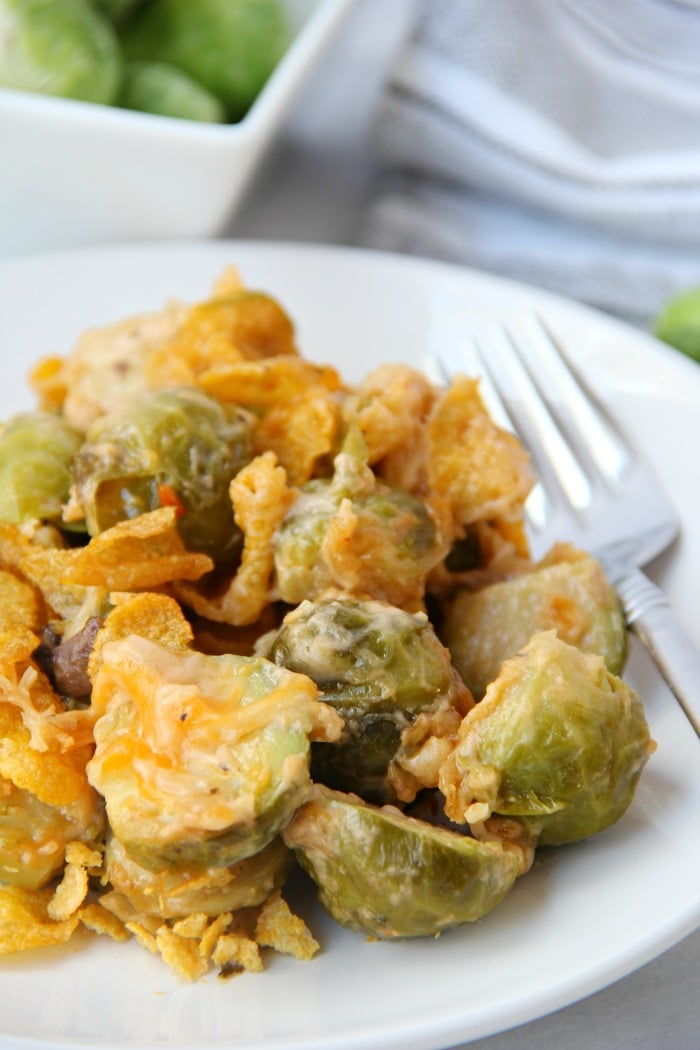 When you're deciding on a side dish to serve during the holidays, try this Brussel Sprout Casserole. It may become a family tradition!
HUNGRY FOR MORE DELICIOUS SIDE DISHES?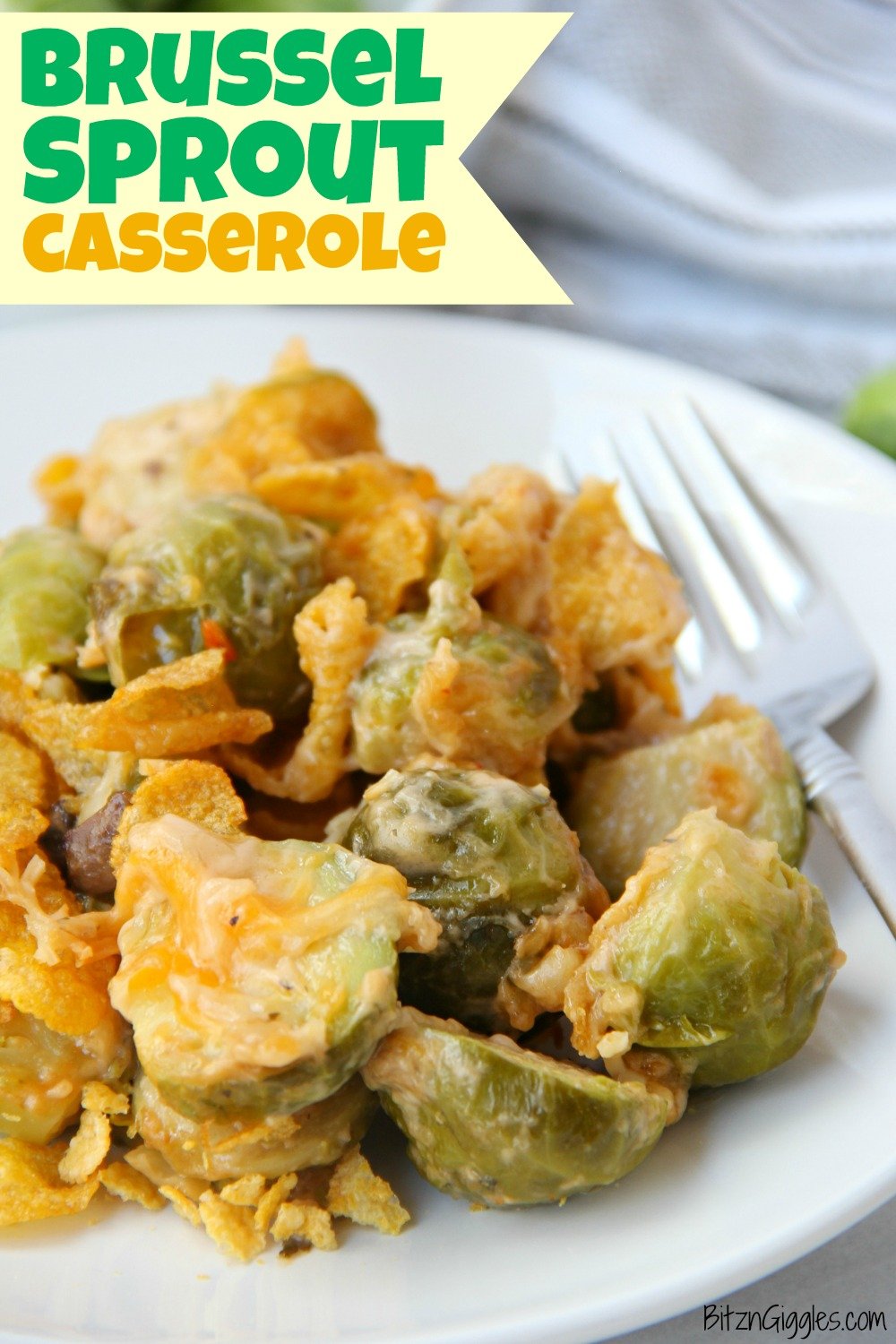 Brussel Sprout Casserole
Tender, cheesy Brussels sprouts topped with a crunchy parmesan cornflake crust!
Ingredients
1 package (16 ounces) fresh Brussels sprouts, halved
1 can (10 1/2 ounces) Condensed Cream of Mushroom soup
1/2 cup freshly grated Parmesan cheese
1/2 cup shredded cheddar cheese
Salt & pepper to taste
For the Topping
1 cup cornflake crumbs, coarsely crushed
2 tablespoons butter, melted
2 tablespoons freshly grated Parmesan cheese
Instructions
Preheat oven to 350º Fahrenheit.
To soften Brussels sprouts, steam for 15-17 minutes.
In a large bowl, mix Brussels sprouts with soup until completely coated.
Fold in Parmesan and cheddar cheese.
Transfer Brussels sprouts to greased 1.5 quart casserole dish.
Season with salt and pepper, to taste.
For the Topping
In a medium-sized bowl mix cornflakes, butter and parmesan cheese.
Sprinkle topping over Brussels sprouts mixture.
Place casserole in oven for 40-45 minutes, until bubbly and topping is lightly browned.
Notes
If you don't have a steamer, you can boil the Brussels spouts to help soften them. Boil the sprouts for 7-8 minutes, until just tender. Drain and allow to cool for 10-15 minutes.
(Visited 5,355 times, 1 visits today)