Pineapple Pretzel Salad – This cool, creamy pineapple fluff filled with candied pretzels is the perfect combination of sweet and salty, and can be served as a dessert or sweet side dish!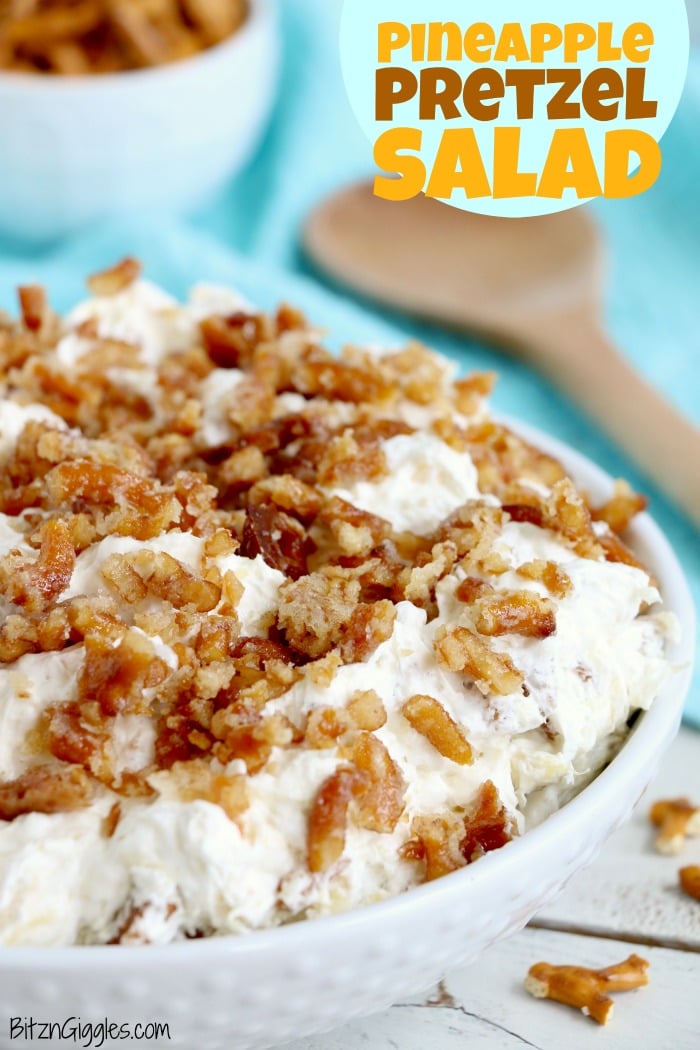 This post may include affiliate links. Please see my disclosure.
Back-to-school shopping is complete and we're packing in loads of fun for the last weeks of summer. It sounds so strange to say – "last weeks of summer."
The temps around here are dropping into the mid-70s and the evenings are cool enough now where you need pants and a jacket. Why is it that winter lasts FOREVER and the summer months just fly by? It just doesn't seem fair.
I knew there was still time though to share one of my favorite summer salads – Pineapple Pretzel Salad. It can be served as either a sweet side dish or a dessert. Our family loves this salad and we eat it quite often in the summer – normally as a side dish to a big potluck meal.
HOW TO MAKE PINEAPPLE PRETZEL SALAD
To make this delicious pineapple pretzel fluff, you'll need:
Butter
Sugar
Cream cheese
Whipped topping
For this recipe, you're going to need to crush your pretzels first. I usually just put mine in a gallon-sized ziplock bag and use a rolling pin to get the job done.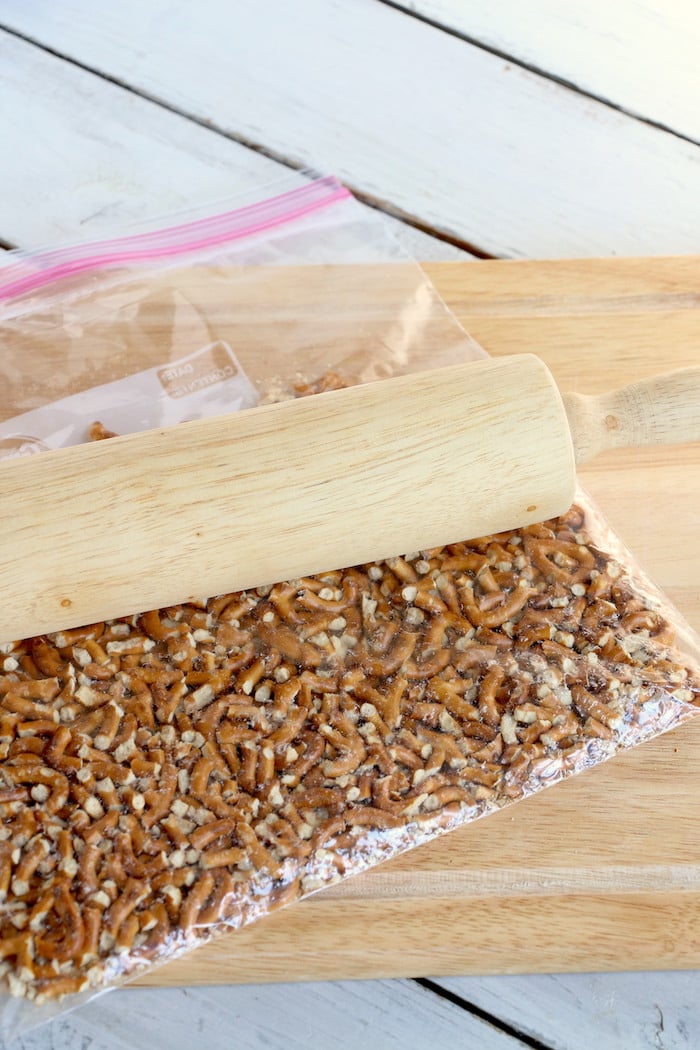 Next, you'll coat the pretzels in a mixture of butter and sugar.
Holy yum. This is where it gets REAL good.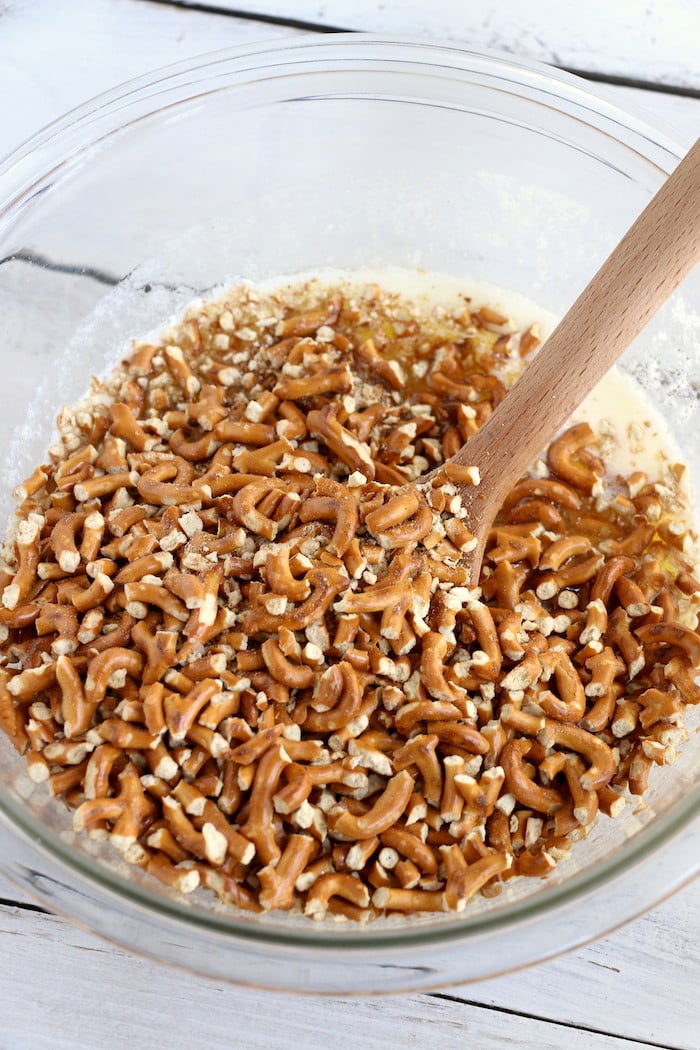 After you have the pretzels covered in the sugary mixture, spread them out on a baking sheet and bake for 6-8 minutes. Make sure to watch the pretzels closely because they can burn FAST.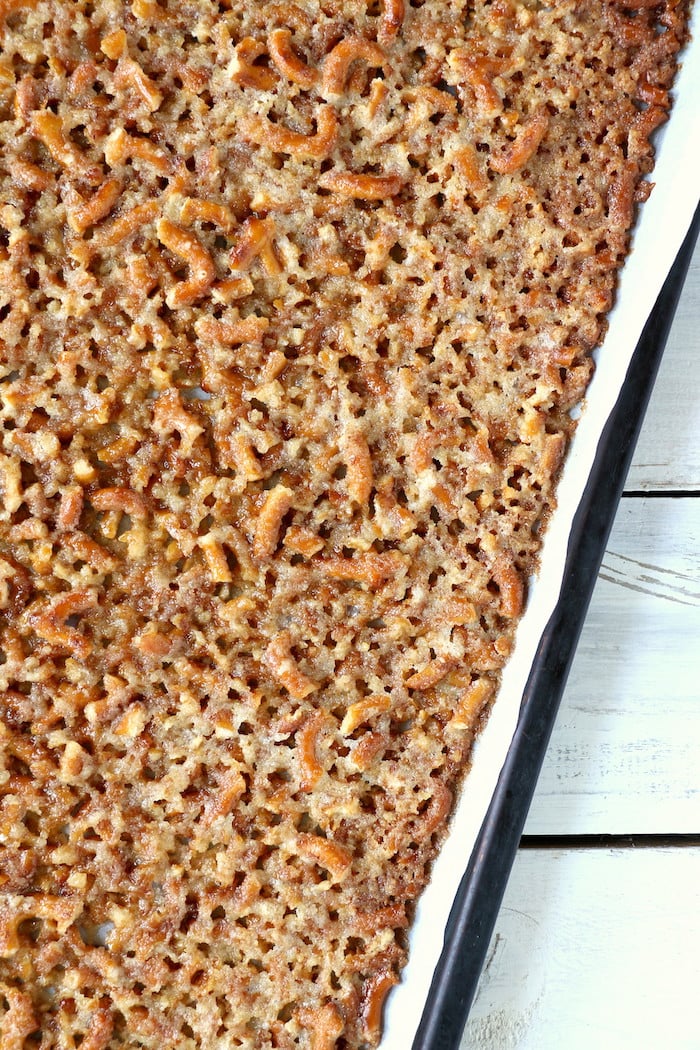 Allow the pretzels to cool and then break them apart in small pieces.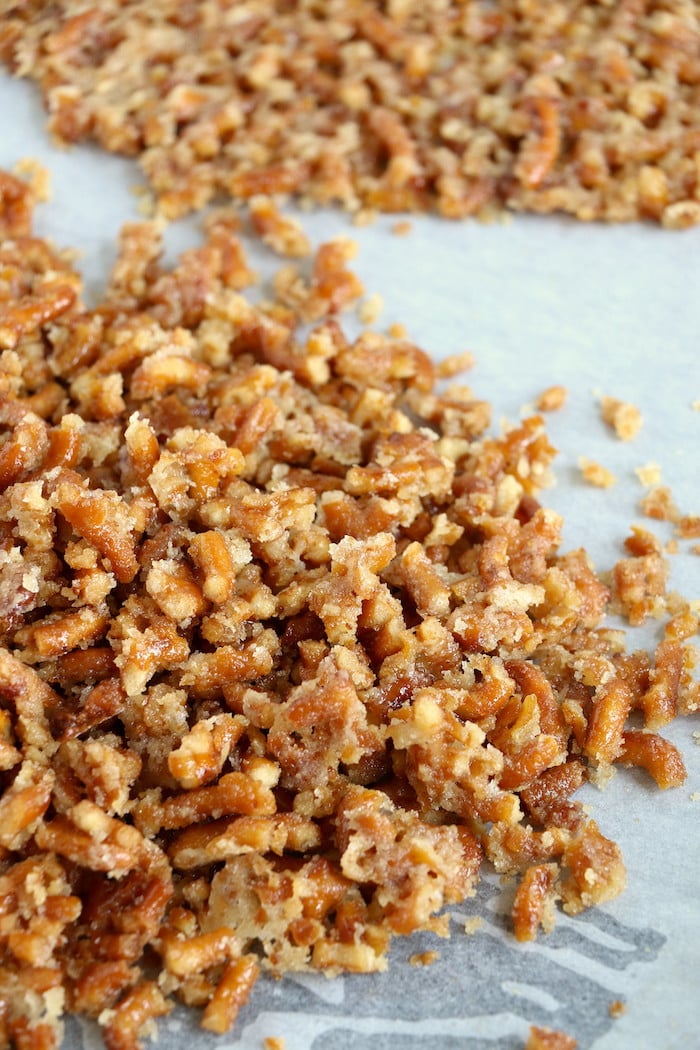 Set them aside and get ready to make the "fluff." Add the crushed pineapple to the sweetened cream cheese mixture.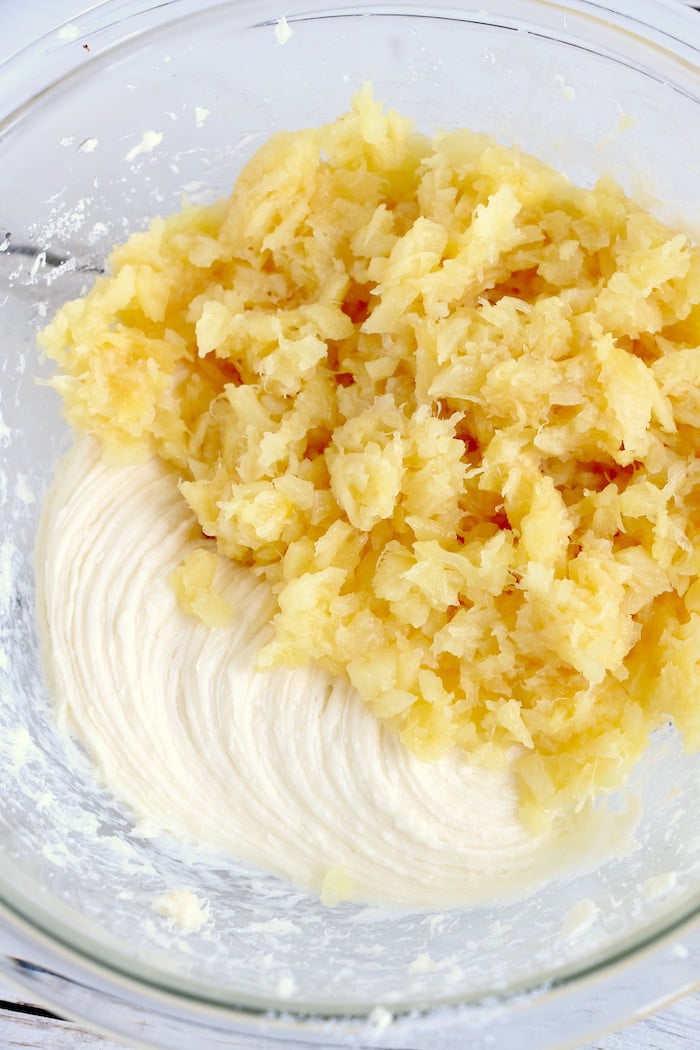 Fold in the whipped topping.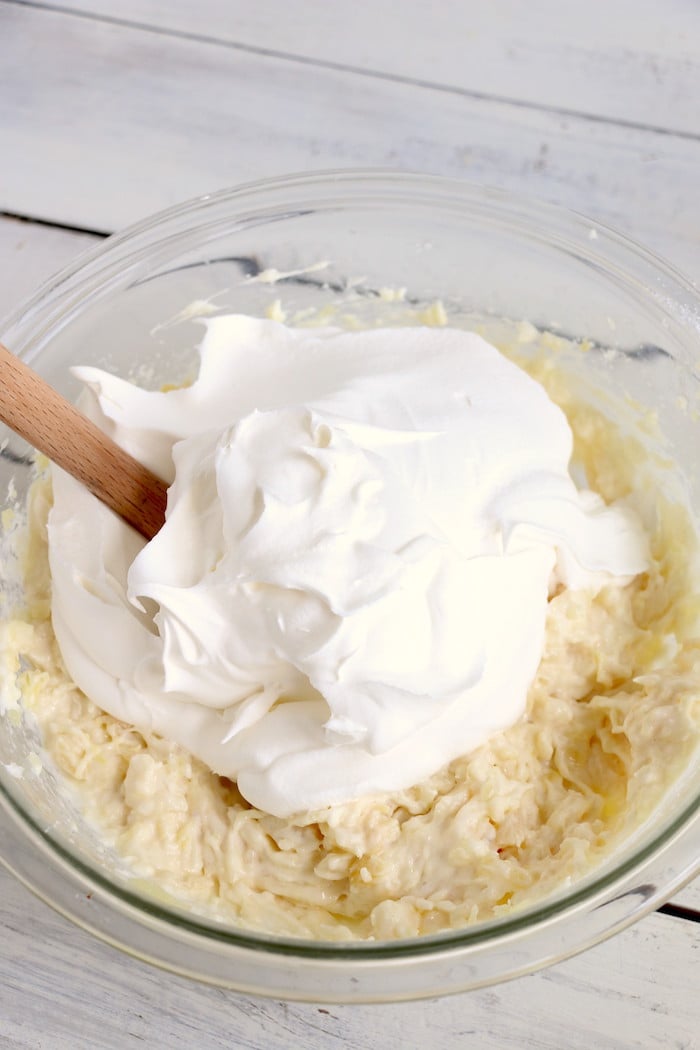 Now, here's where you ask the question, "Am I making this for people to eat immediately or for people to eat later? If it's the latter, pay attention to these tips. . .
SHOULD I ADD THE PRETZELS TO THE SALAD RIGHT AWAY?
No. That's a BIG NO. If you're not serving the salad immediately, DO NOT add the pretzels right away (they'll get super soggy). Follow the instructions on the recipe card through step #11.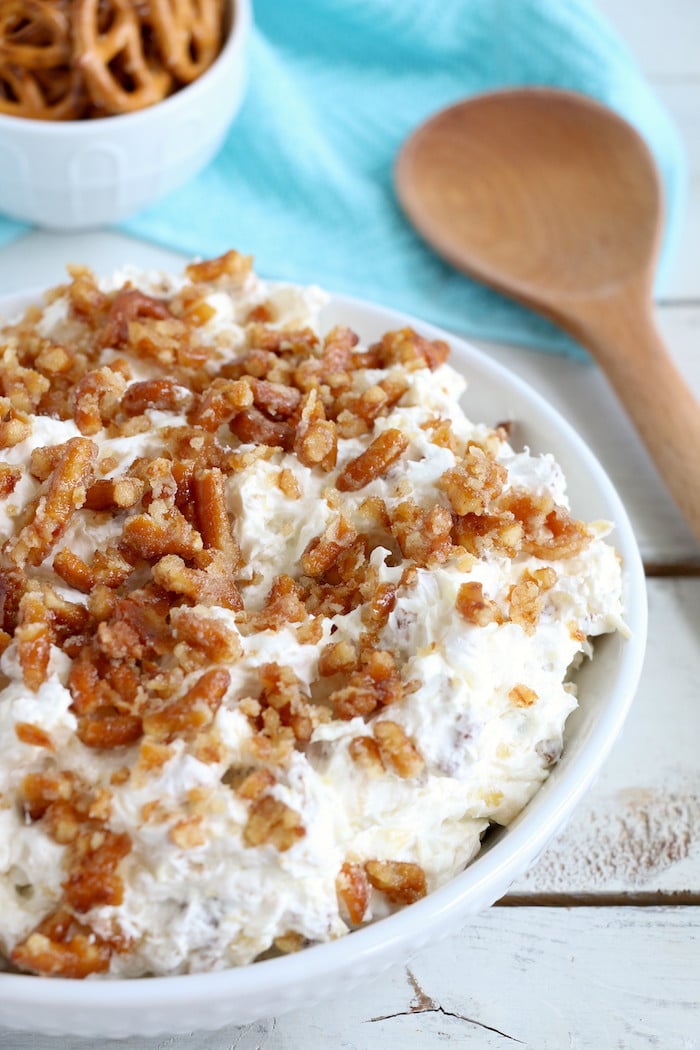 Put the salad in the fridge and store the pretzels in a ziplock baggie until you're ready to eat – then mix them in the salad and sprinkle some extra on top.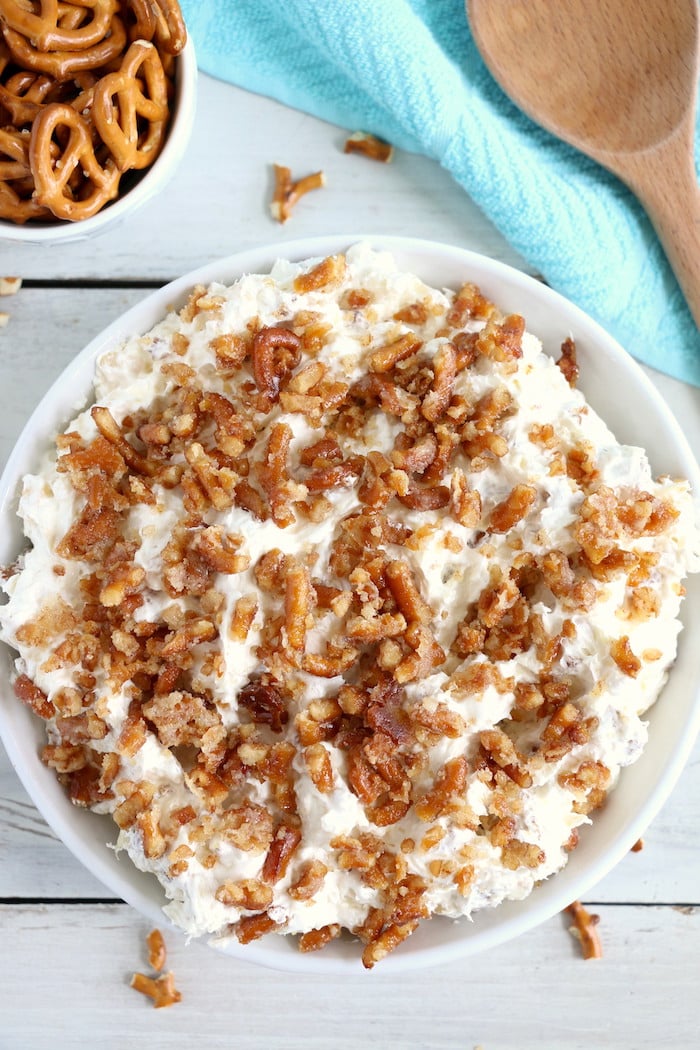 CAN I STORE LEFTOVER PRETZEL SALAD?
Not really, at least our family doesn't. The pretzels begin to get soggy quickly once they're added to the salad.
If we know we won't finish the whole salad in one sitting, we'll usually just prepare half of the salad with the pretzels and eat the other half either later the same day or the next.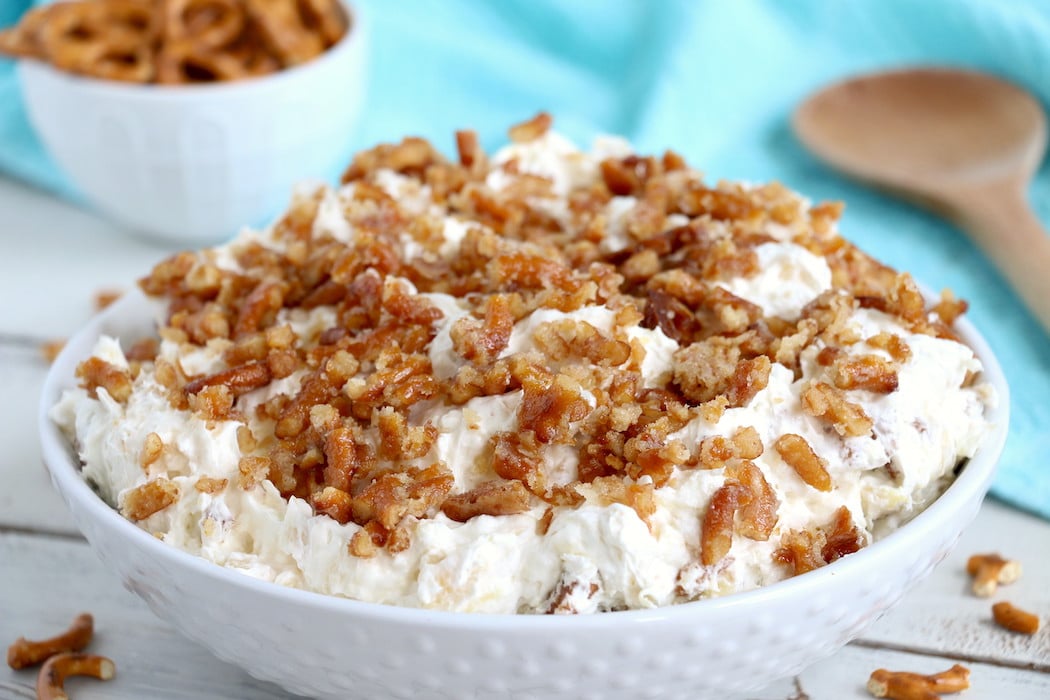 The pretzels should keep fine stored in a plastic baggie. Remember not to put the pretzels in the fridge – only the salad before you add the pretzels! Got it? Good.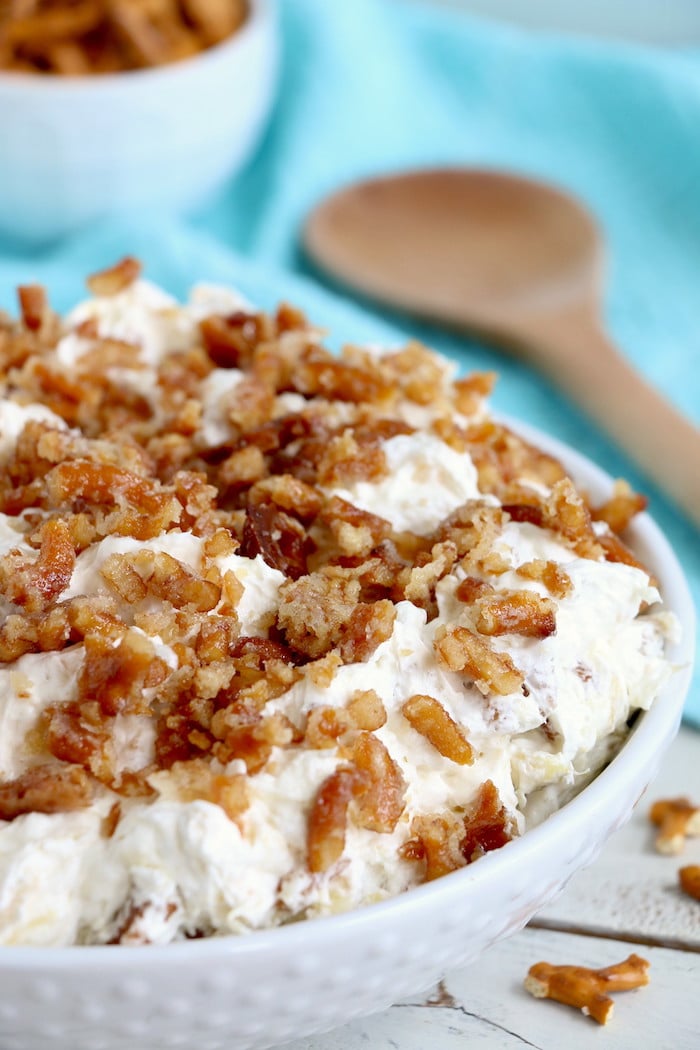 Put this salad on your Labor Day menu. I hope your family loves it as much as ours does!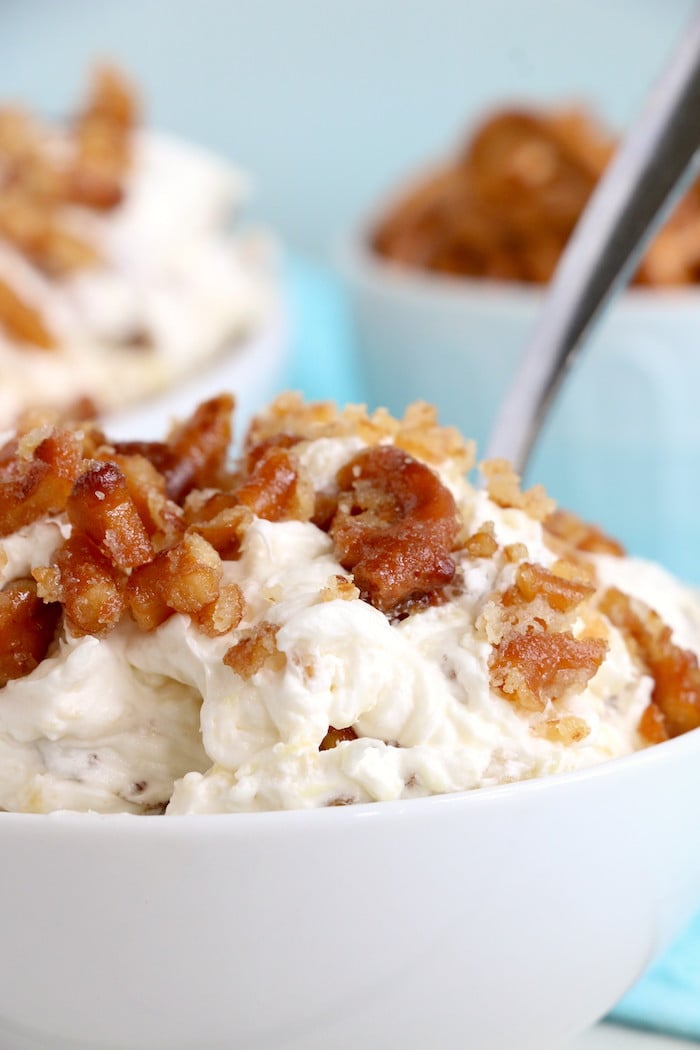 LOOKING FOR MORE SUMMER SALAD IDEAS?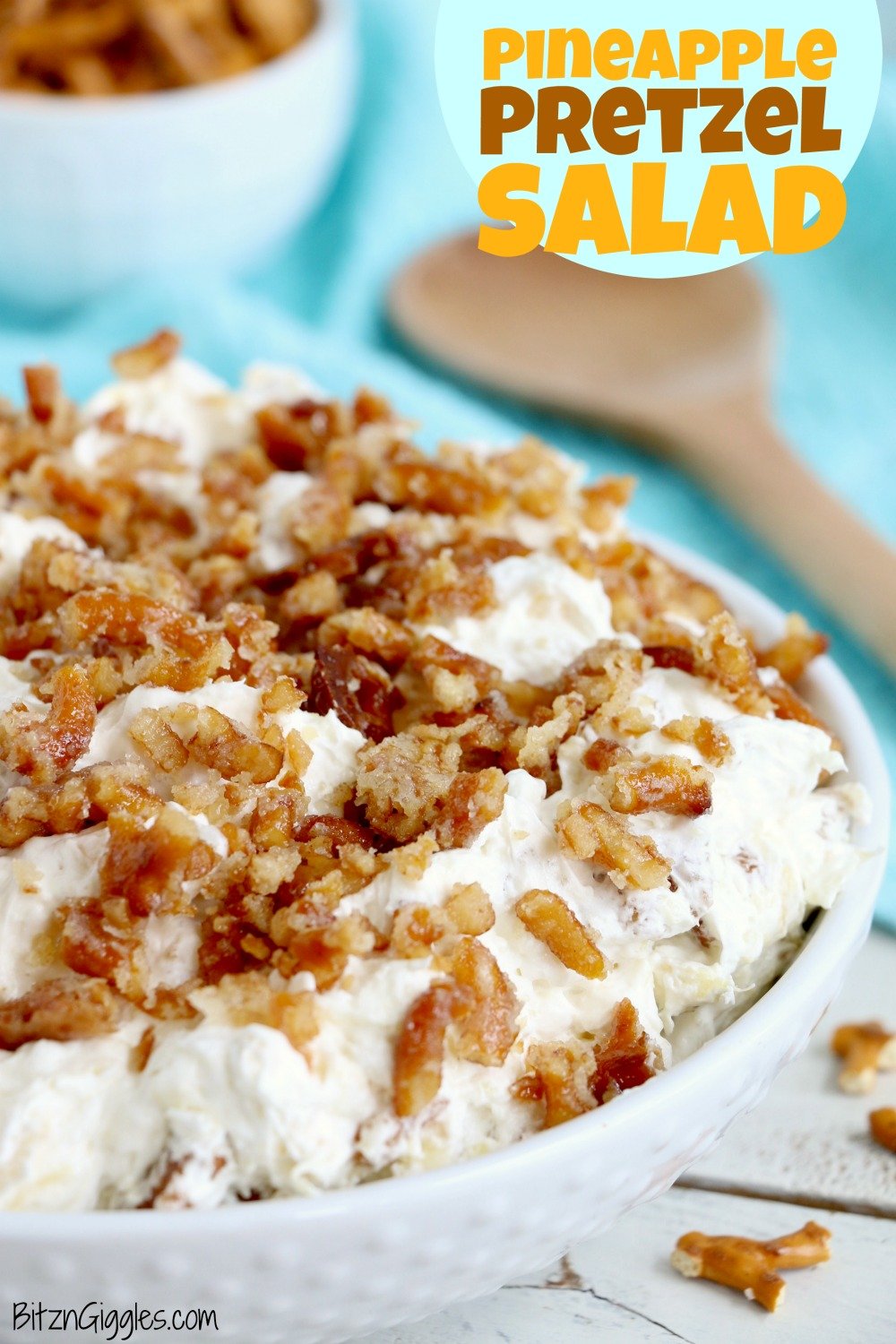 Pineapple Pretzel Salad
This cool, creamy pineapple fluff filled with candied pretzels is the perfect combination of sweet and salty, and can be served as a dessert or sweet side dish!
Ingredients
2 cups pretzels, crushed into small pieces
1 cup butter, melted
1 1/2 cups sugar, divided
8 ounces cream cheese, softened
20 ounce can crushed pineapple, drained
8 ounces whipped topping
Instructions
Preheat oven to 400º Fahrenheit.
Melt butter in a medium mixing bowl.
Stir in 1 cup sugar.
Pour in pretzels and stir until they are coated.
Spread pretzels out evenly on a baking sheet lined with parchment paper.
Bake for 6-8 minutes or until they hold together like toffee. Do not over-bake.
Allow pretzels to cool.
When cool, break pretzels apart into small pieces and set aside.
In a mixing bowl, beat cream cheese and 1/2 cup sugar until whipped.
Mix in pineapple.
Fold in whipped topping.
Right before serving, stir in 1 1/2 cups pretzels and sprinkle remaining pretzels on top.
(Visited 8,569 times, 1 visits today)