If you hang around here long enough, you'll begin to see a pattern with many of my recipes. So much of what I share here on the blog could be categorized as comfort food. I like it that way, and since you're here, I'm guessing you do,too. At the end of the day all I want are quick, satisfying dishes that my family is sure to love and appreciate. One of the things I love most about comfort food is that it tastes even better the next day. What can be better than that?
This Cheesy Chili Mac Skillet is so easy to throw together and once you have it on the stove, you can just let it simmer there for awhile to allow all of the wonderful flavors to meld.
It all begins with ground round, onions, butter and garlic. I asked my husband if it was too gross to post a pic of the raw burger, and he was on the fence. So I said, "Heck with it. We're real around here. It's getting posted."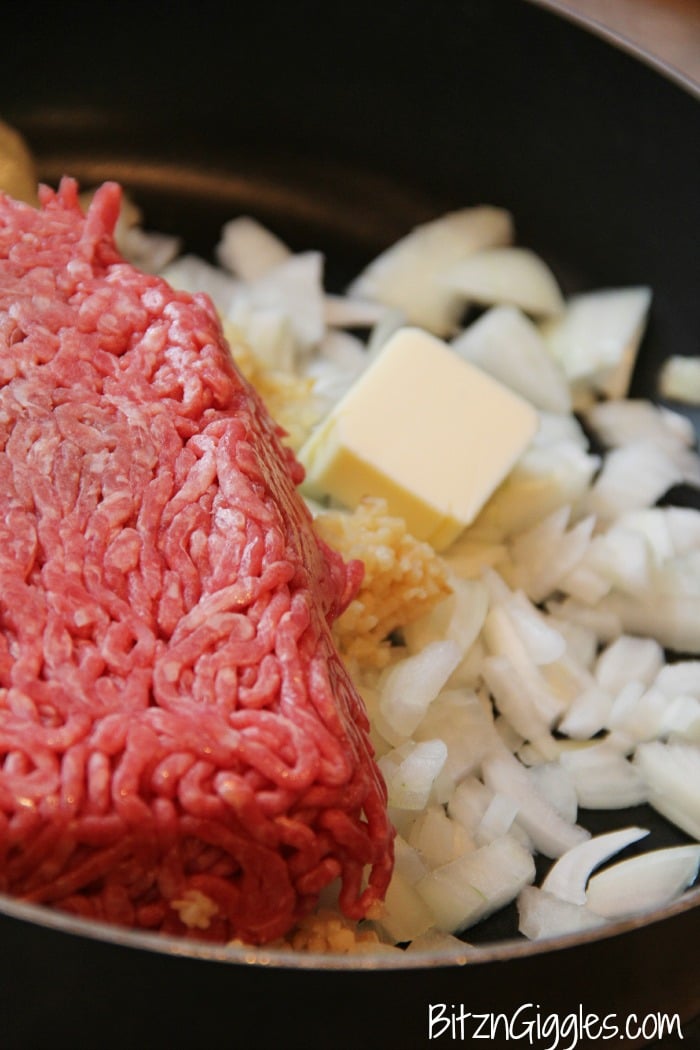 So, next comes the noodles. I always like to prepare the noodles while I'm browning the beef mixture. In the recipe I just included the cooked noodles as an ingredient. I didn't think you'd need a lesson on boiling noodles.
I really don't have the timing down on pasta myself, but I'm going to let you in on a little secret that I use each time I boil noodles. I keep tasting them. Yep, that's it. That's my secret. Stick with me here. I'm very wise. 🙂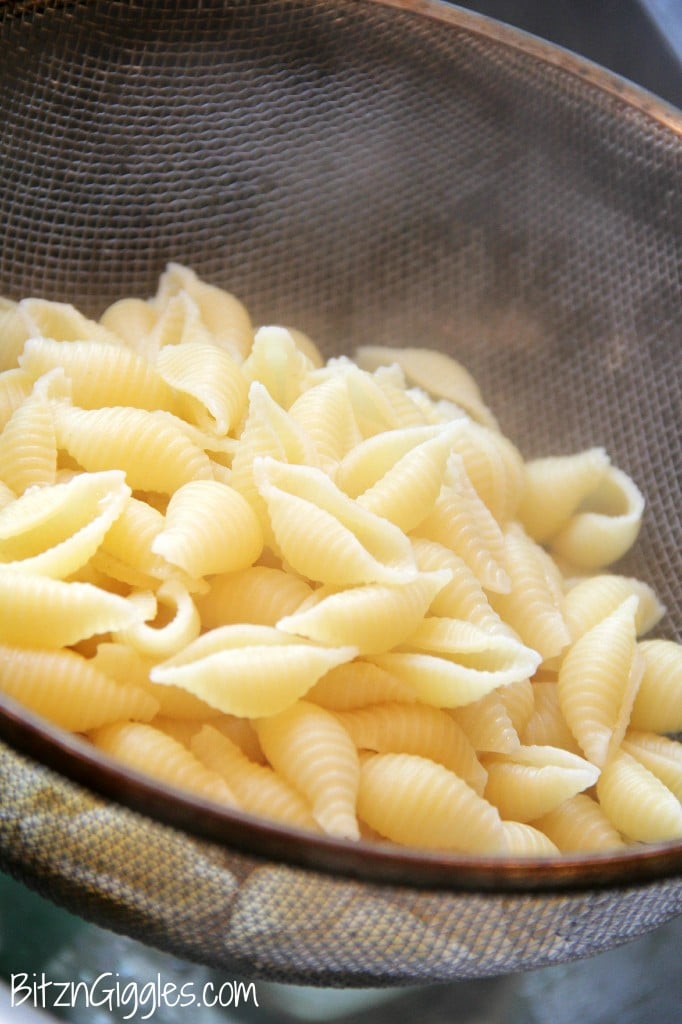 After the meat is browned and the noodles are ready, you start putting everything together.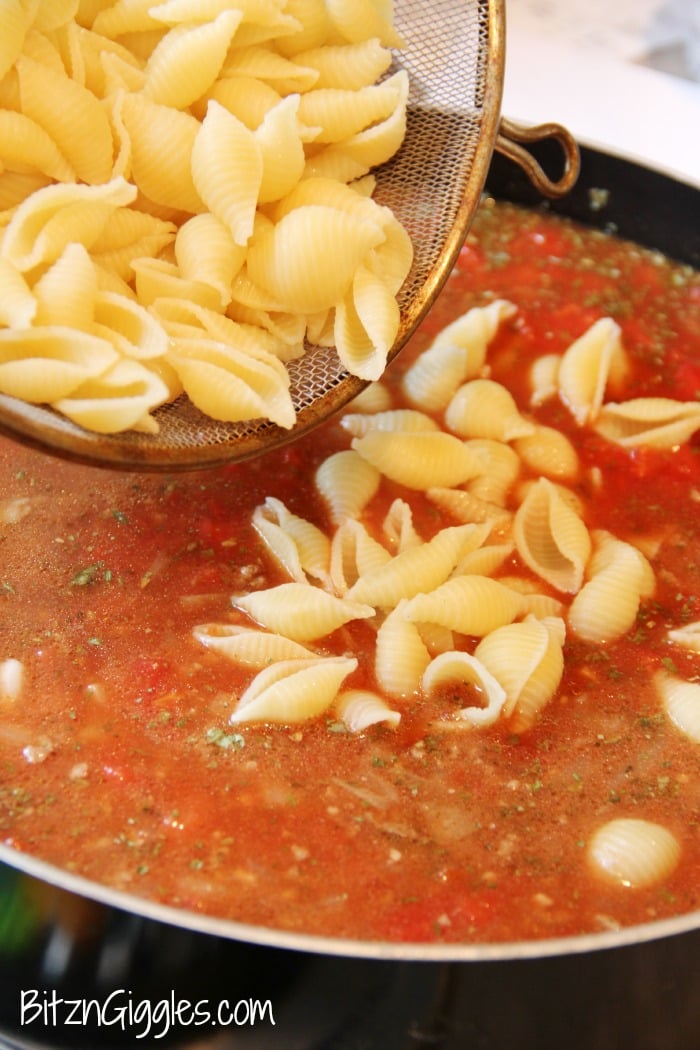 It may look a little liquidy (is that a word?) at this stage, but don't worry, it's going to thicken up! Turn the heat down and just let this heavenly mixture simmer. This is where you're going to thank me because your house is going to smell incredible and your family members will start coming out of the woodwork. The cat who always hides in the basement may even make an appearance. You never know.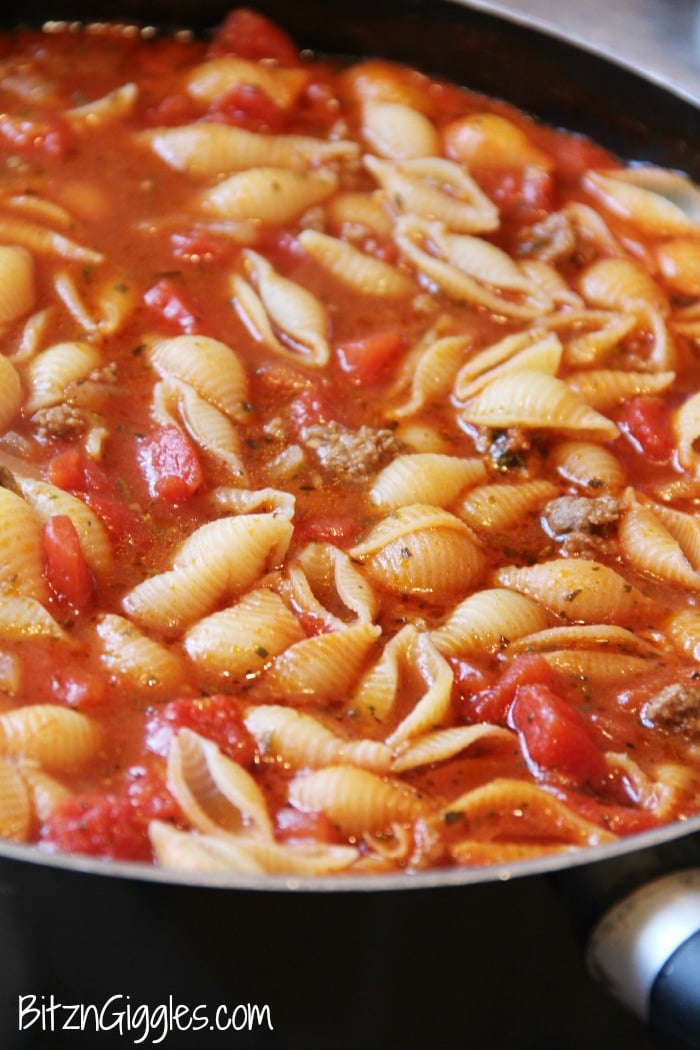 After about 30-45 minutes you'll see that the skillet is beginning to thicken up. If it's too thick for you, you can always add some extra water or beef broth. Just before you're ready to serve, place 6 slices of Muenster cheese on top and place a cover on the pan for about 3-5 minutes. If you don't have Muenster cheese, you can substitute Mozzarella, but Muenster is where it's at. End of story. If you can't get enough of it, like me, you need to check out this Muenster Chicken!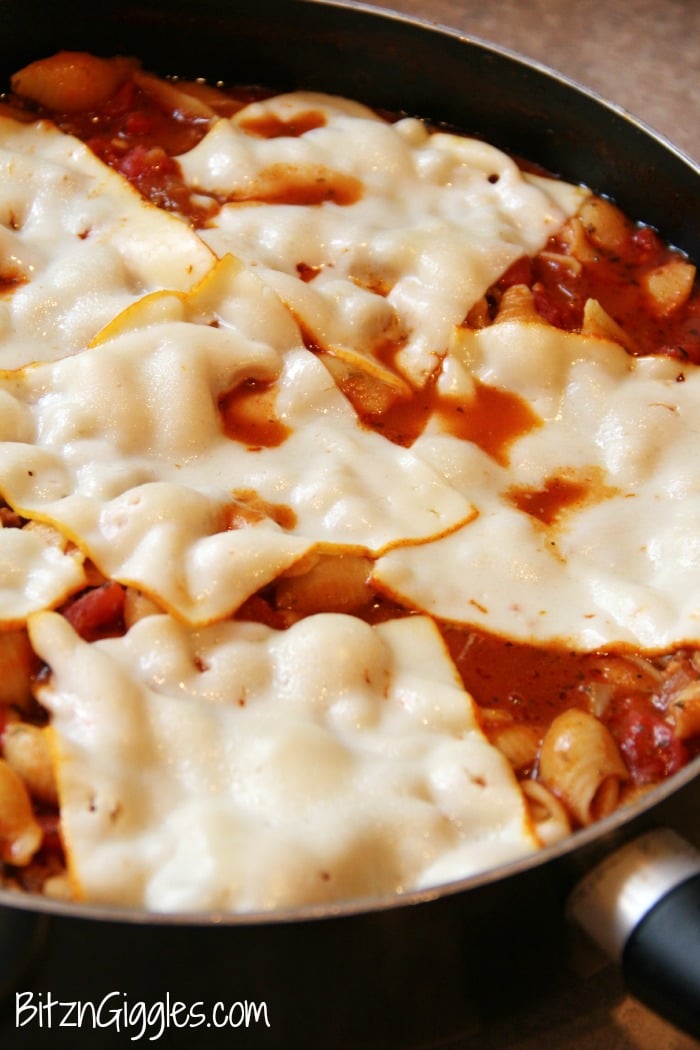 I love Muenster cheese SO much that I even ended up putting another slice on top of my chili mac before I devoured it. Soooo good. You all won't be disappointed with this recipe, I promise. If you love comfort food as much as I do, you're going to be a fan. This skillet dish is also great for parties and can be kept warm in a crock pot as long as you stir it every so often and add some water or beef broth if you see it's getting too thick. Just go ahead and make this. You will have no regrets. I can't wait for you to try it!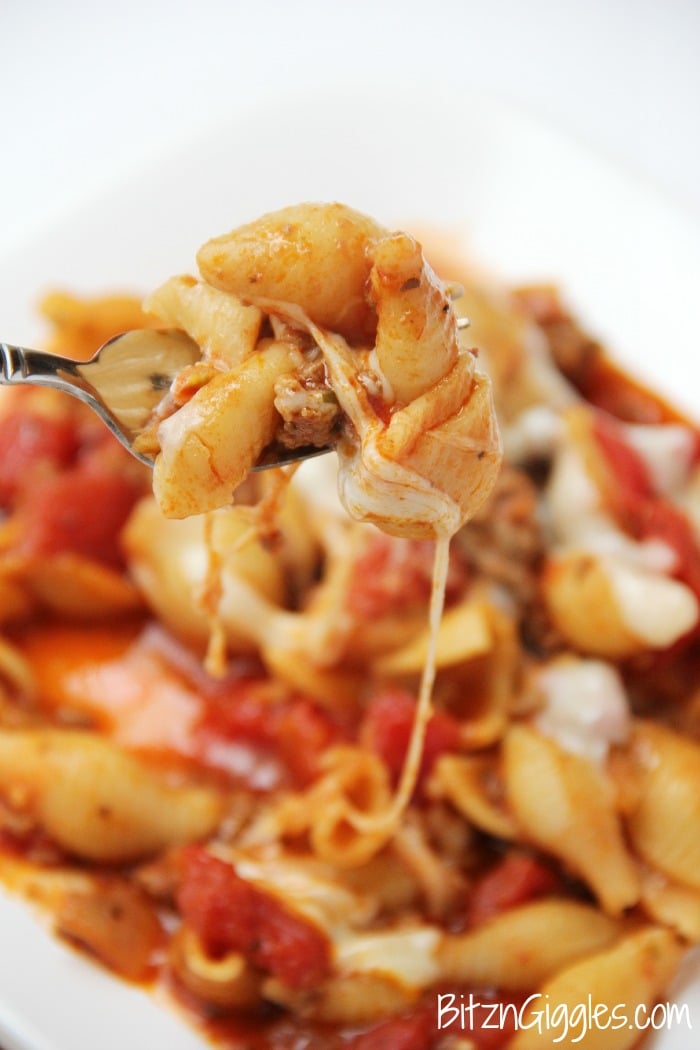 Cheesy Chili Mac Skillet
A wonderful combination of burger, pasta and cheese serve as the base for this delicious and hearty tomato-based skillet dish.
Ingredients
1 lb ground round
2 tablespoons butter
3 teaspoons minced garlic
1 tablespoon dried parsley
1/4 cup brown sugar
1 tablespoon dried basil
3 cups of beef broth
1 medium onion, chopped
28 oz can of diced tomatoes
6oz can of tomato paste
3/4 cup water
1 cup bloody mary mix (I used Mr. & Mrs. T)
3 cups medium shell noodles, cooked and drained
6 slices Muenster cheese
Extra Muenster cheese for garnish
Instructions
In a large skillet, brown the ground round with the butter, garlic and onions until the meat is no longer pink.
Slowly add the tomatoes, beef broth, paste, parsley, brown sugar, basil, bloody mary mix and water to the meat and combine well.
Stir in the cooked noodles and simmer for 30-45 minutes on the stove top stirring every 15 minutes or so.
Lay slices of cheese on top of the chili mac mixture in the skillet. Cover and allow the cheese to melt for 3-5 minutes.
Top individual portions with extra cheese cut into strips, if desired.
Nutrition
Serving Size: 6
Calories: 475
Sugar: 17
Sodium: 1366
Fat: 24
Saturated Fat: 15
Unsaturated Fat: 8
Trans Fat: 0
Carbohydrates: 42
Protein: 24
Cholesterol: 73