Cherry Float – Vanilla ice cream blends with cherry soda for this easy, fun and festive party drink!
This post may include affiliate links. Please see my disclosure.
Who doesn't love something sweet, delicious and red for Valentine's Day?! This delicious cherry ice cream float is simple to make and it's such a cute way to celebrate Valentine's day. There's really no prep time and clean up is a cinch!
Let's make a little glass of "love potion!"
CHERRY FLOAT INGREDIENTS
To make this fun party drink, you'll only need 5 ingredients:
Vanilla ice cream
Cherry soda
Red licorice
Whipped topping in a can
Sprinkles
Most of the ingredients used in this cherry float are ingredients you have used before, but in case you need the "low down," here's what you need to gather up:
HOW TO MAKE A CHERRY FLOAT
This cherry float recipe is very flexible when it comes to ingredients and you can add more or less of any ingredient. The recipe makes one float, so feel free to double, triple or quadruple the recipe!
Place one or two scoops of vanilla ice cream in a glass.
Fill to top with cherry soda.
Top with whipped topping.
Go ahead and add a little more for good measure. Then top with sprinkles and add the piece of licorice!
CAN I STORE LEFTOVERS IN THE FREEZER?
Unfortunately, no. Ice cream floats don't save well in the freezer. They don't even do well in the fridge because everything is just going to melt together and look kind of "bleh."
Plan to enjoy your entire ice cream float immediately after preparing it!
CAN I MAKE THIS RECIPE INTO A PUNCH?
You can! Here's what you'll need:
Ingredients:
1/2 gallon ice cream
2-liters cherry soda
Instructions:
Spoon the ice cream into a punch bowl.
Pour the cherry soda over the ice cream and stir.
READY FOR MORE VALENTINE'S RECIPE IDEAS?
Pink Squirrel – This is a similar recipe but with a fun pink color.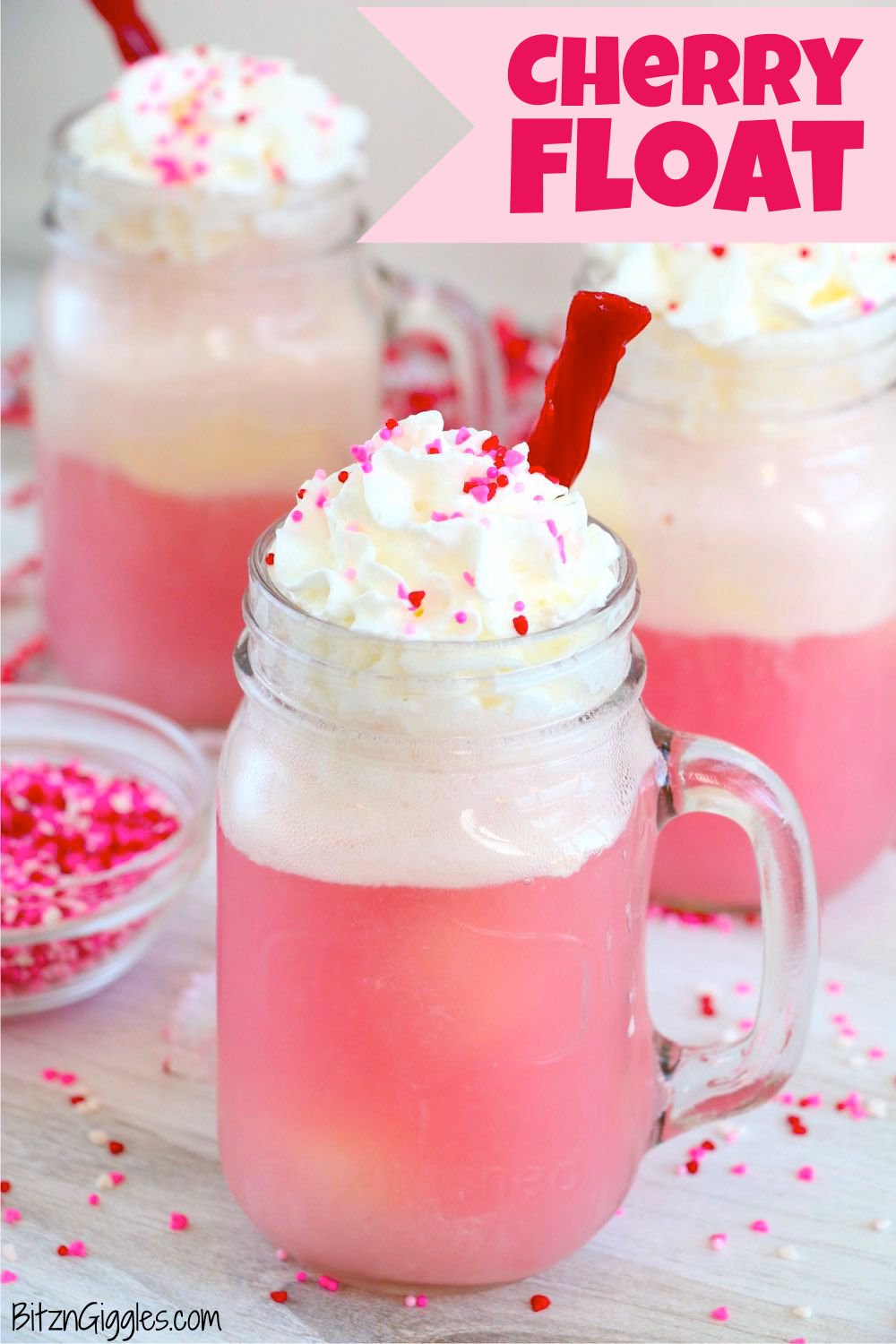 Cherry Float
Vanilla ice cream blends with cherry soda for this easy, fun and festive party drink!
Ingredients
1 – 2 scoops vanilla ice cream
Cherry soda
1 piece red licorice
Reddi Whip whipped topping
Sprinkles
Instructions
Place a scoop of ice cream in a glass and fill 3/4 full with cherry soda.
Top with whipped cream and sprinkles.
Garnish with the piece of licorice and enjoy.
(Visited 4,008 times, 1 visits today)