Chocolate Chip Cookie Lasagna – A delicious 4-ingredient, no bake layer dessert made with soft chocolate chip cookies and creamy whipped topping.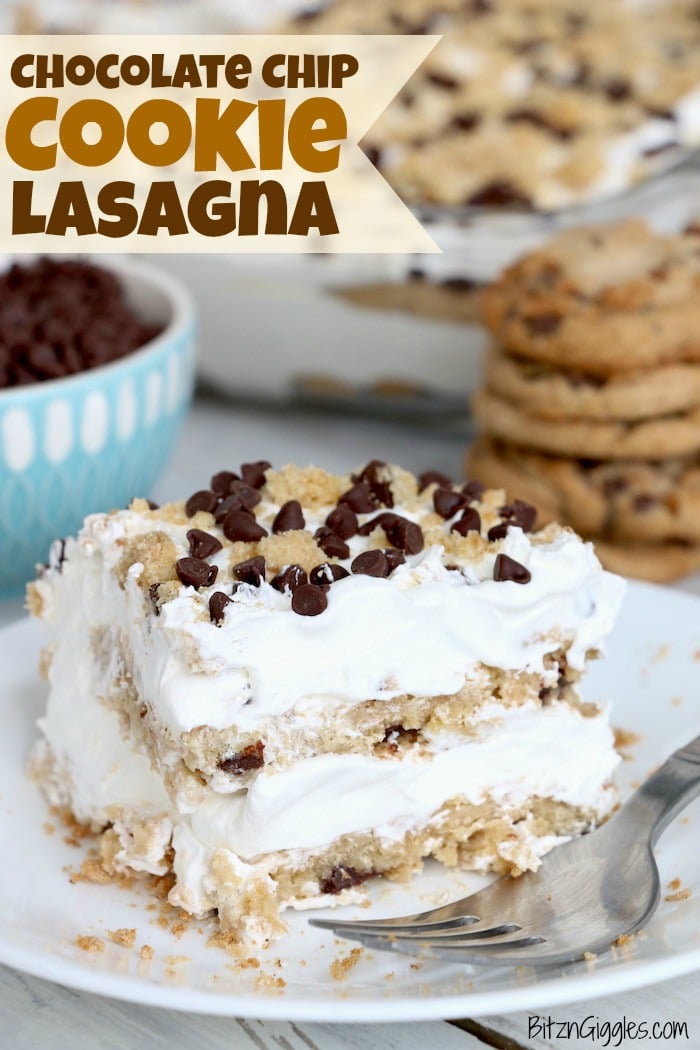 This post may include affiliate links. Please see my disclosure.
I'm officially "out of the office" this week attending a blogging conference in Chicago. Whenever I get to be around my blogging buds, it's a completely inspirational and motivational time.
I'm looking forward to coming home rejuvenated and excited to implement so many of the ideas that have been floating around in my mind for so long that I just haven't taken action on!
Lately I've been no-bake crazy. If you happened to see my Cherry Dump Cake post last week you would have read about our short "bout" without air conditioning. I did my best to avoid using the oven, and, instead, opted for the air fryer and no bake recipes.
The good news is. . .the A/C is now fixed, but that hasn't stopped my obsession with no-bake desserts. I have another one to share with you today, and it's a delicious Chocolate Chip Cookie Lasagna that requires ONLY four ingredients!
How to Make Chocolate Chip Cookie Lasagna
It's up to you whether you want to bake your own chocolate chip cookies or just use some soft-baked, store-bought cookies. If you make your own, the cookies need to be soft and chewy vs. hard and crunchy.
I got mine from the bakery department at my local grocery store, but you could also use these.
Why Dip the Cookies in Milk?
Dipping the cookies in milk makes the dessert ready to enjoy, sooner. It just speeds up softening process. The key to dipping, however, is to dip quickly.
You don't want the cookies to absorb too much milk or they'll begin to fall apart.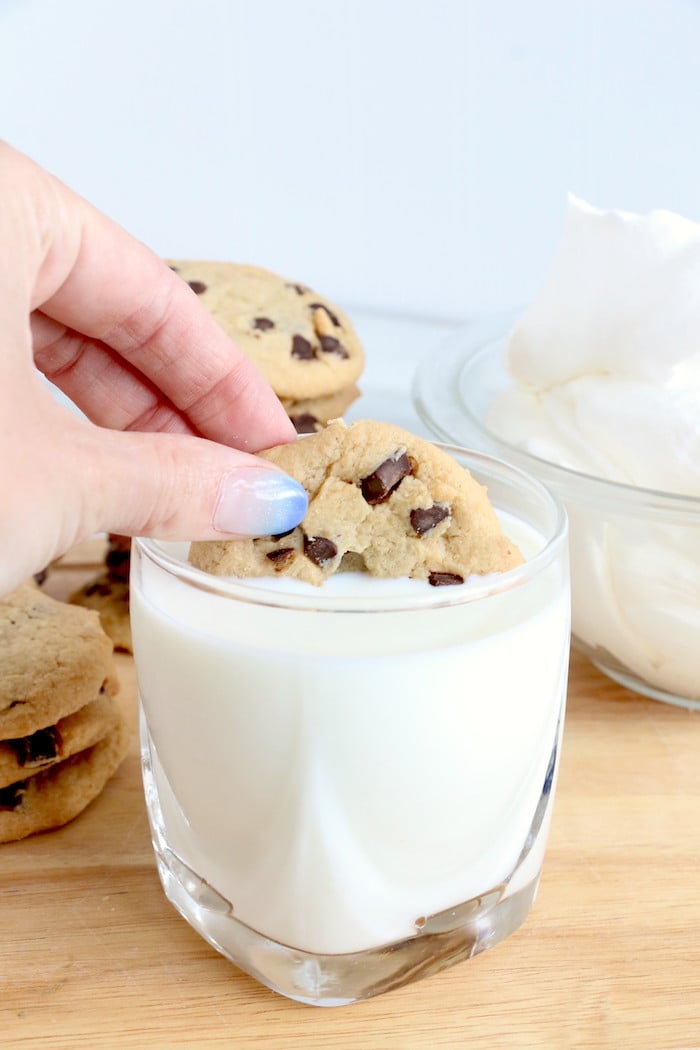 Place the dunked cookies into a baking dish and cover the cookies with half of the whipped topping.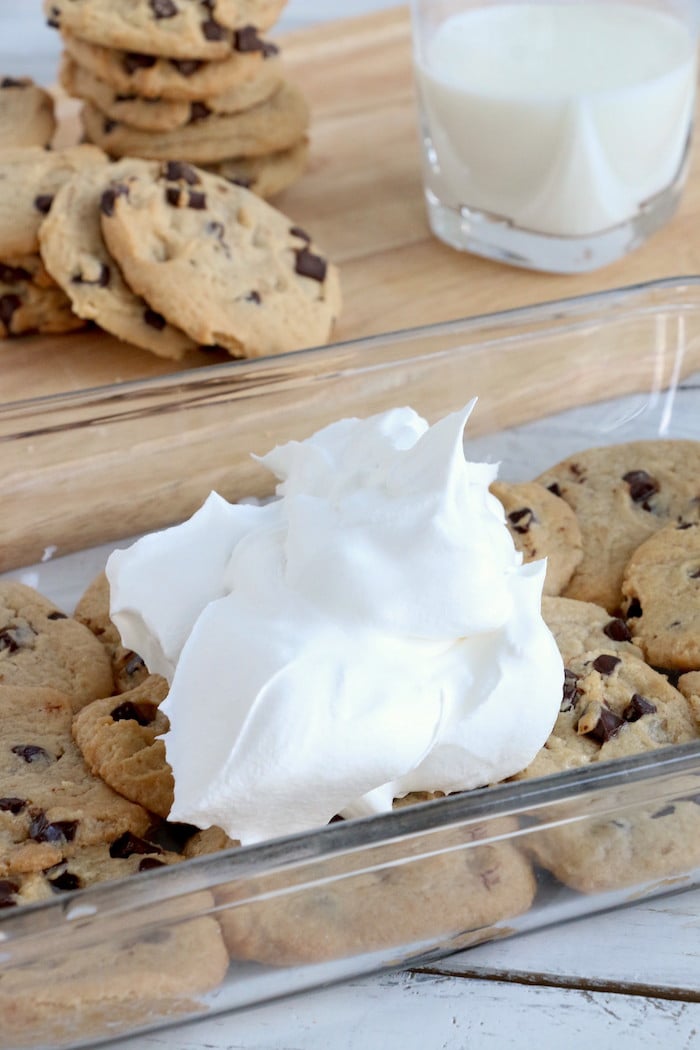 You with me, yet? Perfect. Because we're almost done!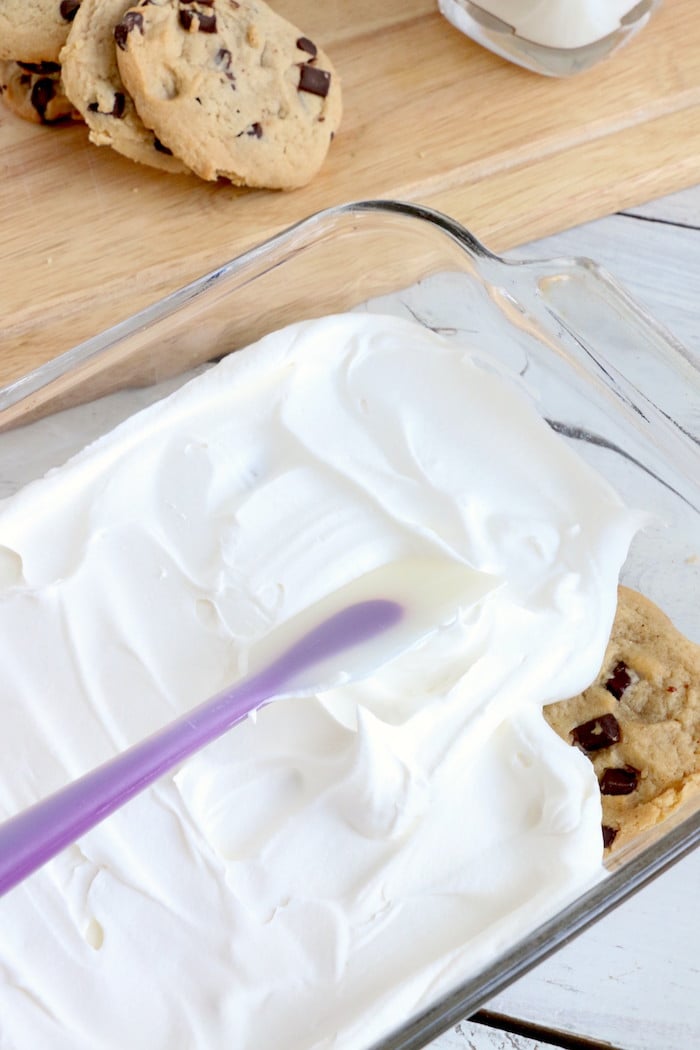 Keep spreading the topping until the entire layer of cookies are covered. Then repeat the same steps for the second layer.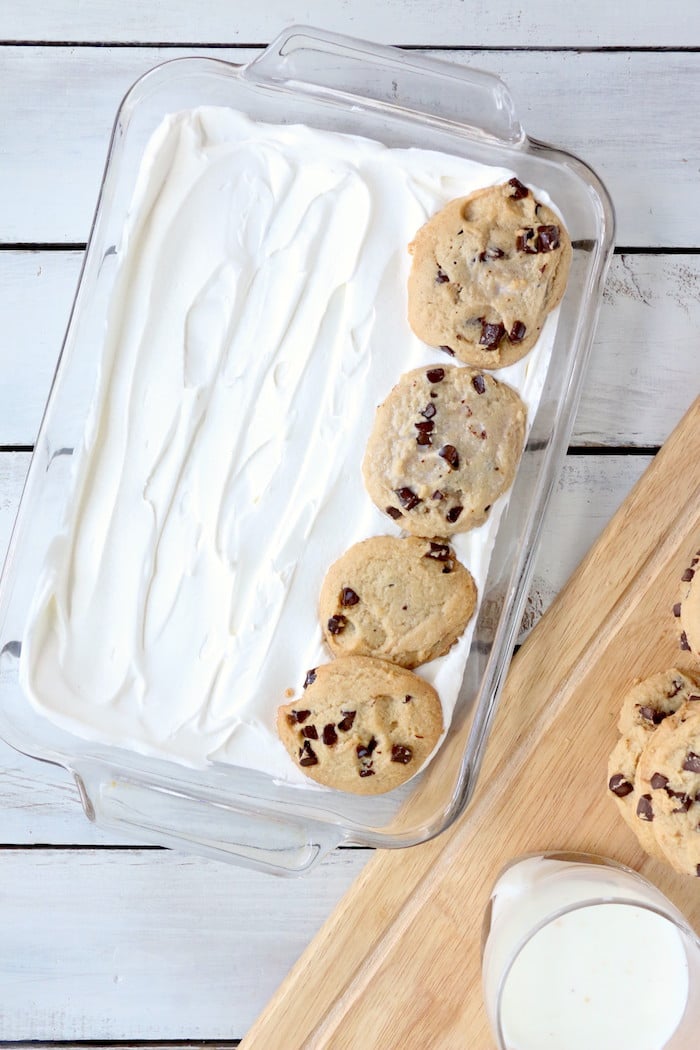 Go ahead and crush the remaining cookies and sprinkle those on top.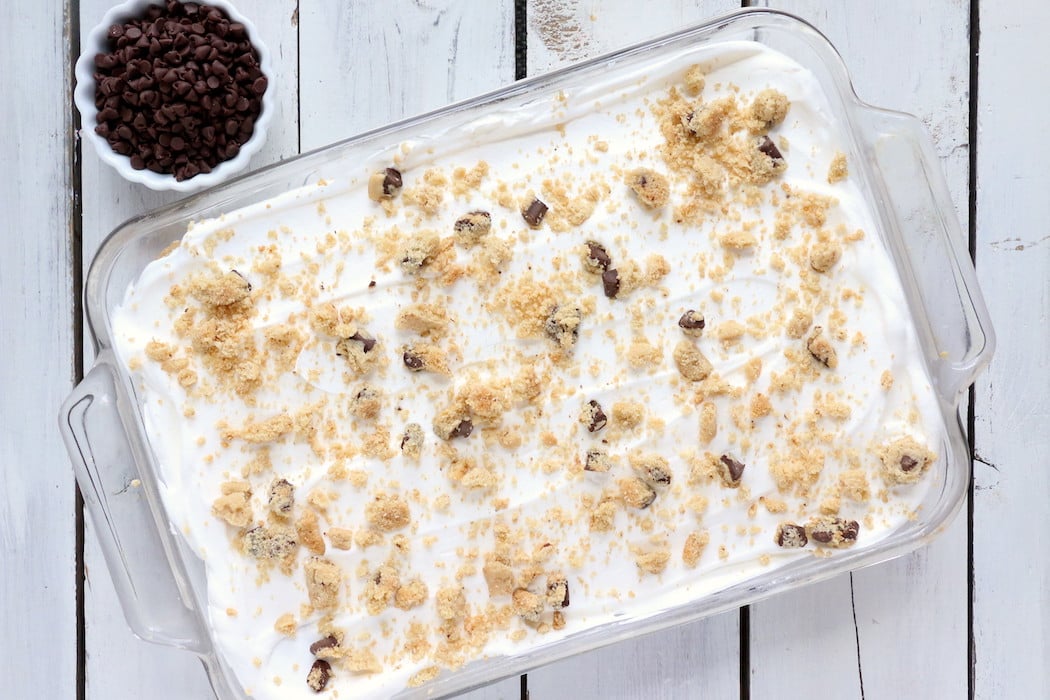 And for a bit more interest and flavor, sprinkle some mini chocolate chips over the top, too. It's looking quite delicious, isn't it?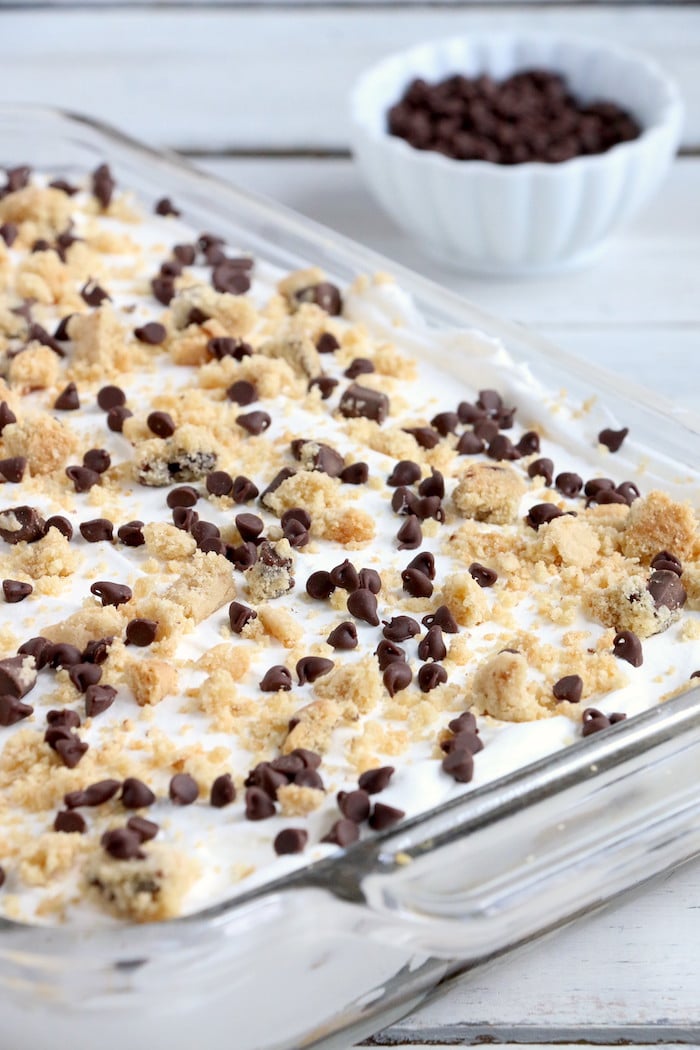 Don't dig in quite yet. The dessert needs to "set" in the refrigerator for at least four hours. When it's ready, however, you go right ahead.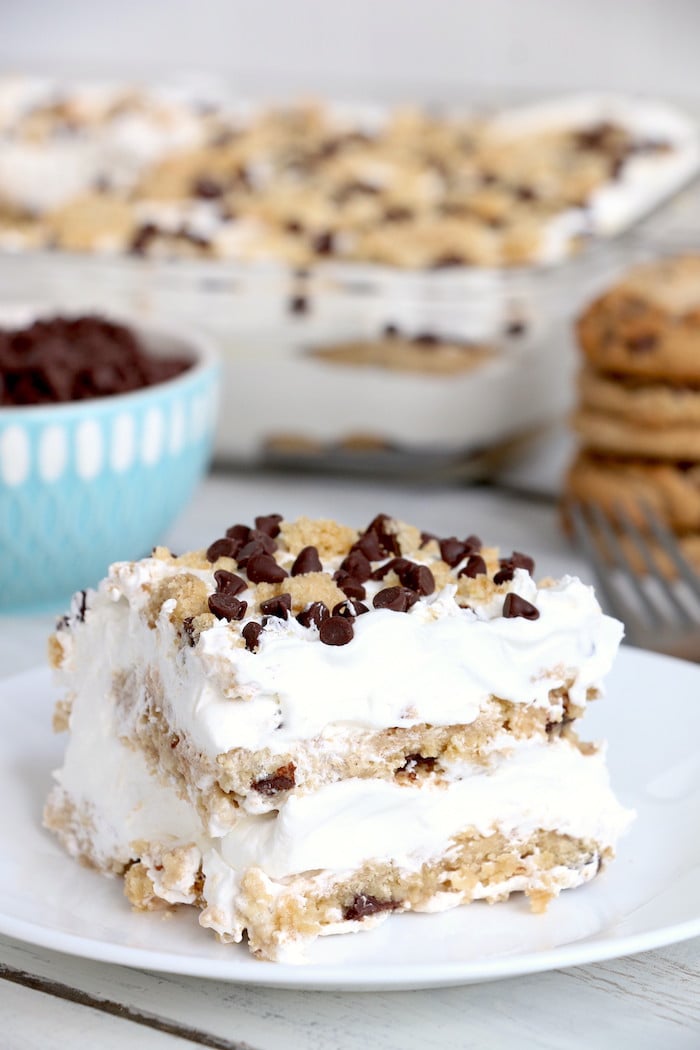 I mean, how delicious does that look? Can you see how the cookies are now even more moist and "fall apart?"
Your fork is just going to sink into this dessert and you're going to love every minute of it. So will the rest of your family and friends. . .if you decide to share.?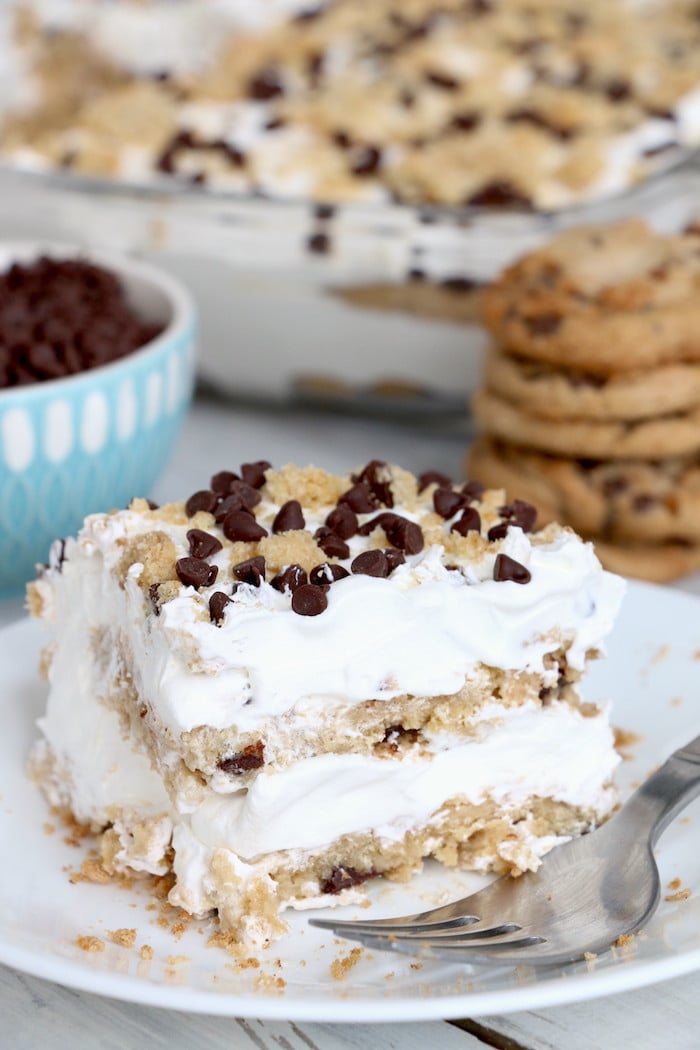 Enjoy this summer season, friends. If you decide to whip up this chocolate chip cookie lasagna, it's just going to make your warm weather days that much sweeter.?
Chocolate Chip Cookie Lasagna
A delicious 4-ingredient, no bake layer dessert made with soft chocolate chip cookies and creamy whipped topping.
Ingredients
28 chocolate soft chip cookies (I got mine from the bakery department at Walmart)
1 cup milk
12 ounce tub whipped topping
1/2 cup mini chocolate chips
Instructions
Dunk 12 cookies in milk and place them in a 13×9″ baking dish.
If cookies don't lay flat, press them down gently.
Cover cookies with half of whipped topping.
Repeat step 1. Cover with remaining whipped topping.
Crush remaining cookies. Sprinkle on top.
Garnish with mini chocolate chips.
Refrigerate at least 4 hours before serving.
Hungry For More No-Bake Goodness?
(Visited 18,777 times, 1 visits today)