No Bake Lemon Pie – A fluffy and delicious 5-ingredient no-bake lemon pudding pie, perfect for celebrations and parties!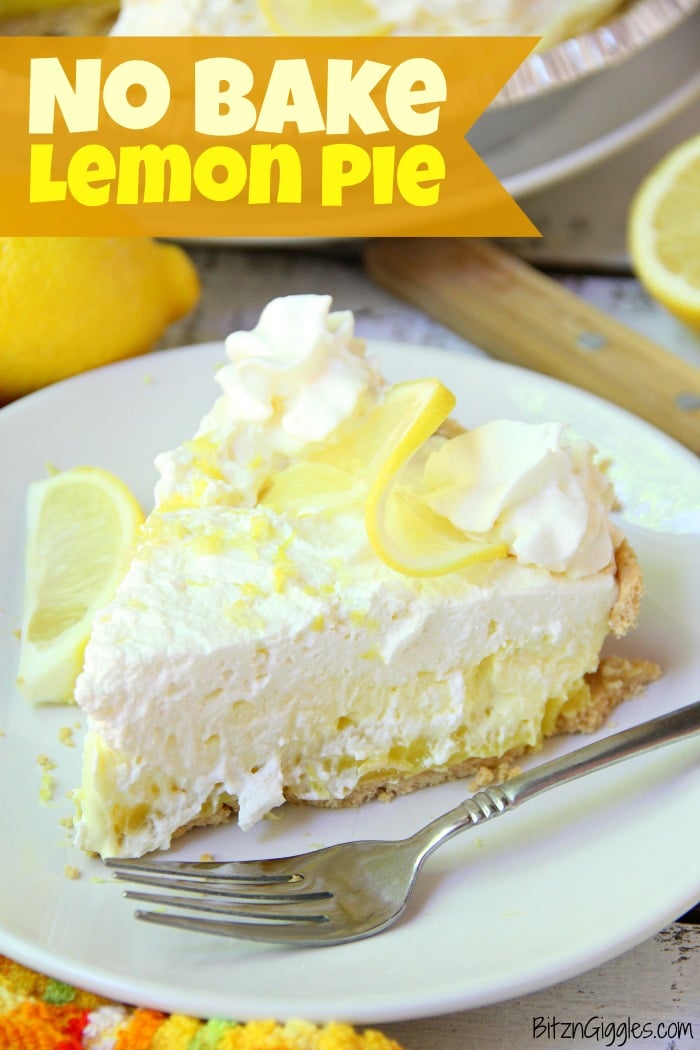 Is it seriously August? Wait, what? This can't be happening. My most favorite season of the year is summer and it's flying by. I refuse to give up my shorts and flip flops anytime soon, however. I'm also going to keep making summery desserts like this No-Bake Lemon Pie long into the winter. Heck, who am I kidding? I make no-bake desserts all year long.
I love any dessert that starts with a pre-made crust because it usually means all I need to do is a little whisking and mixing. I can handle that!
Preparing the Pie
It takes literally minutes to whip up this pie!
Whisk the pudding and milk together.
Spread half of the pudding over the prepared crust.
Combine the other half of the pudding with 1/2 of the whipped cream.
Spread over pudding layer.
Top with remaining whipped cream.
SUPER simple, right?! If you're really pressed for time, go ahead and use Cool Whip in place of the homemade whipped cream (I won't tell).
After placing the pie in the fridge for 3-4 hours, it's ready to eat!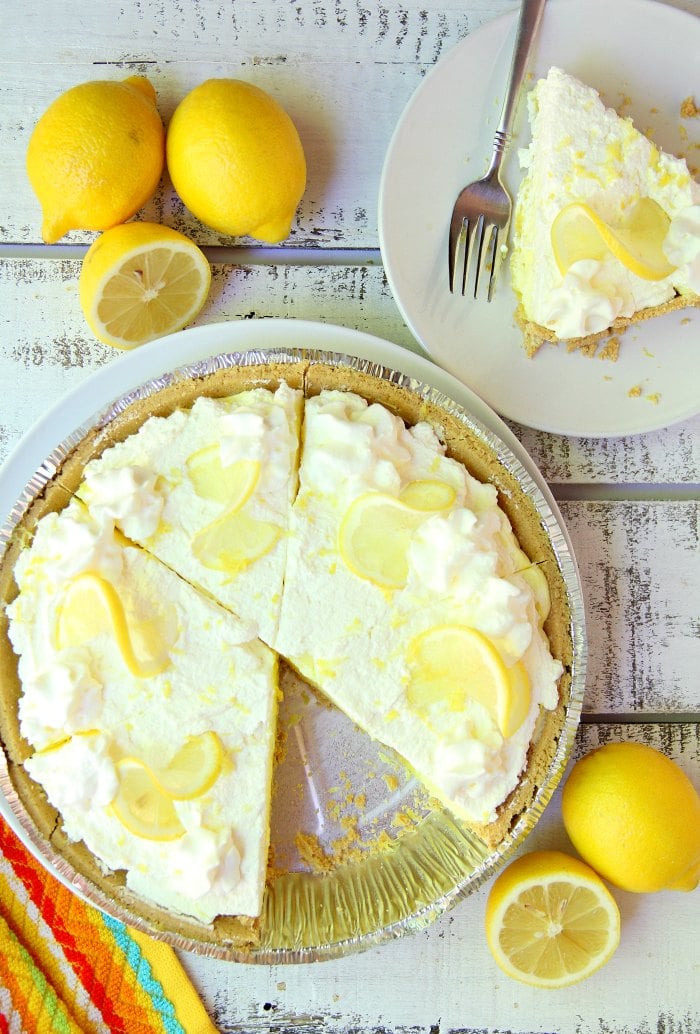 I garnished mine with some extra whipped topping and thinly sliced lemons.
If you do add some lemons as garnish to the pie, add them immediately before serving. It's my experience that if the pie is refrigerated with the lemons on top, they can create a bitterness that seeps into the pie. ?
What I love about this no bake lemon pie is that the layers get lighter and fluffier as they go up.
The entire dessert is light and refreshing. You don't feel overstuffed after eating a slice.
It has the perfect infusion of lemon flavor. You can taste the lemon, but it's definitely not overwhelming.
This no bake lemon pie is a great summer dessert the entire family will enjoy. I plan to make this at least a couple more times in the next few months. I hope you try it, too!
No Bake Lemon Pie
A fluffy and delicious 5-ingredient no-bake lemon pudding pie, perfect for celebrations and parties!
Ingredients
2 boxes (3.4 ounces each) lemon instant pudding mix
2 cups whole milk
16 ounces heavy whipping cream
6 tablespoons powdered sugar
1 ready-to-use 9 ounce (10 inch) graham cracker crust
Zest of a lemon for garnish, optional
Instructions
Combine lemon pudding mix and milk in mixing bowl. Whisk for about 2 minutes or until the pudding thickens.
Spread half of the mixture onto the prepared crust.
Beat the heavy whipping cream and powdered sugar with a mixer for about 4 minutes or until stiff peaks form.
Add half of the whipped cream to the pudding mix and whisk together.
Spread over the lemon pudding.
Top with the remaining whipped cream.
Cover and refrigerate for at least 3-4 hours.
Add some lemon zest or lemon slices for garnish before serving.
SaveSave
(Visited 14,938 times, 1 visits today)