Chocolate Chip Peanut Butter Cookies – These cookies are only 5 ingredients and so simple and quick to bake. A great recipe for early bakers and those of us who just need a quick cookie recipe!
This post may include affiliate links. Please see my disclosure.
This past week has been a blur. In fact, I almost didn't post today. I really wasn't planning on sharing these cookies. It's not because they aren't delicious. . .they are. It's because it's such a simple recipe that I was almost embarrassed to put it on here. But then I thought, there are so many busy moms out there like me and there's a chance they'll appreciate a quick recipe like this one. Heck, the kids can even put this recipe together!
We're talking 4 ingredients and one of them is a package of refrigerated cookie dough. So, in a sense, this is just a "souped up" refrigerated cookie dough recipe. Are you okay with that? Life is real, friends and life gets "real" busy. I'm sure you can relate.
I was making these cookies because my kids asked for them. I call them "quick cookies." My kids, of course, know this. . . so in their minds, all I needed to do was wave my magic wand and these sweet treats would appear. If only. If only I had a magic wand. Oh, the things I would accomplish.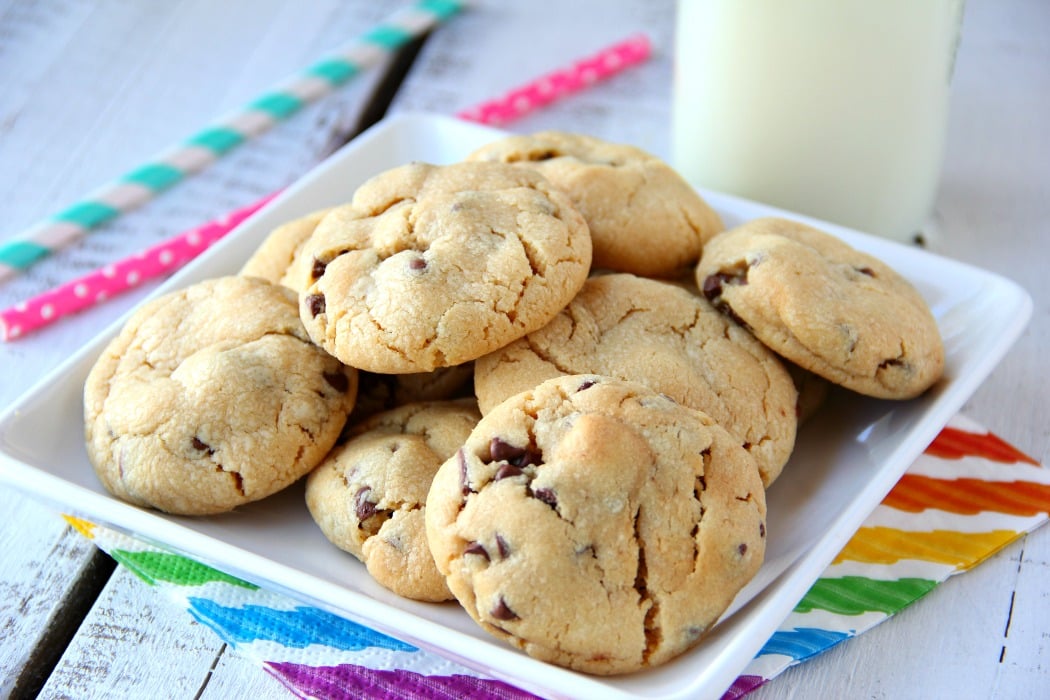 If you have 20-30 minutes, you can make these cookies happen. . . or even this Milk and Cookies Pie for that matter. I used some Toll House Delightfulls in these cookies, but you could use peanut butter chips, M&Ms or whatever else you can think of. My family's favorite flavor combo is chocolate and peanut butter, so that's why I went that route.
So, if your kids or grandkids are asking you for cookies and it's been a busy week, snatch up this recipe or have your teenager whip them up on their own. For those of you with college kids, it's an awesome recipe to share with them, too. Trust me. Chocolate Chip Peanut Butter Cookies. Boom.
Chocolate Chip Peanut Butter Cookies
Instructions
Preheat oven to 350 degrees Fahrenheit.
Beat cookie dough and peanut butter in large bowl until combined and smooth.
Stir in chocolate and peanut butter chips.
Roll dough into 1 inch sized balls and place onto ungreased baking sheet.
Bake for 15 minutes and cool on wire rack.
(Visited 1,348 times, 1 visits today)