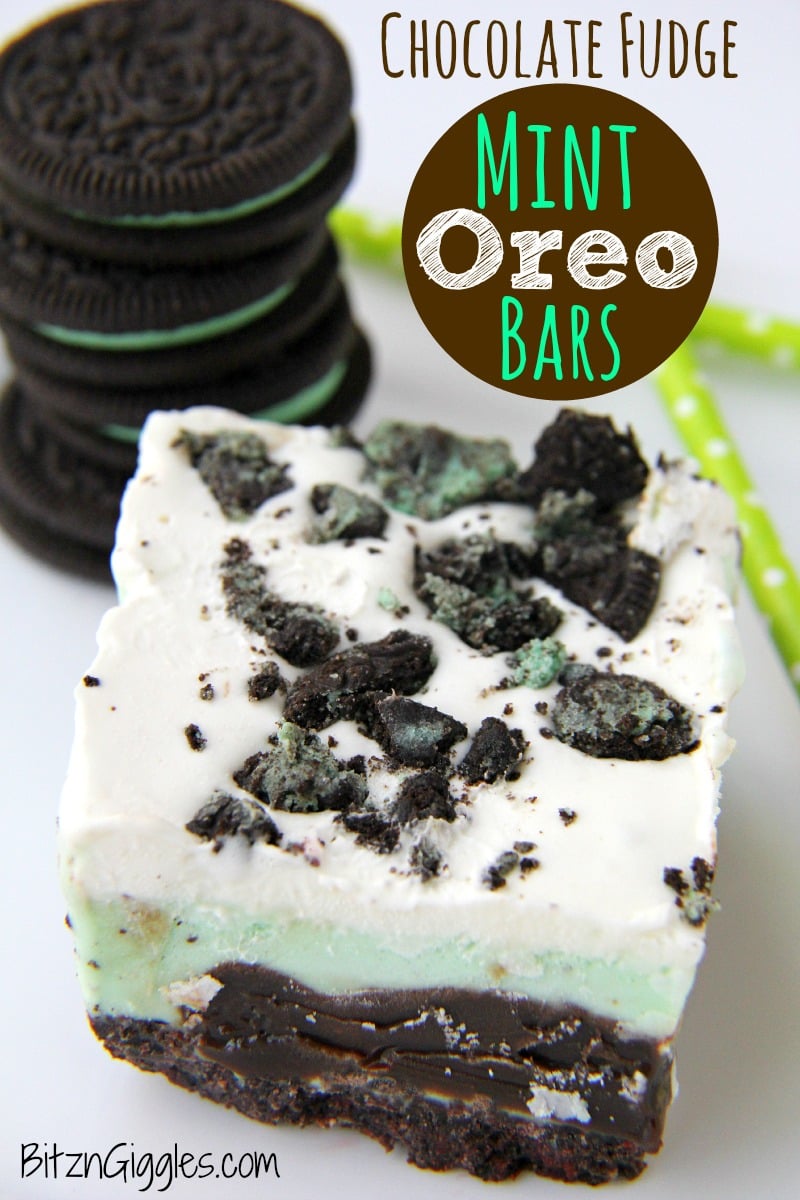 The weather is FINALLY starting to warm up around here and I couldn't be more ecstatic! When the spring starts to reveal itself I get this urge to organize, clean and freshen up anything and everything. . .including my pantry.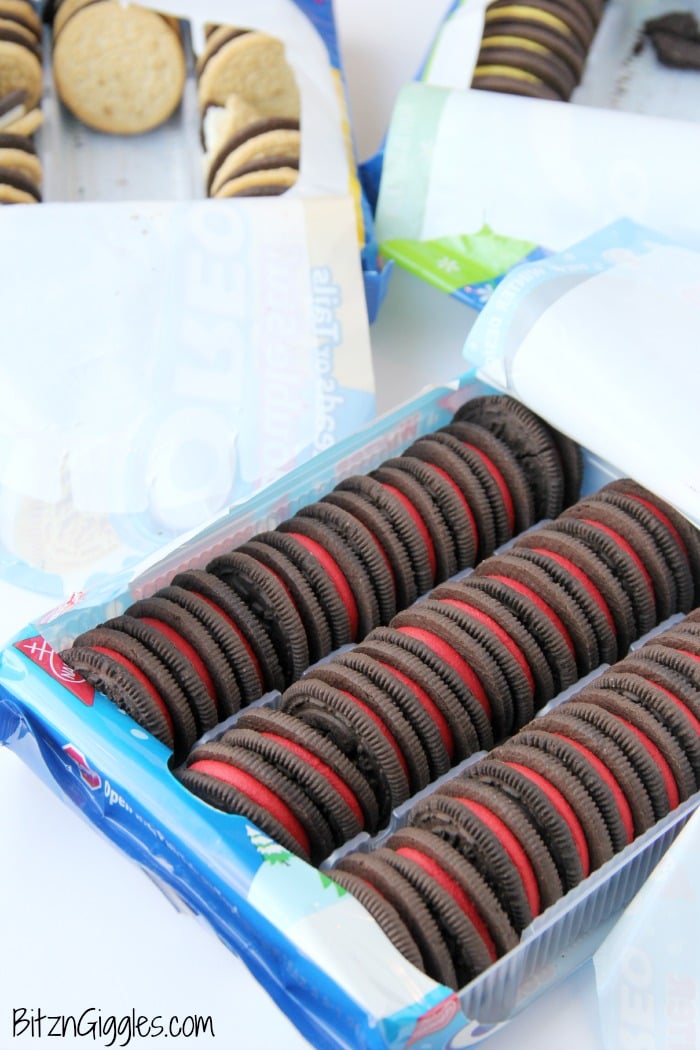 I had a ton of Oreos. Winter Oreos, Spring Oreos, Heads & Tails Oreos and Mint Oreos. Some of the packages were open, others were not. I needed a home for all of these bits and pieces and these Chocolate Fudge Mint Oreo Bars were the perfect and most delicious solution. Did I mention these bars are a perfect St. Patrick's Day treat, too?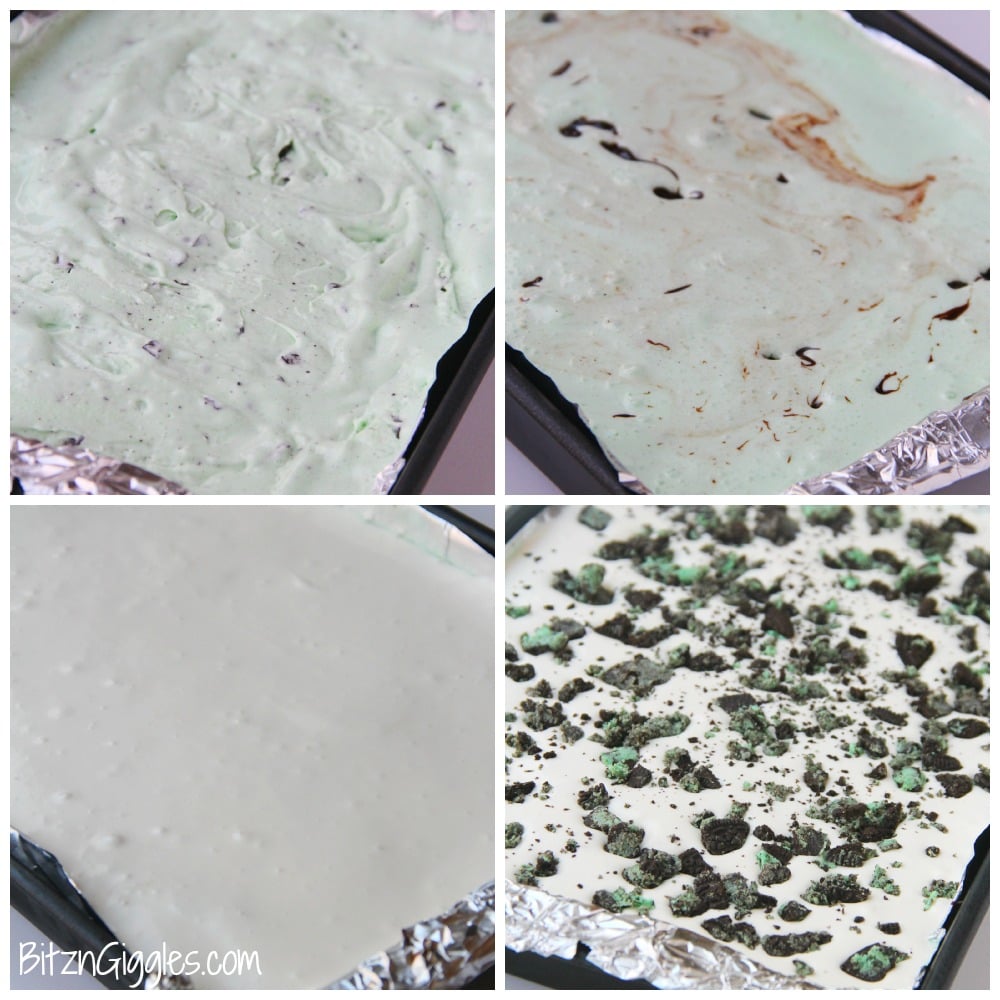 I used my food processor to crush the Oreos and make a crunchy Oreo crust.
Then I spread softened chocolate mint ice cream over the crust.
I heated some fudge topping in the microwave and swirled it into the ice cream.
After that, I mixed up some yummy whipped cream and spread that over the ice cream and fudge combo.
Lastly, I sprinkled chunks of Mint Oreos all over the top and placed it in the freezer.
When you're ready to dig in, let the bars thaw a bit before cutting. You can see all of the delicious layers and the fudge just swirling around in the ice cream. If you're not crazy about a crunchy crust you could easily swap it out with a chewy, brownie crust. Yum.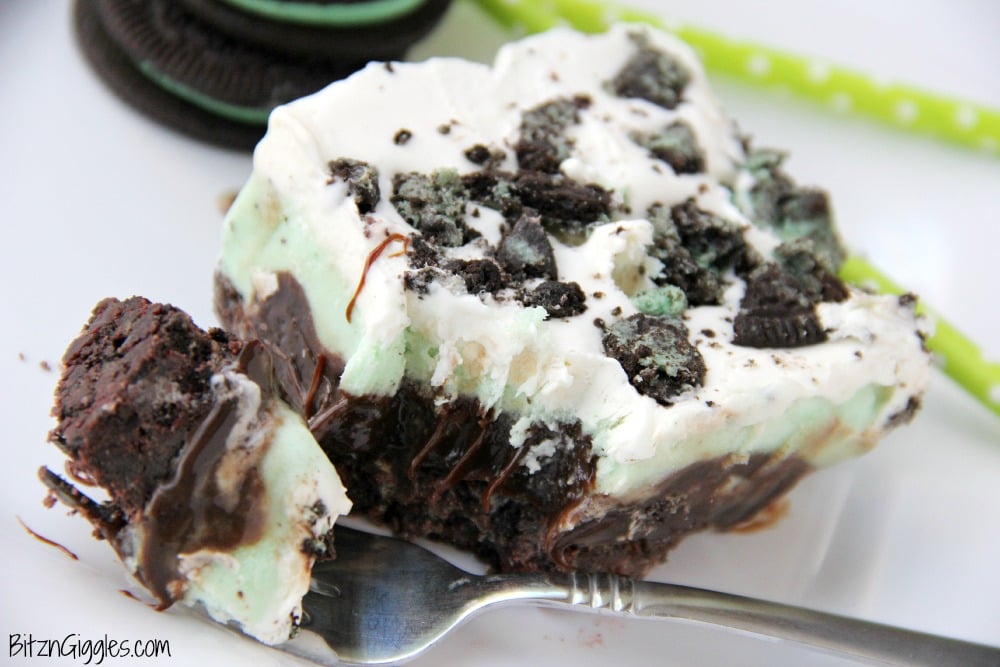 When the bars start to soften further, the fudge starts to ooze out, and all of the layers just start coming together. Even if you're not a huge mint fan, these bars are oober delicious. I promise.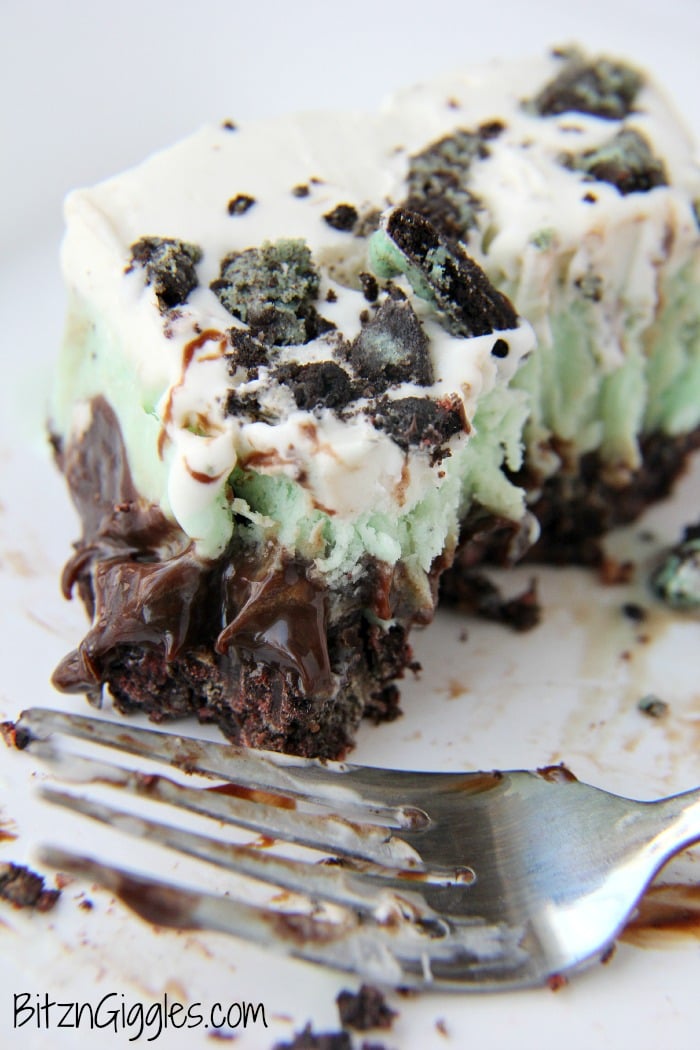 So, Happy St. Patrick's Day, Happy Cleaning, Happy Spring and Early Easter. . .happy, happy, happy. Your days are going to get much brighter after you make these bars! Just sayin'!
Chocolate Fudge Mint Oreo Bars
Mint chocolate chip ice cream bar dessert with a crunchy Oreo crust and fudge swirled throughout!
Ingredients
For the Oreo crust
1 stick unsalted butter, melted
48 Oreos, crushed
For the bars
1.5 quarts mint chocolate chip ice cream, softened
15.5 ounces hot fudge ice cream topping
1 cup heavy cream
1 teaspoon vanilla extract
1/4 cup powdered sugar
6 mint Oreos, crushed
Instructions
For the Oreo crust
Line a 9×13 inch pan with aluminum foil or parchment paper and spray with non-stick cooking spray.
In a bowl combine the melted butter and the crushed Oreos.
Once combined, press the Oreo mixture into the greased pan to form the crust.
For the bars
Scoop the softened ice cream out on top of the Oreo crust layer and spread evenly.
Heat the hot fudge in the microwave as directed on the container and swirl into the softened ice cream.
Place the pan into the freezer to freeze.
After this layer is frozen, using a hand mixer, combine the heavy cream, powdered sugar and vanilla extract. Beat until stiff peaks form.
Spread this over the top of the ice cream and fudge layer.
Sprinkle with the crushed Oreos.
Return pan to freezer until ready to serve.
Nutrition
Calories: 7333
Sugar: 597
Sodium: 4163
Fat: 438
Saturated Fat: 236
Unsaturated Fat: 175
Trans Fat: 4
Carbohydrates: 823
Protein: 87
Cholesterol: 988
 LOOKING FOR MORE ST. PATRICK'S DAY & SPRING INSPIRATION?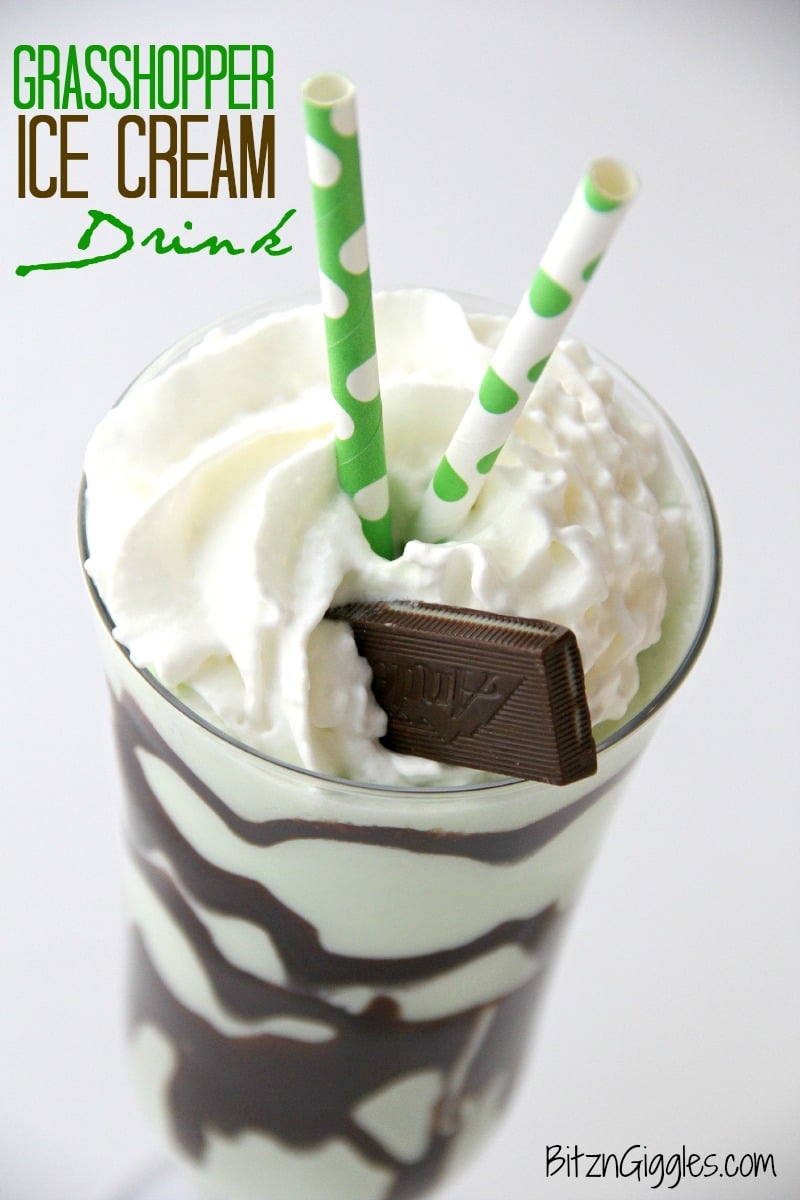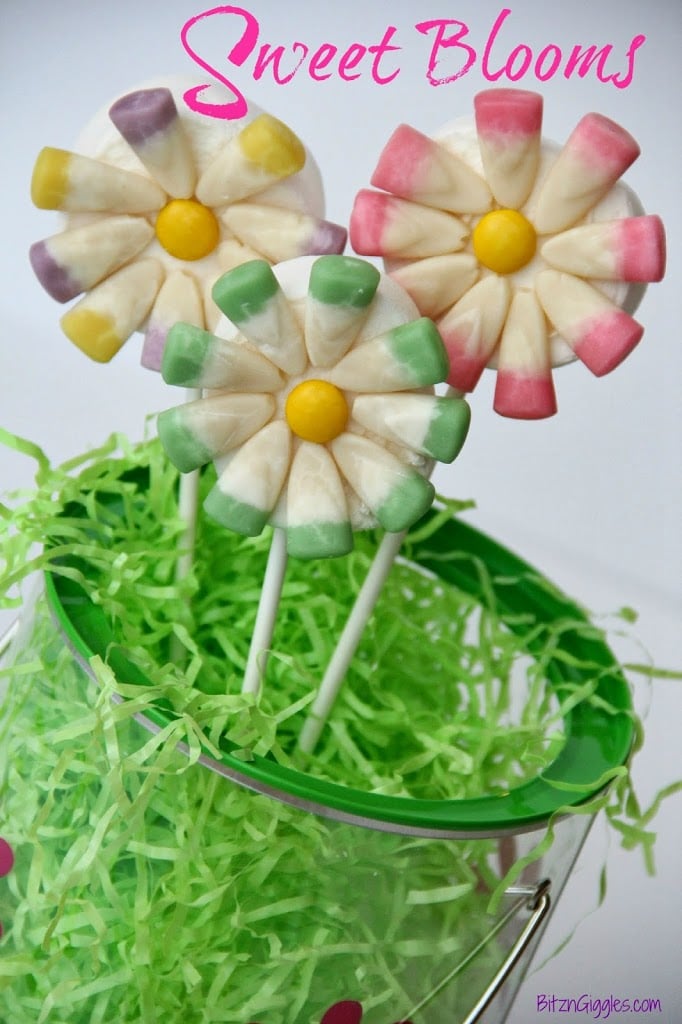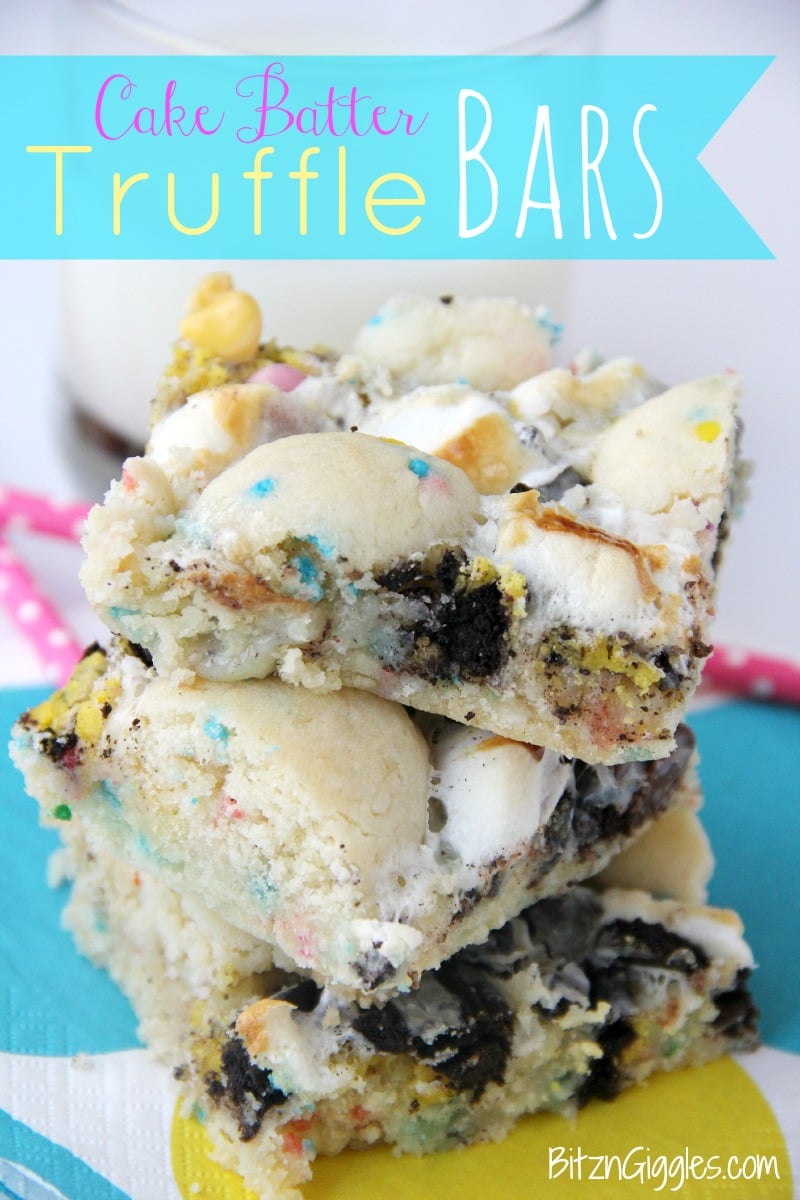 (Visited 3,981 times, 1 visits today)